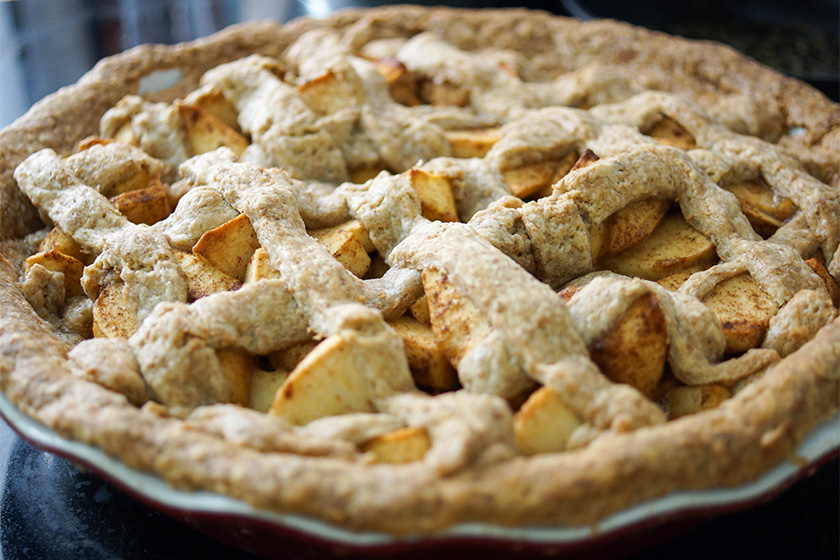 With so many apples on hand after our fall harvest, what better way to use them then baking a Whole Grain Spelt Apple Pie!
Baking with spelt flour
I like to use whole grain spelt flour in most of my baking (I have been promising a friend to experiment with gluten-free – but as I know too well, baking is a science and cooking is an art!). So back to spelt flour…my choice has nothing to with all the wheat-bashing that's gone on, but rather I prefer its nuttier taste. It also has a substantially higher sugar content, which likely explains why some people prefer its taste. Though…there are some other good reasons why spelt wins out over wheat. It's highly water soluble — meaning it aids in the absorption of its nutrients, hence making it easier to digest. AND…It's also amazingly high in protein, B complex vitamins, vitamin K and simple and complex carbohydrates. Other than that, it's really quite similar to wheat….making it a pretty suitable substitute. I added a bit of buckwheat flour for good measure — it's also nutty tasting, but a little more robust!
I also use a smidgen of lard in the pie crust. It adds a savory note to the crust, subtly enhancing its complexity and depth. Lard may be a little healthier for you than butter, but best not contemplate that when eating this pie.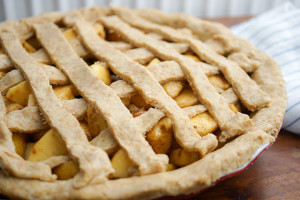 My favorite Schwabe asked me after devouring half of this pie, "but this is healthy right?". My dear, define healthy. Okay, fat is good for the brain. I guess it's healthy.
But truthfully told, lard, as it turns out, is actually a little better for you than butter. Ok, it's slightly higher in calories (about 15% higher) but gram for gram, it contains 20% less saturated fat and unlike shortening, it contains no trans fats. If you do decide to use lard, make sure you use a quality brand or pick it up fresh from the butcher. Be wary of those supermarket hydrogenated variations — they are nasty (read the label!).
BTW – The vanilla pudding along with the apple filling keeps this spelt apple pie perfectly moist without ever getting soggy!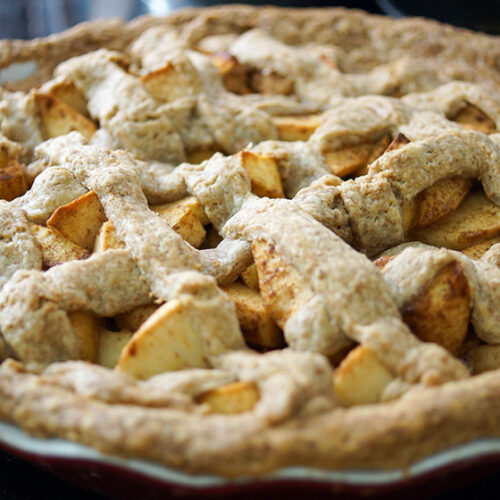 Whole Grain Spelt Apple Pie
Whole grain spelt flour is great for baking - I love it's nutty taste. Vanilla pudding along with the apple filling keeps this spelt apple pie perfectly moist but never soggy!
Total Time
1
hour
30
minutes
Ingredients
2

cups

whole grain spelt flour

(200 g)

1/2

cup

buckwheat flour

(75 g)

1/2

teaspoon

sea salt

250

grams

frozen butter

(1 package=2 sticks) *see TIP below

1

tablespoon

lard

(rendered pork fat - smaller butcher shops sell this, my butcher also sells quality lard (Smalz) made from duck or turkey fat)

1

tablespoon

raw cane sugar

9

tablespoons

ice cold water
For the apple filling:
6-7

sweet-tart apples

(Boskoop, Braeburn, Golden Delicious, or other acidic variety - or an assorted mix) (800 g - 1 kg), peeled, quartered, cored and sliced

1/3

cup

soft brown sugar

(50 g)

1

teaspoon

cinnamon
For the pudding mix:
2

eggs

3

tablespoons

milk

1

tablespoon

raw cane sugar

1

tablespoon

organic vanilla pudding powder
Method
In a large bowl, whisk together the spelt flour, buckwheat flour until mixed.

Using the large holes of a box grater, grate the frozen butter into the flour. Continue by cutting the butter into the flour with a fork or a pastry cutter until well incorporated and mixture resembles fine crumbs.

Cut in rendered fat.

Add all the water and mix until forms a dough.

Form into a ball, dust with flour, and flatten into a disk, wrap in plastic wrap or wax paper and refrigerate until firm, at least 30 minutes.

Preheat the oven to 350°F / 180°C.

Meanwhile, in a large bowl, toss the apples slices together with the brown sugar and cinnamon until fully coated.

For the pudding, in a small bowl, whisk together the eggs and milk. Add the sugar and vanilla pudding powder and continue mixing until fully combined and there are no lumps.

Remove dough from fridge, let rest for a couple of minutes.

Using 2/3 roll out of the dough, roll out on a floured surface in a thin layer large enough to line the bottom and sides of the pie dish.

Butter the pie dish and carefully arrange the thin crust in it (this is quite easy with floured fingertips).

Trim any excess dough and tuck the edges under if you want to create a thick edge. Crimp the edges of the crust with your fingers or use a fork to decorate.

Arrange the apple slices in the pie dish and carefully pour the pudding mixture over them so that it is evenly distributed.

Roll out the remainder of the dough and cut into thin strips and place as a grid over the apples. Alternatively, crumble it over the apples.

Bake for 45-50 minutes, until top crust is nicely browned and the apples are tender. Remove from oven and allow to cool before serving.
Notes
Grate frozen butter over the flour, as it speeds up the process and keeps your dough nice and cold which helps make for an amazingly, flaky, beautifully browned pie crust.
Did you try this recipe?
Then tag @ellerepublic on Instagram and hashtag it #ellerepublic
How did you like it?
Please let me know how this Whole Grain Spelt Apple Pie recipe turned out for you! I would love to hear how you liked it. Simply rate it with the stars above ⭐or leave me a comment and rate it below.
Did you make any changes to this recipe?
If you have tips for other readers, let me know! It helps me and other readers so much. Sharing is Caring :-).