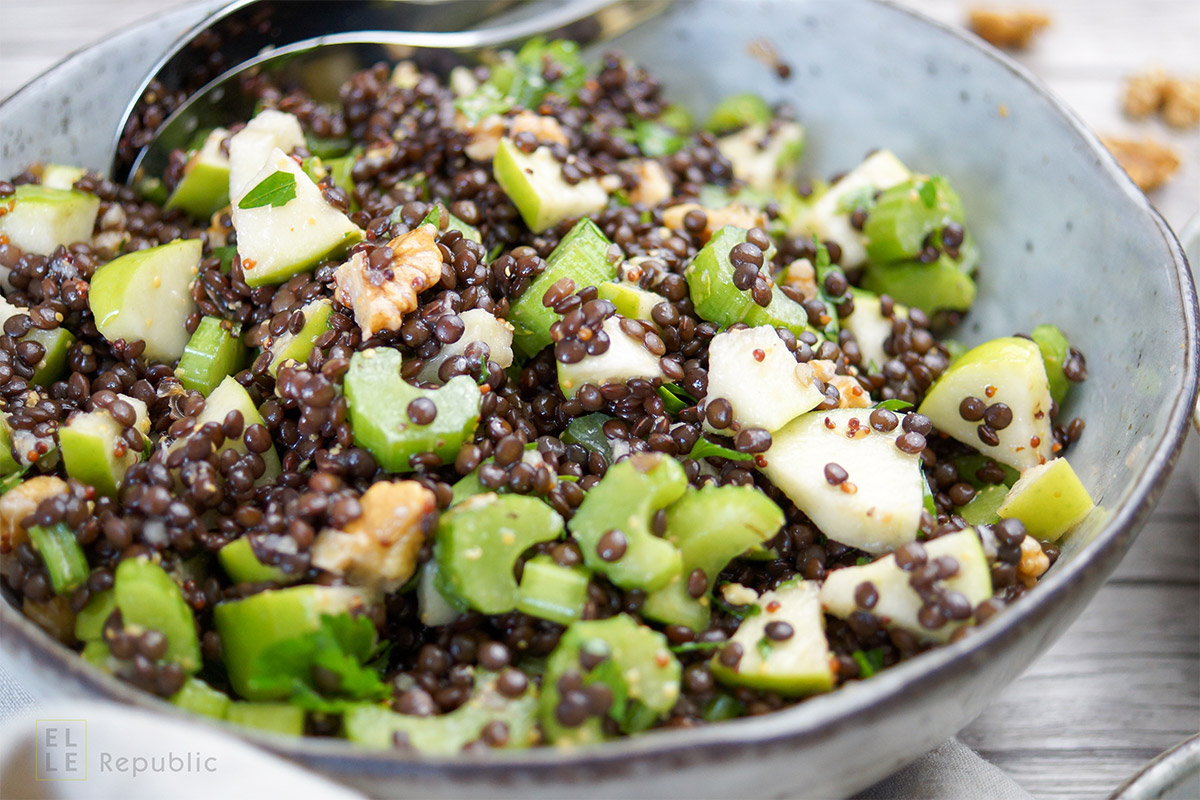 Apple Celery Lentil Salad – what a combo! Okay a combo with flashbacks to my childhood. My mother was all about granny smith apples and celery sticks as the perfect snack for kids. Albeit our celery were smothered in Cheese Whiz, which back then was the equivalent to today's Nutella. Okay, not that you would spread Nutella on a celery stick. But as kids we loved our processed cheese in a jar (eeeeh!) and spread it on everything, or just warmed it up and poured it on. And yes, I am a little ashamed to admit that. Today I shudder to think of it. But that was my mother's secret to getting us to eat celery. Today I'd opt for a filling of herbed Chevré, or even natural peanut butter. Cheese Whiz? Never.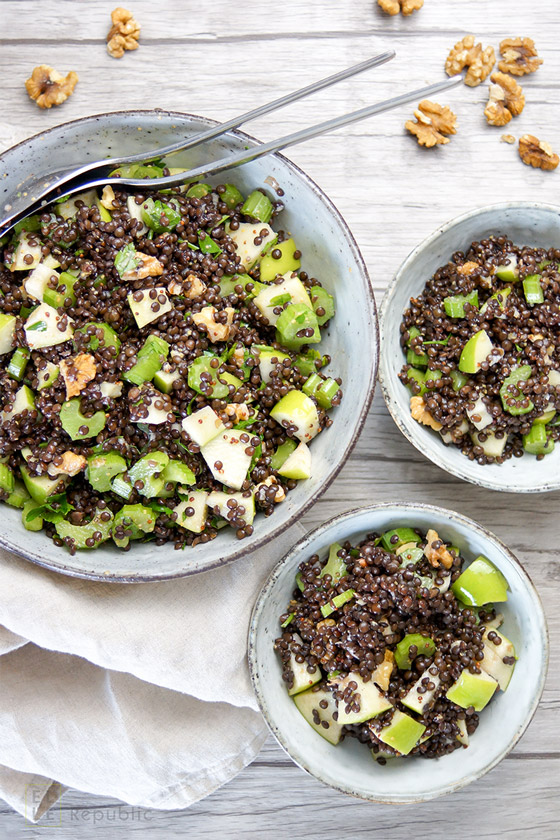 Give celery the respect it deserves
Ah, celery! As far as I'm concerned celery is underused… and under appreciated. I have to ask myself why more times than not, I choose celery root over those sweet, fresh crisp green stalks. Every time I add it to salad or a soup, I'm surprisingly delighted in how great it tastes and I tell myself I need to use it more often. Plus it's good for you. In more ways than you can imagine. Read more here.
Solve the "what to do with celery dilemma" with an apple celery lentil salad
An apple celery salad isn't new a concept, but by adding beluga lentils — one of the most fantastic lentils in the world (okay Lentilles du Puy are also a contender) – some fresh parsley and toasted walnuts, and you have one tasty salad. One that is substantial enough to have on its own for a light and healthy meal. As extra bonus, this apple celery lentil salad also holds up well if you want to take leftovers for lunch or even prepare it the night before. Though, I would just suggest holding off on the walnuts until you are ready to dive in. That way they'll remain their delicious crunchy selves.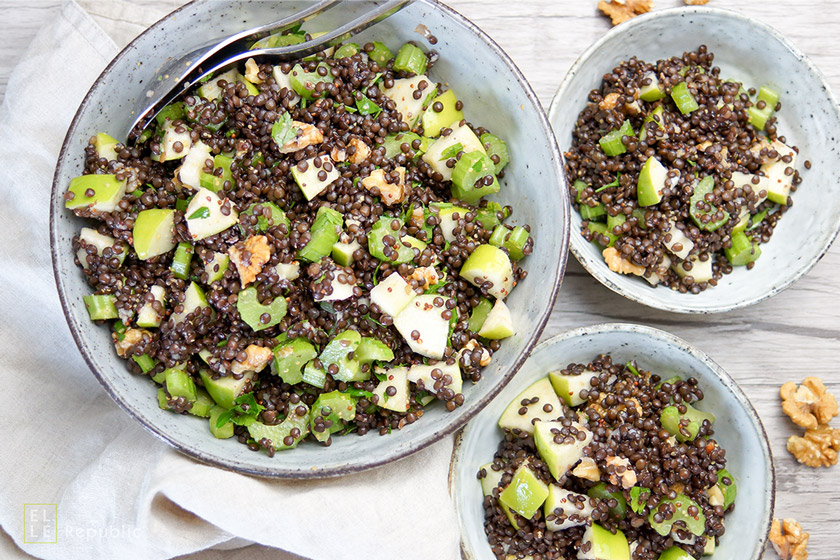 Just a little tip: As I often do with lentils, I make them the night before so I can throw together a quick lunch or dinner the next day. You can prepare them up to 2 days in advance. Just let the lentils cool; cover and store in the refrigerator. The rest of the preparation for this salad only takes minutes!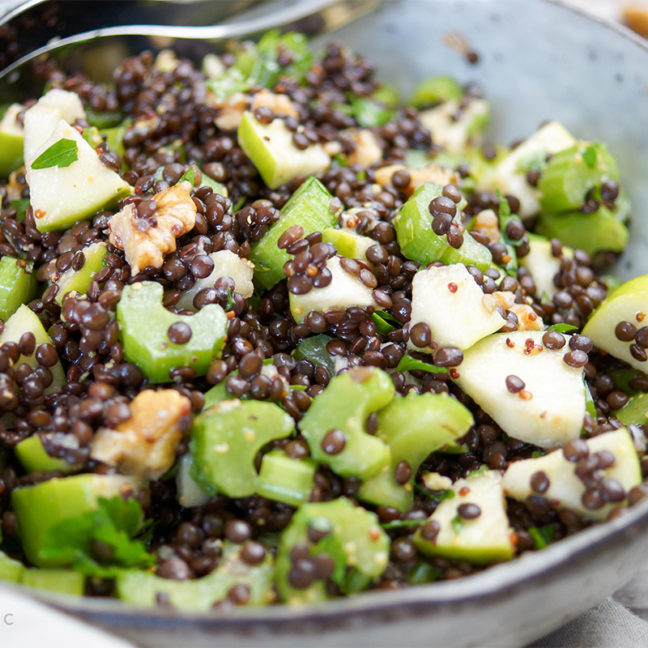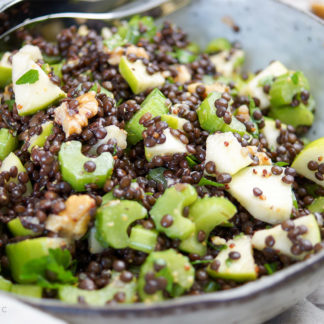 Beluga Lentil Walnut Celery Salad
A quick, easy and healthy late summer apple celery lentil salad with beluga lentils, granny smith apples and toasted walnuts. Makes for a light and tasty dinner and great leftovers that's perfectly suitable for any following a vegan or gluten-free diet!
Ingredients
For the salad:
1 2/3

cups

uncooked beluga lentils,

rinsed (375 g)

2

granny smith apples,

seeded and chopped

4

celery stalks,

chopped

1

generous handful flat-leaf parsley leaves,

chopped

1/2

cup

coarsely chopped walnuts,

toasted (50 g)
For the dressing:
4

tablespoons

extra-virgin olive oil

4

tablespoons

fresh lemon juice

2

tablespoons

whole-grain Dijon mustard

2

tablespoons

honey

2

cloves

garlic,

minced

sea salt and freshly ground black pepper,

to taste
Method
Place the lentils in a large saucepan, cover with plenty of water and bring to a boil (generally, lentils should be cooked at a 1:3 ratio, lentils to water). Simmer over medium heat for 30 minutes. Drain, then transfer to a large serving bowl and allow to cool to room temperature.

TIP: I recommend tasting the lentils after about 25 minutes to see if they are the consistency you want — more firm (al dente) is best for salads.

In a small bowl, add the oil, lemon juice, mustard, honey, garlic, salt and pepper; whisk together until well combined. Pour dressing over lentil mixture; toss to coat. Taste, and add more salt and pepper, if desired.

This apple celery lentil salad can be prepared ahead of time. Just add the walnuts shortly before serving so that remain crunchy. Enjoy!
Notes
If you are a blue cheese fan, go ahead and sprinkle some on top. Also yummy!
Did you try this recipe?
Then tag @ellerepublic on Instagram and hashtag it #ellerepublic
How did you like it?
Please let me know how this Apple Celery Lentil Salad recipe turned out for you! I would love to hear how you liked it. Simply rate it with the stars above ⭐or leave me a comment and rate it below.
Did you make any changes to this recipe?
If you have tips for other readers, let me know! It helps me and other readers so much. Sharing is Caring :-).