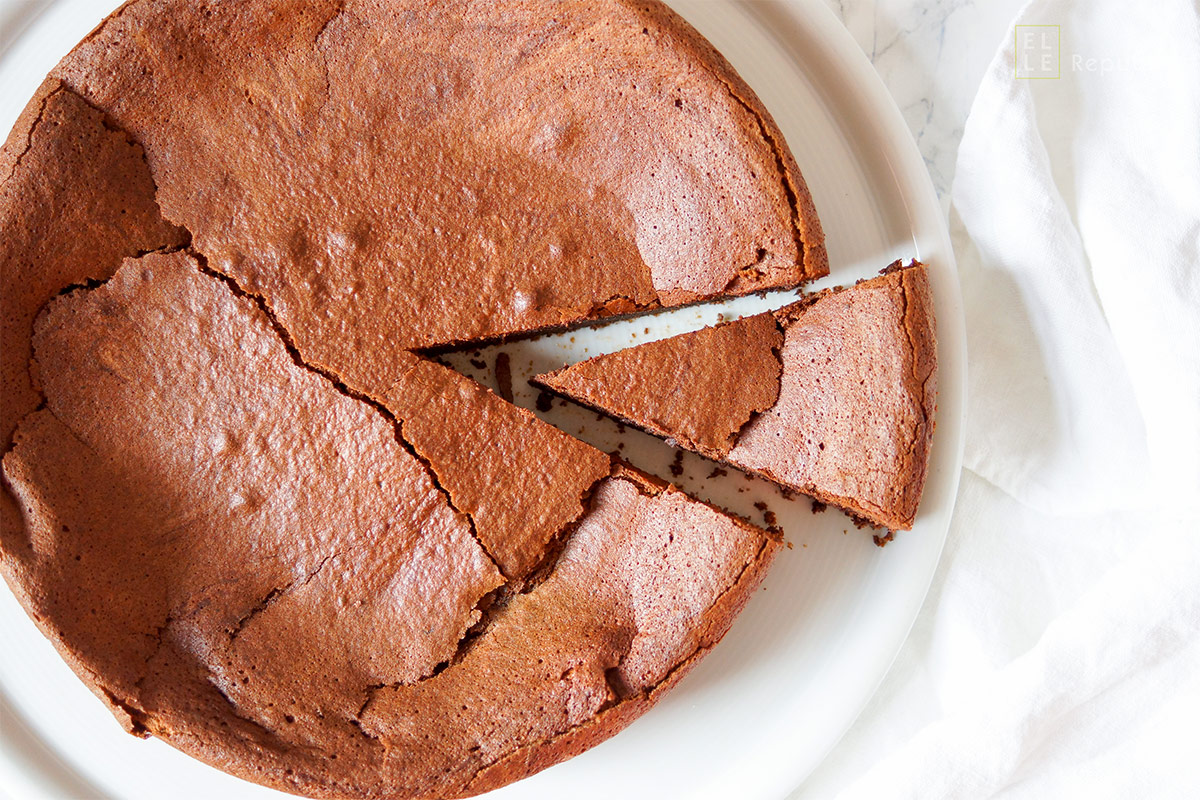 The chocolate soufflé cake is amazing. Super chocolatey, super moist, it's a chocolate lover's utopia. Pure LOVE. All that coming from me the very person who doesn't do desserts. Yes, I had two little mouthfuls of this cake — that says a lot! Pure deliciousness. Seriously, it's amazing.
There plenty of butter, a little coconut oil, loads of dark chocolate, some caramel undertones from unrefined mascobado sugar, a hint of vanilla and of course just enough eggs to make it perfectly dense with just the right amount of volume. Not exactly guilt-free, but who cares when it tastes this good. It has lots of brownie-like texture going on (at least the kind I make) — but there is absolutely no flour. Yes, flourless! I would almost go as far as saying it gluten-free, but then again, that would require something other than my go-to chocolate bar. A gluten-free chocolate soufflé cake needs to be made with certified gluten-free chocolate. Anything else can contain spurs of gluten. So keep this in mind if your serving it to someone who must follow a gluten-free diet.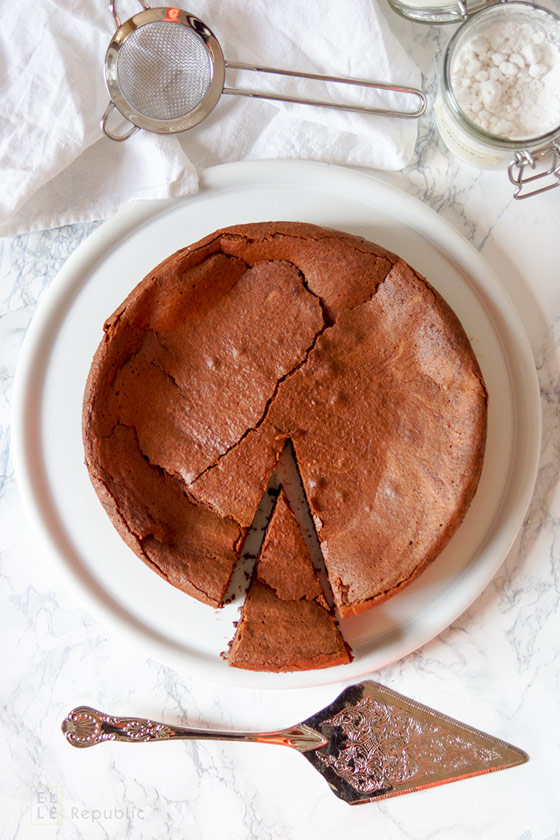 Oh yeah, I almost forgot. I also use a little raw cacao powder to get that incredibly rich chocolate flavor that we all love. I think it tastes better than cocoa, and the bonus is that its also a superfood that contains lots of antioxidants, plus it contains mood boosting serotonin, which I'd like to say is the perfect excuse for eating a second helping of this chocolate soufflé cake — it makes you happy in more than just one way!
[four_columns_one]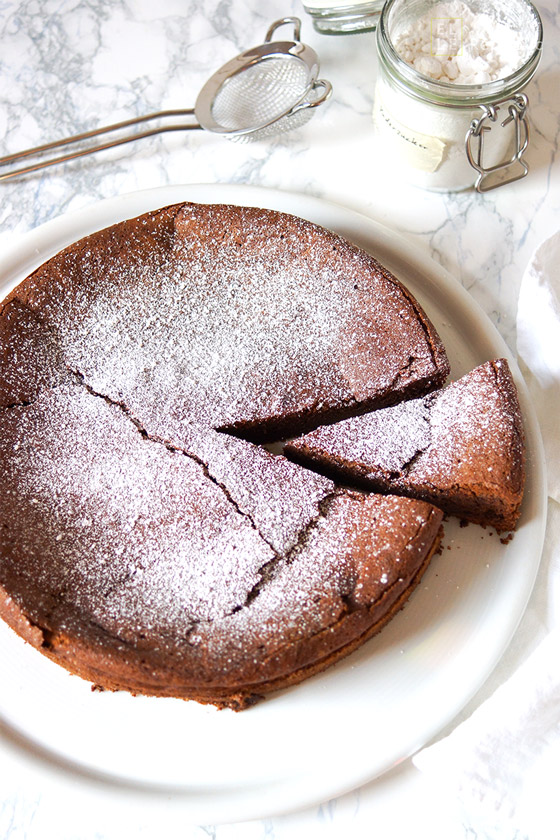 So why on earth would I of all people bake a chocolate cake?
Well, it was for one little 10 year-old that used to be nine. The same 10-year old that absolutely loves my brownies and wanted these brownies for his birthday. I convinced him that I would make something just as delicious, if not more. This chocolate soufflé cake was a definite winner. So good in fact, I made it for him twice. The second week there wasn't enough time to devour it over the weekend, so I brought a few pieces to work for three lucky colleagues, and the rest I froze. Yes, cake freezes. Love that. It's a cake that keeps on giving. 😉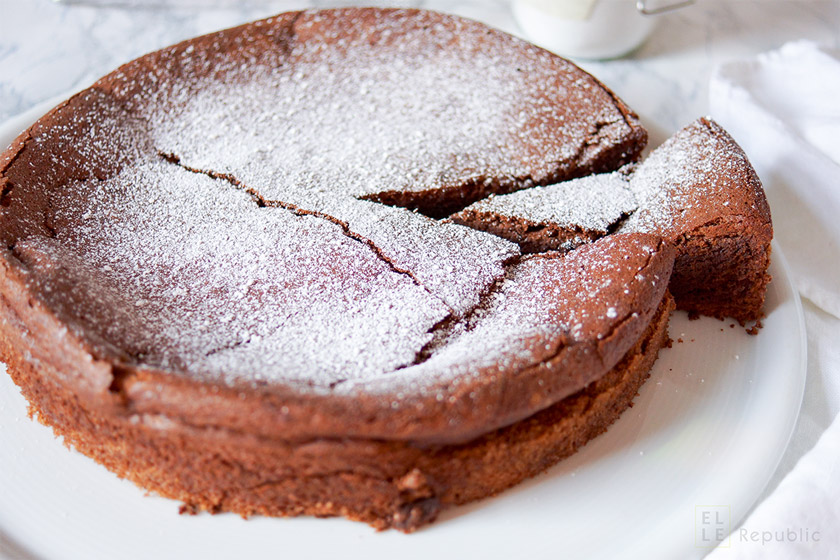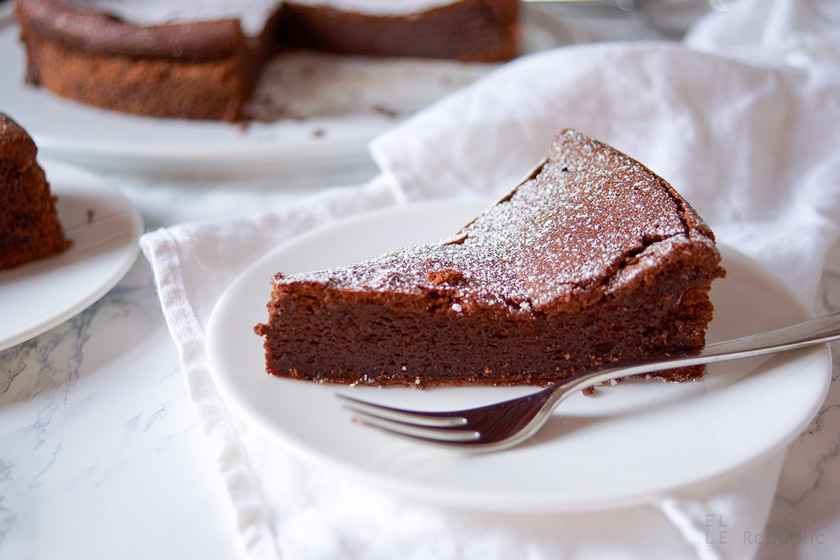 Tips for a perfect chocolate soufflé cake
Egg whites are the key to a great chocolate soufflé cake. Fresh eggs will achieve the fullest volume as they are slightly acidic and this helps stabilize the proteins. You will also get more volume when beating egg whites if you first bring them to room temperature. Set the eggs out on your counter at least 30 minutes in advance of your preparation. Another great trick is to add an acid to the egg whites while you are beating them. This helps fluff them up since the extra acid stabilizes the whites and adds volume. Nonetheless, don't be surprised when this cake continues to deflate as it cools. Souffles aren't like regular cakes, they won't stay risen, so this can be expected. It's all part of their chocolatey charm. 😉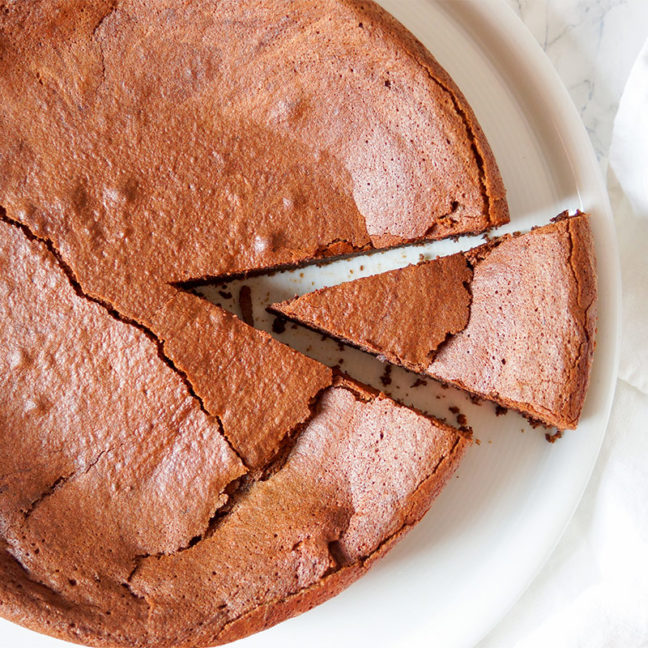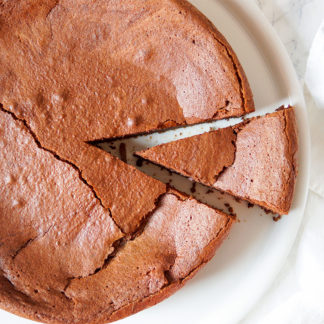 Flourless Chocolate "Souffle" Cake
A dark chocolate souffle cake is a simple but impressive cake that's guaranteed to please just about everyone. They rise while baking but fall when cooling, and deliver an extra delicious chocolately interior. Flourless and super delicious, all that's needed is a few simple ingredients. 8-10 servings.
Ingredients
115

g

unsalted butter

300

g

semisweet or bittersweet chocolate,

broken into pieces (I used Lindt 70% cacao mild)

2

tablespoons

coconut oil

6

large eggs,

room temperature

1

tablespoon

raw cacao powder

1

teaspoon

pure vanilla powder

1/2

teaspoon

sea salt

1/4

cup

soft brown sugar

(I recommend GEPA organic raw cane sugar Mascobado) (40 g)

1/2

cup

raw cane sugar

(100) g
To serve:
2

tablespoon

powdered sugar
Method
Preheat oven to 350°F / 175°C. Lightly grease a springform pan (Ø 22 cm) with butter or coconut oil and lightly sprinkle with raw cane sugar; tap out any excess sugar.

In a large heatproof bowl, combine the chocolate, coconut oil, and butter. Set over a saucepan of gently boiling water and heat, stirring often, until melted and smooth. Remove bowl from saucepan and set aside.

Using two separate medium-sized mixing bowls, separate the whites and the yolks for 4 of the eggs. Set the bowl with the egg whites aside.

Take the bowl with the yolks and add the raw cacao powder, vanilla, salt, brown sugar, plus the remaining 2 eggs (both yolk and white) and whisk until mixture is smooth.

Gradually whisk the yolk-cacao mixture into the bowl with the melted chocolate; mix until well combined.

Using an electric mixer on high speed, beat the egg whites until frothy. With the mixer running, add the raw cane sugar and continue beating until firm peaks form.

NOTE: Adding an acid to the egg whites while you are beating them helps fluff them up. The acid stabilizes the whites and adds volume. For 4 egg whites I add approximately half a teaspoon lemon juice. If you have it on hand, cream of tartar also works well.

Using a spatula, gently fold HALF of the egg whites into the chocolate mixture until JUST incorporated. Do the same with the remaining egg whites. Scrape the cake batter into the prepared pan and smooth the top.

Bake until the top has puffed up and has started to crack, and you see the sides of the cake pulling away from the pan; about 35-40 minutes. Remove from the oven and transfer a wire rack to cool completely in the pan (another 30–45 minutes).

NOTE: the cake will further collapse and may crack a little more as it cools — this can be expected!

Sprinkle with icing sugar and enjoy!
Notes
PLAN AHEAD: This cake can be made the day before. Once the cake has fully cooled, cover the springform pan so it's airtight and store at room temperature.
Adapted from Bon Appetit</li>
Did you try this recipe?
Then tag @ellerepublic on Instagram and hashtag it #ellerepublic
How did you like it?
Please let me know how this Flourless Chocolate Soufflé Cake recipe turned out for you! I would love to hear how you liked it. Simply rate it with the stars above ⭐or leave me a comment and rate it below.
Did you make any changes to this recipe?
If you have tips for other readers, let me know! It helps me and other readers so much. Sharing is Caring :-).
This post contains affiliate links. If you decide to make a purchase through my link, Amazon will pay me a commission for it. This doesn't cost you anything additional and the price remains the same. More about advertisements on Elle Republic.