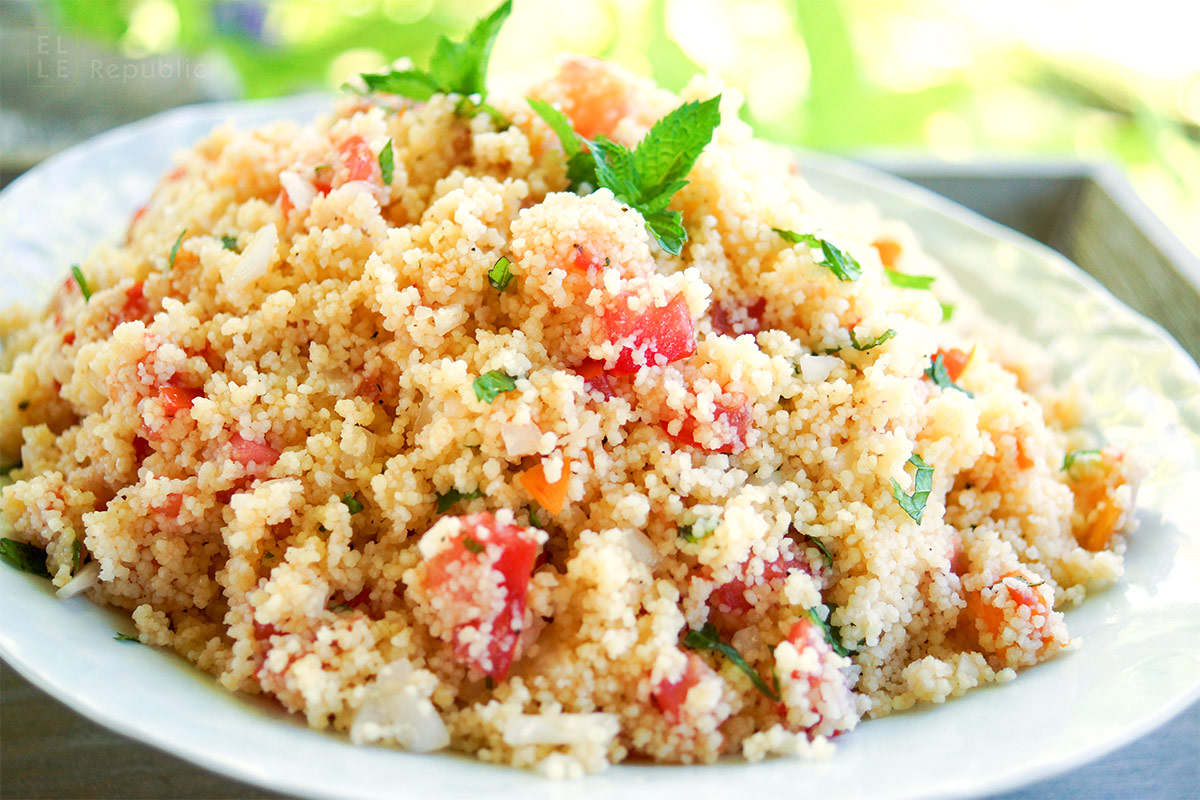 Apricot couscous salad. So easy. So good. And quick! I talking all of 15 minutes — MAX! This simple apricot couscous salad is made with just a handful of key ingredients: couscous, tomato, apricots, sweet onion and fresh herbs that can be thrown together in mere minutes.
Be creative, inspiration is everywhere!
Inspired from a salad served at a friends BBQ while visiting them in France this summer, this was a salad that I thought tasted pretty damn delicious — delicious enough that I had to make it for myself. Truth be known, I did cheat a little. Turns out this friend bought the salad from the supermarket — pre-made. It seems the French can do pretty well with pre-made. Fresh, quality, from scratch pre-made.
So I just read the label of ingredients. Most surprisingly though, was that it wasn't full of any junk. No sugar, no additives – and pretty close to homemade. I did however change one thing… the store-bought version contained sultanas. I'm not really a fan, so I switched them out for sweet and juicy apricots – fresh, locally harvested French apricots. And of course, I used fresh herbs instead of dried. I think the one other slight difference was that the pre-made version tasted a little more "vinegary", I leaned more to the lemony side. Success. The result was a simple and tasty couscous salad — one that makes a fantastic summery side dish. The perfect thing to accompany a summer BBQ or picnic.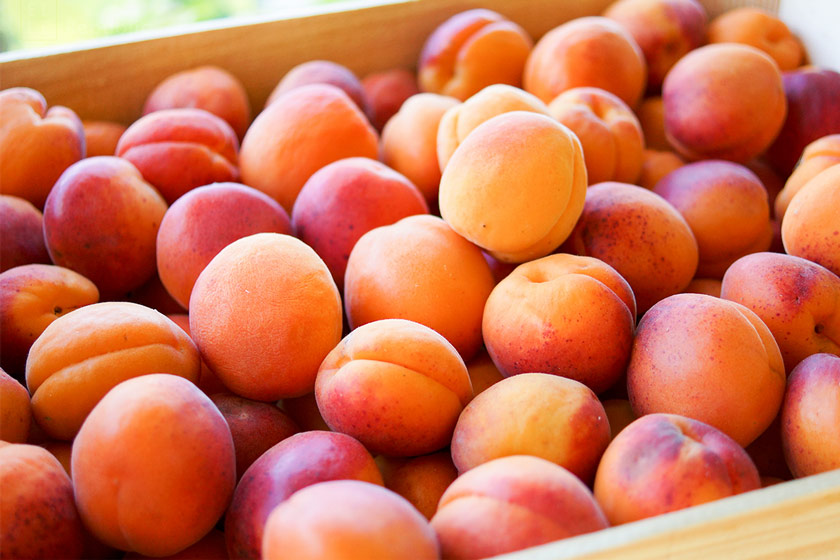 Surprise, couscous actually doesn't need to be cooked!
One of the reasons I love making couscous salads during holidays, is that is so easy. And it doesn't actually take any real cooking. All you need to do is cover the couscous in boiling water, cover it and let it sit for 10 minutes, giving you plenty of time to prepare the rest of the salad. And imagine, if you don't actually have a stove or kettle, or you happen to be a raw foodie, you can soak the couscous in water (ratio 1:1) and store it in the fridge, covered, overnight. The couscous will soak up exactly the amount of liquid it needs. You can also apply the same idea to quick-to-cook grains like bulgur or millet. So easy.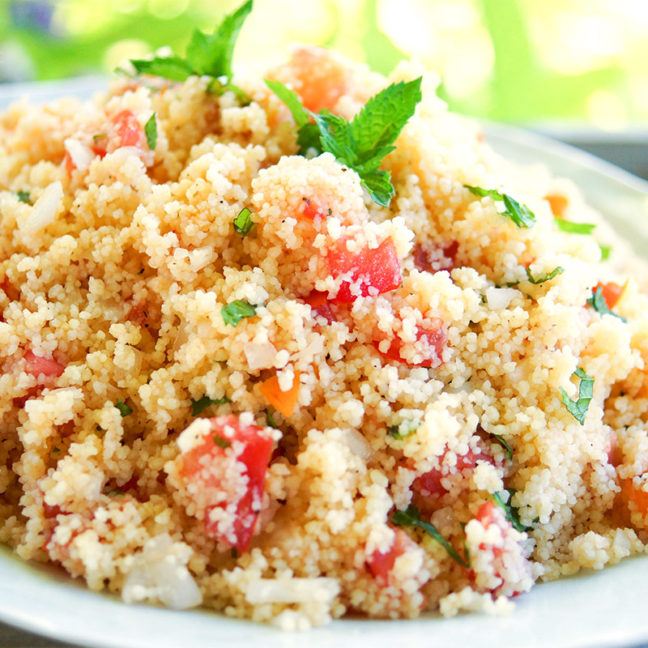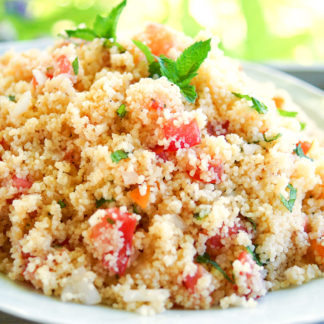 Apricot Couscous Salad
A quick and simple side dish made from couscous, tomato, apricots, sweet onion and fresh herbs. Perfect vegetarian or vegan accompaniment to any summer BBQ.
Ingredients
For the salad:
1

cup

dried couscous

(200 g)

1

large tomato,

seeded and finely chopped

1/2

white sweet onion or small red onion,

finely chopped

2

apricots,

finely chopped

1

tablespoon

fresh flat-leaf parsley,

finely chopped

2

tablespoons

fresh mint,

finely chopped
For the dressing:
5

tablespoons

olive oil

1

tablespoon

red wine vinegar

3

tablespoons

freshly squeezed lemon juice

sea salt and freshly ground black pepper,

to taste
Method
Prepare the couscous according to package instructions. Cover and let stand for about 10-15 minutes. Once the water is absorbed, fluff with a fork. Set aside to cool to room temperature.

TIP: generally I like my couscous al dente, so as a general rule of thumb, for 1 cup couscous (200 g) I combine with 1 1/4 cups boiling water (310 ml).

Transfer the couscous, tomato, onion, apricots, and fresh herbs to a large bowl.

In a small bowl, whisk together the dressing ingredients.

Add the dressing to the couscous mixture and lightly toss to combine. Taste and adjust seasoning, if desired. Enjoy!
Did you try this recipe?
Then tag @ellerepublic on Instagram and hashtag it #ellerepublic
How did you like it?
Please let me know how this Apricot Couscous Salad recipe turned out for you! I would love to hear how you liked it. Simply rate it with the stars above ⭐or leave me a comment and rate it below.
Did you make any changes to this recipe?
If you have tips for other readers, let me know! It helps me and other readers so much. Sharing is Caring :-).