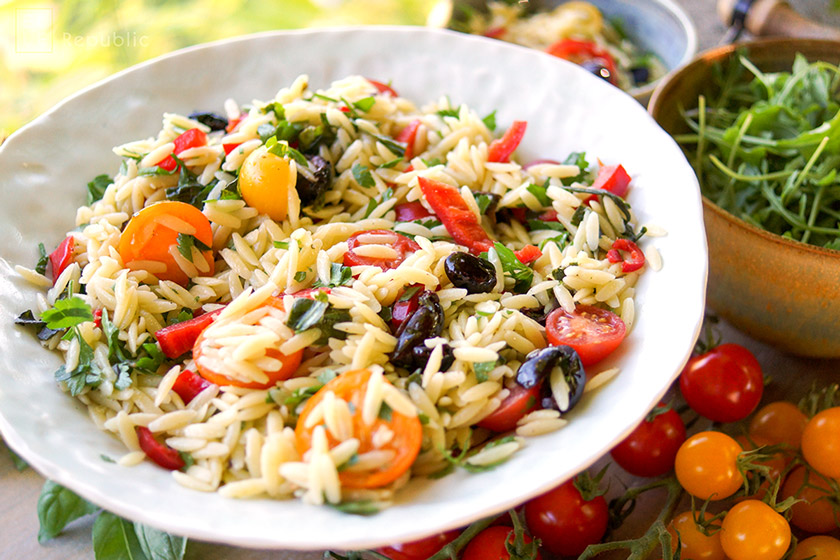 Summer was made for salads like this. Mediterranean salads such as this simple vegetarian orzo salad packed with light and fresh summery flavors. Sweet heirloom cherry tomatoes, garden fresh herbs, lemony undertones, French Niçoise olives marinated in flavorful oil with rosemary leaves, sweet pointed red pepper and some subtle heat and extra flavor from fresh red chili. This orzo salad is the perfect thing for a sunny afternoon spent in the shade enjoying a late afternoon lunch and glass of chilled rosé. Who doesn't love doing exactly this during a summer vacation? It also makes for a fantastic side for a BBQ or a summer picnic on any given weekend.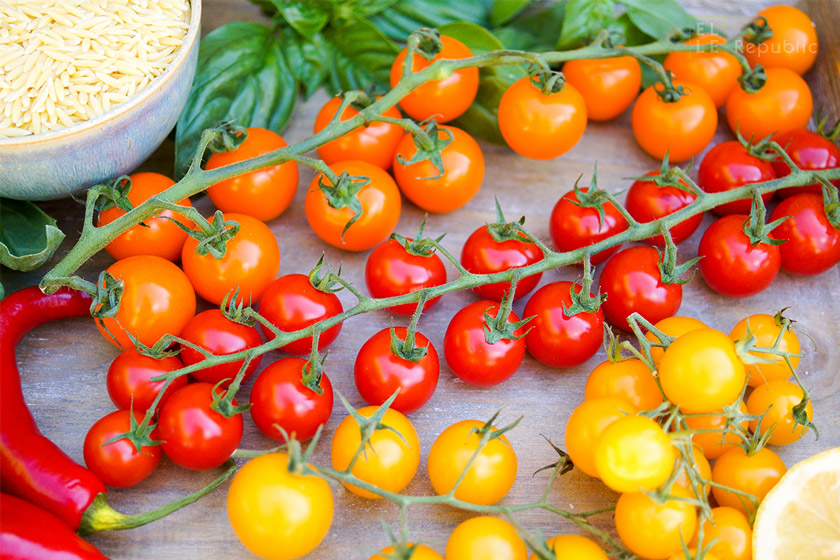 One of the great things about summer is grilling outside. I'm all for BBQs but what I really love about them are the grilled vegetables, seafood and the wide variety of side salads. I think for many of us when we think of grilling we think steak and in the case of kids, perhaps sausages, hotdogs and burgers. At the start of this year's summer holiday in France, we met up with friends at their vacation home for a BBQ, one with absolutely everything. Everything I love, plus a whole lot more.
As someone who doesn't eat a lot of meat, I don't actually need meat for a BBQ to be a BBQ. And on this evening there was a lot of it. A lot of everything. Lamb, beef, prawns, sea bream, a large assortment of sausages and everything that could possibly accompany them as a side. Perhaps it was because of this very evening I was reminded of exactly why I spent so many years following a vegetarian lifestyle. After indulging in a little too much of everything, including the flowing glasses of wine from a well stocked wine cellar, I suffered unimaginably the next day. I am sure I was born to be a vegetarian. More often than not meat doesn't sit well with me.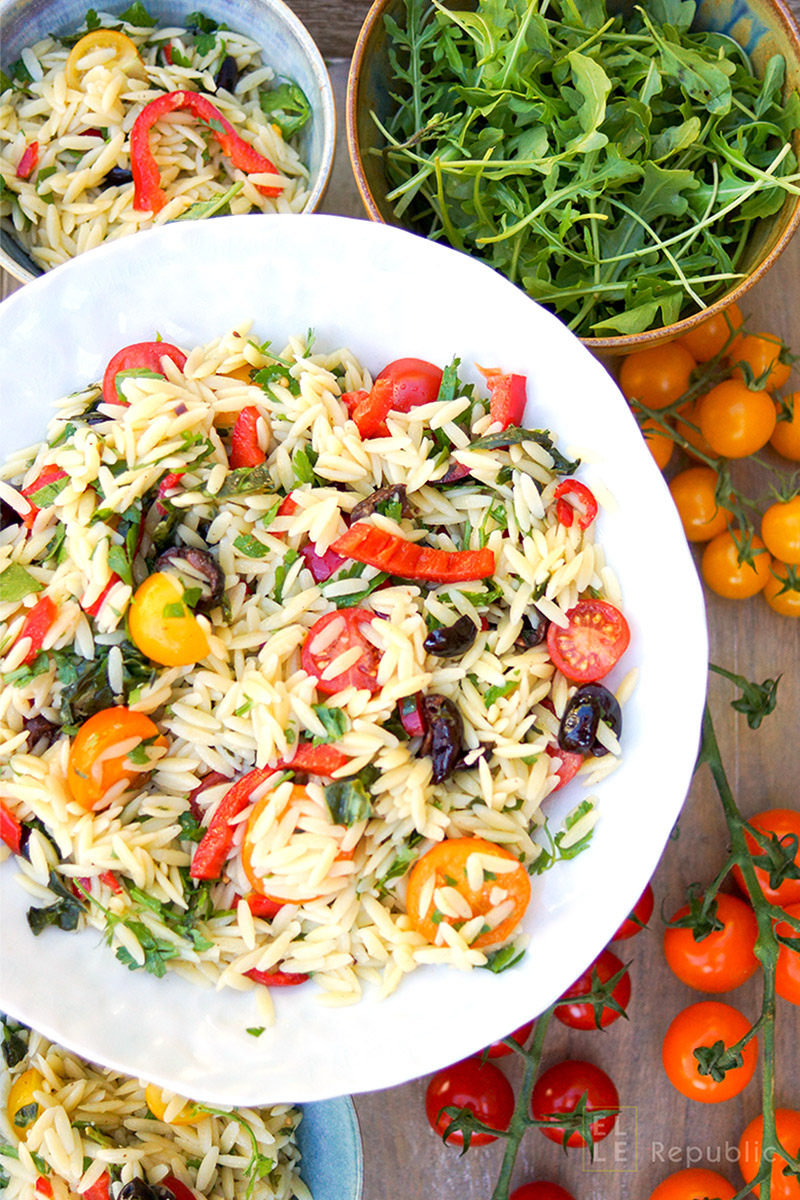 Back in my 20s, I read a book called "Eat Right 4 Your Type". This was a book that makes health and nutrition recommendations based on our genetic predisposition. The author, Dr. Peter D'Adamo, advises that we follow a diet based on our blood type and me, being Type A would be advised to follow a meat-free diet that also excludes a large number of fish and seafood types, as well as most dairy products and wheat. Perhaps that's why my body simply craves vegetables and I am such a salad freak. Yes, I am. According to this controversial diet, there is an exclusive list of other foods that don't suit my sensitive Type A immune system.
So, it's a pretty restricted diet. Back then, when I tried to follow it, I found it too confining. Meat was not the problem, nor was dairy. Rather, it was some of the other things on the list that I missed too much. Wheat of course being a tough one. It's everywhere. Though, even today I reduce it greatly. Especially since there are a number of studies that say that people with Hashimoto thyroiditis (me being one of those people) should not consume gluten, which refers to the proteins found in wheat. Excluding it is tough. Mostly because I love grains like barley, grünkern and spelt. So that leaves me back to my philosophy of "everything in moderation". Which is why even today, I love to enjoy a good pasta salad made with orzo noodles.

Whole wheat (or in my case, gluten-free) would of course be a better pasta option. In North America you can buy orzo in a whole wheat form, but I have yet to find them sold this way in Germany, or even France or Greece. I'm a fan of the texture and form of these little rice shaped noodles, so Carpe diem, we only live once, right?
I think this orzo salad is perfect as is, but since it's so versatile, I can also imagine adding fresh marinated artichokes and capers for a different spin on this version.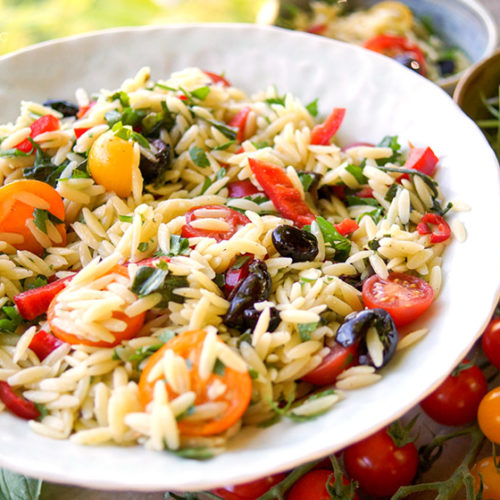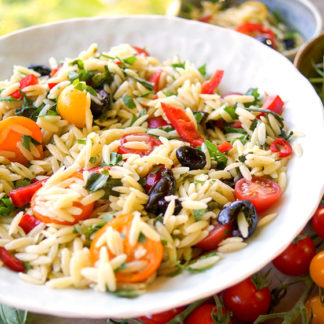 Orzo Salad with Cherry Tomatoes, Red Pepper and Olives
Orzo, cherry tomatoes, red pepper, olives and parsley are combined to make a fantastic tasting and light pasta dish. It's an easy and quick weeknight dinner recipe for summer and early fall! For a whole grain version go ahead and substitute with another small pasta shape.
Ingredients
For the orzo:
2

cups

dried orzo

(rice-shaped pasta) (400 g)

250

g

cherry tomatoes,

halved

1

pointed red pepper,

halved lengthwise and sliced thinly

1

fresh red chili,

seeded and finely chopped

1/2

cup

oil-cured black olives,

pitted (ca. 85 g) (I used Niçoise olives)

1

small bunch fresh flat-leaf parsley,

chopped

sea salt and freshly ground pepper,

to taste
For the dressing:
6

tablespoons

extra-virgin olive oil

4

tablespoons

finely chopped fresh basil leaves

2

cloves

garlic,

minced

finely grated zest 1/2 organic lemon

freshly squeezed juice of 1 lemon
To garnish:
Handful arugula leaves or chopped radicchio
Method
Cook the orzo in large pot of boiling salted water until tender but still firm to bite (al dente). Drain. Rinse with cold water; drain well. Transfer to large bowl.

In a small bowl combine the oil, basil, garlic, zest and lemon juice.

Add the dressing to the orzo salad and toss to combine. Add the remaining ingredients, season with salt and pepper, and garnish with arugula leaves or chopped radicchio. Serve and enjoy!
Did you try this recipe?
Then tag @ellerepublic on Instagram and hashtag it #ellerepublic
How did you like it?
Please let me know how this Orzo Salad with Cherry Tomatoes, Red Pepper and Olives recipe turned out for you! I would love to hear how you liked it. Simply rate it with the stars above ⭐or leave me a comment and rate it below.
Did you make any changes to this recipe?
If you have tips for other readers, let me know! It helps me and other readers so much. Sharing is Caring :-).
This post contains affiliate links. If you decide to make a purchase through my link, Amazon will pay me a commission for it. This doesn't cost you anything additional and the price remains the same. More about advertisements on Elle Republic.