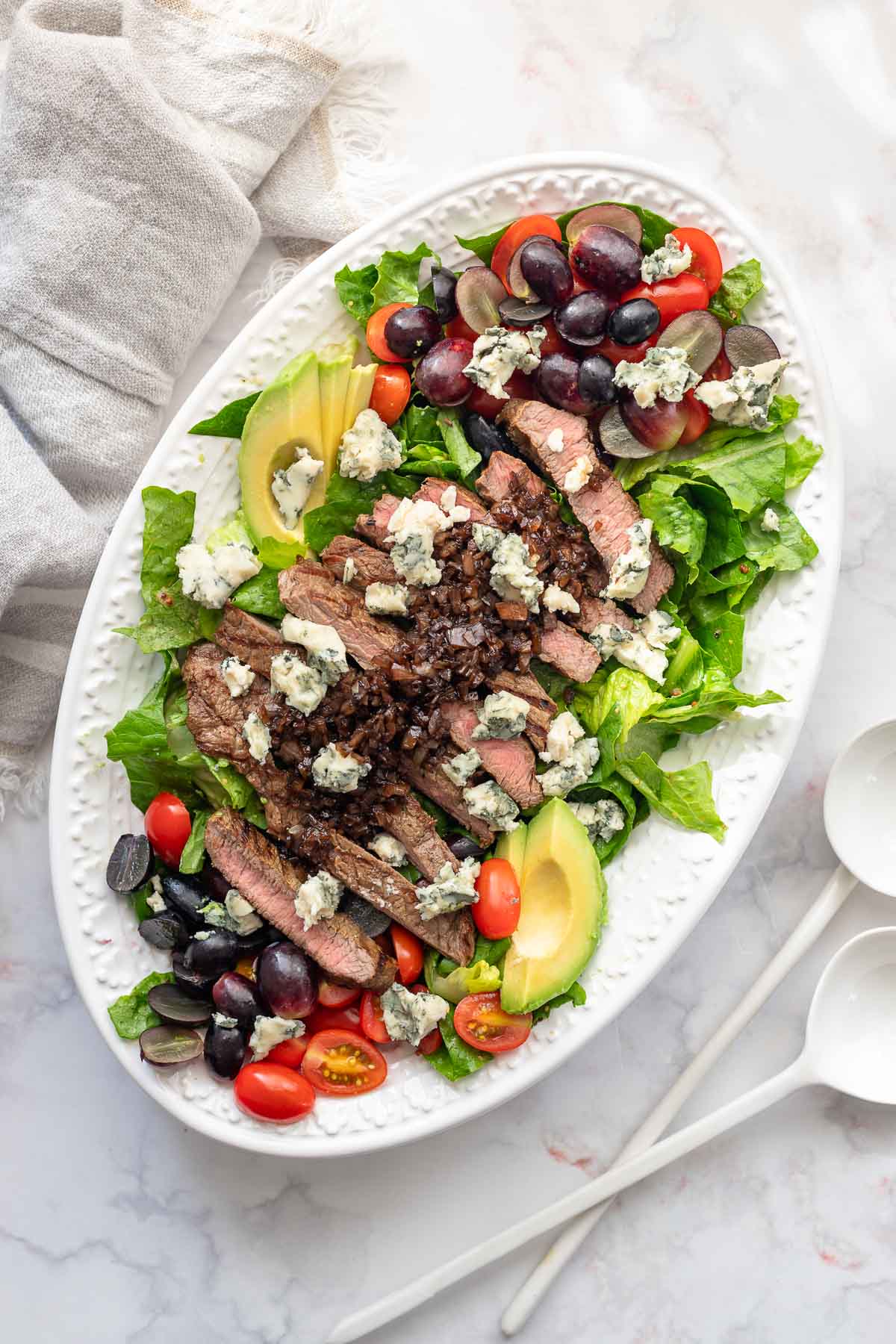 Seasoned strips of grilled steak elevate a simple salad to entree salad status. Romaine leaves are tossed in a Dijon-balsamic dressing, along with grapes, cherry tomatoes and avocado. Then comes a layer of sliced steak, topped with a shallot-balsamic glaze and lastly, crumbled blue cheese. A fully loaded salad. And a delicious one — that's easy enough to make any night of the week. With simple seasonings and a brief sear on a stovetop grill plate, dinner is ready in under 30 minutes!
Steak isn't something I often make, so I can tell you that I had one happy teenager as I worked to find the best method for cooking a perfectly tender, juicy steak. And the bonus, it was a great way to get kids to eat salad — naturally without the blue cheese. So let me share with you my experience testing the ELAG induction cooktop and tips for grilling steak indoors.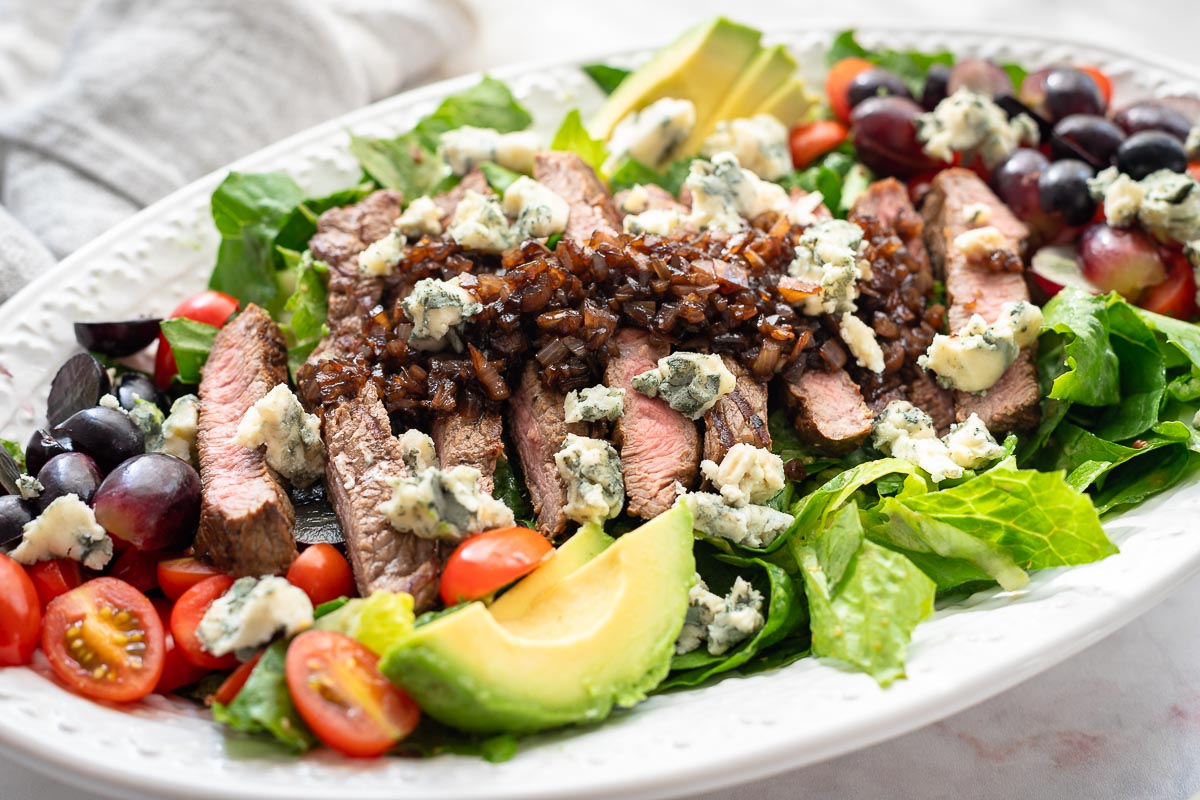 Grilled steak is quick and easy to prepare
There are no special techniques or pieces of cooking equipment, no long waiting periods or arduous prep steps. All you need is a cast iron grill plate or grill pan, a steak, sea salt, pepper, and oil.

A cast iron is the way to go
A cast iron grill plate making grilling indoors a cinch. And although my new new induction stovetop has the ability to create large zones for cooking, you don't have to put the whole grill plate to use to enjoy its benefits. And of course, what better way to do this than to grill steak — the very thing that is synonymous with grilling.
Once heated up to temperature, you can sear meat quickly to lock in flavour and moisture while also giving it those iconic griddle marks. Plus the more you use your cast iron grill plate or grill pan, the better its natural patina will become to help enhance its searing capabilities. This also means you don't need to rely on a lot of fat either.
Tips for grilling the best steak indoors
First of all, it's important to let the steaks sit at room temperature for 30 minutes (max 1 hour), before grilling them to ensure even cooking.
Preheat the grill plate
The key to a delicious, juicy steak is heat. And since those signature sear marks come from a sizzling hot pan, the ELAG grill plate is the way to go. With my induction stove top, the entire grill surface is evenly heated, in one big square, (or rectangle if you use the decide to combine the zones) which makes it easy to grill two steaks simultaneously, ensuring even cooking.
The heavy surface of the grill area gets extremely hot, making it perfect for grilling steak indoors. You'll want to preheat your pan over medium-high heat for at least 5 minutes. You'll know it's hot enough when it starts to smoke. Now you're ready to sear!
Seasoning
When making steak, you want to make sure it's well-seasoned. Salt and pepper are all you need here. I use coarse sea salt, as it's meant to season the steak and not draw out the moisture. I use half a teaspoon, but feel free to double this!
Sear the steak
Place the steak onto the grill plate, applying pressure with tongs (or a steak press), and cook, undisturbed, until it's easily moved. This takes between one and two minutes. Flip the steak and cook for another 2-3 minutes, pressing slightly to ensure even contact with the skillet.

Get that signature cross-hatch
To get the signature "diamond" sear pattern or cross-hatch, place the steak on a 45-degree angle to the grates. After 1 minute use the tongs to give it a quarter turn, Flip to and repeat.
Cook to desire degree of doneness
Depending on the thickness of the cut and personal preference, your steak could take anywhere from 1 1/2 minutes per side to 3 minutes per side.
Rest the steak
Resting meat is one of the most important steps. Let your steak rest for five minutes before slicing or serving it. This allows the meat to relax and the heat and juices to redistribute.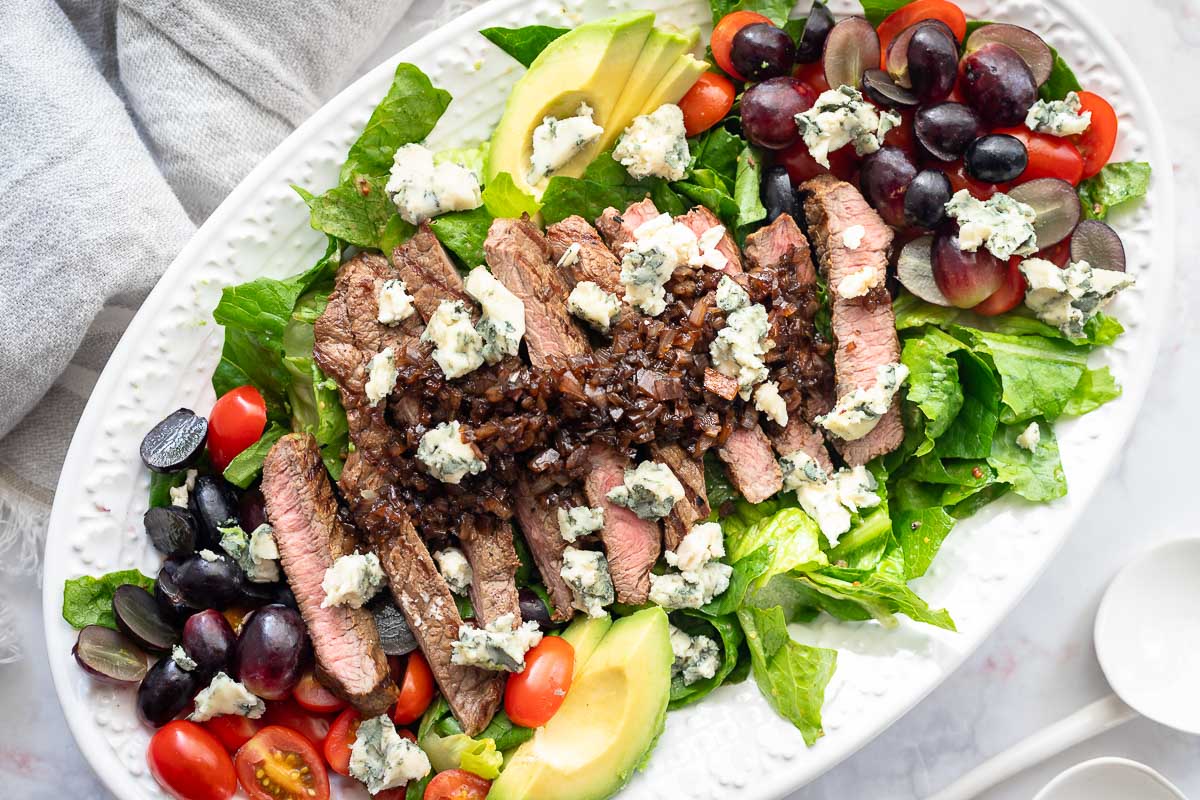 What are your experiences cooking steak indoors using cast iron?
Any further tips? Let me know in the comments below!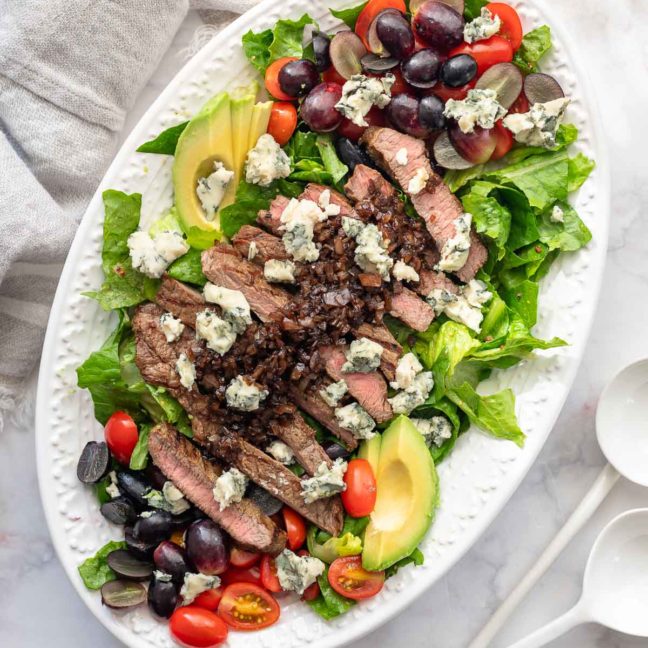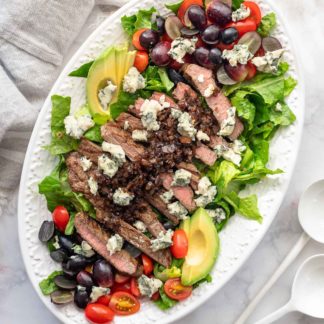 Gegrillte Steak Salat mit Balsamico-Glasur
A grilled steak salad made on a stovetop cast-iron grill plate is a delicious and simple way to enjoyed a BBQ favourite anytime of year.
Ingredients
For the glaze:
1

tablespoon

extra-virgin olive oil

60

ml

balsamic vinegar

(4 tablespoons)

2

small shallots,

finely chopped

1/2

teaspoon

soft brown sugar
For the grilled steak:
2

sirloin steak

(ca. 350 g, at least 2cm thick)

1/2

teaspoon

each salt and pepper

oil for grill
For the salad:
125

g

cherry tomatoes,

sliced in half

1/2

avocado,

thinly sliced

handful seedless red grapes,

sliced in half

50

g

or more Gorgonzola or Roquerfort cheese,

crumbled

1

small head romaine lettuce,

roughly chopped (4 generous handfuls)
For the salad dressing:
1/2

tablespoon

grainy Dijon mustard

1/2

tablespoon

Dijon mustard

1/2

tablespoon

balsamic vinegar

2

tablespoons

extra-virgin olive oil

sea salt and freshly ground pepper,

to taste
Method
Let steak stand at room temperature for 20-60 minutes to bring the steak to room temperature.
Prepare the balsamic glaze:
Add olive oil, vinegar, shallots, and sugar to skillet; simmer until reduced to glaze, stirring often, about 1-2 minutes.
Grill the steak:
Season your steak well with salt and pepper. It makes all the difference.

Heat the grill plate (or cast iron grill pan) on medium-high heat until it is very hot (for 5-7 minutes). As soon as the grill starts to smoke, it is hot enough. This high heat is what gives the steak a gorgeous char without overcooking it.

Brush the grill lightly with a high-heat frying oil (or the steak itself). Place the seasoned steak on the grill and cook for 2 minutes, undisturbed, then flip the steak and let it cook 2-3 more minutes for medium-rare.

Transfer to cutting board; let stand 5 minutes.
Prepare the salad:
While the steak is resting, whisk the salad dressing ingredients in a small bowl.

In a large serving bowl, toss the romaine lettuce with the dressing until evenly coated. Top with the tomatoes, grapes and avocado slices.

Thinly cut slice steaks crosswise. Arrange slices atop salad and drizzle with balsamic glaze. Finally, scatter the crumbled blue cheese on top. Season with a little more salt and pepper and serve. Enjoy!
Notes
For a relaxing atmosphere in the kitchen I recommend my personal Elle Republic: Chilled Out Kitchen Tunes Playlist auf Spotify.
Did you try this recipe?
Then tag @ellerepublic on Instagram and hashtag it #ellerepublic
How did you like it?
Please let me know how this buckwheat bread recipe turned out for you! I would love to hear how you liked it. Simply rate it with the stars above ⭐ or leave me a comment and rate it below.
Did you make any changes to this recipe?
If you have tips for other readers, let me know! It helps me and other readers so much. Sharing is Caring :-).
Advertisement
Many thanks to ELAG Products GmbH for sponsoring this Grilled Steak Salad with Balsamic Glaze recipe.
This post contains affiliate links. If you decide to make a purchase through my link, Amazon will pay me a commission for it. This doesn't cost you anything additional and the price remains the same. More about advertisements on Elle Republic.