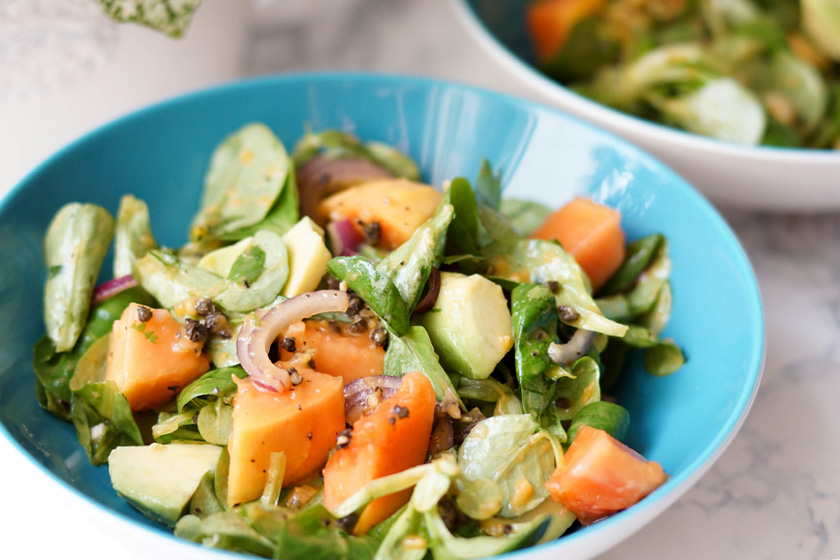 The combination of papaya, avocado, sweet red onion and cilantro is a perfect match. It's what I call a summer papaya salad of the highest calling. It's a fantastic salad to serve as a main with grilled jumbo tiger prawns or as a sumptuous side. Not only does it taste great; it's also pretty.
Choose a firm, ripe avocado so you can enjoy the best of its smooth texture and a nutty taste. Avocados do not ripen on the tree, but rather after they have been harvested, so even if those "ready to eat" avocados are a little too hard, you can speed up the process by placing an unripe avocado in a brown paper bag. This traps the ethylene gas it produces and supports the ripening process. By doing so, a firm avocado placed in a paper bag will ripen at room temperature in about 3 to 6 six days. So for an avocado that is just a tad too hard, it very well may be perfectly ripe and ready to eat the following day. The slow down the process, store avocados in the fridge. This will let you use your perfectly ripe avocado days later.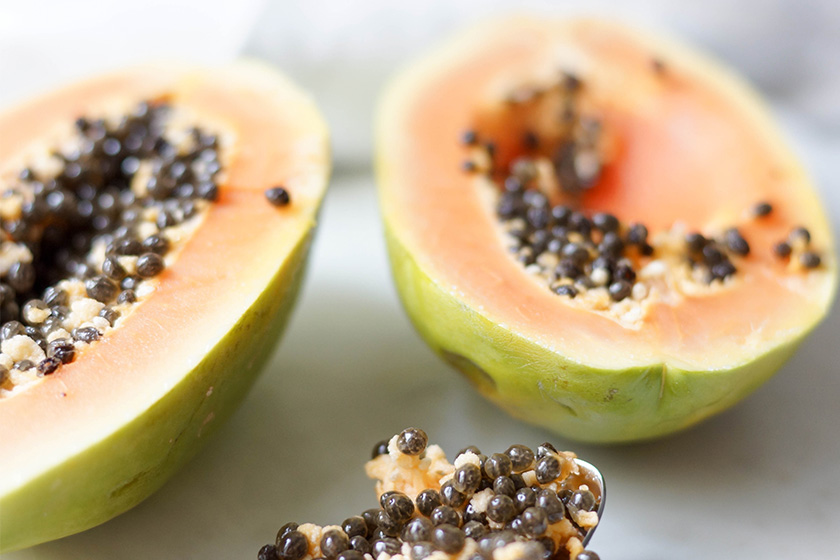 Not only are papaya seeds edible, small amounts of them in your diet surprisingly good for you. They have a high levels of digestive enzymes, are antibacterial, anti-parasitic and have powerful liver regenerating properties. Sounds good to me, how do we get more of them into our diet? Well, add them to your dressing as a start. Their flavor is a bit like a cross between mustard and black peppercorns; two things I love in my salad dressings.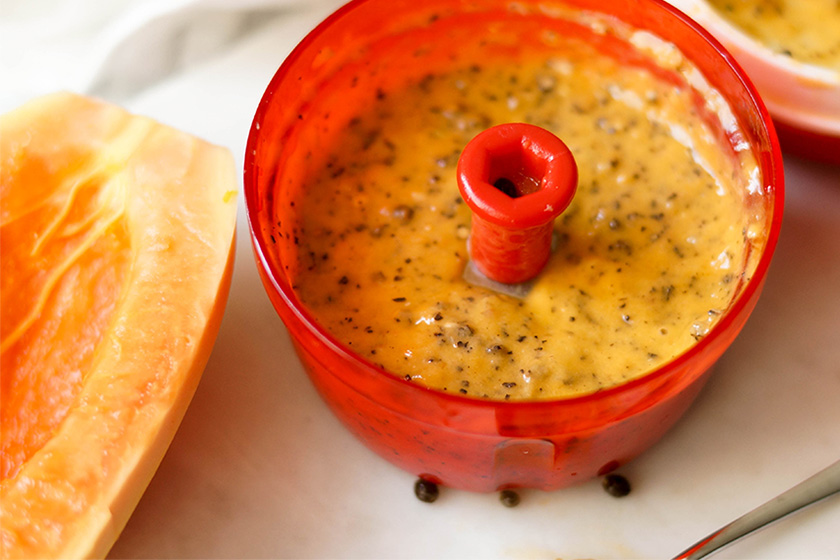 Keep in mind, when choosing a papaya, some people prefer to select the smaller ones as they tend to have seeds with a milder taste, whereas the seeds of a large papaya tend to be a little more bitter.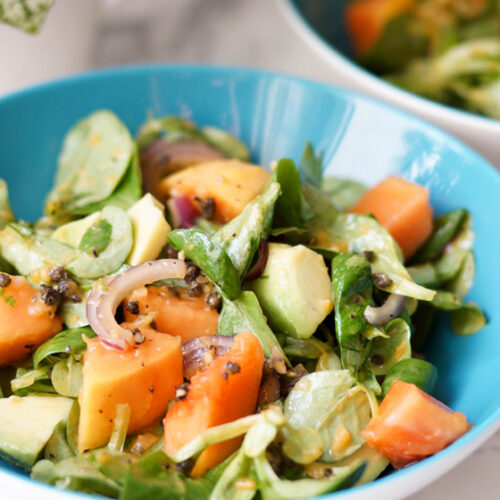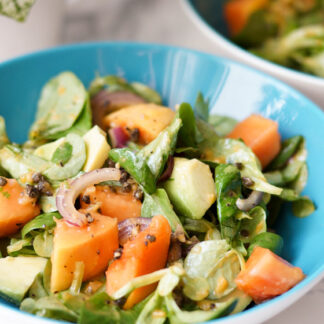 Papaya Salad with Avocado and Sweet Red Onion
An avocado salad with papaya, sweet red onion and cilantro is a perfect match. It's what I call a summer papaya salad of the highest calling. So delicious!
Ingredients
For the salad:
4

generous handfuls lamb's lettuce

(100 g)

1

avocado,

peeled and diced

1

ripe papaya,

peeled, seeded and diced

1

red onion,

sliced thinly

2

tablespoons

fresh cilantro,

chopped
For the dressing:
seeds of 1 papaya,

including a little of the fruit's flesh

2

tablespoons

almond oil

2

tablespoons

extra-virgin olive oil

1

teaspoon

grainy Dijon mustard

sea salt,

to taste

1

shallot,

chopped

1/2

teaspoon

raw cane sugar
Method
Combine seeds and fruit flesh with the rest of dressing ingredients and blend until smooth.

In a medium bowl, combine the greens, onion and papaya. Toss well with dressing to coat. Add avocado and cilantro and toss again lightly. Serve immediately and enjoy!
Did you try this recipe?
Then tag @ellerepublic on Instagram and hashtag it #ellerepublic
How did you like it?
Please let me know how this Avocado Salad with Papaya and Sweet Red Onion recipe turned out for you! I would love to hear how you liked it. Simply rate it with the stars above ⭐or leave me a comment and rate it below.
Did you make any changes to this recipe?
If you have tips for other readers, let me know! It helps me and other readers so much. Sharing is Caring :-).