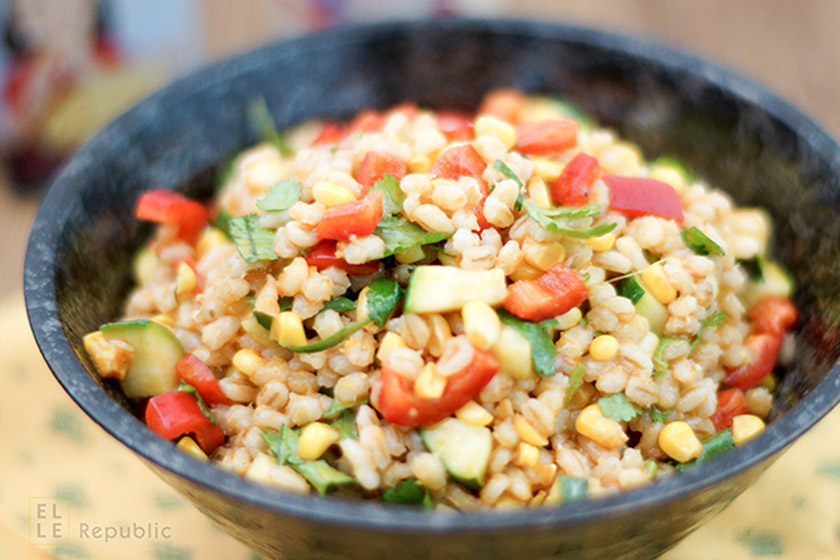 Here we are again, just me and what looks to be just another big bowl of salad. But wait, this one is different. A few veggies and a whole lot of grain. What I love about grains in salads is their ability to deliver an all-in-one healthy, filling meal — this time with barley. This salad with its south of the border flavors is the perfect make-ahead vegetarian dish – whether for a picnic, barbecue or pack-to-go lunch.
Barley Salad with Roasted Corn and Smoky Flavors
Sweet, cool, smoky – anyone from Spain swears by smoked paprika and its ability to deliver a warm flavor of ripe peppers and spark feelings of sunshine. It's fantastic for adding a smoky flavor to any dish and even the "hot" version is relatively mild – it has some spicy undertones, but really resembles something more like a mixture of sweet red bell pepper and cayenne.
Barley is one of those brilliantly healthy grains that doesn't get the attention it deserves. With a slightly malty character, chewy texture and mild nutty flavor, it's a delicious whole grain that goes beyond classic the beef and barley soup (something that made regular appearances in my mother's kitchen when I was a kid). Barley is terrific used in salads and pilafs and as I have been told it's the secret key ingredient in making a super delicious and tasty veggie burger.
Thanks to vegan chefs like Attila Hildmann, previously unloved grains such as buckwheat, barley and the likes have never had so much attention. Attila, tokened as being the Germany's version of young Jamie Oliver (albeit a meat-free, dairy-free, etc. etc. version of dear Jamie) is the shining star in the vegan cuisine scene and has brought a lot of attention to eco-friendly cooking and the importance of maintaining healthy eating habits and a healthy lifestyle. As you can pantries are now full of this stuff. High time. Whole grains are fantastic.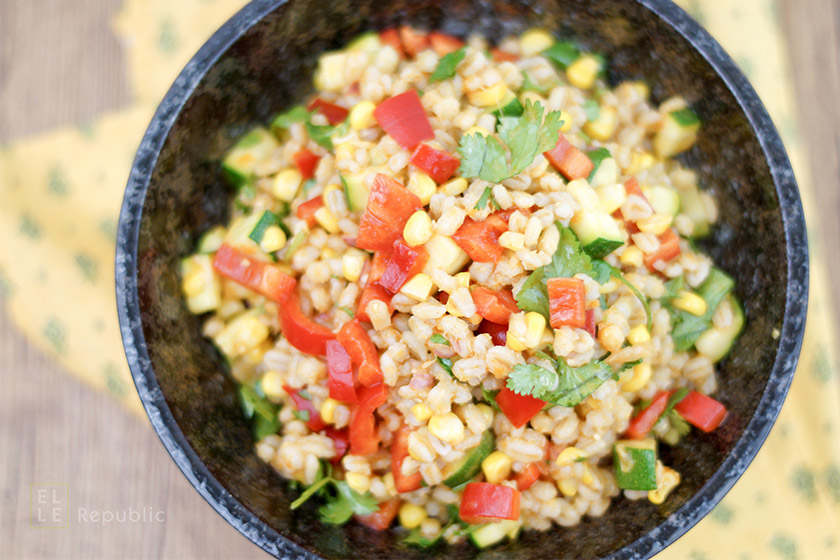 Barley is making a comeback
The most common type of barley found in most kitchens is pearl barley. It's light in color and has had both its hull and bran removed, and often the germ, too. While even pearled barley that's been "polished" retains many vital nutrients, it's actually not a whole grain. Although it has been refined, it is still much healthier than other refined grains. This processing makes it less chewy to the bite but allows it to cook up faster. If you're looking for a most robust, whole grain option, then hulled barley is the way to go.
Hulled barley in contrast has been minimally processed—and carefully so, as to only remove the tough inedible outer hull. It's tremendously high in dietary fiber and nutrition, and has a more pronounced nutty flavor. It also requires a longer cooking time.
TIP: Preparing barley is an easy task. However, you can consider giving it a soak overnight to help the process along. If soaked, the barley it will only need to cook for about 15 minutes. Otherwise, plan 30 to 45 minutes.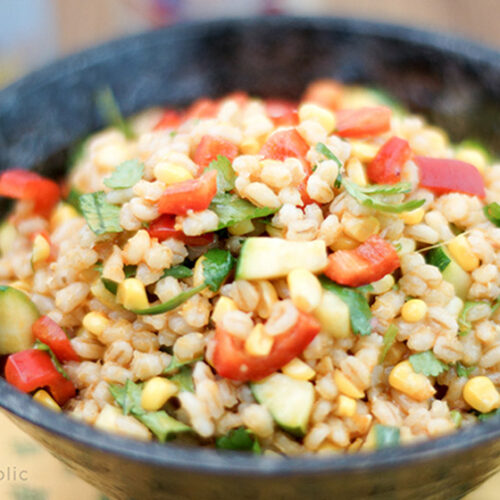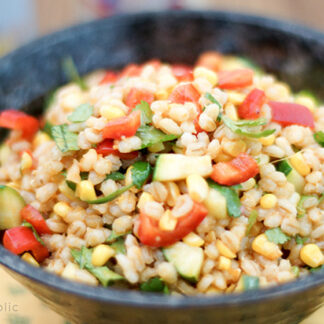 Barley Salad with Roasted Corn, Zucchini & Red Pepper
A sweet, cool, smoky barley salad with spicy undertones. A healthy south of the border vegetarian dish with cilantro, roasted corn and zucchini sparks feelings of sunshine.
Ingredients
For the salad:
1

cup

pearl barley

(220 g)

1

tablespoon

extra-virgin olive oil

1

cup

corn kernels,

cut fresh from cob (about 2 cobs) or frozen corn kernels (thawed) (175 g)

1

zucchini,

diced (about 1 cup)

1

sweet pointed red pepper,

seeded and diced

1

small bunch of cilantro,

chopped

sea salt and freshly ground pepper,

to taste
For the dressing:
1

shallot,

finely chopped

1

garlic clove,

minced

juice of 1 lemon

2

teaspoons

red wine vinegar

1

tablespoon

Dijon mustard

1

teaspoon

brown sugar

(alternatively, substitute with honey)

1

teaspoon

chili powder

1/2

teaspoon

smoked paprika

(hot)

1/2

teaspoon

ground cumin

1

teaspoon

sea salt,

or to taste

4

tablespoons

extra-virgin olive oil
Method
Preheat the oven to 375ºF / 190ºC.

In a medium saucepan, bring 3 cups of water to a boil. Add the barley and reduce heat to low. Simmer, uncovered, for about 30 minutes, until the barley is al dente. Remove from heat and allow the barley to stand for 15 minutes. If liquid remains, drain the barley in a colander (or use the lid of the pot to strain off any excess moisture). Set aside to cool.

While the barley is cooking, in a bowl, toss the corn kernels with 1 tablespoon of the olive oil. Spread evenly on a baking sheet lined with parchment paper and sprinkle with sea salt. Transfer to the oven. Bake for 15 minutes and then add the zucchini; mix together until well combined. Bake for 10 to 15 more minutes, stirring a couple of times, until the corn just starts to brown a little bit.

In a small bowl, whisk together the shallot, garlic, lemon juice, vinegar, mustard, sugar, spices and salt. Add the olive oil and whisk together until the dressing is emulsified.

Transfer the barley to a large serving bowl. Add the dressing, zucchini, corn, red pepper and cilantro and toss to combine. Serve at room temperature. Enjoy!
Notes
If making in advance, store in the fridge and let come to room temperature before serving. 
Did you try this recipe?
Then tag @ellerepublic on Instagram and hashtag it #ellerepublic
How did you like it?
Please let me know how this Barley Salad with Roasted Corn recipe turned out for you! I would love to hear how you liked it. Simply rate it with the stars above ⭐or leave me a comment and rate it below.
Did you make any changes to this recipe?
If you have tips for other readers, let me know! It helps me and other readers so much. Sharing is Caring :-).