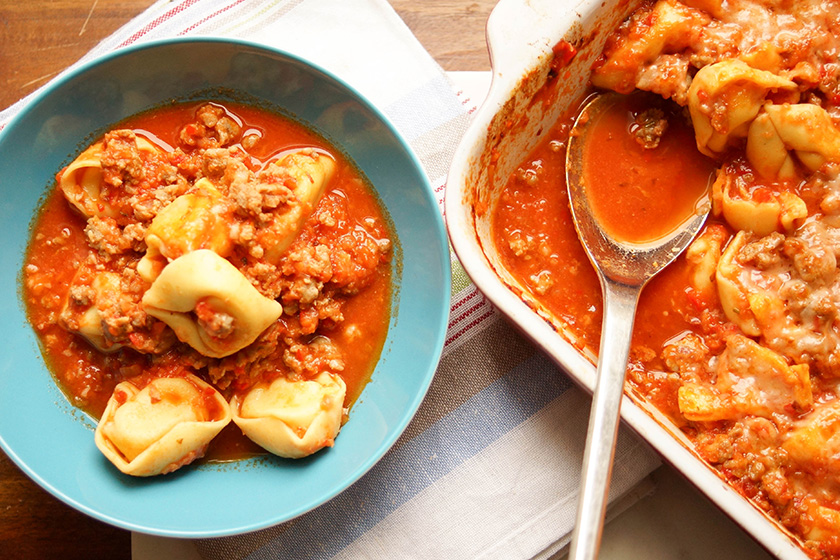 Do you ever get a craving for lasagna, and start thinking of the different steps involved in putting it together and remember how much effort it really is? Okay, truth by known, I belong to the camp of people who still pre-boils the lasagna noodles and likes to make a proper Bolognese for the sauce, which needs to simmer in order to enjoy those deep flavors. So…wanting something sooner rather than later, I came up with this baked tortelloni casserole to satisfy those moments. It's a bit like a baked lasagna — it's got pasta, mince in the form of Italian sausage, tomato sauce and of course a cheesy parmesan top — but it's a whole lot easier and quicker to pull together.
Baked tortelloni — it's that easy!
Ready made fresh cheese filled tortelloni is of course the main reason this dish is so easy to assemble (by the way, I'm sure ravioli would work well too). All there is to it is to cook the sauce, toss it together in a casserole dish with the tortelloni, cover with parmesan, bake, give it a stir, add more cheese and bake some more until bubbly. That's it! Simple. Of course, you could use a traditional Bolognese sauce, isn't it nice to change things up once and a while?
Salsiccia varies butcher to butcher and is available sweet or spicy
I decided to skip the minced meat and use salsiccia, which is a full-flavored Sicilian style pork sausage. The main seasonings are fennel or anise, and pepper. Depending on the butcher, some recipes are more peppery than others, so keep this in mind when adding additional seasoning. Sometimes butcher's sell this sausage without fennel — I prefer it with. It's also available sweet (mild) or hot, differing only with the addition of hot red pepper flakes. So find a butcher with a version you like, preferably one that sells locally sourced, sustainably raised meat. I opted for a kid-friendly version, but if you like spicy, I would recommend a mix of both. Enjoy!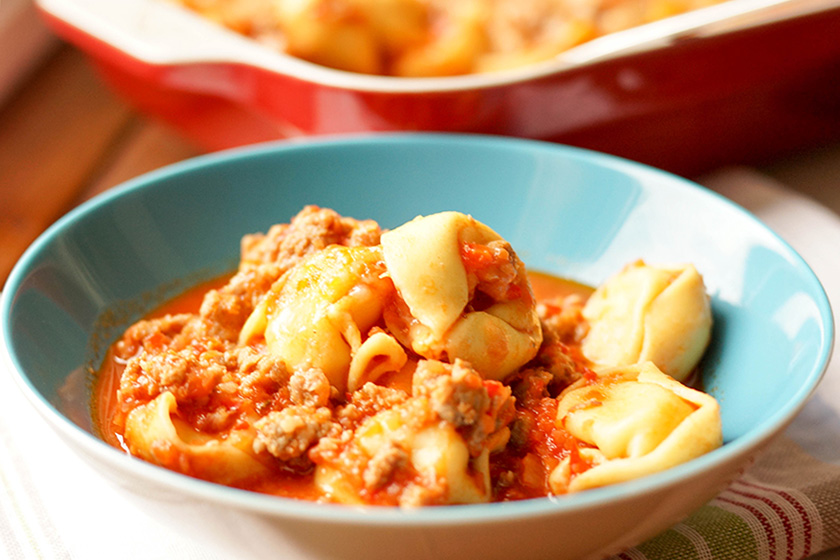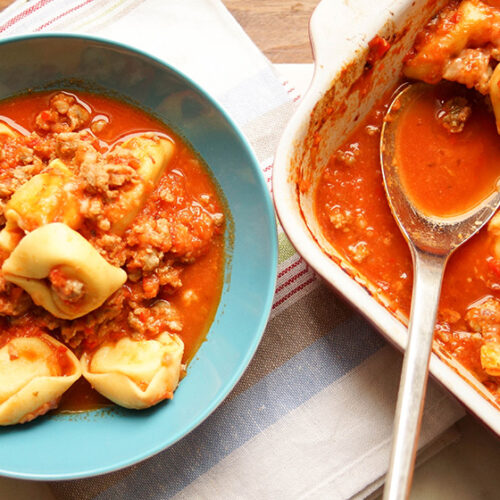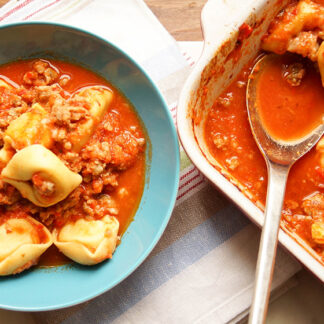 Baked Tortelloni with Italian Sausage (Salsiccia)
Baked tortelloni is a bit like a baked lasagna - it's got pasta, mince in the form of Italian sausage, tomato sauce and of course a cheesy parmesan top.
Ingredients
1

tablespoon

extra-virgin olive oil

2

shallots,

minced

2

garlic cloves,

minced

4

slices

pancetta,

chopped

4

good-quality organic Italian sausages (salsiccia),

casings removed and crumbled

2/3

cup

dry white wine

(160 ml)

1

large carrot,

finely chopped

1

pointed sweet red pepper,

finely chopped

425

g

jar organic puréed tomatoes

(passata)

1/4

cup

water

(60 ml) (optional: depending on how saucy you like your pasta; I opted for saucy)

1

teaspoon

dried oregano

sea salt and freshly ground pepper,

to taste

500

g

package of fresh tortelloni filled with cheese

1/2

cup

grated parmesan

(50 g)
Method
Using a large, heavy sauté pan or saucepan heat the oil over medium heat. Add the shallots, garlic and pancetta and cook, stirring frequently, until the shallots begin to soften, about 2-3 minutes. Add the Italian sausages to the pan and sauté, breaking it up with the back of a wooden spoon, until it's no longer really pink, about 10 to 12 minutes.

Add wine, sauté for 2 minutes, then add the carrot and red pepper; stir to combine.

Add the puréed tomatoes, water and oregano; stir to combine and continue to cook until sauce simmers (about 3-4 minutes); reduce the heat to medium-low. Season with salt and pepper, according to taste. Simmer for about 10-15 minutes, stirring occasionally, until the sauce thickens slightly.

TIP: use the water to rinse out the remains in the glass of puréed tomatoes.

Meanwhile, preheat oven to 375°F / 190°C.

Add the tortelloni to a large casserole dish, pour the sauce over and mix thoroughly. Sprinkle with half of the parmesan cheese. Bake, covered, for 10 minutes.

Stir casserole, sprinkle with the remaining cheese and bake 10 minutes longer, uncovered, or until pasta is tender. If you would like a crisper top, broil for the last 3-4 minutes.
Notes
Italian sausages (salsiccia) are available sweet or spicy. Try a mix OR if serving kids, use the milder version for this baked tortelloni recipe.
I like to use a manual hand chopper to mince my shallots, carrots, and red pepper. If you don't have one of these handy gadgets then just finely chop the vegetables.
I also use a fresh store-bought tortelloni (REWE Tortelloni 4-Käse) which only requires 2 minutes cooking time, so it is not necessary to boil the pasta beforehand. In case you are wondering what tortelloni is... it's simply the bigger version of tortellini.
Did you try this recipe?
Then tag @ellerepublic on Instagram and hashtag it #ellerepublic
How did you like it?
Please let me know how this Baked Tortelloni with Italian Sausage (Salsiccia) recipe turned out for you! I would love to hear how you liked it. Simply rate it with the stars above ⭐or leave me a comment and rate it below.
Did you make any changes to this recipe?
If you have tips for other readers, let me know! It helps me and other readers so much. Sharing is Caring :-).