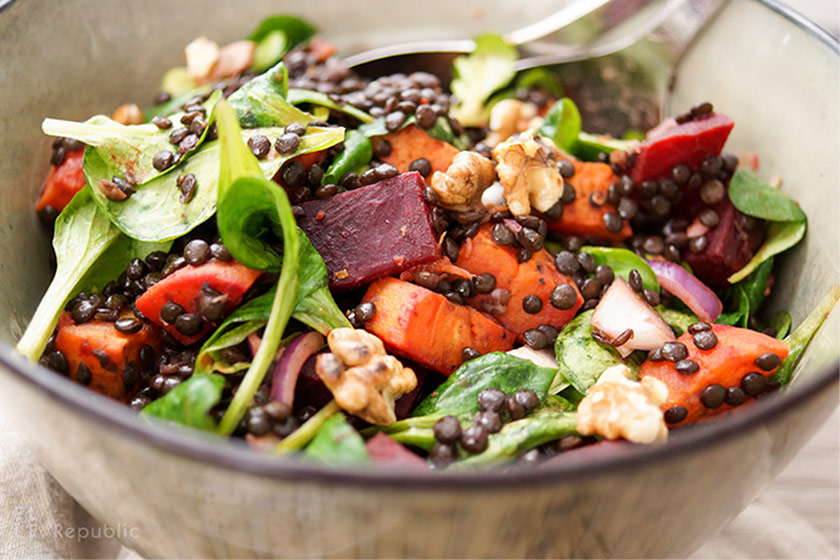 This beluga lentil salad with roasted sweet potato and beet is my picture perfect winter – it's full of deep, rich colors, and it's comforting and nourishing. Let's not forget, TOTALLY delicious! Not only do beluga lentils add lots of protein and texture, but they also add fiber and folate to a salad that's already loaded with winter's deep and earthy flavors of roasted sweet potato and beets, along with winter's tender and cold hearty lamb's lettuce.
In this winter salad, sweet potatoes with their high concentration of vitamin A (in the form of beta-carotene), not only add flavor but so much other goodness that just screams out reasons for why we should include them in our diet! First of all, they are unsurpassed when it comes to beta-carotene, but they are also loaded with fibre. Consider this — they have nearly seven grams per serving — which is twice the amount of normal potatoes! All of which has a positive impact on digestion.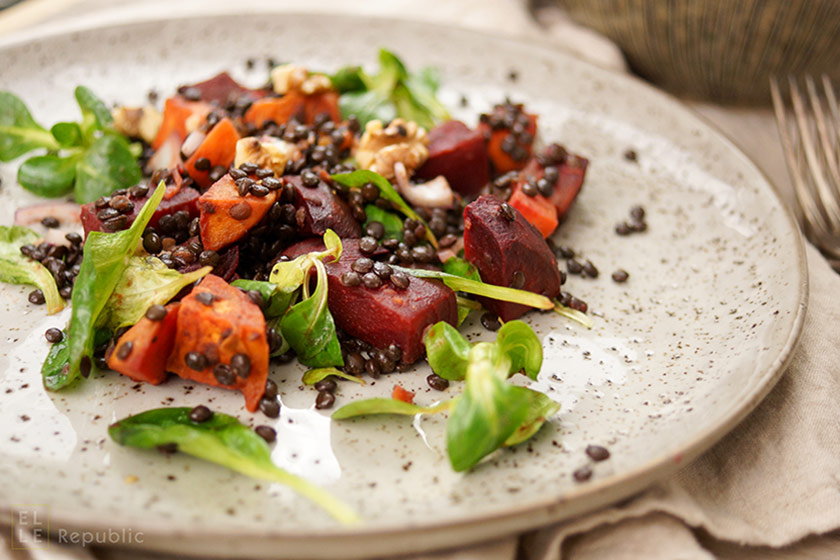 Beetroot is a superfood!
Then there is beet (or beetroot, as you may call it). Not only are they a vibrant color, the sweet and earthy flavor adds so much to any meal and bonus is they may as well be considered a super food, because they are packed with so many good-for-you nutrients. Along with an extra load of folate, they offer antioxidant manganese, essential potassium and magnesium, and a very special phytonutrient called betalain. Belatains offer antioxidant and anti-inflammatory protection and detoxification support. And when I say detoxification support, I mean beets literally push out toxins. Not to get scientific, but through something important called the "Phase Two" detoxification process, the liver converts waste and toxins into water soluble by-products that can be easily eliminated via the skin, kidneys and well, you can imagine the third. There are two pathways to detoxification. In "Phase One", the liver uses oxygen and enzymes to burn toxins and in "Phase Two" the body rids itself of toxins, by the liver performing a second phase called conjugation, which is exactly what beets are there to do. So you may want to reconsider any thoughts of shying away from beets in your next smoothie or cold-pressed juice.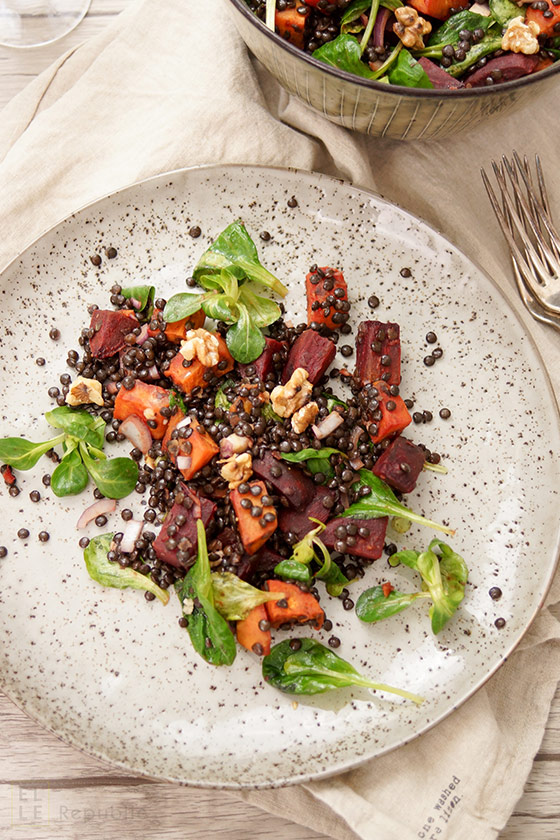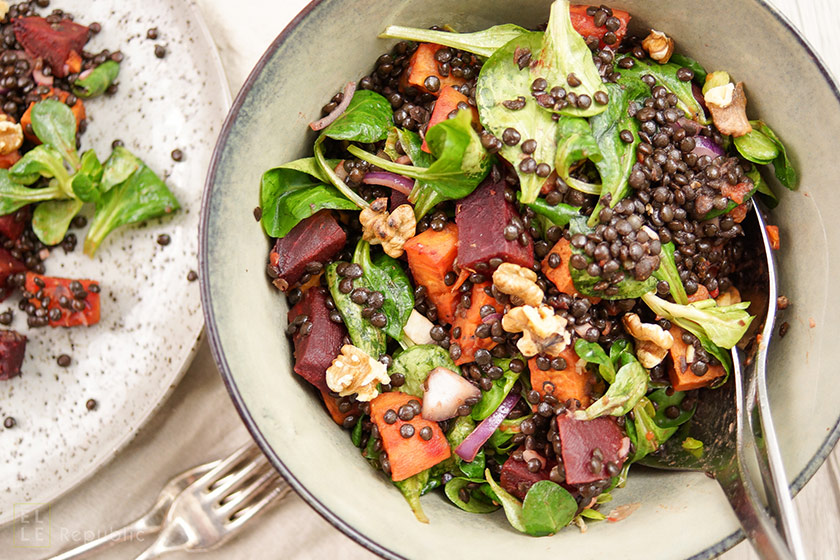 I like to serve this winter lentil salad with roasted sweet potato and beet slightly warm or at room temperature. If serving warm to hot, select either spinach or arugula as a salad choice. Lambs lettuce is far to delicate to take the heat. Also, sweet potatoes are something I only buy organic. They just taste better. I find they are less watery and have more depth of flavor (plus you can even eat them with the skin on if you like!). Enjoy!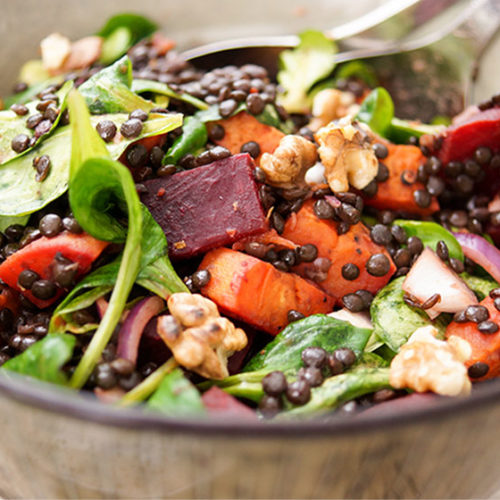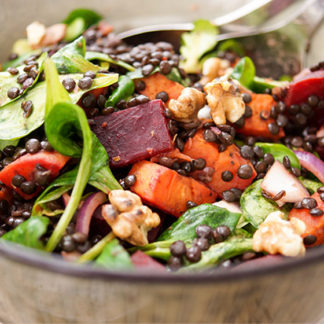 Winter Salad with Beluga Lentils, Roasted Sweet Potato and Beet
A winter salad with beluga lentils and deep and earthy flavors of roasted sweet potato and beet, along with winter's tender and cold hearty lamb's lettuce. Serves 2 as a main, or 4 as a side
Ingredients
For the salad:
1

sweet potato,

preferably organic, peeled and cut into bite-sized cubes

1

medium beet,

peeled and cut into bite-sized cubes

3/4

cup

uncooked beluga lentils

(165 g)

1

small to medium red onion,

chopped

4

handfuls lamb's lettuce

(Mâche)

1

tablespoon

freshly chopped flat-leaf parsley

handful walnuts,

broken into pieces and toasted
For the dressing:
2

tablespoons

white balsamic vinegar

1

tablespoon

extra-virgin olive oil

1

teaspoon

pure maple syrup

1

garlic clove,

minced

1

teaspoon

Dijon mustard

1/2

teaspoon

sea salt
Method
Preheat oven to 375°F / 190°C. Line a baking sheet with parchment paper.

In a medium bowl, toss the beets and sweet potatoes with a little olive oil (1 tbsp), season with salt and pepper and toss to coat evenly. Spread in a single layer on a baking sheet.

Roast until tender, stirring halfway through, approximately 35-40 minutes depending on the size of the chopped vegetables. Remove from the oven and set aside to cool.

While the vegetables are roasting, cook the lentils according to package instructions. When done, remove from heat and drain if needed. Set aside to cool slightly.

TIP: I recommend tasting the lentils after about 25 minutes to see if they are the consistency you want — more firm (al dente) is best for salads.

In a small bowl, add the dressing ingredients and whisk together until well combined.

In a large bowl, add the cooked lentils, roasted vegetables, and red onion; toss to combine. Add the dressing, parsley and lambs lettuce toss one more time.

Top with toasted walnuts and serve. Enjoy!
Did you try this recipe?
Then tag @ellerepublic on Instagram and hashtag it #ellerepublic
How did you like it?
Please let me know how this Beluga Lentil Salad with Roasted Sweet Potato and Beet recipe turned out for you! I would love to hear how you liked it. Simply rate it with the stars above ⭐or leave me a comment and rate it below.
Did you make any changes to this recipe?
If you have tips for other readers, let me know! It helps me and other readers so much. Sharing is Caring :-).