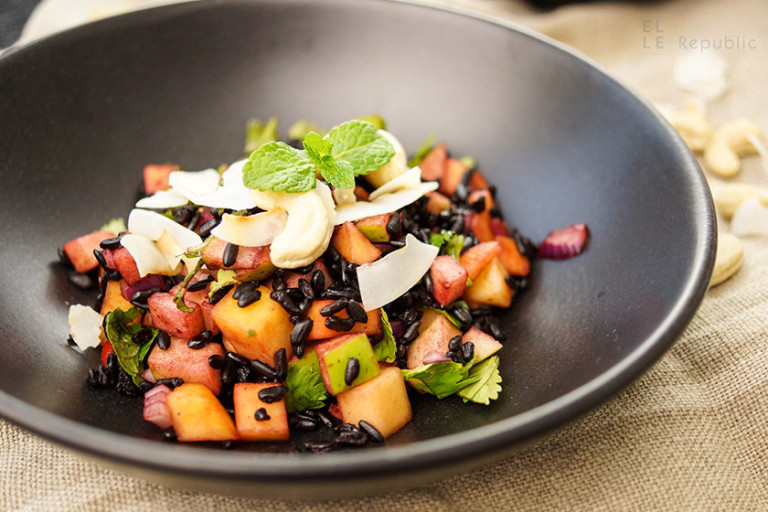 Although there are times when I enjoy eating a salad more than others (ahem, every day ending in "y"!)… I don't ever really need an excuse to have a salad. Even at this time of year. In winter, that just means I am eating more grain salads, or warm salads loaded up with roasted vegetables and some sort of green…or turning a comforting bowl of pasta loaded up with a mountain of baby arugula. This salad combines the things I love about winter salads (more grains) and summer salads (fresh fruity flavors). It's a black rice salad with mango, tart apple, fresh chili, cilantro, mint, coconut flakes, and cashews in a sesame lime dressing. So good!
Yes, salads are a ritual for me and there is barely a day that goes by without having devoured one. My friend Ines is the same. Or perhaps a tad more extreme. Rather than succumbing to greasy burger or doner after a night out on the town, she heads home to gobbles up a whole head of lettuce – a lettuce salad that is loaded up with fresh garlic. I think it's her secret to avoiding a hangover, but she swears that is all she craves when she comes home after a late night out. I have never succumbed to a late night salad, but I do eat them any other time of day. Sometimes even for breakfast.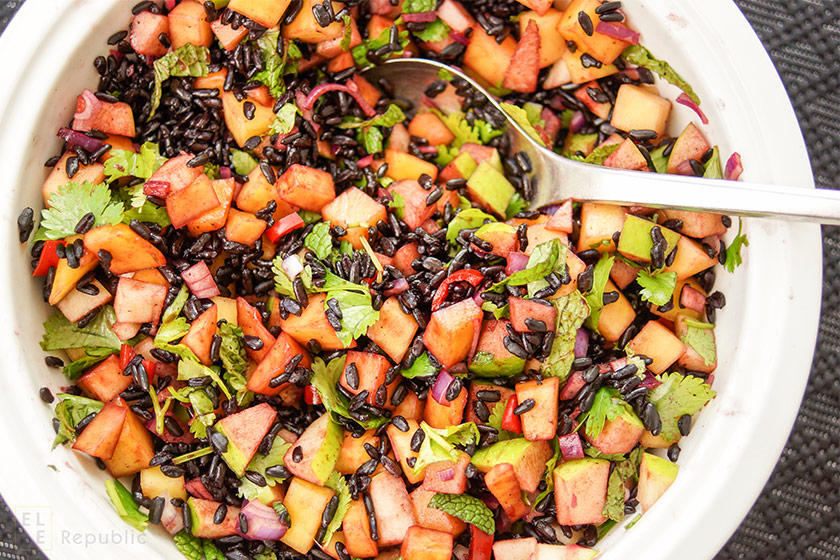 Black rice — a tasty whole grain alternative
Black rice (sometimes referred to and sold as "forbidden rice") has got to be the coolest whole grain to hit health food stores. It is an heirloom variety of rice cultivated in Asia but there is also a hybrid called Riso Venere that is grown in neighboring Italy. Unmilled and unprocessed, the fiber-rich black husks are still intact and since it is full of special phytonutrients, called anthocyanins, it has an intense purple pigment (so deep it's almost black). Anthocyanins are what create the red, blue, and purple colors found in foods like blueberries, grapes and acai berries — all powerful antioxidant-rich foods — all of which help capture free radicals and prevent oxidation. Black rice, with its impressive health benefits, has a remarkably high content of anthocyanins (hello anti-aging effect!), plus essential amino acids, Vitamin B5 and important minerals like calcium, iron, zinc and selenium.
Important tip for cooking black rice
One word of warning, when you are cooking black rice, keep in mind that the color is like a strong dye. On one hand good, since if you combine it with brown rice or another type of grain, it will turn the everything a lovely color, BUT be careful with wooden spoons or enamel cookware.
Tipp: Wenn Ihr schwarzen Reis kocht, dann denkt daran, dass er extrem abfärbt. Das ist gut, wenn Ihr ihn mit anderen Reissorten kombiniert, weil dann der ganze Reis ein dunkles Lila bekommt. Allerdings habe ich seit dem letzten Mal einen schwarzen Holzkochlöffel.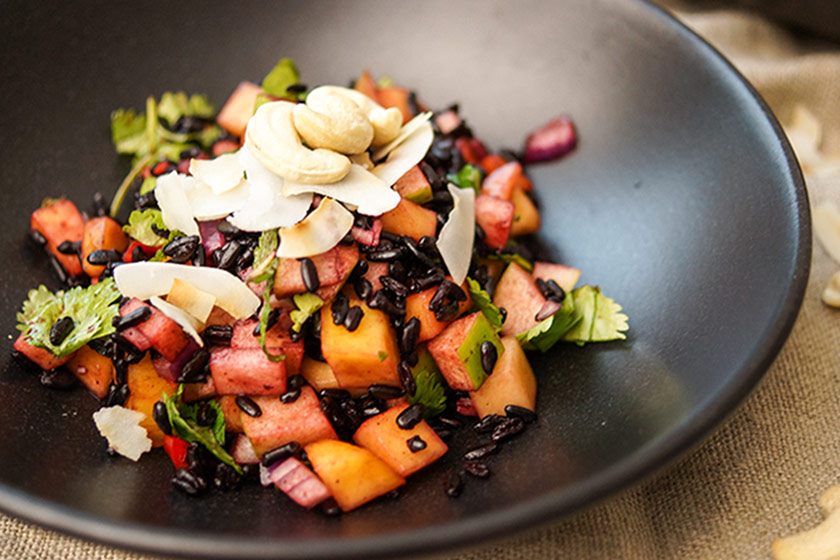 My favorite Schwabe was a little skeptical on this one…a black rice salad…hmm…is that really rice? It wasn't until the next day when I was savoring the leftovers that built up curiosity kicked in. Hmmmm turned into Mmmmm. Quickly I must say. So what did he do? He loved it. If I say to my favorite Schwabe "you're going to to love it" I mean it. Darling, trust me.
It's the perfect side salad and makes for a fantastic bring-to-work lunch option. Dear friends, I hope you love it too. 🙂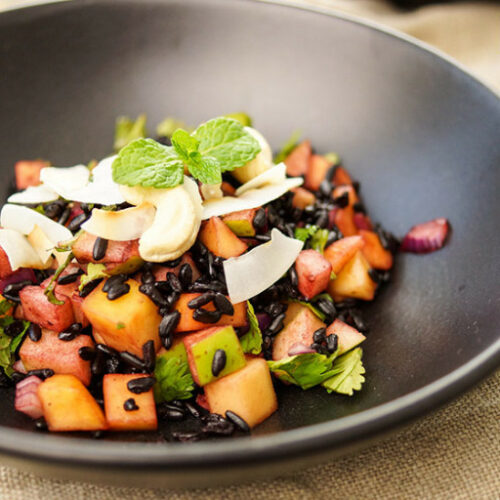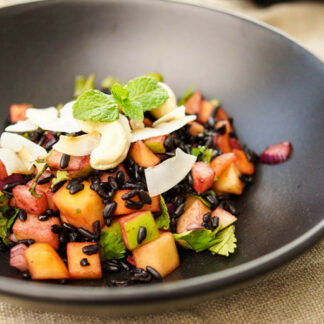 Black Rice Salad with Mango and Apple
A simple, healthy Venere black rice salad with mango, tart apple, fresh chili, cilantro, mint, coconut flakes, and cashews in a sesame lime dressing.
Ingredients
For the salad:
1

cup

black rice

(250 g)

1

firm but ripe mango,

peeled and diced

1

Granny Smith apple,

cored and diced

1

small red onion,

finely diced

1

fresh red chili,

seeded and thinly sliced

1

small bunch cilantro,

chopped

2

tablespoons

freshly chopped mint leaves

4

tablespoons

unsweetened coconut flakes,

lightly toasted

1

handful or more raw cashews

(unroasted, unsalted)
For the dressing:
juice of two limes

1

tablespoon

unseasoned rice vinegar

(found at Asian markets)

1

teaspoon

toasted sesame oil

1

teaspoon

coconut palm sugar

(alternatively muscovado cane sugar)

1/2

teaspoon

sea salt
Method
Prepare the rice according to the package directions. If necessary, drain any excess liquid and set aside.

In a small bowl, whisk together the lime juice, rice vinegar, sesame oil, and sugar until well combined. Add the cilantro and mix again. Season with salt, taste and adjust seasoning if desired.

In a serving bowl, add the rice, mango, apple, red onion, chili and fresh herbs; toss to mix. Add the dressing and toss to coat. Serve garnished with the coconut flakes and cashews.

Enjoy!
Did you try this recipe?
Then tag @ellerepublic on Instagram and hashtag it #ellerepublic
How did you like it?
Please let me know how this Black Rice Salad with Mango and Apple recipe turned out for you! I would love to hear how you liked it. Simply rate it with the stars above ⭐or leave me a comment and rate it below.
Did you make any changes to this recipe?
If you have tips for other readers, let me know! It helps me and other readers so much. Sharing is Caring :-).