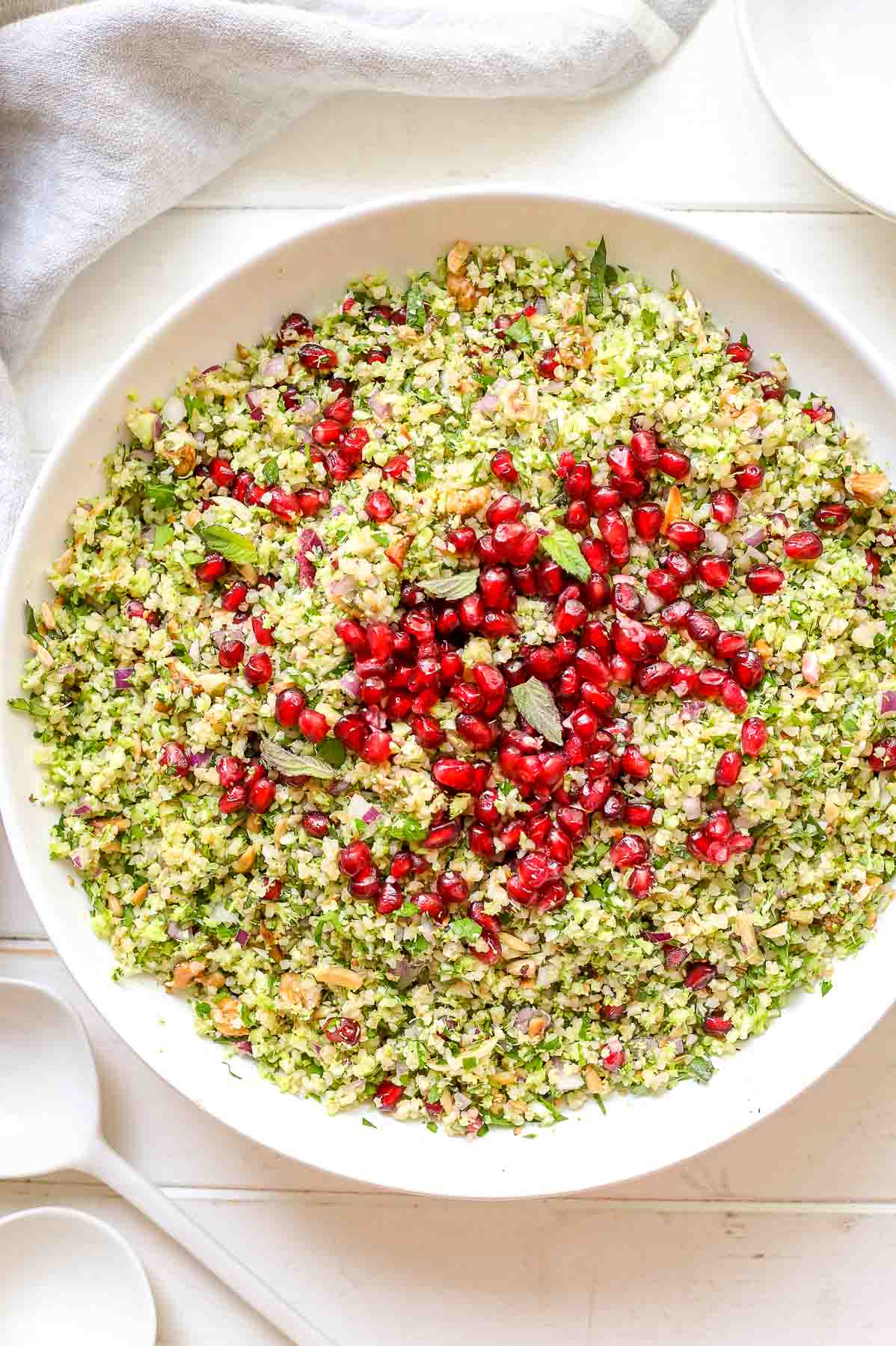 Broccoli Tabbouleh. Say what? Yes, in this variation, the classic Middle Eastern salad has been upgraded with oh-so nourishing broccoli. And it's delicious. Some aspects are the same, like herbs, lemon and bulgur. But in this modern take, tomatoes are replaced by pomegranate seeds, and toasted nuts and seeds added for an umami boost. Did you know that tree nuts like walnuts and almonds are a great way to add umami to vegetarian and vegan dishes? Plus, they are a great way to add extra flavor and crunch (+ heart-healthy fats). Yeeees!
The first step in making a broccoli tabbouleh is transforming it into "couscous"
Forget the cauliflower "rice" trend. In this recipe, I show you the merits of broccoli and how it is easily transformed into "couscous". Of course, cauliflower's versatility is quite admirable. I can see why it is a winning choice for the carb adverse. Really, it's amazing — it seems there's nothing that can't be substituted with it — even bolognese sauce. Admittedly, I won't be trying to create a pizza base out of my head of broccoli, but then again, nor will I with cauliflower. Though, I can imagine that if it's anything like roasted cauliflower then it must be pretty darn tasty.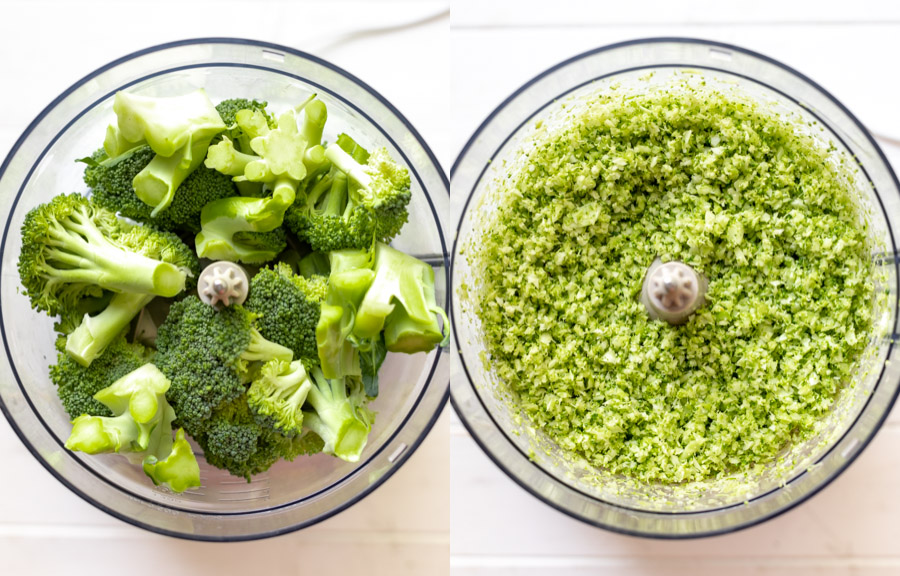 Creativity is the key
With a little imagination anything can be transformed into something special. In this case, I think broccoli tabbouleh does the trick. Then again, I'm not one to cringe at the thought of broccoli in salads. Broccoli has always been one of my favorite green vegetables. It's so easy to prepare; whether it be steamed, stir-fried or served raw (with a good hummus or herb and yogurt dip of course). But there are also other ways to put broccoli to good use — like making an absolutely tasty salad out of it! And one that's a cinch to boot.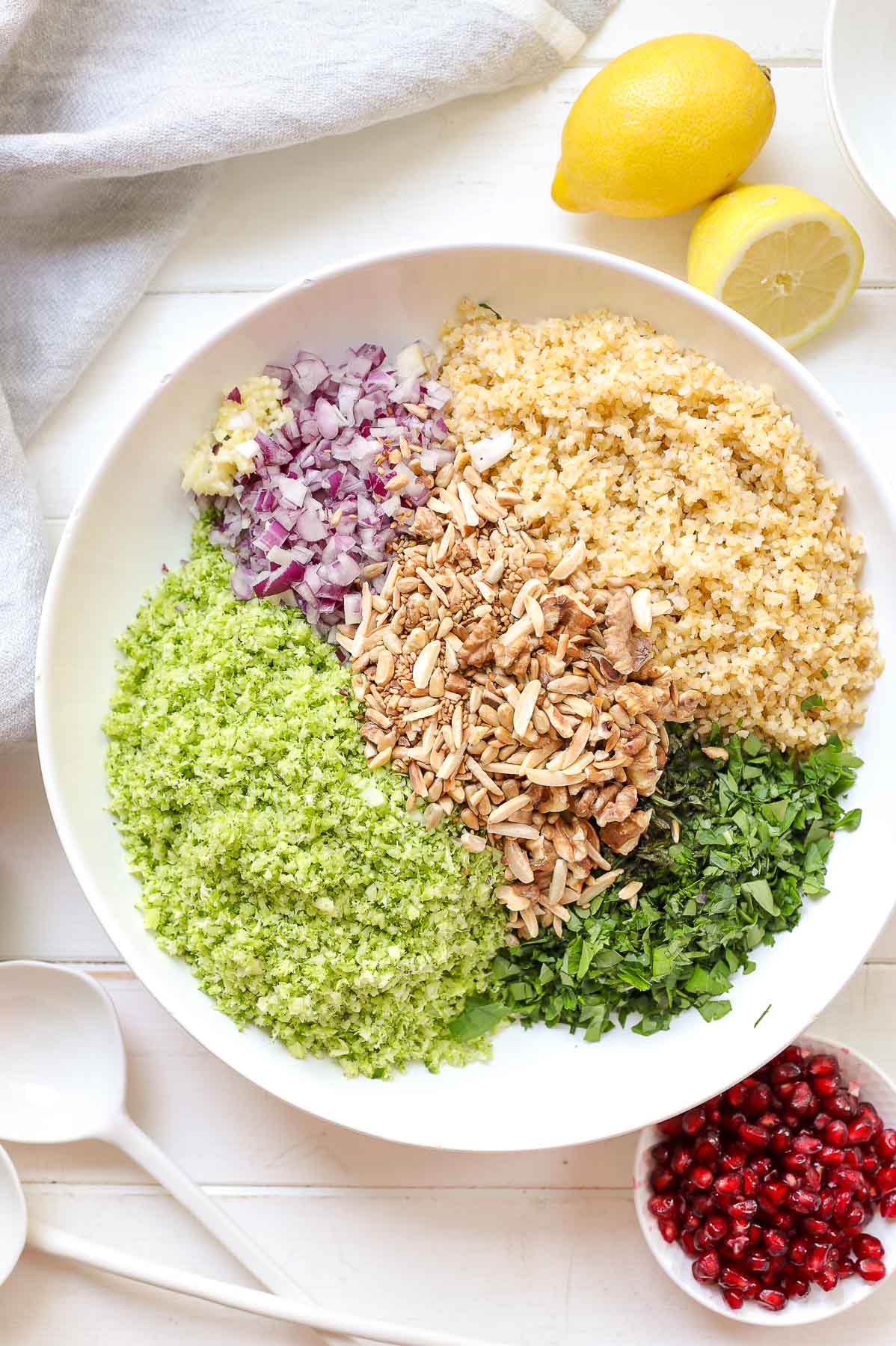 Raw broccoli in salads
But how do you enjoy raw broccoli if you are not a fan of raw broccoli? Here's how: just blanch the prepared broccoli "couscous" for 10 seconds, rinse it under cool water and drain it well. This will preserve its bright-green color (actually it will make it brighter) and keep it crisp for the salad, but the taste will be a little less…well raw. Though, I really don't think it's necessary. My favorite Schwabe devoured three servings of this salad and had no clue that there was even broccoli in it.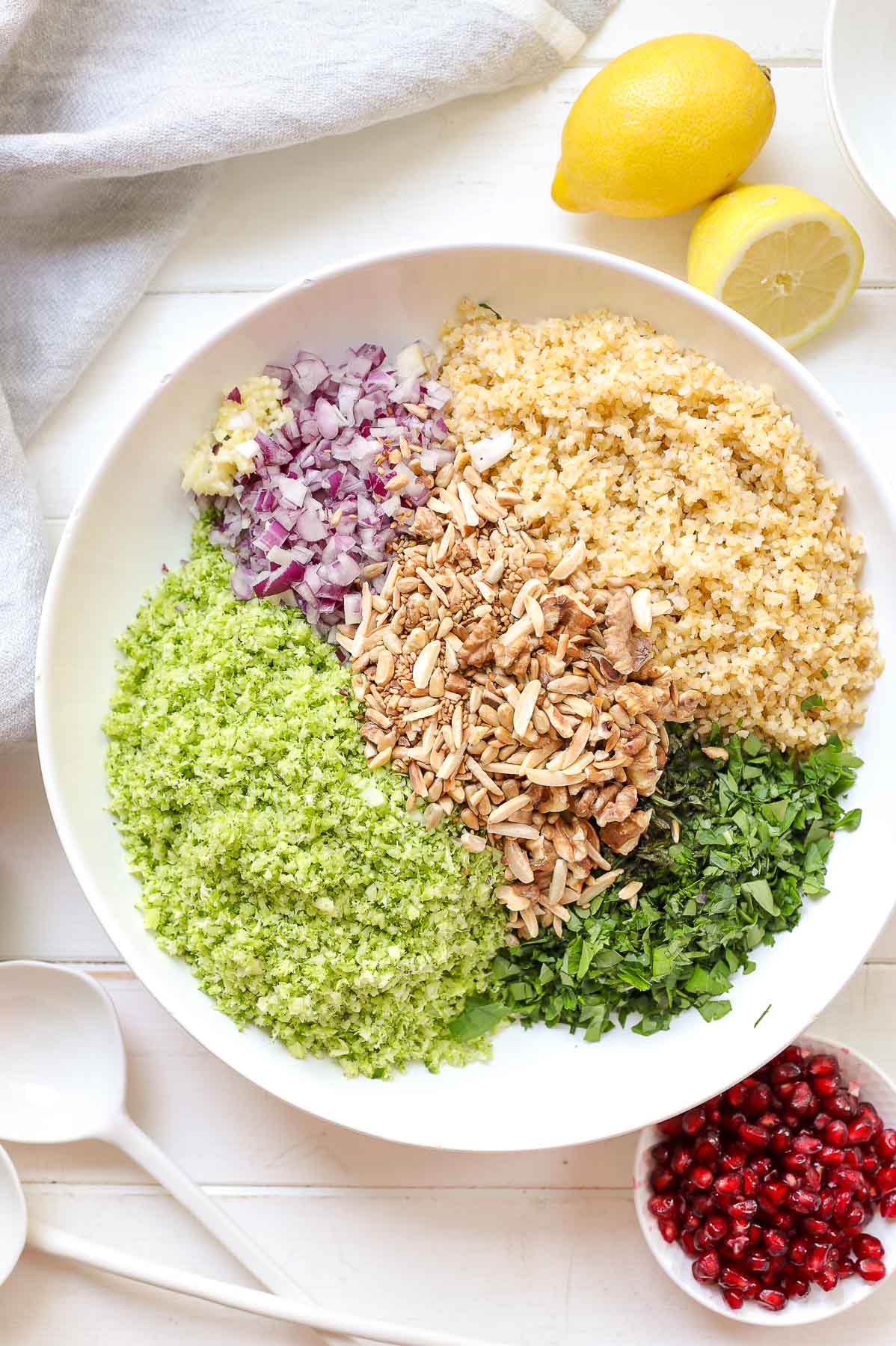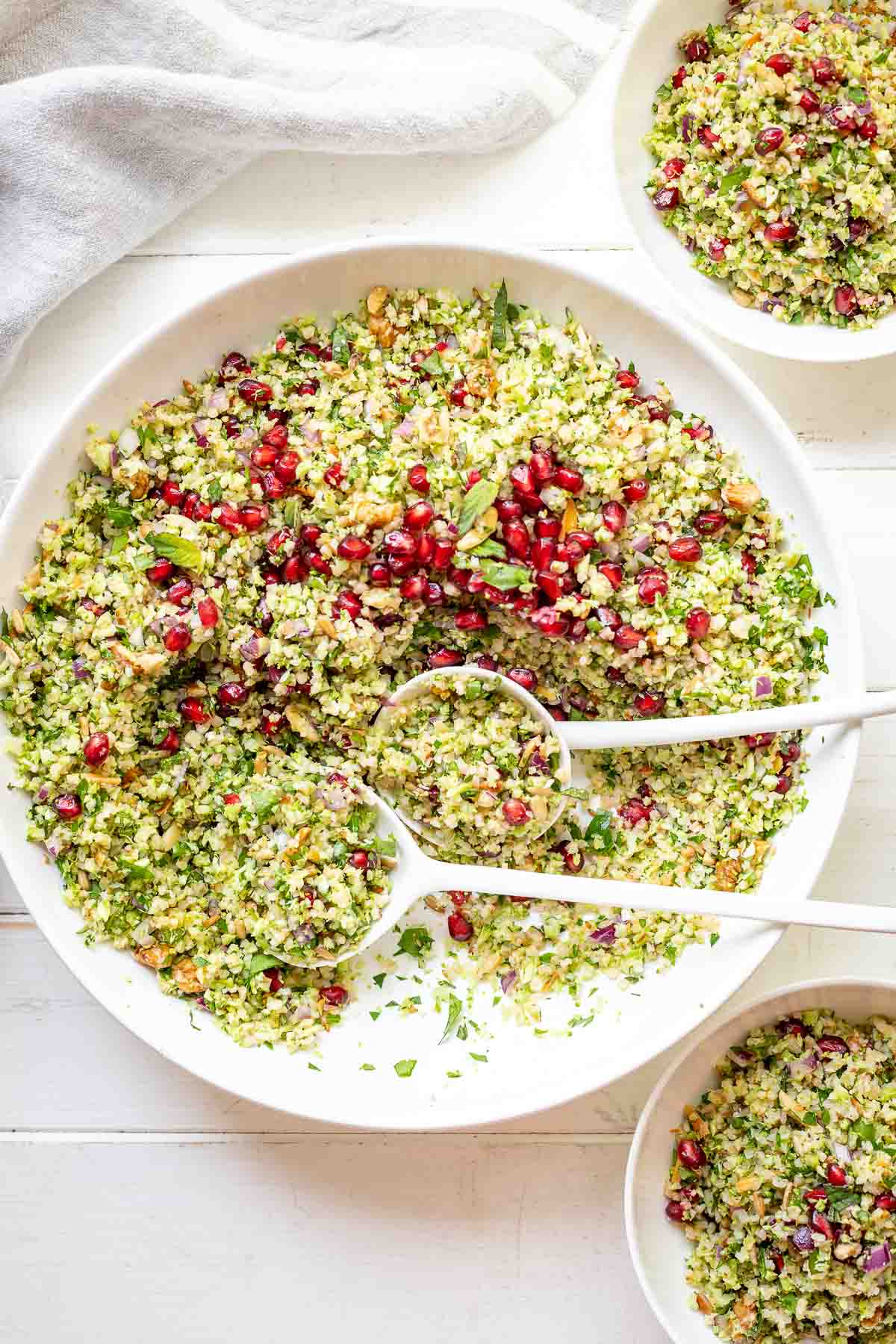 Making a basic Broccoli Tabouli / Tabbouleh
If you are looking to make this recipe in a more traditional way, this also how I like to enjoy a good broccoli-based tabbouleh. The method is pretty much the same as my modern take on the broccoli tabbouleh recipe below.
Ingredients for a basic Raw Broccoli Tabouli
1/2 cup bulgur (100 g)
1 organic head of broccoli, cut into florets
1 large bunch (or 2 small bunches) fresh flat-leaf parsley, finely chopped (about 2-3 cups, loosely packed)
a small bunch fresh mint leaves, finely chopped (about 1 cup, loosely packed)
a small bunch fresh dill, stems removed and finely chopped (about 1 cup, loosely packed)
300 g cherry tomatoes (the sweeter the better), quartered
3 green onions, finely chopped
2 baby cucumbers, diced (optional)
juice of 2 lemons
6 tablespoons extra-virgin olive oil
pinch of cayenne pepper, plus sea salt and freshly ground pepper, to taste

Looking for other ideas with broccoli?
How about trying my recipe for Avocado and Broccoli Salad with Pistachios or this Super Easy Broccoli Salad recipe.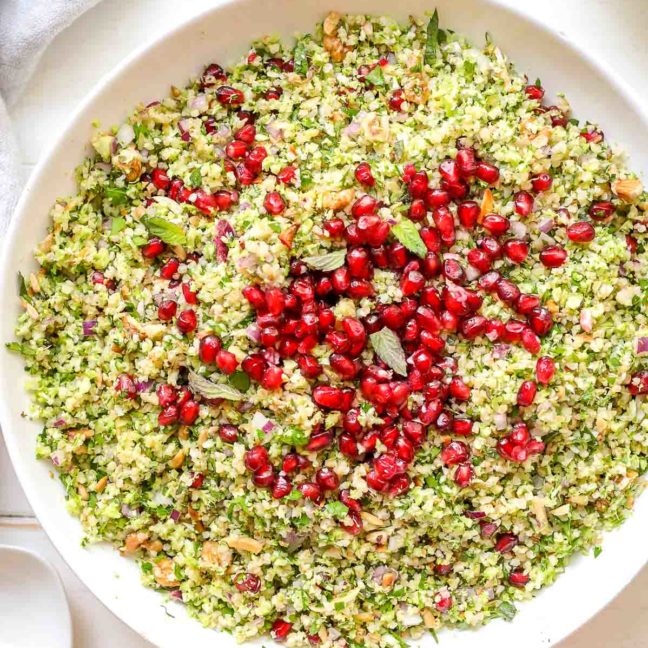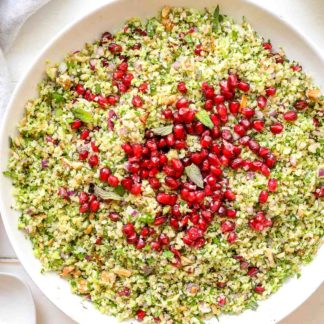 Broccoli Tabbouleh with Toasted Nuts
A delicious modern take on Broccoli Tabbouleh (Tabouli). Made with raw broccoli "couscous" and bulgur, umami-rich toasted nuts, fresh herbs, lemon and pomegranate seeds. Also makes great leftovers! Serves 4 or more.
Ingredients
100

g

mixed nuts,

toasted (e.g. almonds, walnuts, sunflower seeds)

150

g

bulgur wheat

300

g

raw broccoli

(1 broccoli head + part of stalk)

1

small to medium red onion,

finely diced

1

large garlic clove,

minced

2

small bunches fresh flat-leaf parsley,

finely chopped

large handful mint leaves,

finely chopped (ca. 2 tablespoons)

juice of 2 lemons

3

tablespoons

extra-virgin olive oil

sea salt and freshly ground pepper,

to taste

seeds from 1 pomegranate
Method
Cook the bulgur according to package instructions (10 minutes). Alternatively, place the bulgur in a small bowl and cover with boiling water by 1 cm. Cover with a lid or plate and set aside to soak until softened but still chewy, about 15 minutes. Drain off any excess water (if needed), and set aside to cool. Once cool, fluff with a fork to separate the grains.

Meanwhile, process the broccoli in a food processor until it's finely chopped and resembles to a coarse crumbs like couscous. Transfer to a large bowl.

Add the cooled bulgur, onion, garlic, and herbs; toss to combine. Season with salt and pepper, drizzle with the lemon juice and olive oil. Toss until evenly coated. Add pomegranate seeds and toss gently to disperse. Serve and enjoy!
Notes
Leftovers keep well in a sealed container in the fridge for 3-4 days.
I used an equal mix of slivered almonds, broken up walnuts, sunflower seeds in a dry skillet until lightly golden. I also add 1 tablespoon (or more) sesame seeds to the skillet just before the nuts are finished toasting (sesame can easily over brown).
For best results, be sure to choose crisp, fresh broccoli without any yellowing for this recipe, otherwise the broccoli can taste a little bitter. I also recommend choosing organic, if possible. 
Did you try this recipe?
Then tag @ellerepublic on Instagram and hashtag it #ellerepublic
How did you like it?
Please let me know how this Broccoli Tabbouleh with Toasted Nuts recipe turned out for you! I would love to hear how you liked it. Simply rate it with the stars above ⭐or leave me a comment and rate it below.
Did you make any changes to this recipe?
If you have tips for other readers, let me know! It helps me and other readers so much. Sharing is Caring :-).