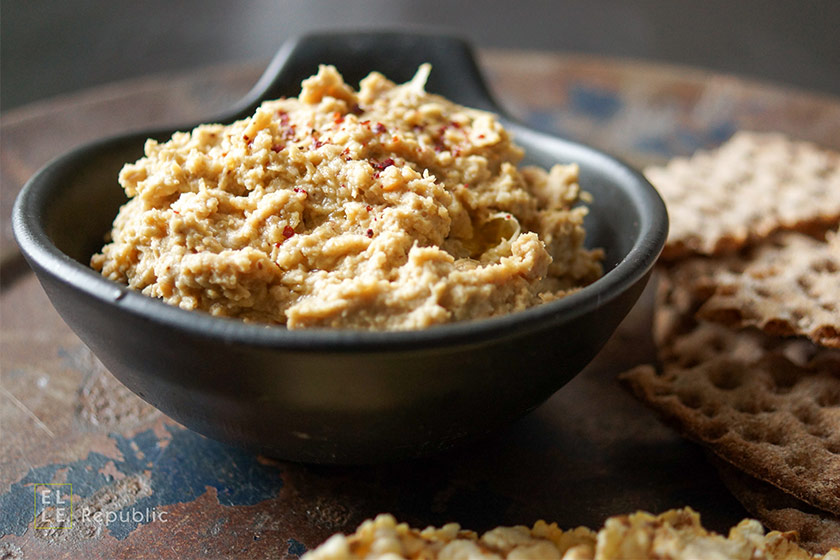 The secret to a good traditional hummus is really no secret. The ingredients are simple: chickpeas, tahini, garlic, olive oil, lemon juice, and salt. Nothing more, nothing less — a simple middle-eastern classic made from best quality and fresh ingredients. I do love that there are so many creative variations, fusions and fresh flavors that can be enjoyed, whether it be a good pea, pumpkin or red beet hummus — but I also love a simple down-to-earth version — and this is by far my favorite. A simple and speedy hummus flavored with cumin, cayenne and sumac.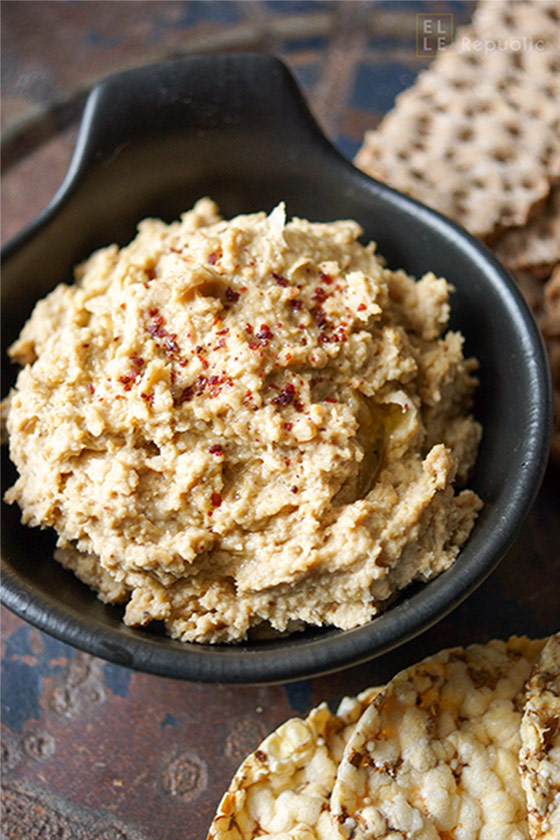 What is hummus?
What a gift hummus is. I love it. Hummus is Arabic for chickpea. In full, the name for this famed spread is called "hummus bi tahina" – in which tahina refers to the second ingredient – tahini, a paste of ground sesame seeds.
Some believe that when making homemade hummus, you should never ever use canned chickpeas (garbanzo beans) because the texture and taste is inferior. It seems dried beans are the key to making a truly great hummus. Is this really true? I've made hummus using dried beans, soaked them (like forever), cooked them (for ages), etc. but the results, in my opinion, just weren't as good. Maybe I was supposed to cook them all night long, skin them and mash them together by hand. Yes, I have heard of people who skin their chickpeas…but is that extra 10 minutes of fiddly finger work really worth it? It would only take the "quick" out of my quick hummus, which is exactly how I like it.
Whether you prefer to make this tasty middle-eastern classic with dried or canned chickpeas, either way this dip is packed with iron, vitamin C and protein. It's the perfect healthy snack that boasts lots of flavor. Plus it's every vegetarian and vegan's best friend that takes mere minutes to make. Why buy hummus when you can make your own? Did I mention absolutely delicious? Yes, what it lacks in color, it makes up in taste.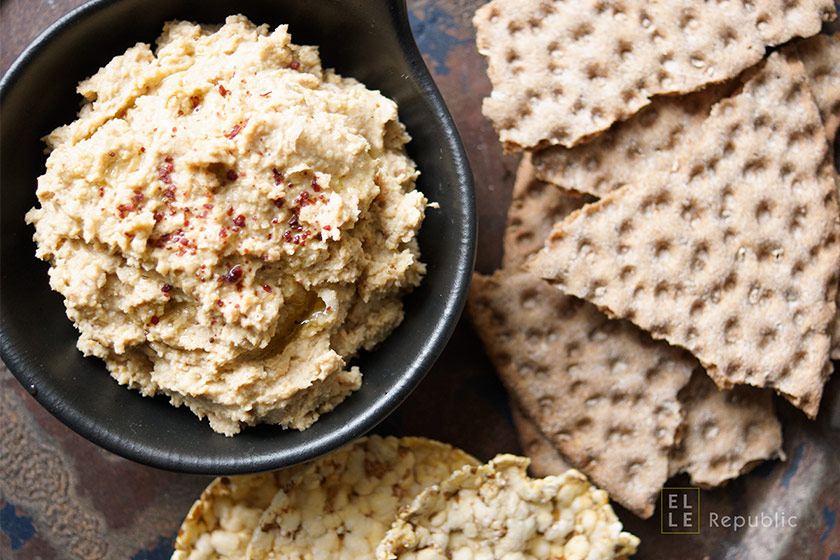 Funny enough it reminds me of my very first "real" job in a bank. The Royal Bank. Everything I owned was either tan or black. Versatile. Everything went with everything else. Hummus is like that. So versatile you can serve it on pitas, rice crackers, "knäckebröd", with veggies, as a sandwich spread – whatever you like.
Versatile not enough? Well, I stumbled across this Huffington Post article which gives 10 reasons we should eat more hummus. Not all of their reasons are totally compelling. Yes, it comes in so many awesome flavors. But most of all…it's addictive…it's simply good for you…and it's so easy to make your own.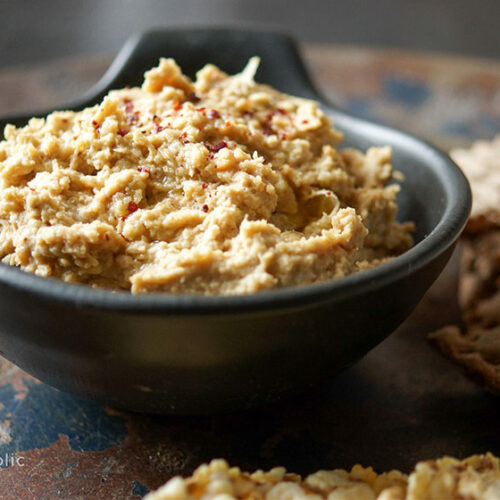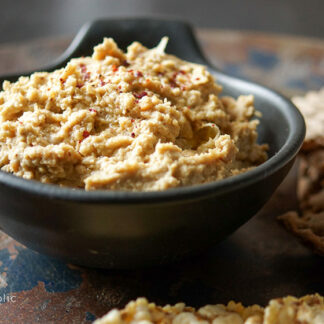 Quick Hummus with Sumac
A simple and speedy hummus flavored with cumin, cayenne and sumac.  So healthy and versatile you can serve it on pitas, rice crackers, veggies, and more.
Ingredients
1

x 400 g can

organic chickpeas

juice of 1 large lemon

4

tablespoons

tahini

(well-stirred)

2

garlic cloves,

minced

1/4

teaspoon

cumin

1/4

teaspoon

sumac

pinch

of cayenne

4

tablespoons

or more extra-virgin olive oil
Method
Simply place all of the ingredients into a food processor and blend until smooth. Adjust seasonings as you like.

Drizzle with olive oil and a little more sumac before serving. It's that easy!

Enjoy!
Did you try this recipe?
Then tag @ellerepublic on Instagram and hashtag it #ellerepublic
How did you like it?
Please let me know how this Quick Hummus with Sumac recipe turned out for you! I would love to hear how you liked it. Simply rate it with the stars above ⭐or leave me a comment and rate it below.
Did you make any changes to this recipe?
If you have tips for other readers, let me know! It helps me and other readers so much. Sharing is Caring :-).