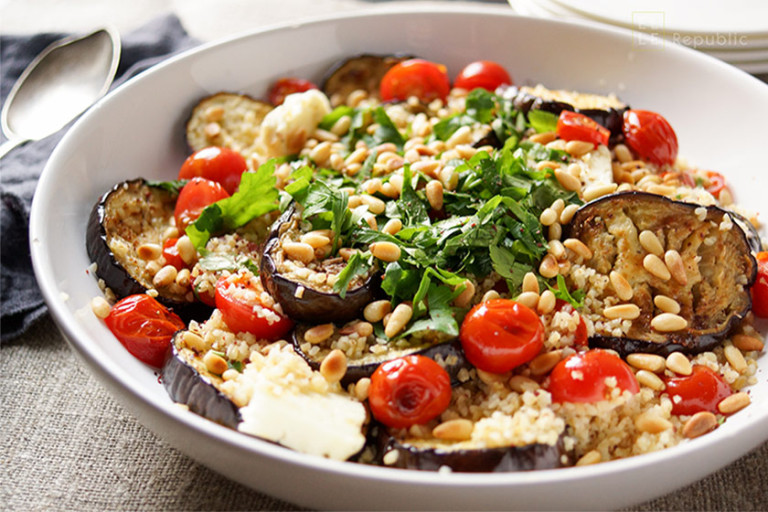 Here's a vegetarian grilled eggplant, tomato, halloumi and bulgur recipe that even meat lovers will go crazy for!
Anyone who has had grilled halloumi together with eggplant and tomatoes will know what I am talking about. It's an awesome tasting combination — one of my favorites for summer grilling.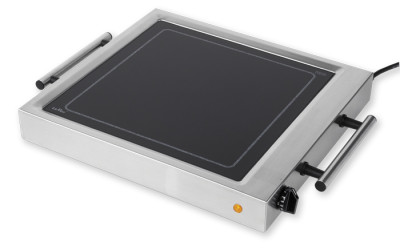 Grilling all year round
When the company ELAG asked me if I would be interested in testing out one of their tabletop grills I jumped at the chance. How great is it, in the midst of winter, to be able to bring some of those reminiscent summer feelings back alive?
And just like that…happy times, happy times!
Grilling skills? Who needs them? Really, truly, actually…with a traditional BBQ you need a second person helping you. Otherwise, you are running in and out the door, to the kitchen and back again, over and over again. With this baby, it's tabletop, it's anywhere you want it to be. No lonely grilling moments required. 🙂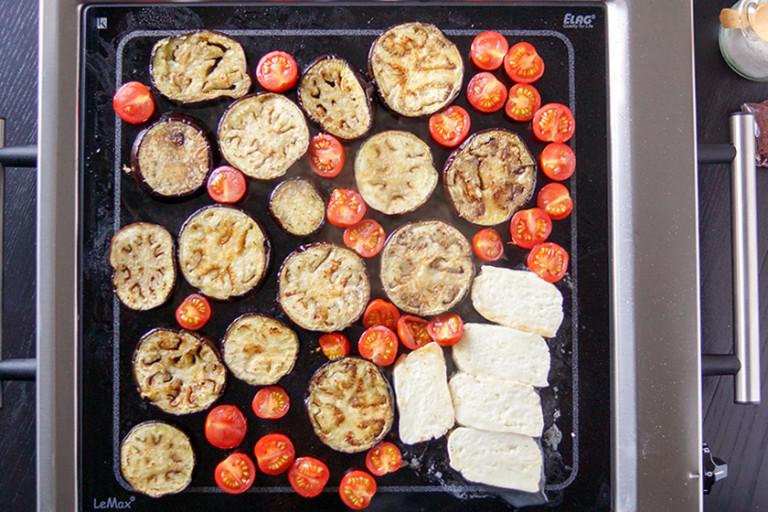 German-made quality
As a product designed and produced in Germany (amazingly—not China!), the LeMax grill undoubtably upholds to the reputation of German engineering. Think of it as the BMW of electric grills. Without the hefty price tag of course! The cool thing about it is that rather than mimicking a BBQ as we know it, it is like a big square heating element. Imagine being able cook directly on your ceramic or induction stove, without the need for a skillet. You just cook directly on the surface, and because there are no crooks and crannies, there is no risk of any fluids seeping into them. No messy clean up. No messy dripping to think about.
Another cool thing is, is that the surface is non-porous, meaning it doesn't absorb a thing. Why is that important? It means you don't need a lot of fat to cook with — H E A L T H Y ! And since I am on a roll here, another thing I truly loved was that you can cut into whatever you are cooking directly on the surface (!!), so unless, of course, you are using diamonds, it won't scratch. Do you know how many pans I have ruined by cutting a little too deep (for the 100th time, jeez when will I learn?)? Yeah, so I was pretty blown away by this product. Pancake Sunday's will never be the same — and that's a good thing!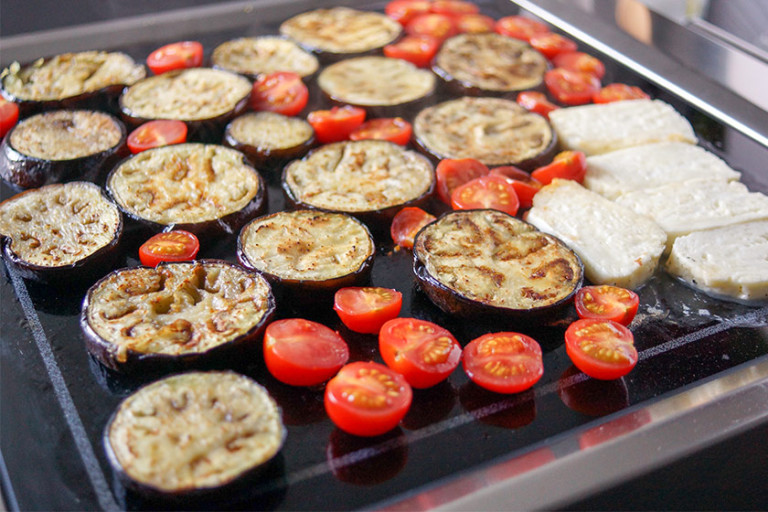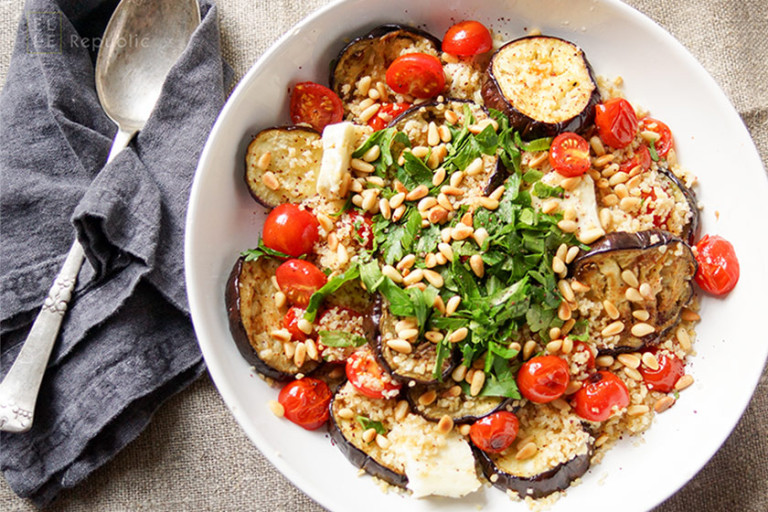 So back to my excitement of reliving summer…well, it all starts with halloumi, saganaki's star. Think of it as the hardest feta you've ever encountered. Dense it is. But grill or fry it and it gets a nice golden crust on the exterior and becomes tender on the inside. All the while holding it's shape. It's fantastic for grilling. We can thank the folks in Cyprus for it. Together, eggplant, tomato, halloumi and bulgur with lots of sunshiny lemon, fresh parsley and toasted pine nuts, really work their magic. Enjoy!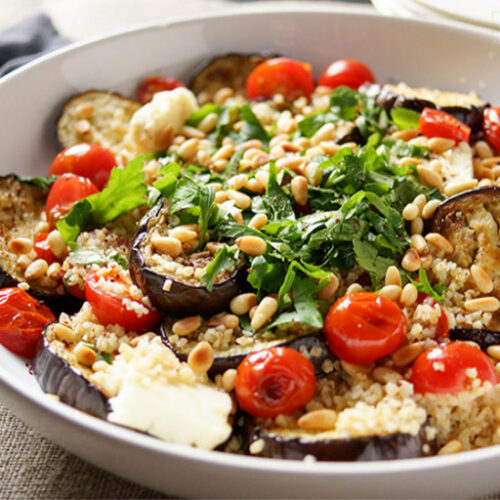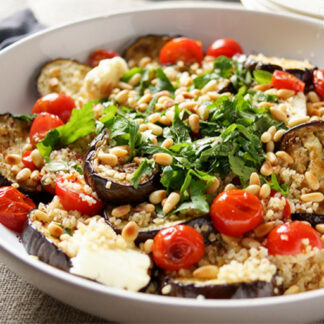 Grilled Eggplant, Tomato, Halloumi and Bulgur Salad
Here's a vegetarian grilled eggplant, tomato, halloumi and bulgur salad recipe with lots of lemon, fresh parsley and toasted pine nuts. Healthy and easy.
Ingredients
1/2

cup

bulgur

(100 g)

2

medium eggplants,

cut into 2 cm rounds

200

g

cherry tomatoes,

halved

extra virgin olive oil

150

g

halloumi cheese

sliced about 2 cm thick

sea salt and freshly ground pepper,

to taste

1-2

tablespoons

extra virgin olive oil

freshly squeezed juice of 1 lemon

sumac seasoning

chopped flat-leaf parsley,

to garnish

1/3

cup

pine nuts,

toasted (35 g)
Method
Place eggplant slices on paper towels; sprinkle each side with salt. Let stand for 30 minutes to release some of the water.

To cook the bulgur, combine 1⁄2 cup medium-grain bulgur and 1 1/2 cups water in a medium saucepan. Bring to a boil. Cover, reduce heat, and simmer for 10 to 12 minutes or until tender. Drain, if necessary. Cover and set aside.

NOTE: Alternatively, bulgur can be soaked. To soak, put the bulgur in a bowl and pour over boiling water until the water level is about 1 cm above the bulgar. Cover with plastic wrap and let stand until water is absorbed, about 30 minutes.

Meanwhile, heat up your grill or electric grill (I so LOVE this!) to medium-high. Press the eggplants between paper towels to absorb the excess moisture. Brush both sides with olive oil and place on the grill.

NOTE: You'll want to grill the eggplant for about 5 minutes per side until the texture is soft throughout.

After 5 minutes turn over the eggplant slices, and spread the tomatoes out on the grill, skin side down. Add the halloumi to the grill. Flip the halloumi after 2 minutes. Once cooked, cut the slices in half.

Transfer the cooked bulgur to a large bowl or platter, add the eggplant, halloumi and tomatoes. Toss gently together. Drizzle with olive oil and lemon juice. Season with salt and pepper, and sprinkle with a little sumac.

Garnish with parsley and pine nuts. Serve warm and enjoy!
Did you try this recipe?
Then tag @ellerepublic on Instagram and hashtag it #ellerepublic
How did you like it?
Please let me know how this Grilled Eggplant, Tomato, Halloumi and Bulgur Salad recipe turned out for you! I would love to hear how you liked it. Simply rate it with the stars above ⭐or leave me a comment and rate it below.
Did you make any changes to this recipe?
If you have tips for other readers, let me know! It helps me and other readers so much. Sharing is Caring :-).
This post is sponsored by Firma ELAG. Thank you for supporting the sponsors that keep me cooking!