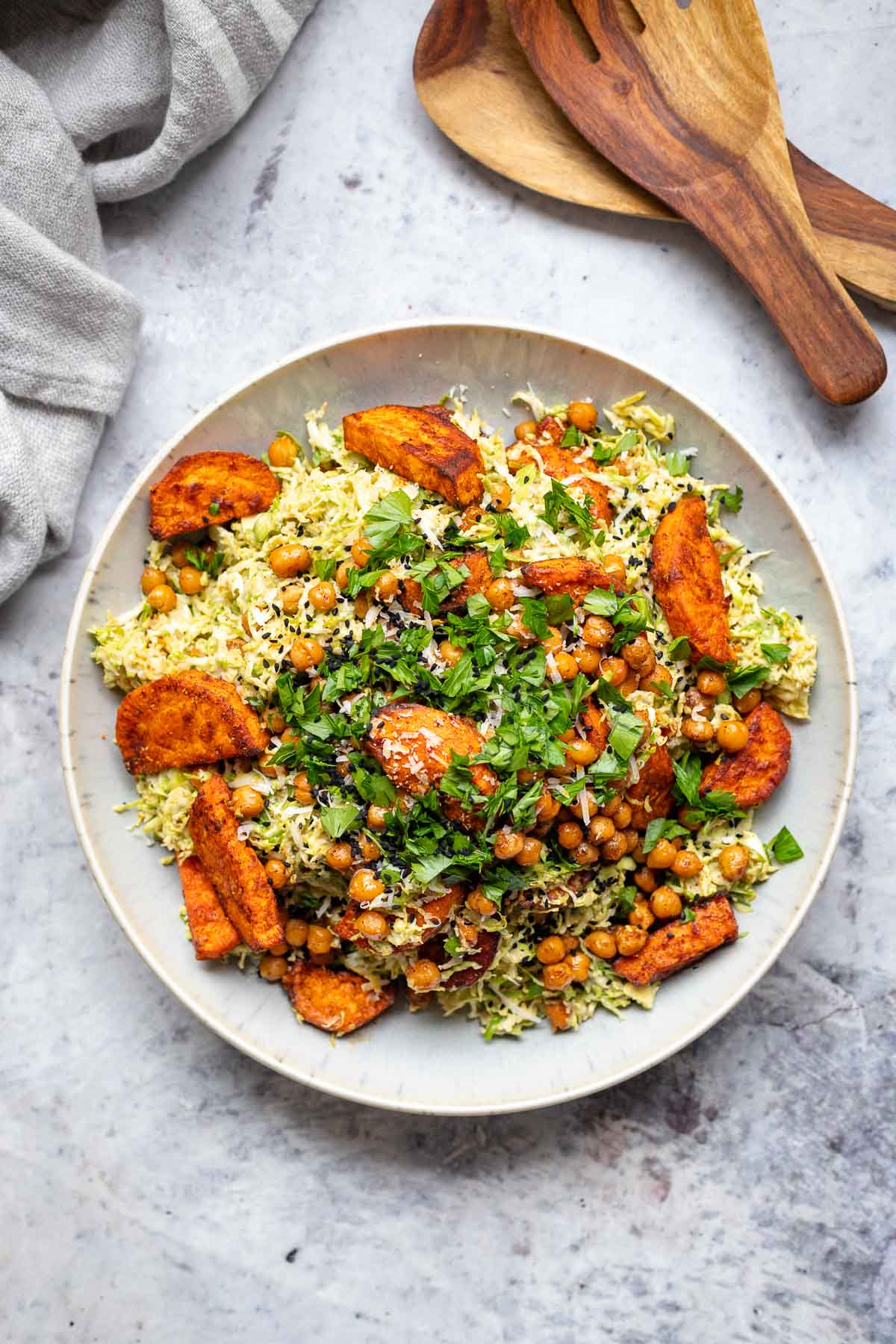 If you love caesar salad, then you are bound to love this Brussels sprouts salad recipe. It's not a classic raw Brussels sprouts salad by any means and it doesn't have a traditional caesar salad dressing. But one thing is for sure, it's definitely tasty!
A flavor packed Brussels sprouts salad
First of all there are smoky paprika roasted sweet potatoes, and lightly roasted chickpeas which are added warm to the raw shredded spouts salad. And the dressing is what pulls all the flavors together — it's a caesar salad dressing of sorts, but instead it is made with tahini (sesammus). Some other things remain the same: like parmesan, mustard, garlic and lemon. And the anchovies. They are not to be skipped, as they are the hidden magic that are undetectable but add umami yumminess. Just make sure to use the small ones, as they are tender and can easily minced into almost a paste. You'll find them in the refrigerated section of the supermarket where other fish products are sold.

Tips for shredding Brussels sprouts
There are a few different ways to do this. You can either use a mandoline (my method of choice — but careful! Its sharp so I recommend a protective gloves or a hand-guard). Even a food processor with a shredding attachment can do the job. Or finely shred them with a knife. All you need to do is cut off the very end bit of the root, peel away any loose leaves, half them lengthwise, then placing them cut side down, thinly julienne them. Voila.
It's that easy.

More ideas with Brussels sprouts
So if you are ready to give a raw Brussels sprouts salad a try, I definitely recommend trying this one. Otherwise, check out my other raw Brussels sprouts recipes.
Or if you are looking to enjoy them warm, I have plenty of other recipes to try. Check out my Brussel sprouts recipe archive. Or this this especially delicious recipe for Mediterranean Style Roasted Brussels Sprouts with Capers, Dill & Lemon.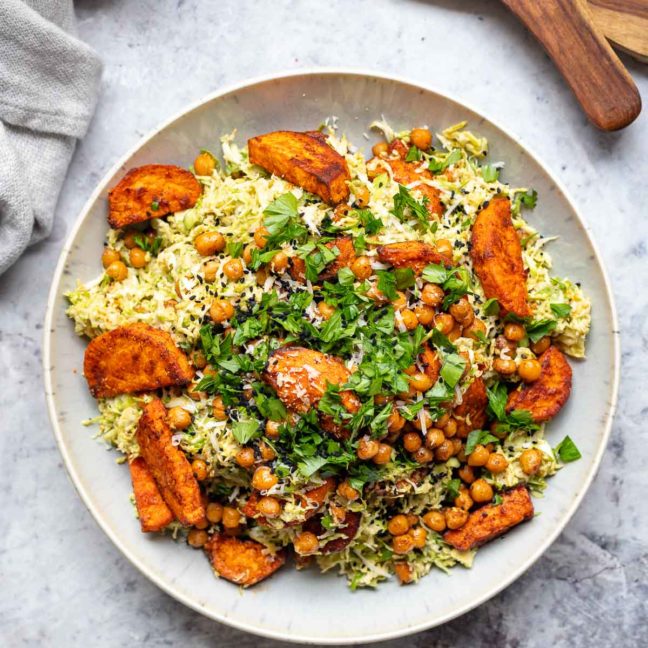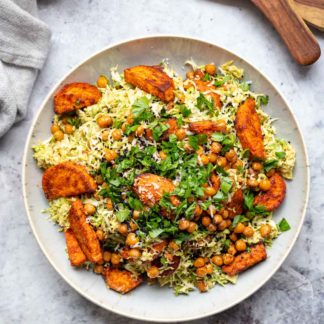 Brussels Sprout Salad with Sweet Potatoes & Chickpeas
A flavor packed raw Brussels sprout salad recipe with smoky roasted sweet potatoes and chickpeas in a tahini-caesar dressing. Delicious served warm or at room temperature.
Ingredients
For the salad:
1

large sweet potatoes,

peeled and cut into half moons

2

tablespoons

extra virgin olive oil,

divided

2

teaspoons

smoked paprika

1/4

teaspoon

cayenne

sea salt and black pepper,

to taste

1

x 400 g can

organic chickpeas,

drained and rinsed

500

g

Brussels sprouts,

cleaned and shredded
For the parmesan-tahini dressing:
3

small oil-packed anchovy fillets,

finely chopped

1

large garlic clove,

minced

3

tablespoons

freshly squeezed lemon juice

4 1/2

tablespoons

tahini

1

teaspoons

Dijon mustard

4 1/2

tablespoons

extra-virgin olive oil

4 1/2

tablespoons

finely grated Parmesan,

plus more for serving

sea salt and freshly ground black pepper,

to taste

4

tablespoons

water

(plus more to thin, if needed)
To garnish:
2

tablespoons

freshly chopped flat-leaf parsley

sesame seeds or nigella (black cumin seeds)

extra lemon wedges,

for serving (optional)
Method
Preheat oven to 425°F / 220°C and line a baking sheet with parchment paper.

In a large bowl, add the sweet potatoes, 1 1/2 tablespoons olive oil, smoked paprika, cayenne, and a pinch salt and pepper. Toss well to evenly coat. Transfer to the prepared baking sheet, spread in an even layer without crowding, and roast in the preheated oven for 15 minutes.

Add the rinsed and well-drained chickpeas to the same bowl as used for the sweet potatoes, toss with the remaining 1/2 tablespoon olive oil. Remove from sweet potatoes from the oven, give them a flip, then add the chickpeas to the baking sheet and return to the oven to roast for another 15 minutes, until the chickpeas are slightly crisp and the sweet potatoes tender.

Meanwhile, in a large salad bowl, add the shredded Brussels sprouts.

To make the dressing, combine all ingredients in a small bowl and whisk together until smooth and well combined. Taste and season with more salt and pepper, if needed.

Toss the dressing with sprouts until well-coated. Add the roasted sweet potatoes and chickpeas and toss gently to incorporate. Garnish with parsley and sesame or nigella seeds.

Optionally, serve with extra lemon for anyone who like to add a little squeeze of lemon to their salad.

Serve and enjoy!
Notes
For a relaxing atmosphere in the kitchen I recommend my personal Elle Republic: Chilled Out Kitchen Tunes Playlist auf Spotify.