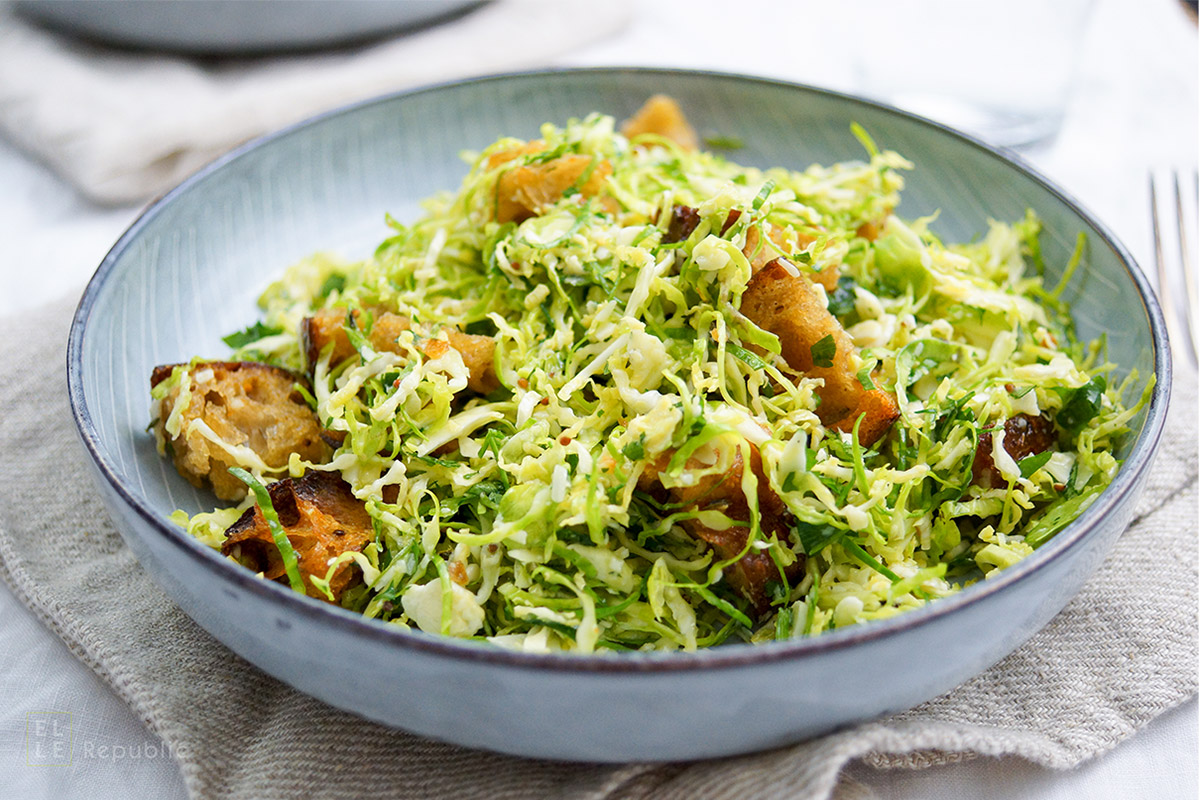 Love them or hate them. That's how it is. No matter how tasty I think this Brussels sprouts caesar salad is, if these mini cabbages aren't your thing, then I'm probably not going to be able to convince you otherwise. So this is purely for my fellow Brussels sprout loving friends. Those of you that haven't been traumatized by Christmas past and your mother telling you to finish your sprouts, before moving onto the main event — dessert.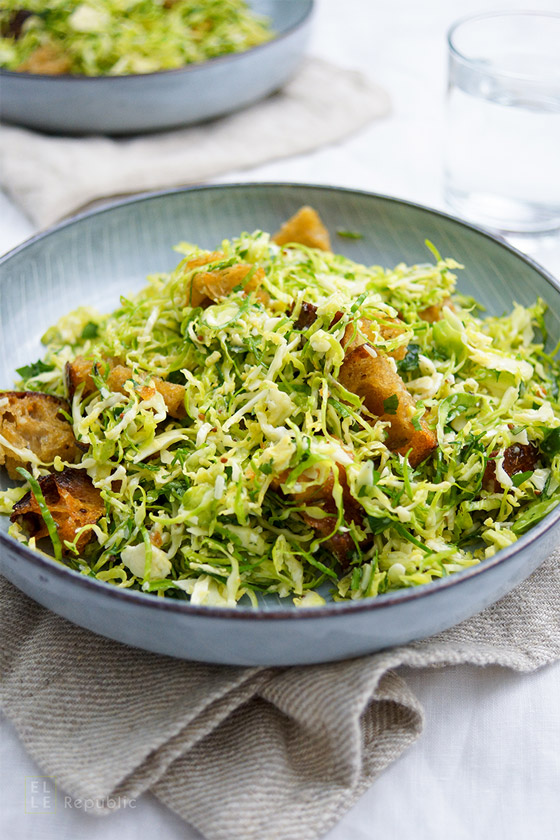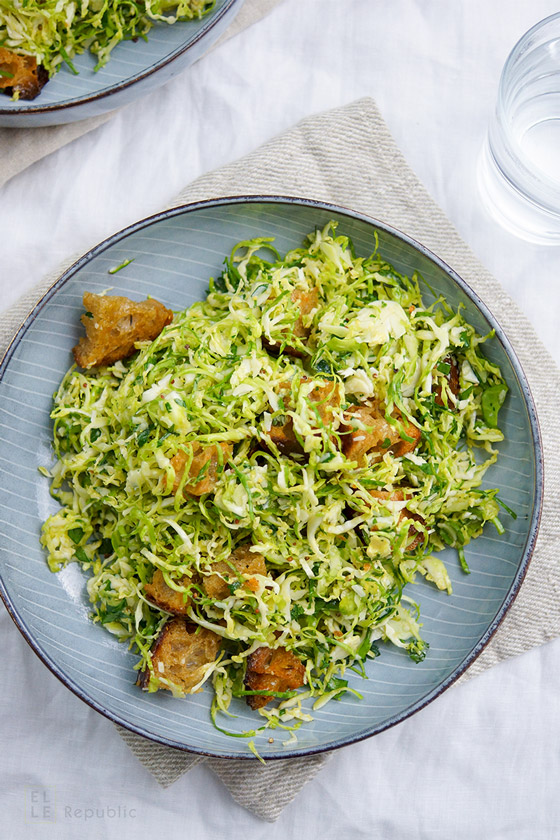 Brussels sprouts can be enjoyed raw
I love Brussels sprouts in all forms, but particularly roasted or raw. Sliced ultra-thin with a mandolin, Brussels sprouts make for an amazing raw salad. Consider it a coleslaw made from mini cabbages. One of my all-time favorite winters salads is this one with kale and Brussels sprouts. Which is exactly what inspired me to make a Brussels sprouts caesar salad. One with plenty of lemony flavor and freshly grated parmesan. And one of my favorite things to pair with a caesar salad — homemade croutons.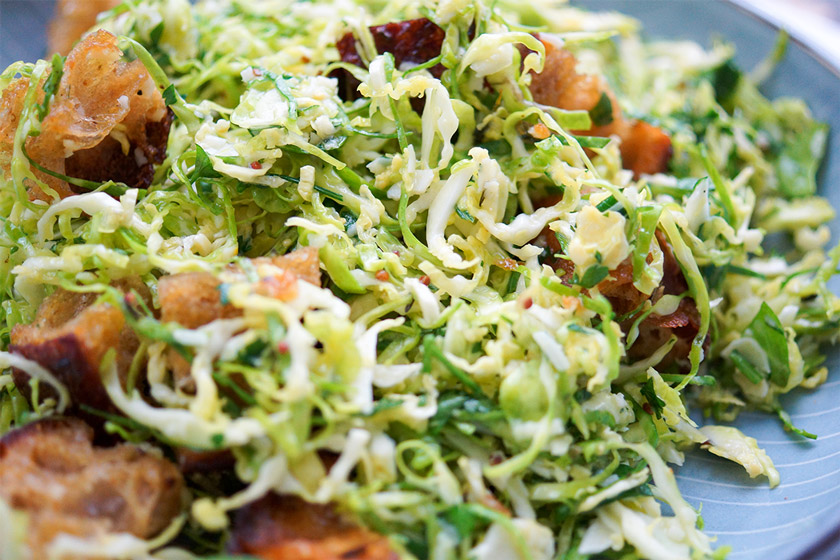 Homemade croutons are easy to make
The great thing about making croutons yourself is that you can choose your favorite bread. I particular like to use ciabatta or a rustic country loaf. The process is simple. You can use day-old bread (or a fresh loaf which takes a little longer), slice it up into bite-sized squares, toss them in a little olive oil, with garlic and herbs of choice and then bake in the oven until crispy on the outside, chewy on the inside. Or if you want crunchy dry croutons then use stale bread or let freshly sliced up bread pieces stand overnight to naturally dry out (become stale) before making your croutons.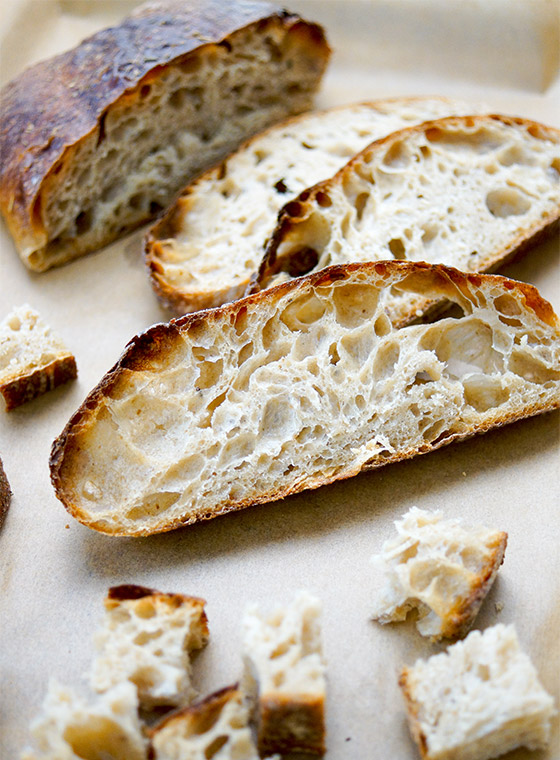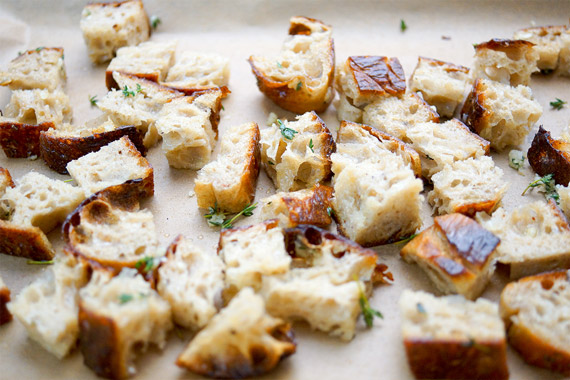 Brussels sprouts caesar salad is easily adaptable
For this recipe I used my Aunt Ilse's caesar dressing but add a little extra lemon to compliment the Brussels sprouts. Otherwise, they seem to dominate in flavor. The saltiness of the parmesan also helps balance out the flavor of the sprouts. Go ahead and use as little or as much as you like. If you aren't concerned about the salad being vegetarian, then feel free to add sautéed prosciutto or grilled herbed chickenbreast, thick pieces of crispy smoked bacon for extra flavor.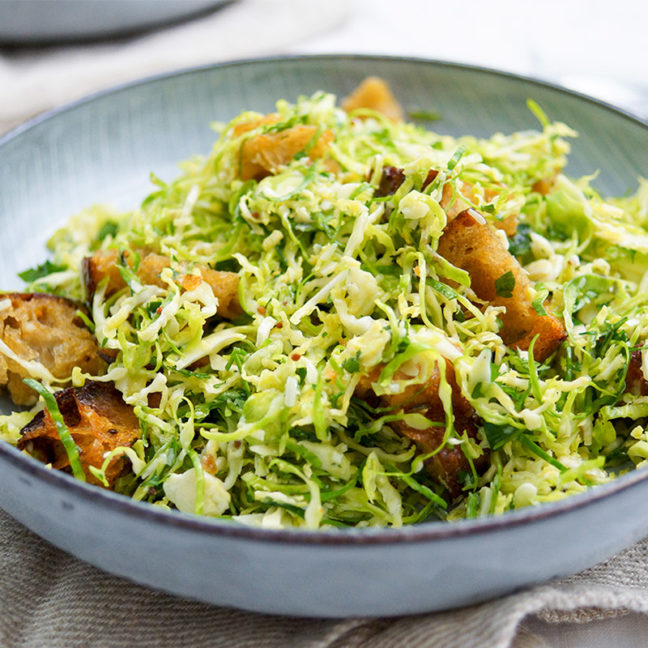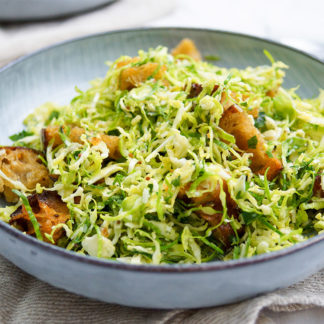 Brussels Sprout Caesar Salad with Herbed Croutons
Simple, fresh, and perfect for you Brussels sprout lovers, this salad is an easy spin on a classic. Shredded, fresh Brussels sprouts are tossed with a simple homemade dressing and shaved Parmesan cheese then tossed with homemade herbed croutons. A hearty, but healthy salad that is perfect to serve during the winter! Similar to a coleslaw but different
Ingredients
For the croutons:
4

slices

of ciabbata,

cut into bite-sized pieces

2-3

tablespoons

extra-virgin olive oil

1

tablespoon

fresh thyme leaves

1

large clove of garlic,

minced

sprinkle of sea salt
For the salad:
700

g

Brussels sprouts,

cleaned and finely shredded using a mandoline

small bunch flat-leaf parsley,

finely chopped

plenty of freshly grated parmesan

(35-70 g), according to taste
For the dressing:
2

large cloves garlic,

minced

6

tablespoons

extra-virgin olive oil

2

tablespoons

good-quality red wine vinegar

2

tablespoons

freshly squeezed lemon juice

1

teaspoon

dried mustard

(alternatively grainy Dijon mustard can be used)

1/2

teaspoon

sea salt

1/2

teaspoon

Worcestershire sauce

1

egg
Method
To make the croutons: Preheat the oven to 375° F /190° C and line a baking sheet with parchment paper.

In a large bowl, mix together 2 tablespoons olive oil with the thyme and garlic. Add the ciabbata pieces and toss with the olive oil mixture to thoroughly coat them, add a little more oil if needed; season with salt and pepper. Transfer to the prepared baking sheet. Bake the croutons in the oven for 5 minutes, toss and bake for another few minutes, until they are toasted and crisp. Depending how how fresh the bread is, this can take up to 15 minutes.

For the salad dressing: Add the ingredients into a jar, close, and shake to mix.

If you have a mandoline, now is the time to break it out (be extra careful and be sure to use the protective holder / safety attachment!).

Transfer the shaved Brussels sprouts to a large serving bowl. Add the dressing and toss to combine, then add the parsley, parmesan and croutons and toss again. Enjoy!
Notes
There are a number of ways to flavor croutons. All you need is a little oil, minced garlic, then add fresh or dried herbs, such as thyme, oregano or an Italian mix and a sprinkle of salt. Go ahead and make extra, they are great with soups as well. Just store the extra portions in an air tight container and use over the coming days.
Did you try this recipe?
Then tag @ellerepublic on Instagram and hashtag it #ellerepublic
How did you like it?
Please let me know how this Brussels Sprouts Caesar Salad with Herbed Croutons recipe turned out for you! I would love to hear how you liked it. Simply rate it with the stars above ⭐or leave me a comment and rate it below.
Did you make any changes to this recipe?
If you have tips for other readers, let me know! It helps me and other readers so much. Sharing is Caring :-).