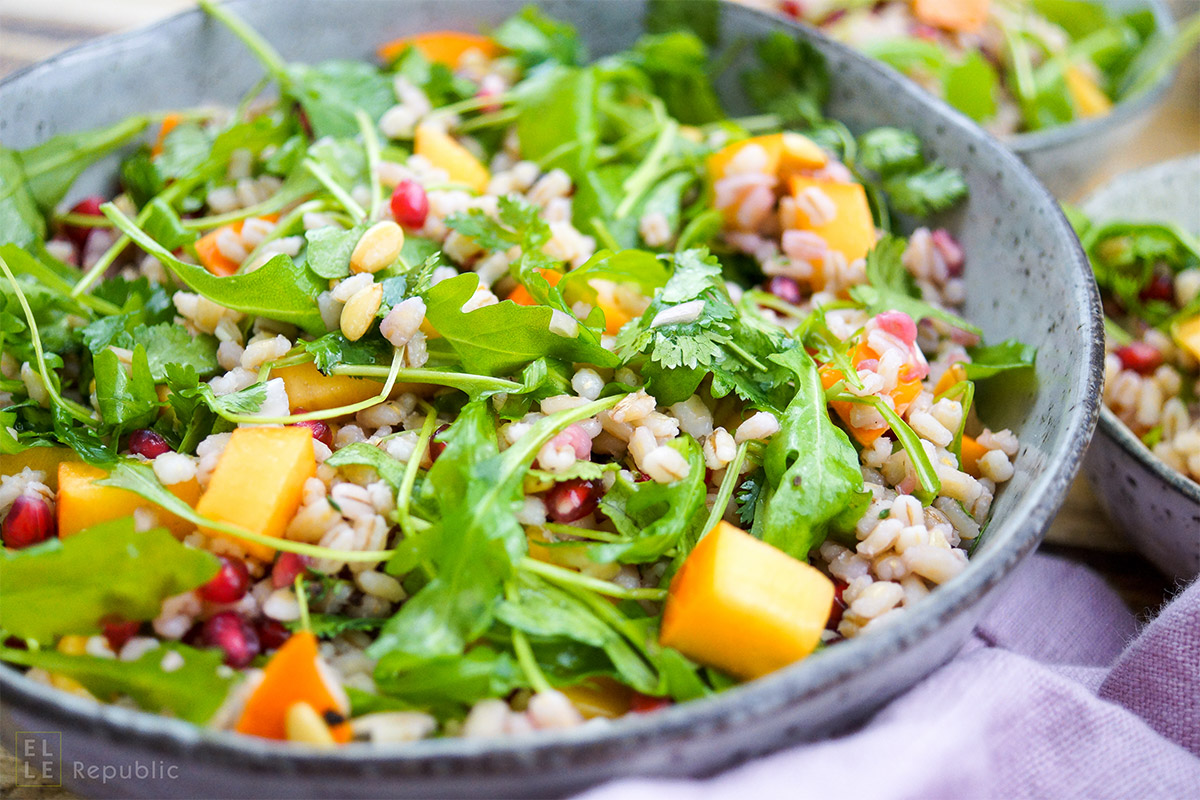 Of course at this time of year, I feel like I should be spending my time baking cookies and holiday treats AND of naturally thinking of what to prepare for this year's big Christmas meal! But truth be known, I've felt more like making wholesome comfort foods and winter salads like this one. A deliciously simple barley salad with kaki (in season now!), pomegranate, pine nuts and of course fresh herbs and arugula. What's a salad without at least a handful of greens?! I love how simple this salad is. Once the barley is cooked, it is super quick and easy to throw together. The nuttiness of the barley is perfect with the bright tang of the pomegranate and sweetness of the kaki. Simple goodness.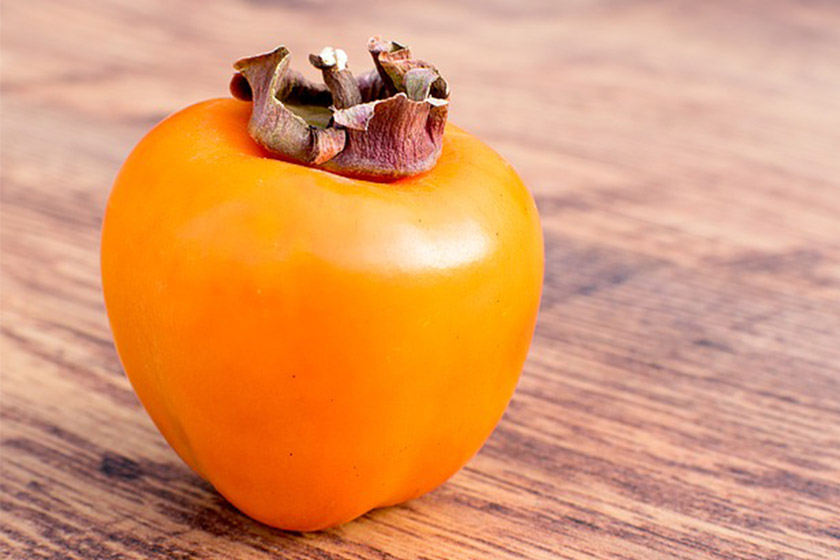 Kaki's growing popularity
Chances are you've seen them at the farmers' market or local supermarket lately. It seems they are popping up more and more over the past couple years. Rightfully so. They are deliciously sweet, seedless, can be eaten like an apple, and are reminiscent of mangos and peaches, though less juicy. It's just this that makes them so appealing in the winter months, exactly when they are in season. Widely available from October to December (even leading into March), this fruit gives you a chance to enjoy something tropical tasting (and looking) that actually comes from the continent (Europe that is, Spain to be exact). As with apples, this type of fruit has different varieties and names which are sometimes used interchangeably, which also can cause some confusion.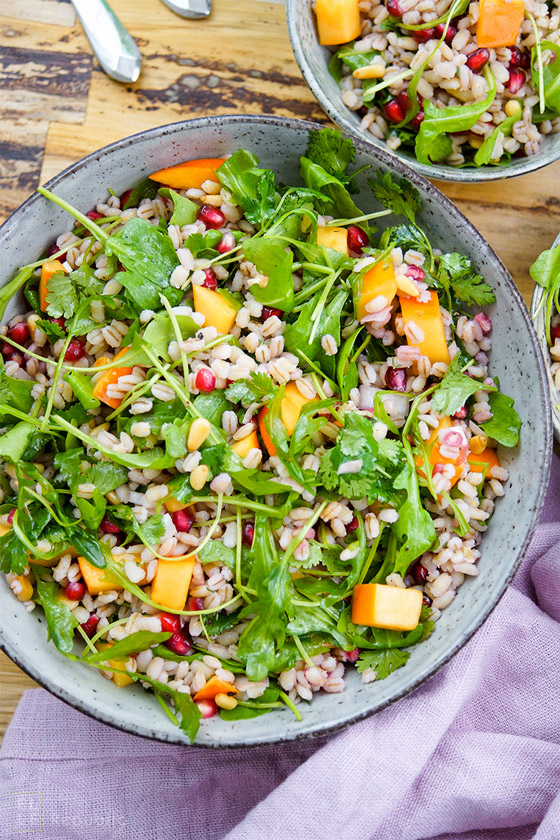 Barley salad with kaki "Rojo Brillante" (the Spanish persimon)
Rojo Brillante is an excludive variety of kaki with a protected designation of origin: "DOP Kaki Ribera del Xúquer". It is grown in the Valencia region by a registered farmer under strict controls to ensure the highest quality, taste and appearance of each fruit and can be recognised by its oblong shape. It's perfect for salads like one, since it can be eaten in a hard state, just like an apple.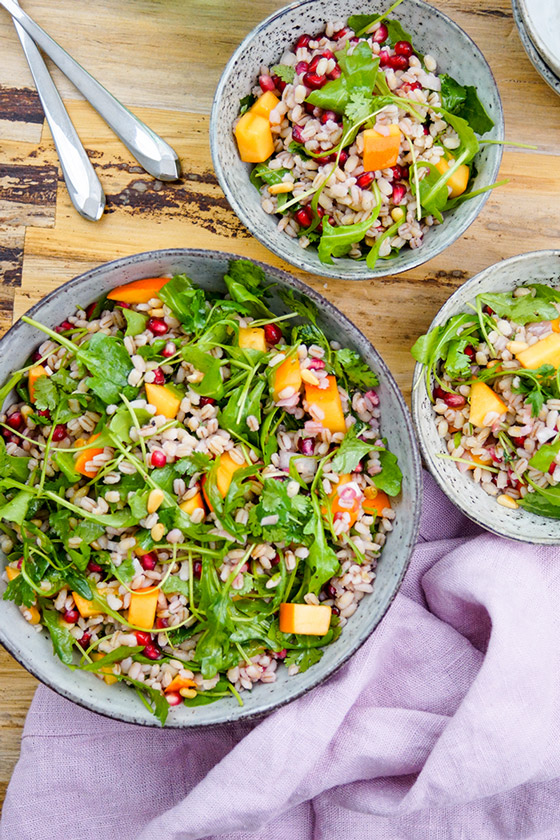 While the barley is cooking I remove the seeds (the red, jewel-like drops that are actually called arils) from the pomegranate. The best method, which has been proved to be super easy it to cut the pomegranate in half and knock the seeds out of it using a wooden spoon. Over a large bowl of course. It's great way to get out some aggression as well. 😉 Or you can save yourself the effort and swap out the pomegranate seeds for dried cranberries.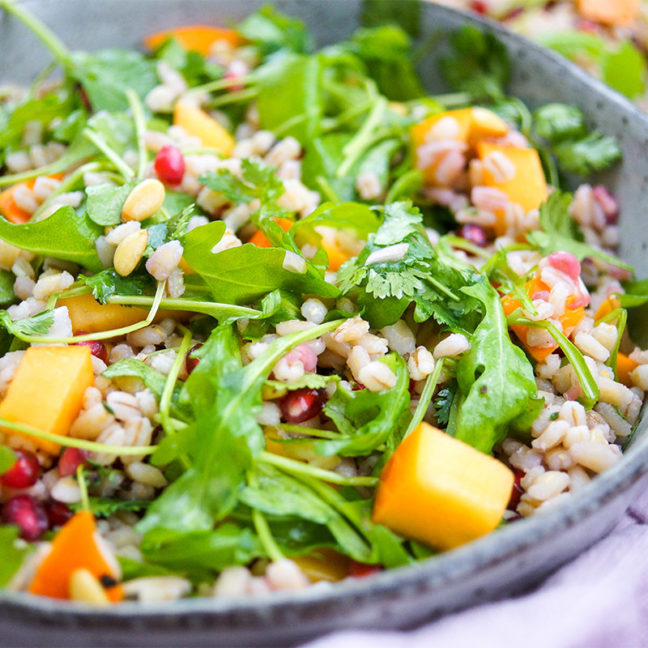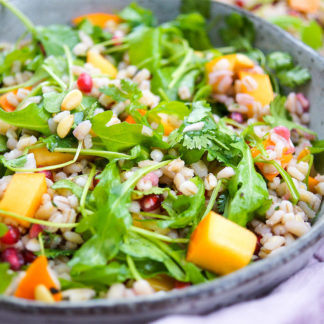 Barley Salad with Kaki, Pomegranate & Pine Nuts
A simple and healthy barley salad with kaki, pomegranate and pine nuts. The recipe takes advantage of in-season-now winter fruit. Look for Rojo Brillante kaki (also found under the name Spanish persimmon) which works just as well as apple in any salad.
Ingredients
2

cups

pearled barley

(200 g)

5

tablespoons

extra-virgin olive oil

2

tablespoons

white wine vinegar

1

small shallot,

minced

1

teaspoon

fresh thyme leaves

sea salt and freshly ground pepper,

to taste

1

kaki,

diced (Kaki Rojo/Spanisch Persimon variety)

seeds from 1/2 a large pomegranate

1

small bunch flat-leaf parsley or cilantro,

chopped

2

handfuls baby arugula leaves

1/4

cup

pine nuts,

lightly toasted (35 g)
Method
Cook the barley according to package instructions; for about 25-30 minutes, until the barley is al dente. If liquid remains, drain the barley in a colander (or use the lid of the pot to strain off any excess moisture). Transfer to a large serving bowl and let stand for about 15 minutes to cool to room temperature.

In a small bowl, whisk together the oil, vinegar, shallot, and thyme leaves. Season with salt and pepper. Pour the dressing over the pearled barley and the add the kaki, pomegranate seeds, parsley or cilantro, arugula and pine nuts. Toss to combine and serve.
Notes
This salad is naturally sweet thanks to the pomegranate and kaki (Rojo Brillante/Spanish persimon). If you prefer things on the saltier side, season with a little extra coarse sea salt or free to sprinkle with some crumbled feta cheese or shaved parmesan.
I love pine nuts in salads, so always use more than needed. Pine nuts of course are expensive, so can also be substituted with walnuts which works well with barley, alternatively use toasted hazelnuts or almonds which are also a great match with the sweetness of kaki.
Did you try this recipe?
Then tag @ellerepublic on Instagram and hashtag it #ellerepublic
How did you like it?
Please let me know how this Barley Salad with Kaki, Pomegranate & Pine Nuts recipe turned out for you! I would love to hear how you liked it. Simply rate it with the stars above ⭐or leave me a comment and rate it below.
Did you make any changes to this recipe?
If you have tips for other readers, let me know! It helps me and other readers so much. Sharing is Caring :-).