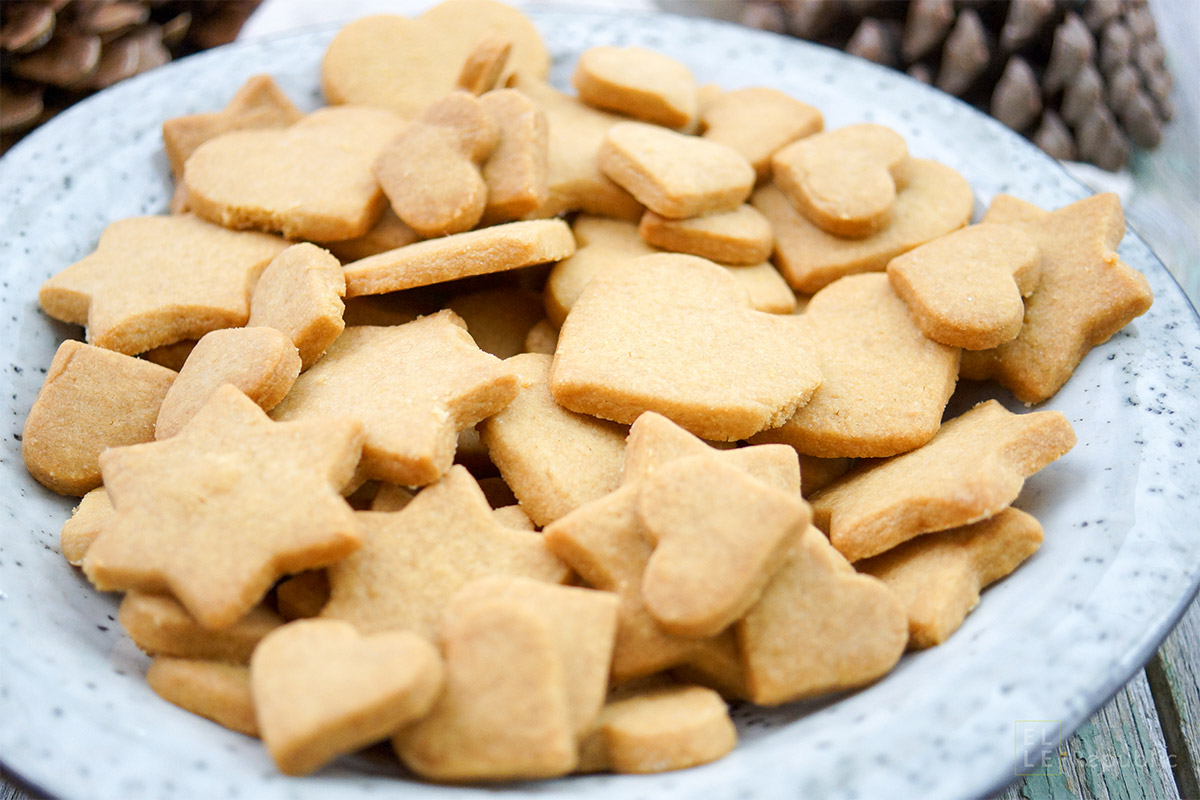 Who knew 4 simple ingredients could make something taste so good? This velvet shortbread recipe is brilliant. It's a family favorite stemming from my aunt Heather's famous shortbread recipe. A velvety melt-in your mouth shortbread recipe she has been making since the 70's. No Christmas is without it. So what's her secret? Well that's all in the method.
A healthier version of a traditional velvet shortbread recipe
Heather makes her version with ultra silky powdered icing sugar, which she works by hand into a magical dough. I have, of course, made this version and a version with a little lemon zest for extra zing. Both are definitely well-loved. But the all-time favorite, at least in my house, is a version made with white spelt flour (over all-purpose flour) and mascobado sugar for its terrific caramel-butterscotch-like flavor that isn't too sweet. If you prefer a slightly sweeter tasting shortbread and like a lot of us, are happy to splurge a little during the holidays, then don't worry about resisting, go head and stick to the family original. Which by the way, is double the batch which I make here. Regrettably, I should have made the full 6 dozen — these were so delicious that they were gobbled up within hours!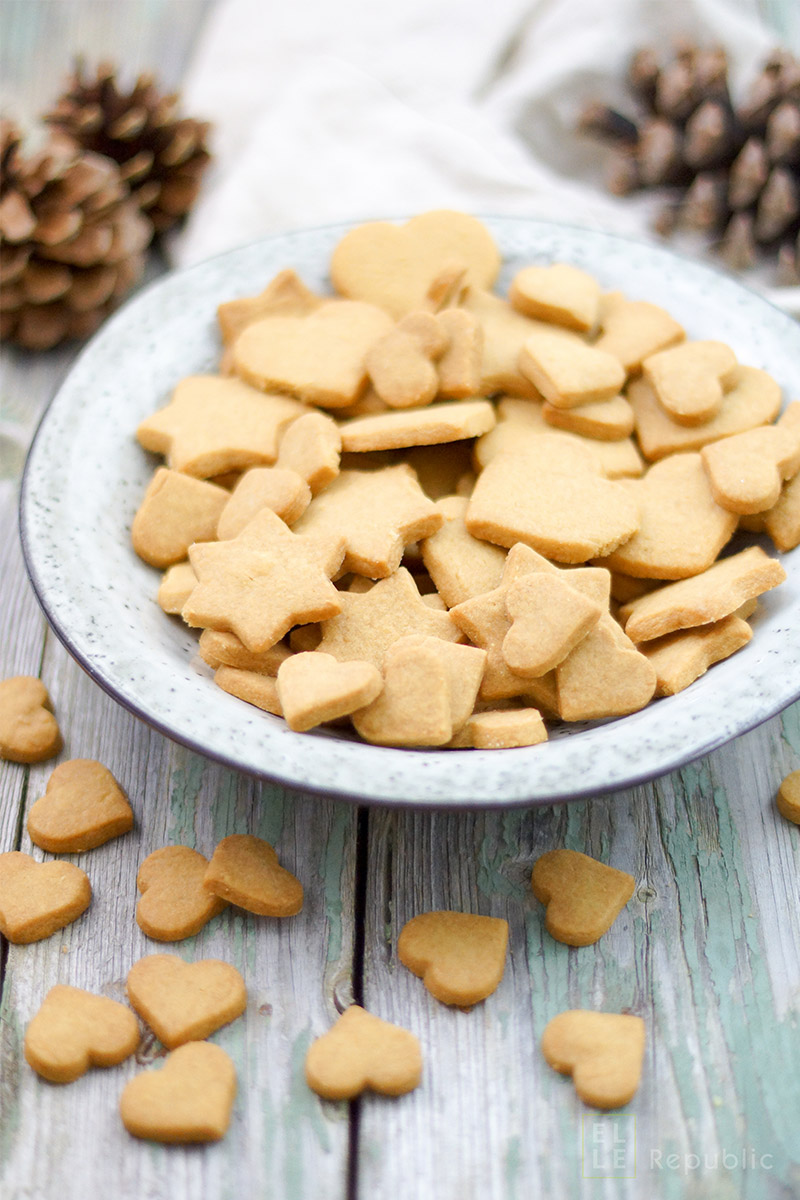 How to make homemade powdered sugar from mascobado sugar (or coconut sugar)
It's ridiculously easy to make powdered sugar at home. Just pour the mascobado (or coconut) sugar into a high-powdered blender or food processor. Blend the sugar until it becomes a fine, fluffy powdered sugar. Voila! Use the powdered sugar immediately or save it for later. You can store it in a glass jar, covered tightly with a lid, in your pantry until ready to use. TIP: I recommend sifting the powdered sugar before using to ensure clump-free, light and fluffy sugar.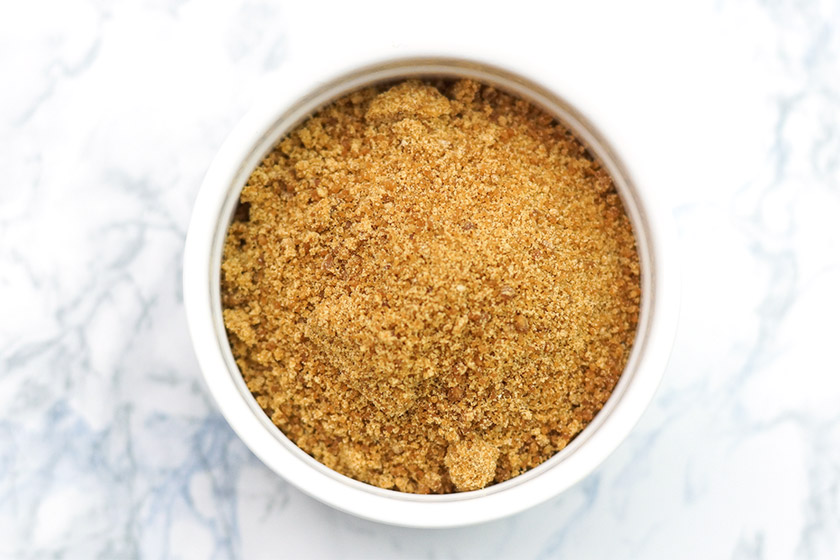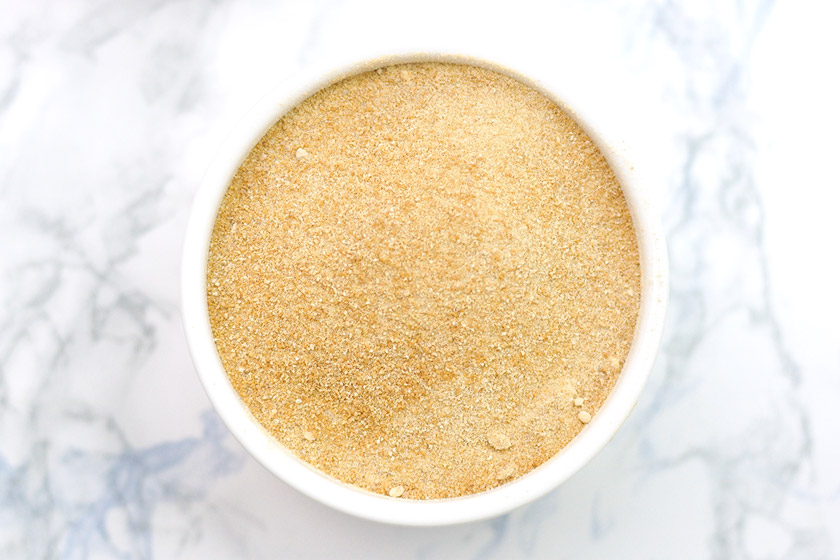 What makes mascobado a better choice over refined sugar?
First of all, it has more flavor and secondly, it is the least refined sugar of all cane sugars. Manufacturers produce mascobado sugar through a traditional process in which they evaporate the moisture from the cane juice over low heat, leaving behind a solid which is then ground into a grainy sugar. This helps retain the precious minerals and the full flavor. And because the molasses isn't removed, it is rich in minerals, calcium, iron, and magnesium. So naturally, it has more health benefits compared to normal white sugar, which has zero nutrients. Harsh chemical solutions are used to produce white sugar, which also undergoes addition heating, filtering and bleaching stages. Not to mention what effect all this processing has on the environment. Food for thought. 😉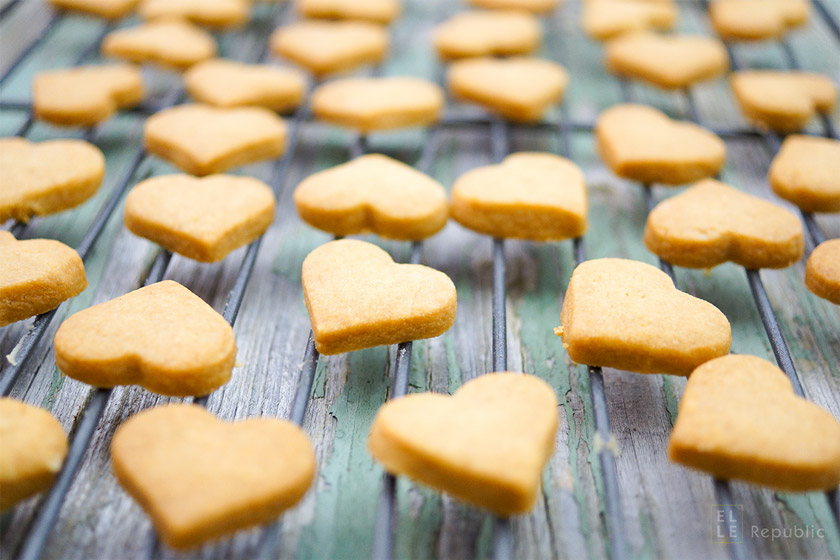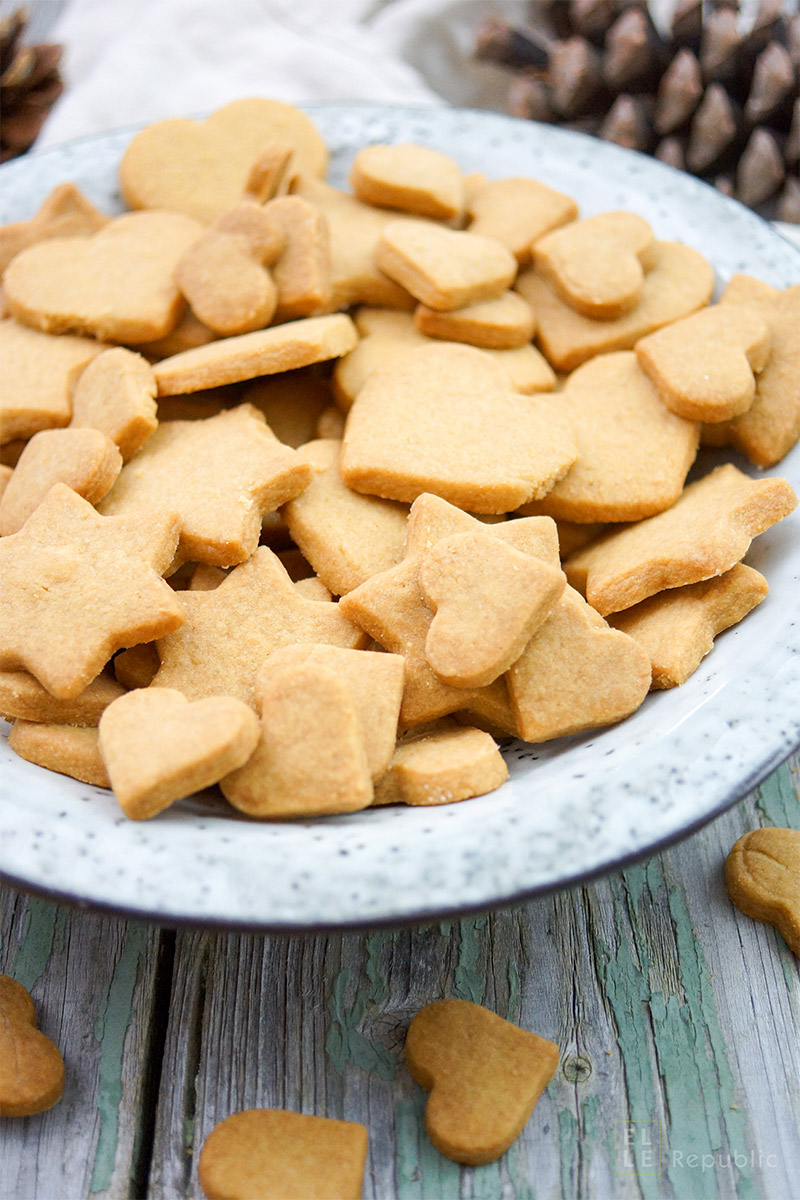 NOTE: This recipe takes some planning ahead. Active time is about 25-30 minutes to prepare the dough which needs to cool in the refrigerator for 2 hours before making it into cookies. Depending how many batches you bake at a time, you need to plan 18-20 minutes per batch.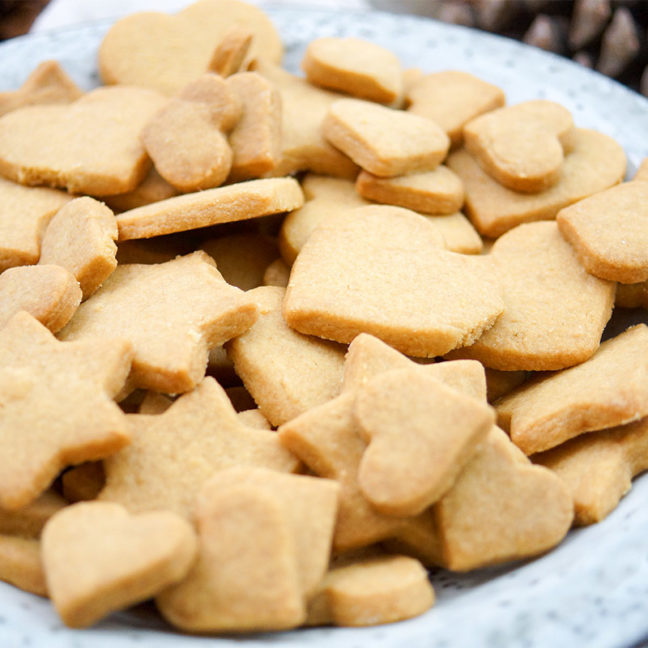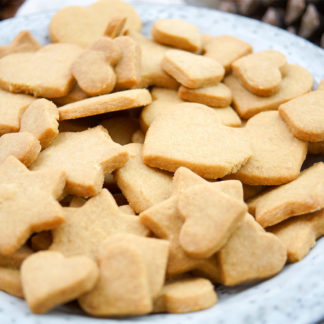 Velvet Shortbread (with Homemade Mascobado Powdered Sugar)
Refined sugar-free, these velvet shortbread cookies are made with organic mascabado sugar. They are full of buttery flavor and have a crumbly melt-in-your-mouth texture that few other cookies can deliver. I halved the original family recipe. Feel feel to double it. It's worth it!
Ingredients
2

cups

white spelt flour

(Type 630), sifted (270 g)

1/2

teaspoon

baking powder

225

g

unsalted butter

3/4

cup

icing sugar

(80 g) or homemade mascabado powdered sugar (100 g), sifted
To make the homemade mascabado powdered sugar:
1

cup

mascabado sugar

(150 g) (alternatively use coconut sugar)

1

tablespoon

arrowroot powder
Method
To make the homemade powdered sugar:
Pour the mascobado sugar and arrowroot powder into a high-powdered blender. Start on low-speed and gradually work your way up to the highest speed until the sugar is a fine, powdered sugar and light brown in color. It will take a couple of minutes to powder the sugar.

You may want to tap on the blender lid help any powdery sugar settle to the bottom.
To make the velvet shortbread:
Preheat the oven to 325°F / 160°C and line a baking sheet with parchment paper.

Sift all dry ingredients into a large mixing bowl. NOTE: Sifting the dry ingredients is very important!

Cream the butter. Using an electric hand mixer, beat the butter until creamy, about 2-3 minutes. Add the creamed butter to the flour mixture.

Work with hands until smooth. I put the timer on for 20 minutes and knead it with my hands. At first the dough will be sticky but as you continue to work it, it becomes more elastic and smooth. (See note below).

Form the dough into a ball, wrap in plastic wrap, and chill for 2 hours.

Roll out the dough about 0.5 cm thick and cut with cookie cutters. Or you can just make balls and squish them with a fork. Place on the prepared cookie sheet lined about 1-2 cm apart.

Bake until light golden; about 18-20 minutes. Check after 15 minutes, as depending on the oven they can burn quickly.

I only have one baking sheet so I bake my cookies in the middle of the oven. But if you want to do two batches at once then position the oven racks in middle and upper third of oven, and be sure to switch the positions of the baking sheets half way through the baking time.

Let the cookies cool on the baking sheets for a minute before transferring to a wire rack to fully cool. Stored in an airtight container, for up to 5 days.
Notes
My aunt swears that the key to a velvety shortbread is to work the dough with your hands rather than an electric mixer. Instead of kneading by hand you could use the dough hook in a food processor. However, I tried it once and the hand kneading really makes a difference to the smoothness and melt in your mouth quality.
In between baking the batches I pop the dough back into the fridge to keep it cool, which makes it easier to work with. Once the cookies in the oven are almost done I start cutting the next batch and place them on a cutting board lined with parchment paper. This makes it easy to slide the freshly cut batch onto the baking sheet so you can pop them into the oven right away. This also prevents them from melting on the already hot baking sheet as you are cutting them.
My cookies never last long, but I told they also freeze well! Enjoy!
Did you try this recipe?
Then tag @ellerepublic on Instagram and hashtag it #ellerepublic
How did you like it?
Please let me know how this Velvet Shortbread (with Homemade Mascobado Powdered Sugar) recipe turned out for you! I would love to hear how you liked it. Simply rate it with the stars above ⭐or leave me a comment and rate it below.
Did you make any changes to this recipe?
If you have tips for other readers, let me know! It helps me and other readers so much. Sharing is Caring :-).