"Room Service? I'd like to order breakfast. Half a pint of orange juice, three eggs, lightly scrambled, with bacon, a double portion of café Espresso with cream. Toast, marmalade. Got it?"
Ian Fleming. Live and Let Die.
SPECTRE is the 24th James Bond adventure, and as in all the films, Bond, is the spy who loved to eat…and drink. Although James Bond easily enjoys ordinary country breakfasts, when he's not busy with hotel room seductions, car chases or facing down villains, 007 can be found enjoying the good things in life. You can almost always find our favorite spy in the most luxurious bars and restaurants, relishing on things like beluga caviar and chip canapés all the while sipping chilled vodka – I think you'll agree, when you think of Bond there is usually one cocktail that comes to mind. A martini. Yes, he is intrinsically attached to martinis, which, of course, he likes "shaken, not stirred", likely followed by a glass of shimmering champagne. Sadly for Bond, in his new film he winds up with a very green looking smoothie instead.
As a long time Bond fan, the release of the new film brought me back to times when we used do girls nights and drink martinis and munch on canapés. You know, those tasty little morsels otherwise known as finger food. Hors d'oeuvres of decorative deliciousness. Mostly we drank crantinis and lemon drop martinis. I mean rather than a pure and classic "shaken, not stirred" version. None of us were true Bond girls.
So whether you are planning a get together with your friends, a 007 theme night, or your next Oscar awards party, here are three fantastic canapés that are perfect with serving with your favorite cocktail or martini, or just simply alongside your favorite green smoothie.
Each of these recipes can easily be halved if you are planning a variety of snacks or a more intimate gathering.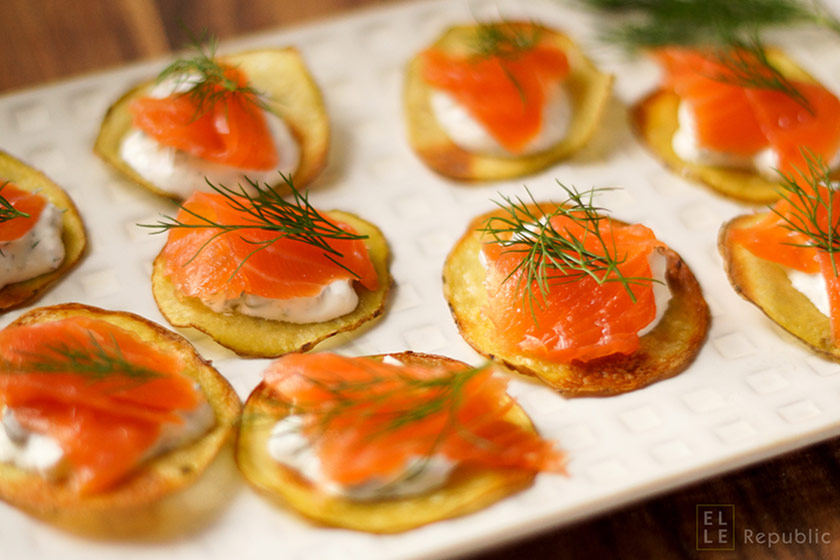 Homemade Potato Chips with Smoked Salmon and Dill
Serves 12 (2 pieces per person)
INGREDIENTS:
1 large waxy potato, scrubbed clean and sliced thinly (use a mandoline)
extra-virgin olive oil
sea salt and freshly ground pepper, to taste
150 g smoked salmon
50 g crème fraîche (about half a 100 g container)
1 tablespoon fresh dill, plus more sprigs for garnish
finely grated rind from 1 organic lemon
1 small red onion, finely chopped
1 tablespoon capers, drained, rinsed and chopped
METHOD:
For the potato chips:
1. Preheat the oven to 375°F / 190°C. Line two baking sheets with parchment paper.
2. Brush each side of the sliced potato lightly with oil. Arrange, without overlapping, on the baking sheet. Sprinkle with salt and pepper, and bake, rotating sheets halfway through, until golden, 15 to 20 minutes. Checking often since they may brown at different rates.
3. Transfer to paper towels to dry for 5 minutes.
To assemble the canapés:
4. Flavor the crème fraîche by mixing it together with the fresh dill, lemon rind, red onion and chopped capers. Spread onto the potato chips. Top with smoked salmon and dill sprigs. Serve and enjoy!
TIP: For a quick canapé, use your favorite cracker instead of the homemade potato chips.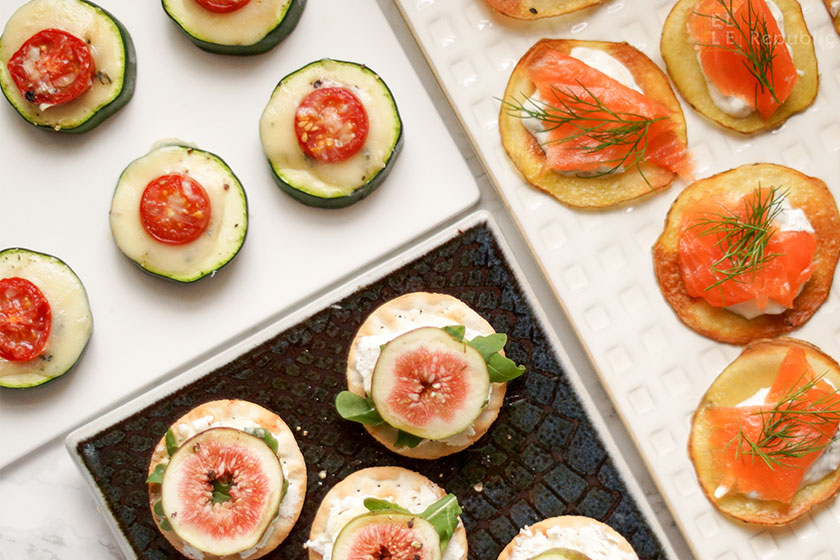 Baked Zucchini Rounds with Gorgonzola & Cherry Tomato
Serves 12 (2 pieces per person)
INGREDIENTS:
2 zucchinis, cut into 1.5 to 2 cm slices
about 8 cherry tomatoes, thinly sliced
125 g gorgonzola
freshly grated parmesan cheese
freshly ground pepper, to taste
METHOD:
1. Preheat the oven to 400°F / 200°C. Line a baking sheet with parchment paper.
2. With a melon baller or small spoon (a metal measurement spoon works fantastic) scoop out the center of each slice of zucchini, leaving the bottom intact.
3. Place the zucchini on the baking sheet. Spoon some gorgonzola cheese into each zucchini round. Place a slice of cherry tomato on top, sprinkle with parmesan cheese and freshly grated pepper.
4. Bake for 6-7 minutes; until cheese is melted (but not browned). Serve immediately.
5. Enjoy!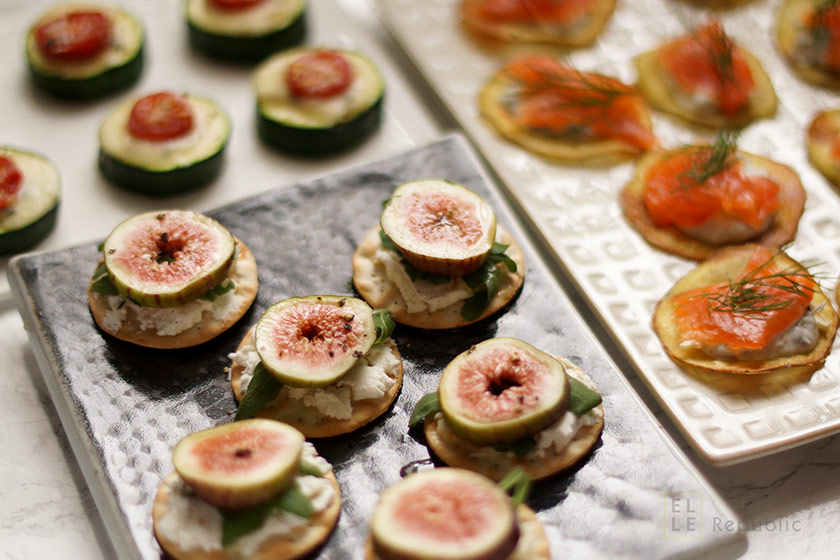 Fig, Chèvre and Honey Canapés
Serves 12 (2 pieces per person)
INGREDIENTS:
6 fresh figs, each one sliced into 4 disks
24 water crackers
150 g goat's cheese
1 small handful baby arugula
liquid honey, for drizzling
freshly ground black pepper
METHOD:
1. Top each cracker with a thin layer of goats cheese.
2. Place a couple arugula leaves on the cheese and top with one fig slice; gently press into place.
3. Drizzle with honey and season with freshly ground pepper.
4. Serve and enjoy!
Did you try this recipe?
Then tag @ellerepublic on Instagram and hashtag it #ellerepublic
How did you like it?
Please let me know how this recipe turned out for you! I would love to hear how you liked it. Simply rate it with the stars above ⭐or leave me a comment and rate it below.
Did you make any changes to this recipe?
If you have tips for other readers, let me know! It helps me and other readers so much. Sharing is Caring :-).