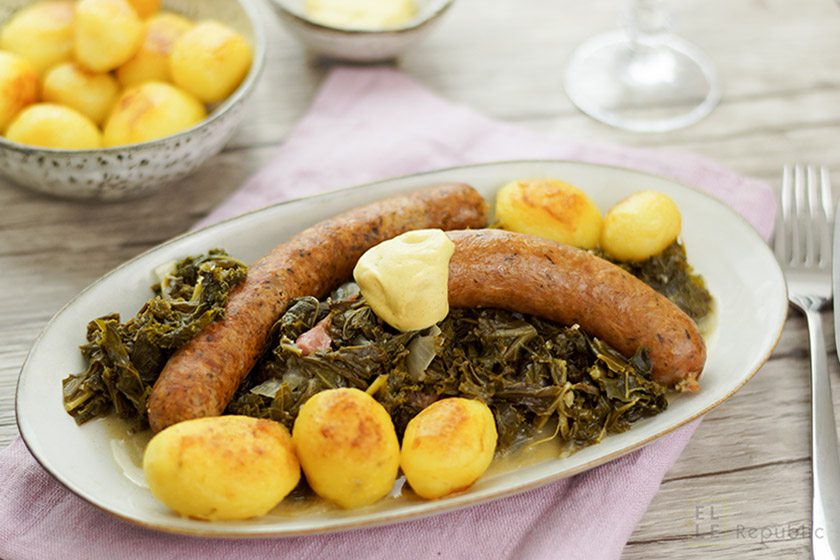 When cooked properly, this typical Northwest German dish has a nice savory taste that complements the robustness of the sausages and potatoes that are served with it. It's something you often see served at the Christmas markets around Germany. The variety of sausage you'll get with it depends on the region and depending on where you are, you may even get a cut of smoked pork with it. There are countless recipes for Grünkohl, with each region having their own special ingredient or cooking method. The recipe is simple enough, although a little planning is needed since this curly kale stew needs to simmer for at least 1 1/2 hours for the flavors to fully develop.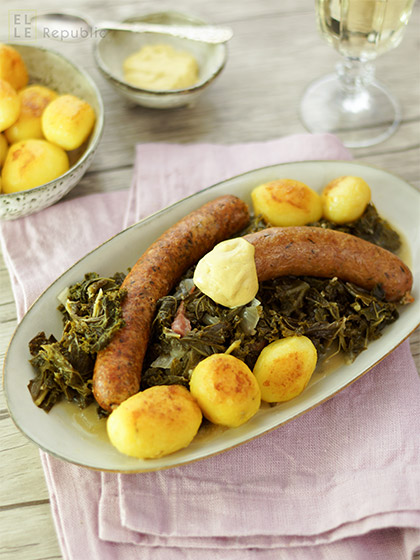 Basically, you blanch curly kale leaves, then chop them up and simmer them in a broth consisting of onions, some schmalz (rendered pork fat–essential for the flavor!), along with smoked pork, and seasonings of salt, pepper and whatever your spice of choice may be, whether it be mustard seeds, allspice or bay leaves.Grünkohl will typically be served with smoked bacon, Mettwurst or Pinkel sausages (the exact recipe of these sausages differs from butcher to butcher and they like to keep their recipes secret!), or a salted smoked cut of pork called Kasseler. Or all four.
It may not be the prettiest of dishes and is considered an acquired taste for some, but personally I find it quite delicious. Enjoy!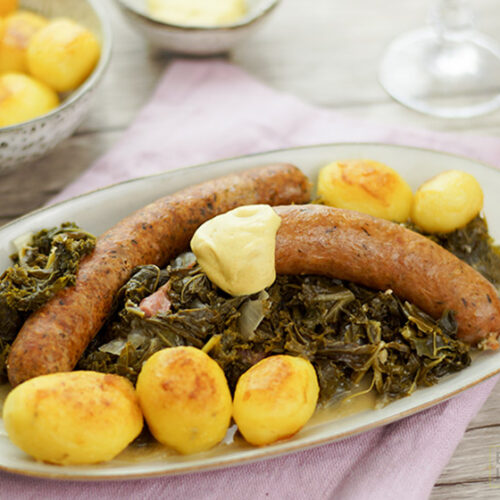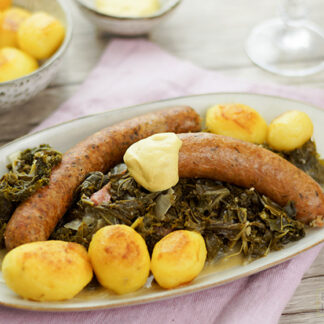 German Grünkohl with Pinkel and Kochwurst
Grünkohl this typical Northwest German dish has a nice savory taste that complements the robustness of the Pinkel and Kochwurst sausages and potatoes that are served with it.
Cook Time
1
hour
30
minutes
Ingredients
1- 1,5

kg

fresh curly kale,

washed, stems trimmed off

4

tablespoons

schmalz

(rendered duck or pork fat)

3

yellow onions,

chopped

250

g

piece of smoked streaky bacon,

preferably cut with the rind from the butcher (geräucherter Bauchspeck)

1

teaspoon

raw cane sugar

pinch

of ground nutmeg

2

tablespoons

Dijon mustard

(or other medium spicy mustard)

2

cups

beef broth

(500 ml)

sea salt and freshly ground pepper,

to taste

3

tablespoons

fine cut oats

4

Kielbasa sausages

4

smoked Kaszanka,

also known as Groats sausage (Pinkelwurst)

750

g

small boiling potatoes
Method
Working in batches, blanch the kale in a pot of boiling lightly salted water for about 3-4 minutes. Using a slotted spoon, transfer the kale to a large bowl of ice cold water; let cool, then drain. Squeeze out as much excess water as possible and transfer kale to a cutting board. Coarsely chop.

In a wok or very large skillet, heat 2 tablespoons of schmalz over medium heat, add the smoked bacon, cook for 3 minutes, then turn and add the onions. Cook for 3 minutes more, then add the kale.

Stir in the sugar, nutmeg, mustard and broth and season with a generous amount of salt and pepper. Bring to a boil, then reduce the heat to low. Simmer, covered, for 1 hour, stirring occasionally. Add the oatmeal and stir until combined. Cook for 30 minutes more, adding more broth if necessary, so that the kale does not dry out.

Meanwhile, cook potatoes in a large pot of boiling salt water. Boil for 15 minutes or until slightly tender, yet firm in the middle; drain and rinse under cold water until cool enough to handle. Peel potatoes and set aside.

Cook the sausages in a large pot of boiling salt water for 15 minutes.

While the sausages are cooking, heat the remaining schmalz in a large non-stick skillet over medium heat. Add the potatoes and cook, over high heat until the potatoes are golden brown; about 8-10 minutes. Season with salt and pepper.

NOTE: Remove the smoked streaky bacon piece from the pan with Grünkohl. Using a knife, separate the meat from the fat and mix it in with the kale. Discard the fat.

Serve the potatoes and sausages alongside the "Grünkohl". Don't forgot the mustard, you'll want this for the sausages. Enjoy!
Did you try this recipe?
Then tag @ellerepublic on Instagram and hashtag it #ellerepublic
How did you like it?
Please let me know how this German Style Kale (Grünkohl mit Pinkel) recipe turned out for you! I would love to hear how you liked it. Simply rate it with the stars above ⭐or leave me a comment and rate it below.
Did you make any changes to this recipe?
If you have tips for other readers, let me know! It helps me and other readers so much. Sharing is Caring :-).