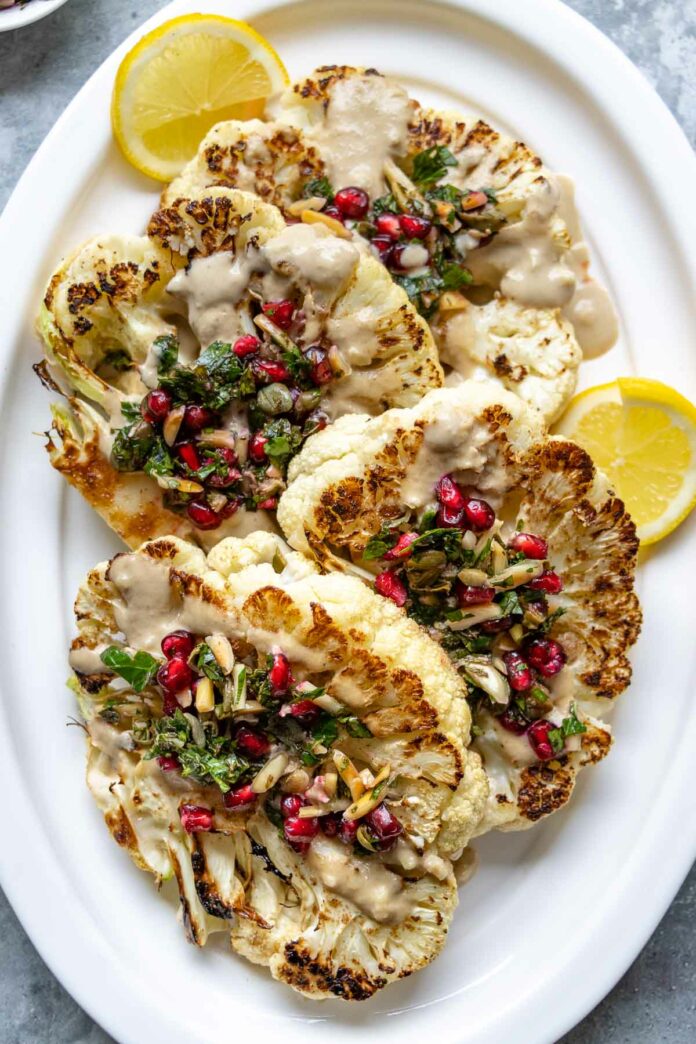 Cauliflower steaks make an impressive side dish — one that is highly versatile. Cauliflower is simply cut into "steaks", brushed with olive oil and seasoned salt and pepper. And in this recipe a little cumin as well. Then the "steaks" are grilled and topped with a middle-eastern inspired tahini sauce and salsa made with fresh herbs, capers, pomegranate and almonds. Together it makes for a healthy vegetarian side dish that even even carnivores will love!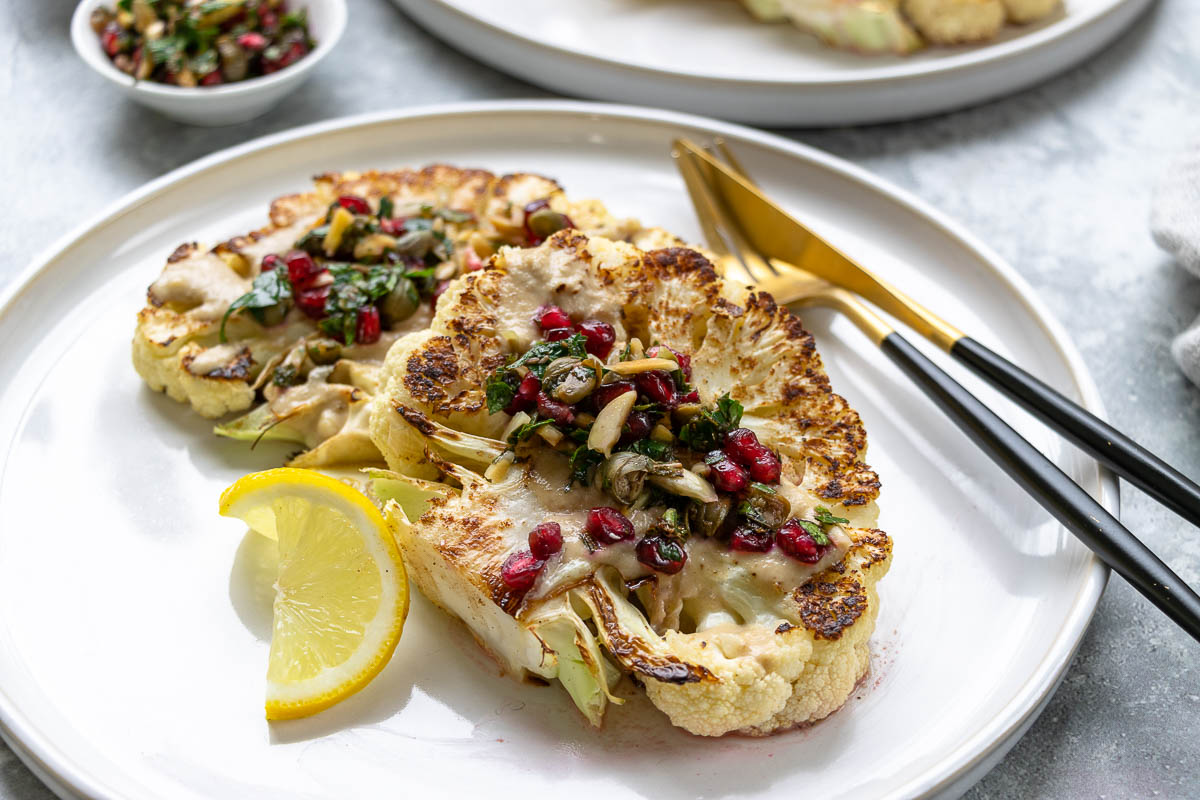 Why is cauliflower steak referred to as a steak?
That's right, we are talking cauliflower here and not a steak per se. However, they are called steaks despite having nothing to do with meat. You could say, that when sliced, they resemble a t-bone steak or other cut on the bone, as the harder core of the cauliflower almost resembles a bone. And… they make a great vegan or vegetarian option for the BBQ.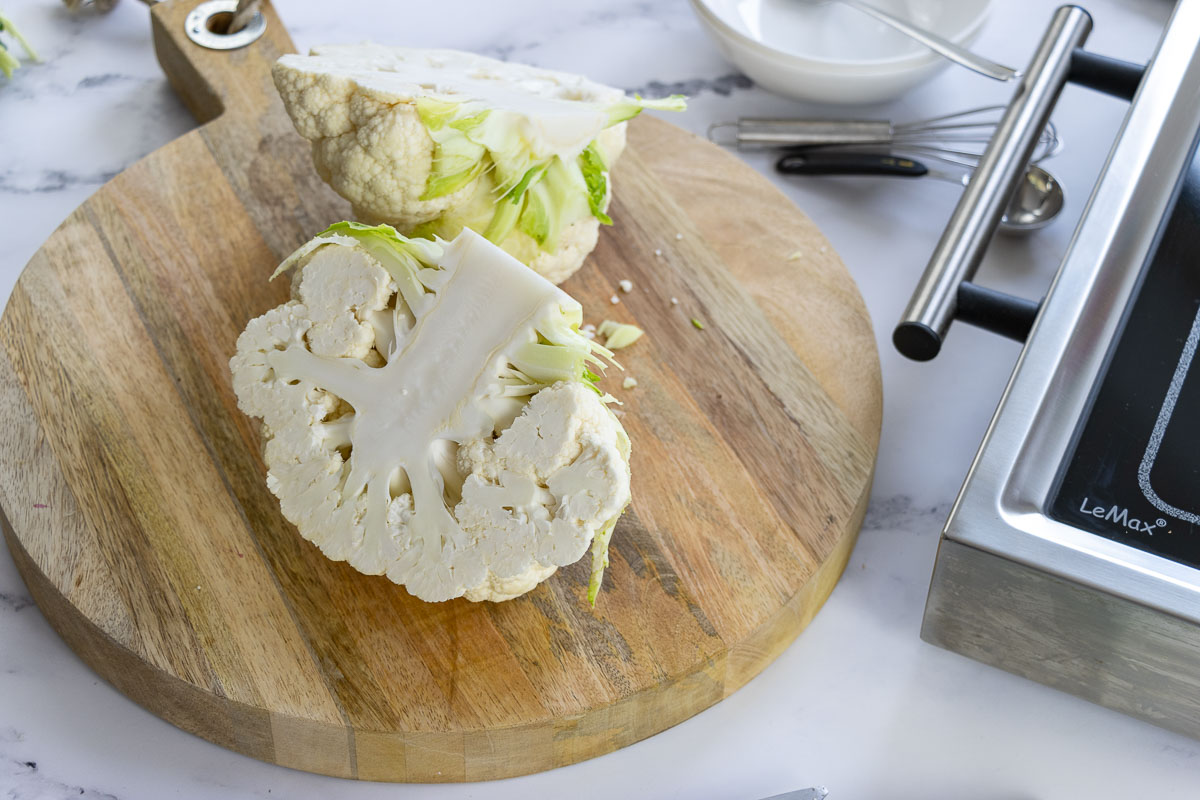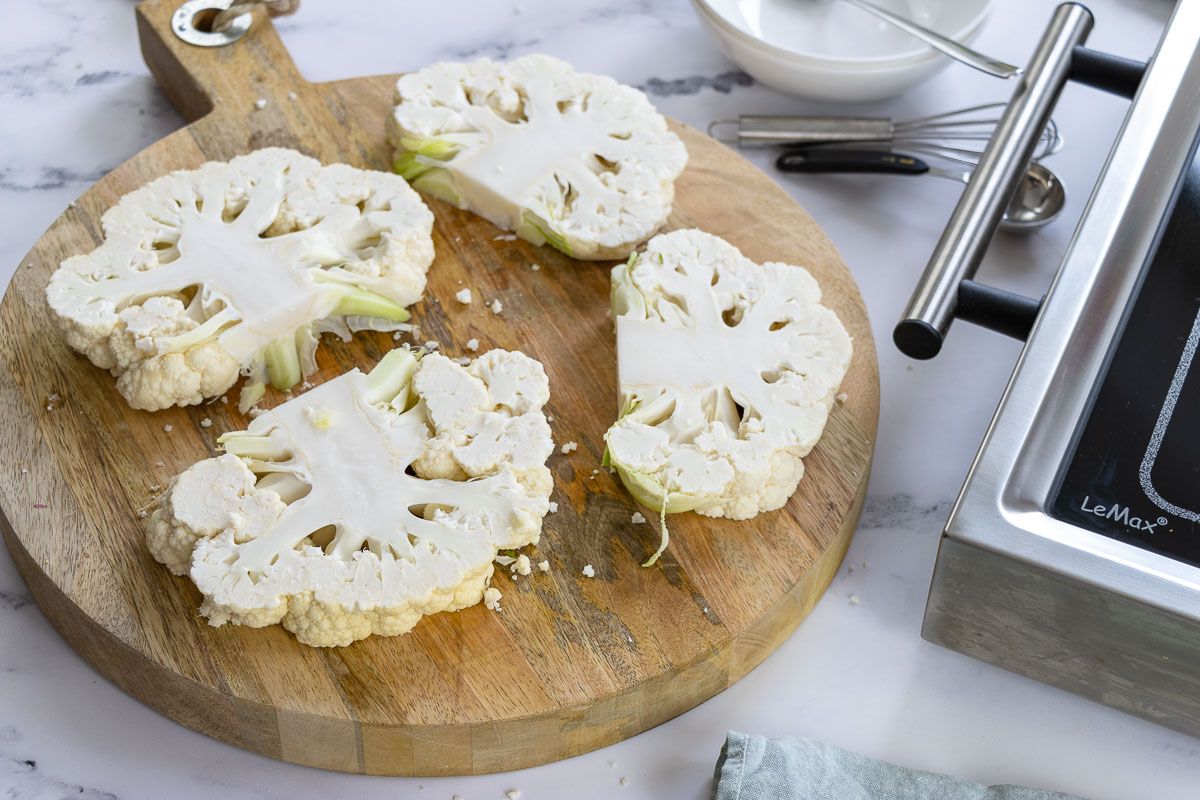 How to prepare cauliflower steaks
The most important step in making cauliflower steaks is learning how to cut the cauliflower. Once you know how, the rest is easy!
First choose a large, dense cauliflower. Trim the stem and leaves, and then trim off the excess bottom of the core so that the base is flat.
Place core side down and slice down the MIDDLE of the cauliflower, slicing it into equal sized halves. Cutting in through the core keeps the florets together.
Sit the cauliflowers halves upright on your chopping board and cut them into two 3 cm thick slices (1-1,5 inch) from the cut side (centre part). The core of the stem will hold the florets together. The steaks are fragile which is why we slice them so thick. Therefore, also be careful when flipping them so they don't break apart.
Reserve the sides and any florets that fall off for another meal or if you are grilling on a BBQ you can place them in a grill basket and grill them alongside the steaks.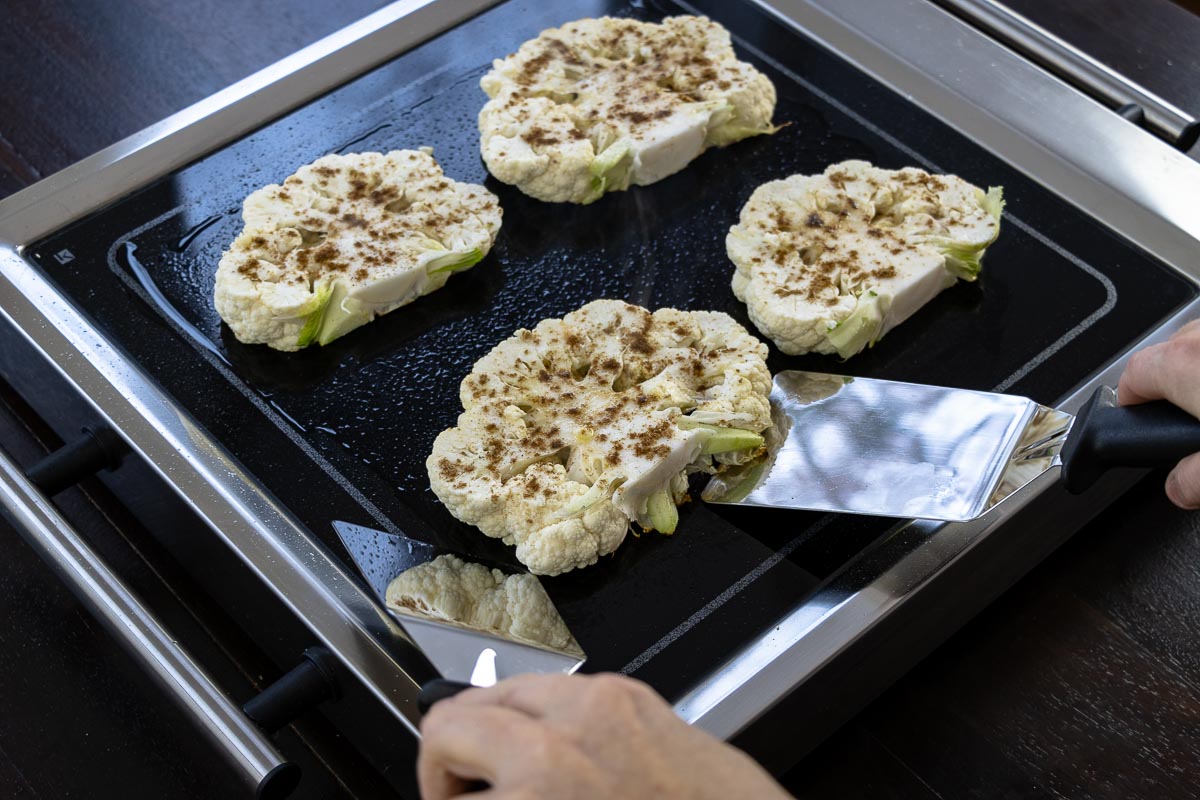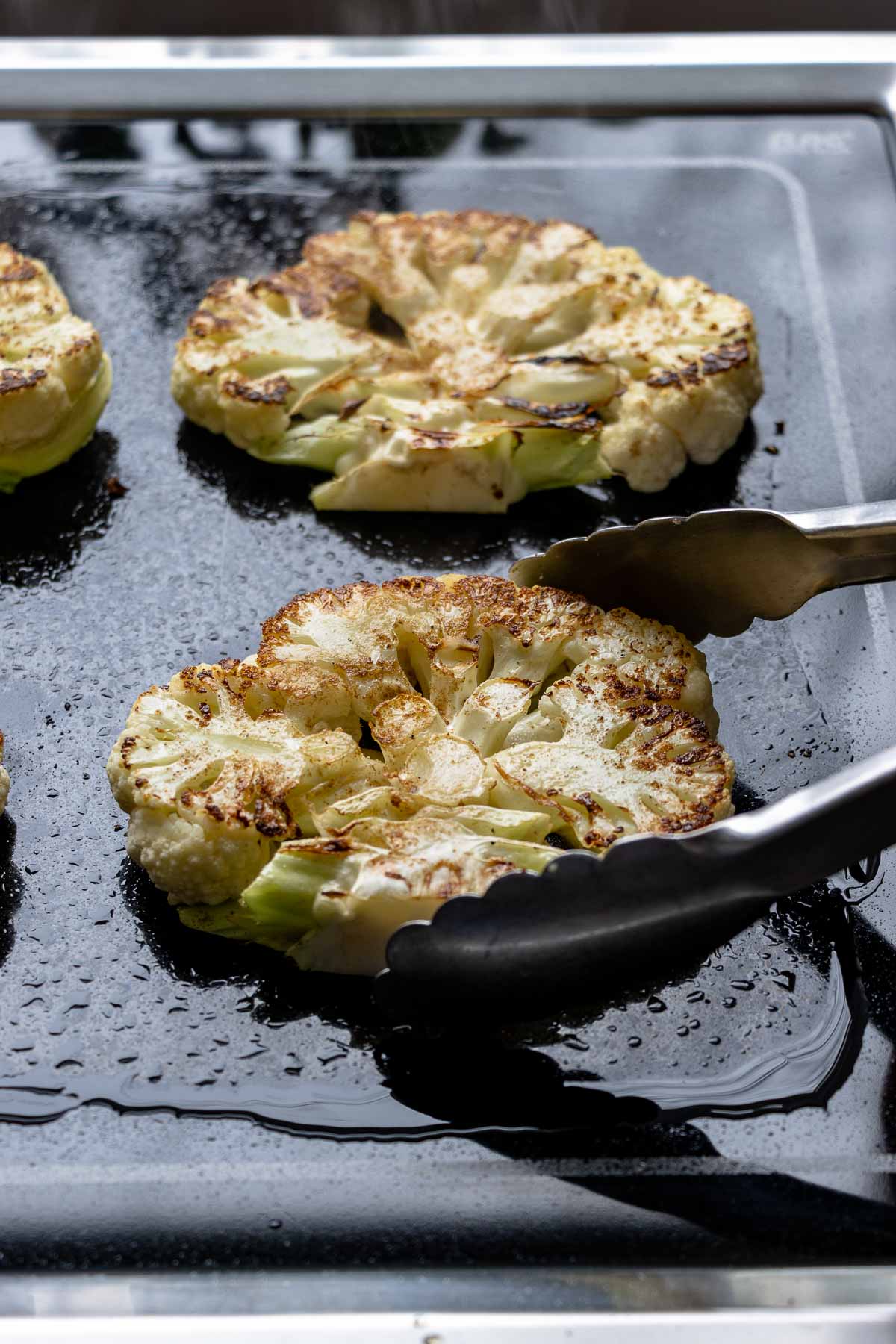 How to adapt this recipe
This simple grilled cauliflower recipe is easy to adapt. Keep in mind that a few extra ingredients give the recipe interest and depth. Lemon adds brightness, herbs add freshness, toasted nuts add crunch. Here are a few of my ideas:
You can simply season it with salt and pepper, or add a little oomph with herbs and spices. Try ras el hanout, za'taar, or a simple combination of sweet paprika and garlic powder. Or try a pinch of red pepper flakes for a little heat.
Or keep things pure and simple and upgrade your grilled cauliflower steak with exciting toppings. Try chimichurri sauce, romesco sauce, salsa verde, gremolata, or a simple tahini sauce with a sprinkle of parsley.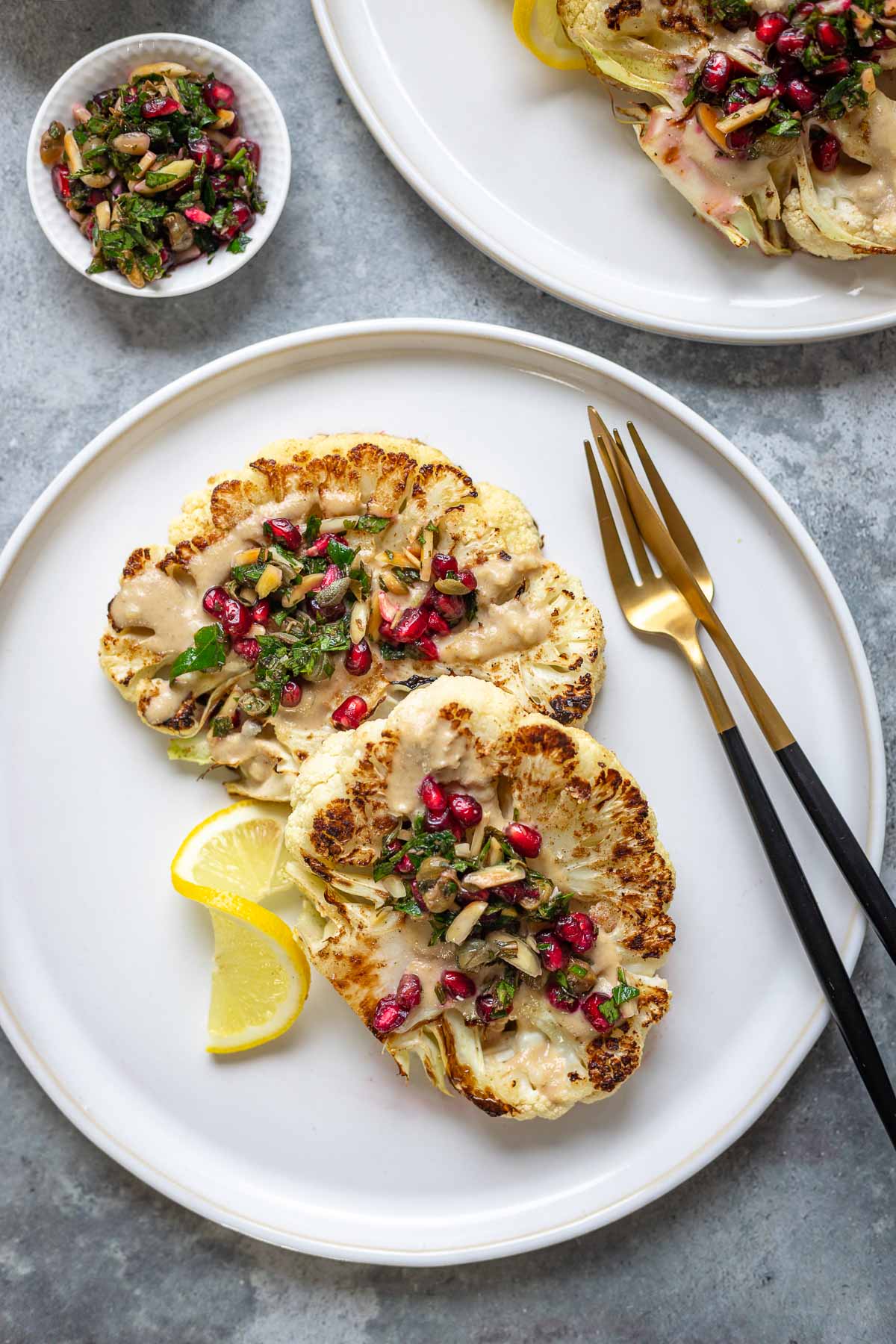 How to serve grilled cauliflower steak
Cauliflower steak makes a terrific side dish, or you can make a meal out of it by adding a base of whole grains or legumes (like beluga lentils or chickpeas), then topping them with a cauliflower steak and tahini sauce.
You could even make a deconstructed falafel plate, by serving a cauliflower steak over some hummus, alongside with roasted chickpeas (or falafel), sliced cucumber and some pita bread.
Or serve it over a bed of butter beans (like I do in this Roasted Carrots with Harissa, Butter Beans and Yoghurt Sauce recipe) or alongside a simple Turkish bean salad.
Or try serving alongside a salad for a light meal. Or as an accompaniment to other dishes as a vegetarian side dish.
More healthy cauliflower recipes: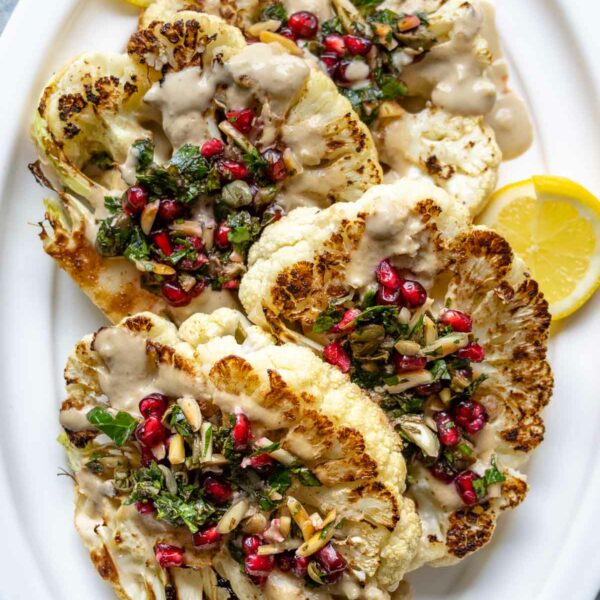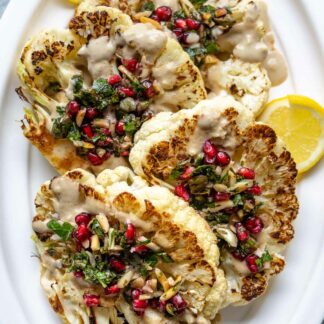 Cauliflower Steaks with Tahini & Caper-Herb Salsa
Cauliflower steaks served with a lemon-tahini sauce and salsa made with fresh herbs, capers, almonds and pomegranate. Quick and easy recipe for grilled or roasted cauliflower "steaks".
Ingredients
Lemon Tahini Sauce
2

tablespoons

tahini,

stirred

1-2

cloves

garlic,

minced

Juice of 1 lemon

2

tablespoons

extra-virgin olive oil

Sea salt and freshly ground pepper,

to taste

2-3

tablespoons

cold water,

to thin
Caper-Herb Salsa
1,5

tablespoons

capers,

coarsely chopped

Handful mint,

roughly chopped (about 2 tablespoons)

Handful parsley,

roughly chopped (about 2 tablespoons)

Seeds from half a pomegranate

handful slivered almonds

(or pine nuts), lightly toasted

juice of ½ lemon

1

tablespoon

extra-virgin olive oil

pinch

of sea salt
Cauliflower Steaks
2

large heads of cauliflower,

leaves trimmed

1

teaspoon

ground cumin

Sea salt and freshly ground pepper,

to taste

Extra-virgin olive oil,

for coating
Method
Tahini sauce:
In a small bowl, add the tahini, garlic, lemon juice, olive oil, salt and pepper. Stir to combine.  Add a little water until a smooth consistency is reached. Set aside.
Salsa:
In a small bowl, add the capers, herbs, pomegranate seeds, almonds, lemon juice, olive oil and a pinch of salt. Stir to combine. Set aside.
Cauliflower steaks:
Remove the tough outer leaves from cauliflower. Trim the stem to create a flat base. Place on a cutting board, stem-side down and using a large knife, cut the cauliflower in half lengthwise and then cut 2 approximately 3 cm (1,5 inch) thick slices from the centre of each head to make steaks (the stem will hold the florets together). Reserve the remaining cauliflower for another use.

Brush both sides of the steaks with oil. Sprinkle with the cumin and season with salt and pepper on both sides.

Preheat the grill to medium-high heat (for the LeMax glass-ceramic grill level 9, then after 5 minutes reduce to level 7). Grill the steaks, turning once, until tender and golden brown, about 7-8 minutes per side, or until desired doneness. TIP: use a toothpick to test tenderness. Once the stem can easily be pierced, it is done.

Serve the cauliflower steaks with a drizzle of tahini sauce and a sprinkling of salsa. Serve the remains on the side. Enjoy!
Notes
If you aren't a fan of capers, you can make the salsa without capers. It's also delicious. Or simply skip the salsa all together and serve the steaks with tahini sauce and a sprinkle of fresh parsley.
To roast the cauliflower in the oven follow these instructions:
Preheat oven to 425°F/220°C (200°C fan-assisted).
Place seasoned cauliflower on baking sheet.
Place baking sheet in oven for 10-15 minutes. Gently turn over each steak and roast 15-20 more minutes, or until tender and golden.
For a relaxing atmosphere in the kitchen I recommend my personal Elle Republic: Chilled Out Kitchen Tunes or Lounge Kitchen Tunes Playlist on Spotify.
Did you try this recipe?
Then tag @ellerepublic on Instagram and hashtag it #ellerepublic
How did you like it?
Please let me know how this Cauliflower Steaks with Tahini & Caper-Herb Salsa recipe turned out for you! I would love to hear how you liked it. Simply rate it with the stars above ⭐ or leave me a comment and rate it below.
Did you make any changes to this recipe?
If you have tips for other readers, let me know! It helps me and other readers so much. Sharing is Caring :-).
This post contains affiliate links. If you decide to make a purchase through my link, Amazon will pay me a commission for it. This doesn't cost you anything additional and the price remains the same. More about advertisements on Elle Republic.
Many thanks to ELAG Products GmbH for sponsoring this recipe.