As one of the most nutrient-dense foods on the market, why not include chia seeds in what we consider the most important meal of the day? After all…"chia" does mean strength. Starting your day with a delicious and nutritious bowl of chia overnight oats fueled with almond milk, dried tart cranberries, and fresh fruit is bound to keep you energized until lunchtime.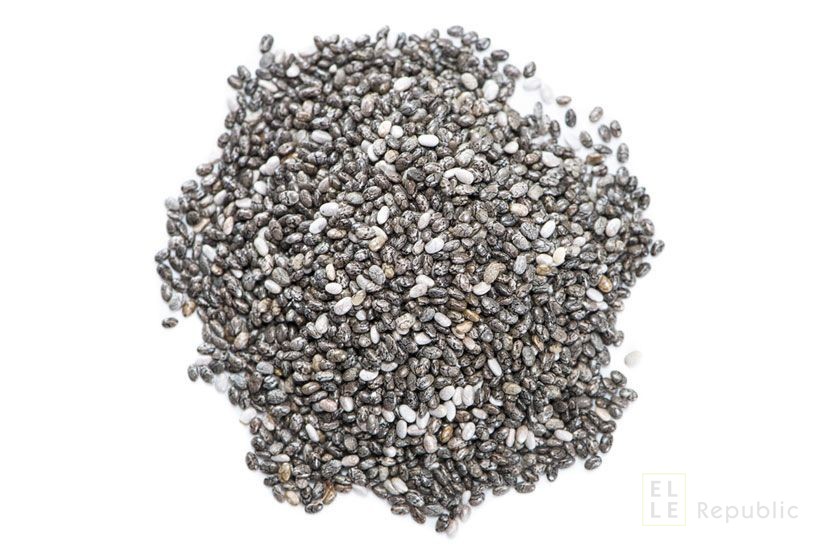 Superfood chai seeds
These tiny little powerhouses of nutrition are loaded with omega-3 fatty acids, carbohydrates, protein, fiber, antioxidants, calcium, and lots of other micronutrients.
Not only do chia seeds provide tons of nourishment, but they also absorb thirty times their weight in water, which helps regulate body fluid levels and retain electrolytes. This, along with their high fiber and protein content, helps control your appetite by making you feel fuller faster and longer.
As a delicious breakfast idea, I love overnight oats topped with anything from chopped nuts, fresh fruit or even raw cocoa nibs. What's so great about making something like overnight oats is, besides being a godsend when you have a busy morning, is that you can either eat it cold or warm.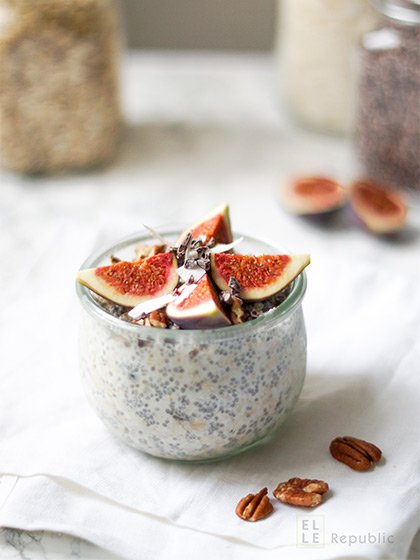 Sometimes if I am in a real rush, I just prepare my chia overnight oats in a glass jar or container and then in the morning, I top it with some fresh fruit and a few nuts before I race off to work. It makes the perfect breakfast-to-go — one you can happily enjoy while sitting at your desk getting a head start on the day.
Why soak your oats?
In a nutshell, the process of soaking grains, also known as "culturing", helps breakdown the hard-to-digest components of grains (the phytic acid in their outside layers which inhibits certain enzymes), which aids absorption and at the same time it also improves the grains nutrition by helping release its highly beneficial nutrients.
Soaking grains is very easy! It just takes a little planning ahead.
Soaking chia seeds together with overnight oats makes for a hydrating breakfast porridge that's great for any busy morning. Top with fresh fruit for an extra dose of vitamins and H20.
The result is a highly nutritious and easy-to-digest breakfast with a wonderful flavor. Enjoy!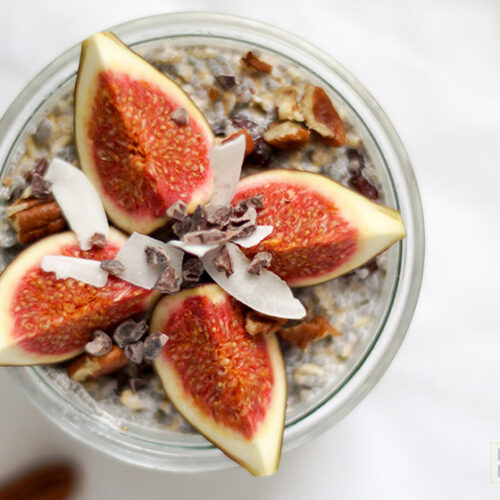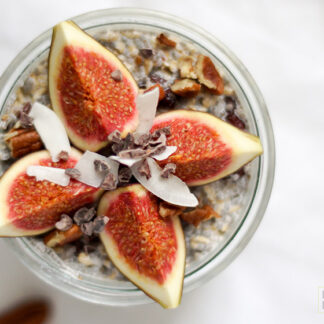 Chia Overnight Oats
A delicious and nutritious bowl of chia overnight oats fueled with almond milk, dried tart cranberries, and fresh fruit is bound to keep you energized until lunchtime.
Ingredients
1

cup

3-or 5-grain oats

(100 g)

1/4

teaspoon

cinnamon

1/4

teaspoon

pure vanilla powder

1/4

teaspoon

sea salt

2

tablespoons

dried cranberries

4

tablespoons

chia seeds

1 1/2

cups

unsweetened almond milk

(375 ml)
Topping Ideas:
Fresh fruit of your choice

Coconut flakes

Raw cocoa nibs

Pure maple syrup or honey

Nuts and seeds
Method
Combine ingredients in a glass jar or small bowl. Stir, cover and soak overnight in the fridge.

In the morning, stir the oat mixture to combine. If the consistency is too runny, simply stir in one more tablespoons of chia seeds and place the mixture back in the fridge for a few minutes to thicken up. If the mixture is too thick, simply add a splash more almond milk and stir to combine.

Top with your choice and toppings and enjoy cold (or warm).
Notes
If you can't find chia seeds, don't worry. Just replace them with almond meal, or chopped walnuts for a protein rich porridge.
If you are looking for even more new ways of incorporating chia power into your daily eating routine, then here's a tasty pudding recipe that makes for a fantastic high-protein power breakfast or a sweet and healthy dessert.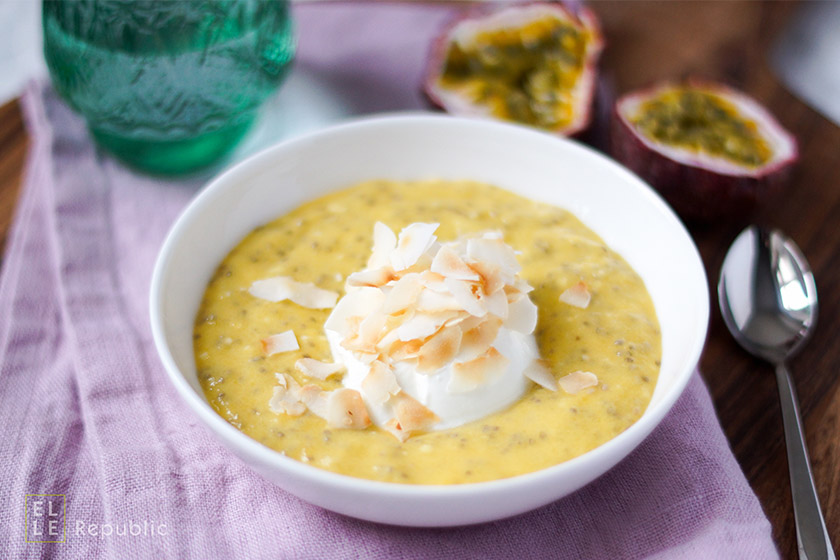 Coconut Mango Chia Pudding
Serves 2
INGREDIENTS:
1/2 cup unsweetened almond milk (125 ml)
1 firm but ripe mango, peeled and diced
1 1/2 tablespoons chia seeds
1 tablespoon unsweetened coconut flakes
1 1/2 teaspoons honey
TO SERVE (Optional):
1 tablespoon coconut flakes, lightly toasted
Greek yogurt or sheep's milk yogurt
METHOD:
1. In a blender or with hand held immersion blender, combine the ingredients and puree until smooth.
2. Transfer to a bowl, and refrigerate, covered, for at least 6 hours, or overnight.
3. Once the pudding is chilled, remove from refrigerator and transfer to small bowls. Just before serving, add a dollop of yogurt and top with the toasted coconut flakes (or try sliced banana, passionfruit, a sprinkle of granola, or even fresh mint!)