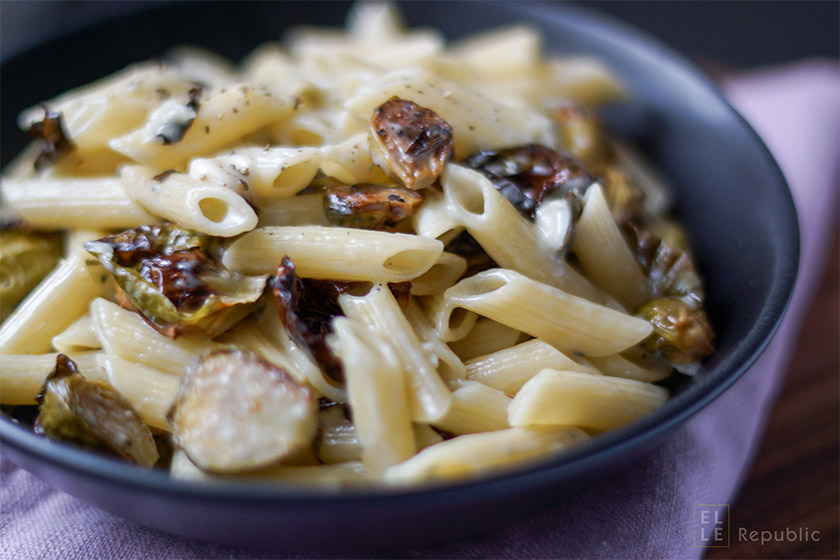 Who would have figured? Two things I love and many of us loathe, taste absolutely fantastic together. Blue cheese and Brussels sprouts. Roasted Brussels sprouts and blue cheese. Talk about a taste sensation! This was a fluke discovery. I would have never dreamed of pairing the two together, but as it be, it was a Sunday in Hamburg, which means EVERYTHING was closed. When I say everything, I mean everything except some coffee shops, quaint cafés, restaurants and a few bakeries scattered throughout the city. So heading to the supermarket to satisfy a craving for something other than what seemed to be the only thing left in the fridge — a little brown bag of Brussel sprouts picked up at the market a few days earlier — was not an option. What else was in the fridge? Unopened packages of cheese. One of feta cheese, the other Roquefort. What I am going to tell you now is…that package of Roquefort expired in…dare I even say! Was it blue? Yes. Furry? No. (Good sign). Did it smell? Yes. It smelled delicious. The $64,000 question — should I eat it? I phoned a friend. She says yes.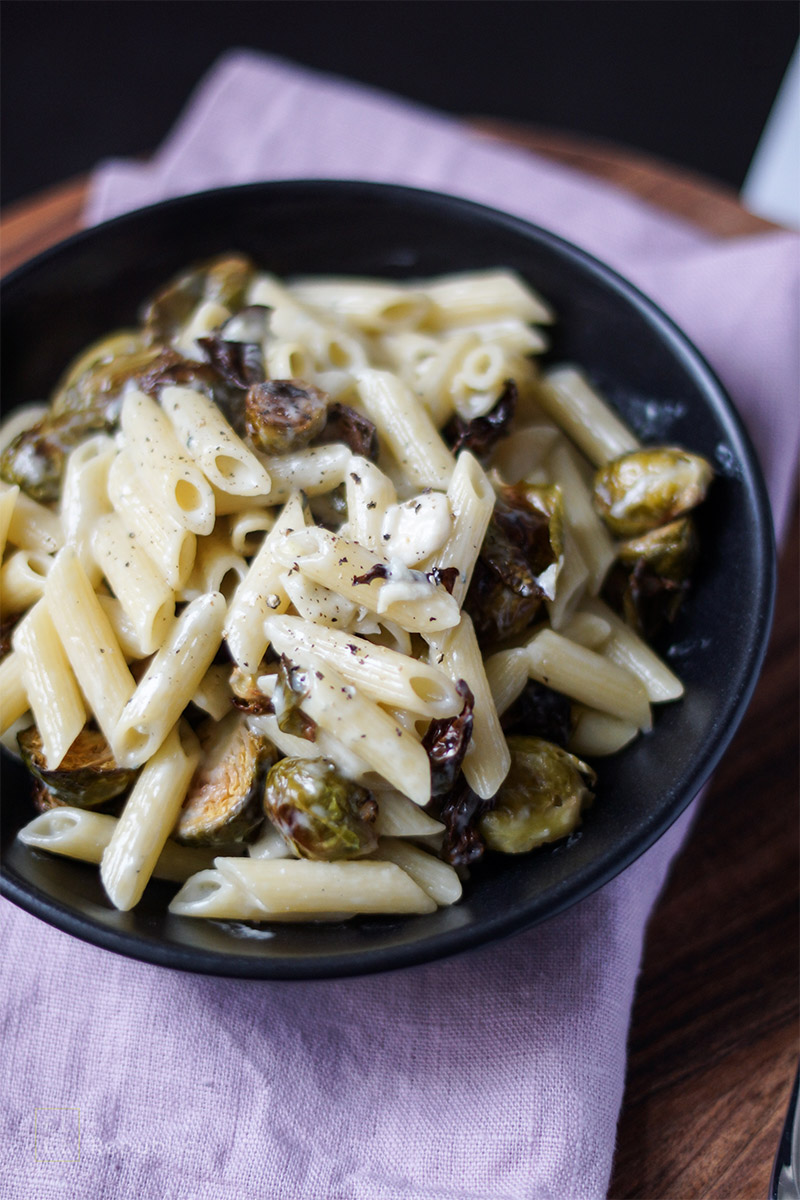 Can blue cheese go bad?
Since there's technically already mold on the surface, it's "bad" already, right?
After a little digging, here's what I learned. Beyond package dates, determining whether blue cheese has gone off can be a challenge. Since it's already strong smelling, a bad smell can be masked (unless of course it smells like ammonia, then definitely toss it!) and since there is already mold present, it may be hard to distinguish whether it was already there in the first place. Though, if the blue cheese has a yellow or orange tint, or any other color for that matter, toss it — this often is a sign of spoilage. The good news is that many types of blue cheese can last up to a few weeks in the refrigerator as long as they are stored properly.
So although I did make this tasty dish with my stinky old cheese, I lived to tell about and made it again — on purpose — so I could share with you just how tasty it was. Hope you enjoy this tasty dish of penne tossed with roasted Brussels sprouts and blue cheese as much as I did! 🙂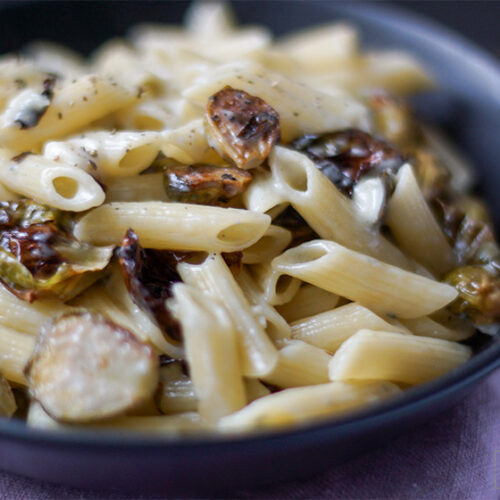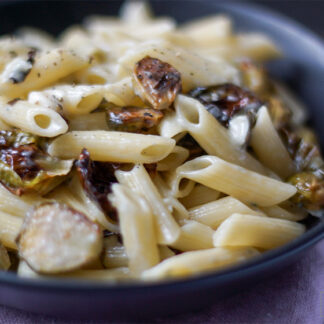 Pasta with Roasted Brussels Sprouts and Blue Cheese
Penne Pasta with Roasted Brussels sprouts and blue cheese pair beautifully together, whether it be roquefort, or gorgonzola. An easy, tasty, comfort food pasta dish for fall and winter.
Ingredients
500

g

Brussels sprouts,

trimmed and sliced in half

2

tablespoon

extra-virgin olive oil

sea salt and freshly ground pepper,

to taste

500

g

Penne

(or other dried pasta), plus a little reserved cooking water

1

garlic clove,

minced

150

g

Gorgonzola or other blue cheese (Roquefort tastes fantastic),

crumbled
Method
Preheat the oven to 400°F / 200°C.

In a large mixing bowl combine the Brussels sprouts, 1 tablespoon (or more) olive oil, salt and pepper. Spread on a baking sheet lined with parchment paper.

Roast the brussels sprouts in the oven for 25-30 minutes, stirring occasionally.

Meanwhile, fill a large pot with cold water and a pinch of salt. Bring to a boil over high heat and add pasta, stirring occasionally to prevent the pasta from sticking. Cook according to packet instructions, until al dente. Reserve 1/4 cup (60 ml) cooking liquid. Drain and return to pan.

Toss with half of the reserved cooking liquid, 1 tablespoon of olive oil, the minced garlic and 2/3 of the blue cheese. Stir over low heat for 1 minute to melt cheese (add more cooking liquid if desired). Season with salt and pepper. Stir in the roasted sprouts and remaining cheese. Transfer to serving bowls, serve immediately and enjoy!
Notes
For a creamier and richer sauce, use cream in place of the reserved cooking water.
Did you try this recipe?
Then tag @ellerepublic on Instagram and hashtag it #ellerepublic
How did you like it?
Please let me know how this Pasta with Roasted Brussels Sprouts and Blue Cheese recipe turned out for you! I would love to hear how you liked it. Simply rate it with the stars above ⭐or leave me a comment and rate it below.
Did you make any changes to this recipe?
If you have tips for other readers, let me know! It helps me and other readers so much. Sharing is Caring :-).