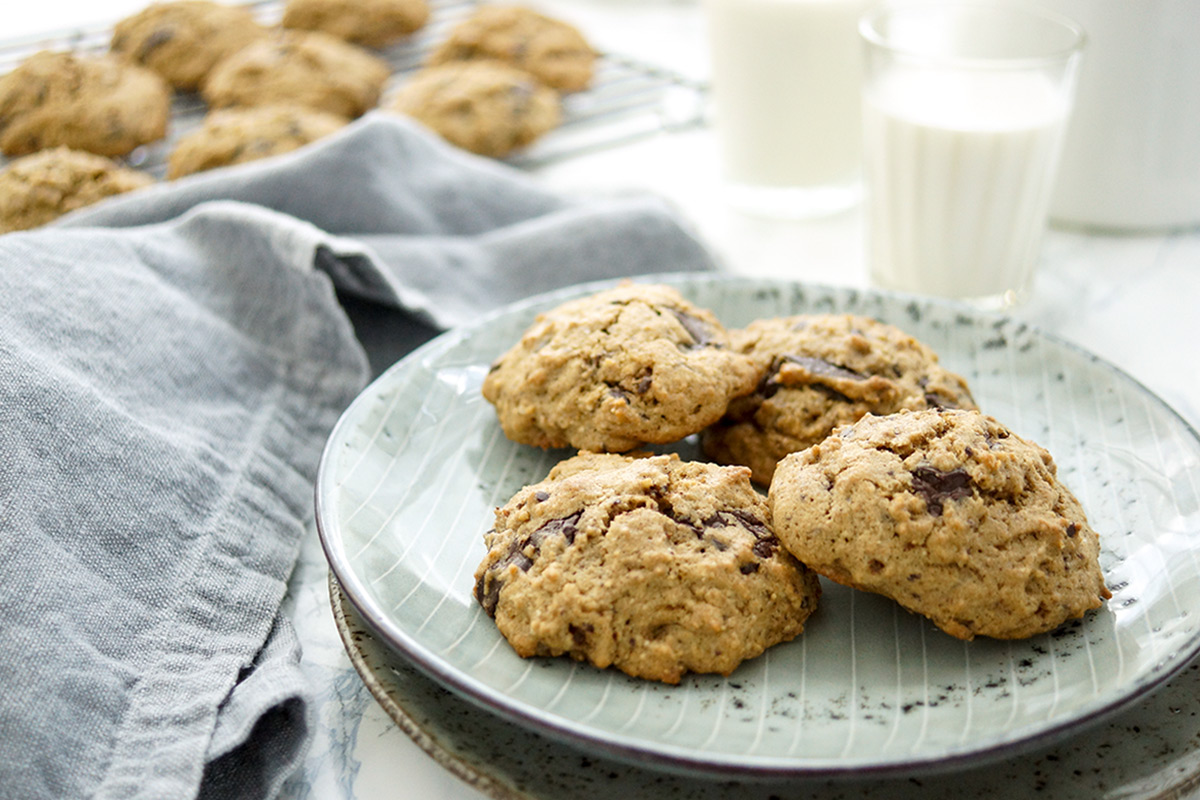 If there is a "Hall of Fame" for cookies, then my Aunt Heather's 30-year-old recipe for soft chocolate chippers would have definitely found a place there. Praise be to her for delivering this recipe to me. They are irresistible. Okay, admittedly, I adapted the recipe just a little. But I'll tell you how a little later on. You can decide whether to stick with the original or the " Elle factor" version.
Tips for making the best chocolate chip cookies
First I'd like to talk about creaming butter and sugar. As I learned, it one of the most basic but important steps in baking things like cookies. The reason we want to "cream" our butter is to incorporate air into it, making it fluffy. The air will mix with the leavening agent and expand, making our cooking rise to perfection. Yes! But first the butter should be brought to room temperature — it should feel soft, but not warm or like it's melting. So here it is — pretty simple stuff — just beat the butter at low-speed, until it becomes soft and creamy, and then gradually add the sugar and further "cream" the butter until it has increased in mass and has a light, creamy consistency. Voila! Simple and basic.
So how did I change the chocolate chippers? Well…take note…the original recipe called for all-purpose flour and 1 cup of brown sugar, which I reduced by half. To follow the original version, use the same amounts all-purpose flour instead of white and whole spelt flour, and skip the ground hazelnuts. As for the sugar, I am told (by my test subjects — my favorite Schwabe and his 3 kids) that they are plenty sweet with half the amount. Aunt Heather has been baking these cookies for, like I said, 30 years and says they are her best soft chocolate chip cookies. So choose wisely. 😉 Enjoy!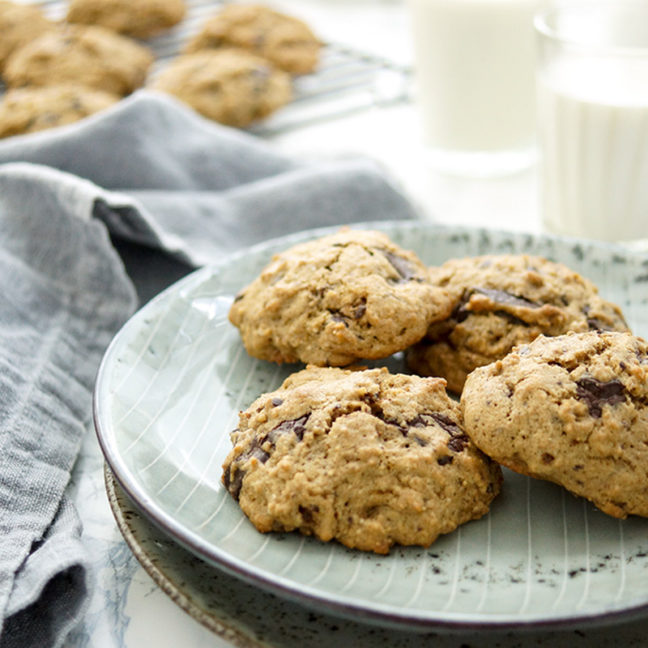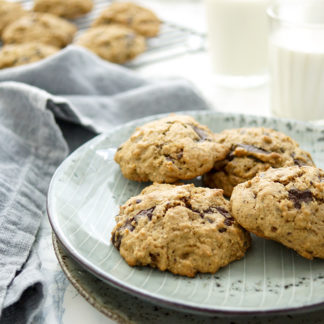 Soft Chocolate Chip Cookies
Chocolate chippers are soft cookies made with white and whole spelt flour, raw cane sugar Mascobado, buttermilk and organic semi-sweet chocolate chips. 
Ingredients
1/2

cup

butter,

brought to room temperature (113 g)

1/2

cup

soft brown sugar

(I used GEPA organic raw cane sugar Mascobado) (80 g)

1

large egg

1

teaspoon

pure vanilla powder

4

tablespoons

ground hazelnuts

(hazelnut meal)

1

cup

white spelt flour,

sifted (Type 630) (125 g)

3/4

cups

whole spelt flour,

sifted (95 g)

1/2

teaspoon

baking soda

1/2

teaspoon

sea salt

1/4

cup

organic buttermilk

(60 ml)

200

g

organic semi-sweet chocolate chips

(55% cacao)
Method
Preheat the oven to 375°F / 190°C. Prepare 2 baking trays, by greasing with butter or lining with parchment paper.

NOTE: I baked mine in batches, so only prepared one tray with parchment paper, and baked them using the middle oven rack. If doing batches, then cool the cookie sheet to room temperature before placing more cookies on it. (A little trick to speed this up is to run the bottom of the cookie sheet under cold water for a few seconds).

In a large mixing bowl, beat the butter with an electric mixer until creamy (about 1 to 1 1/2 minutes), add the brown sugar, a little bit at a time, and beat until fluffy (about 3 to 5 minutes). You may need to scrape down the sides of the bowl with a rubber spatula. Beat in egg and vanilla to blend well.

In a separate bowl, add the ground hazelnut and sift together the flours, baking soda and salt. Then add the flour mixture, alternating with the buttermilk, to the creamed mixture. Beat until smooth. Add chocolate chips and turn mixer on low until just combined. *Do not to over mix!

*Spelt does not like to be mixed too much, if you work the dough too much there is a risk of destroying the fragile strands of gluten, which may result in cookies that are too firm with a tendency to crumble. But of course, they still taste fantastic!

Drop the cookie dough by rounded teaspoonfuls onto prepared baking sheets about 4-5 cm apart. Flatten a little with the spoon.

Bake for 10-12 minutes until lightly browned. Remove the pan from the oven and let the cookies rest on the pan for a few minutes, then use a spatula to lift cookies off. Place onto a wire rack and let cool. Store in tightly covered container. Enjoy!
Did you try this recipe?
Then tag @ellerepublic on Instagram and hashtag it #ellerepublic
How did you like it?
Please let me know how this Soft Chocolate Chip Cookies recipe turned out for you! I would love to hear how you liked it. Simply rate it with the stars above ⭐or leave me a comment and rate it below.
Did you make any changes to this recipe?
If you have tips for other readers, let me know! It helps me and other readers so much. Sharing is Caring :-).