What could be more reminiscent of autumn than chestnuts? There is so more to them than just the familiar small paper cone of hot, sweet roasted chestnuts you get from street vendors. Chestnuts are terrific in savory dishes, as they add a rich, earthy flavor and nutty sweetness. Roasted together with Brussels sprouts and garlic they make a flavorful holiday side dish that is terrific served alongside roast turkey or duck (or here in Germany, a Christmas goose!).
The Brussels Sprouts Gene
Yes, I know that for many Brussels sprouts has a reputation for being the worst vegetable ever, but actually if they are cooked the right way, they are actually pretty darn delicious. My mother boiled them. Terrible mistake. There are ways of cooking them so that everyone will love them. Okay, not everyone. There is actually something called the "Brussels sprouts gene: TAS2R38" Or shall I say "the anti-Brussels sprouts gene" Maybe there is a Marmite gene too. I recently read that there was a formal study done that established that sprouts contain a chemical that only tastes bitter to people who have a variation of a certain gene. The research found that about 50% of the world's population have a mutation on this gene! It's all clear now — there's a reason why so many people can't stand them! So if you are a Brussels sprout hater, you can now tell your friendly Brussels sprout lovers that there is, in theory, a chemical reason for your dislike. And parents, please, you may want to be just a little more forgiving at this year's Christmas dinner.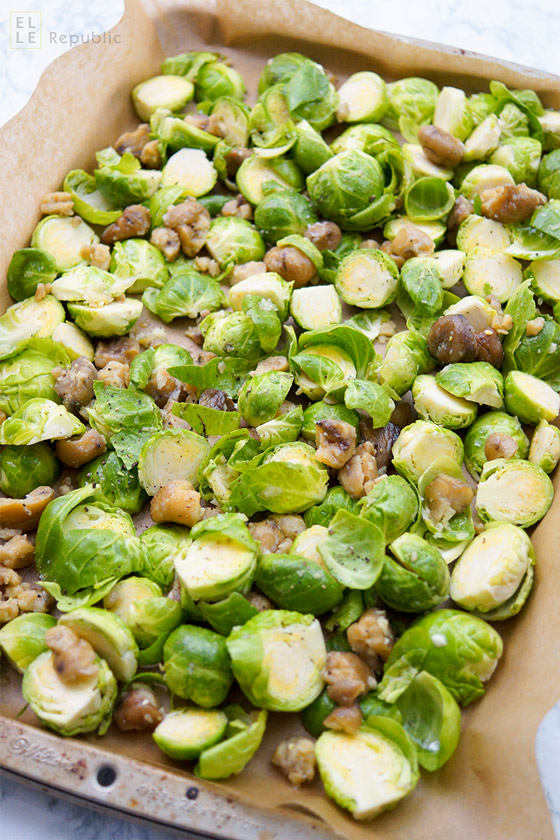 Roasting brings out Brussels sprouts sweetness
So as someone who only has an anti Marmite, Vegemite and turnip gene, I love Brussels sprouts. The trick to making fantastic sprouts is to roast them. Roasting them sweetens their flavor by getting their sugars sizzling. Tossing them in a little olive oil is essential to getting the right amount of browning so they get a crunchy texture on the outside while being perfectly tender on the inside. Just make sure they are spread in an even layer on the roasting pan, without being too crowded. Also, the smaller Brussels sprouts tend to have a sweeter flavor but because the centre leaves are a little tighter, they can take longer to roast.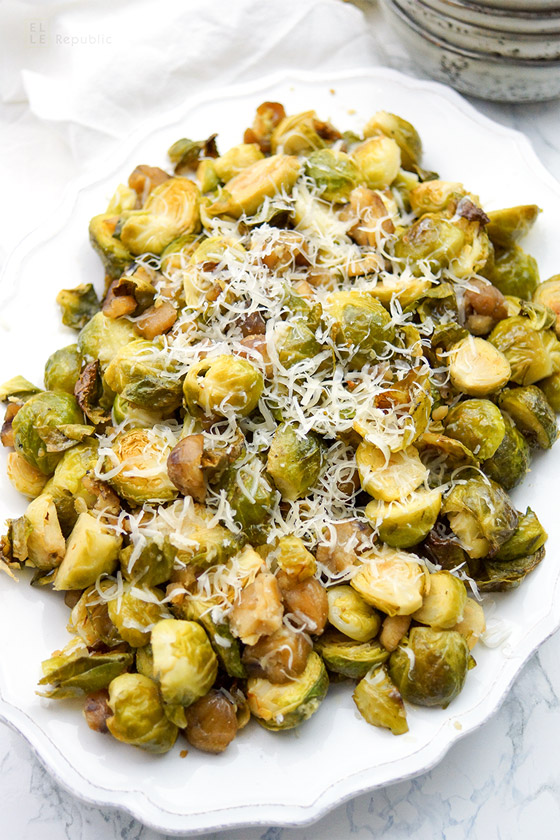 Two fantastic things: roasted chestnuts and Brussels sprouts.
The rich flavor of the nuts balances out the sprouts and the addition of fresh tangy lemon brings a burst of sunshine. What's not to love?
Plus this dish is packed with lots of essential vitamins and a rich number of minerals, from vitamin C to fibre to calcium to manganese, potassium, folate, iron and loads of vitamin K, among more! Great reasons for Brussels sprout lovers to keep on lovin' them.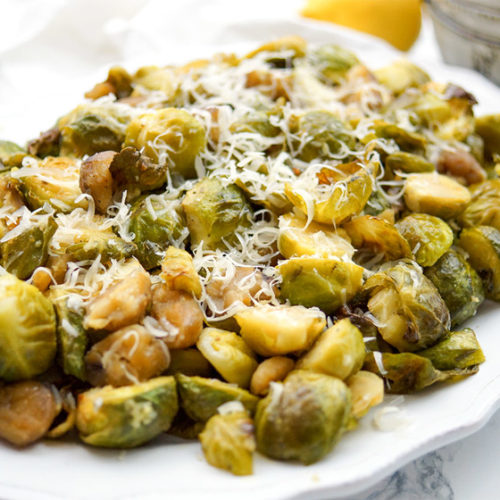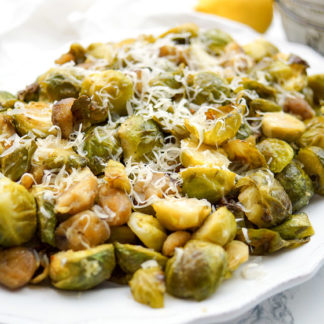 Roasted Chestnuts and Brussels Sprouts with Lemon & Garlic
Roasted chestnuts and Brussels sprouts. The rich flavor of the nuts balances out the sprouts and the addition of fresh tangy lemon brings a burst of sunshine.
Ingredients
750

g

Brussels sprouts,

trimmed and sliced in half

200

g

vacuum-packed peeled cooked chestnuts,

roughly broken up

4

cloves

garlic,

minced

3

tablespoons

extra-virgin olive oil

sea salt and freshly ground pepper,

to taste

3

tablespoons

freshly squeezed lemon juice

freshly grated parmesan,

for serving (optional)
Method
Preheat the oven to 400°F / 200°C.

In a large mixing bowl combine the Brussels sprouts, chestnuts, garlic and olive oil. Sprinkle generously with salt (about half teaspoon) and season with pepper. Spread on a baking sheet lined with parchment paper.

Transfer to a preheated oven and roast for 25-30 minutes (depending on the size of the sprouts), stirring occasionally, until Brussels sprouts are tender and nicely browned.

Transfer to a serving bowl, drizzle lemon juice, sprinkle with parmesan and serve.

Garnish with lemon wedges if desired.
Did you try this recipe?
Then tag @ellerepublic on Instagram and hashtag it #ellerepublic
How did you like it?
Please let me know how this Roasted Chestnuts and Brussels Sprouts with Lemon recipe turned out for you! I would love to hear how you liked it. Simply rate it with the stars above ⭐or leave me a comment and rate it below.
Did you make any changes to this recipe?
If you have tips for other readers, let me know! It helps me and other readers so much. Sharing is Caring :-).