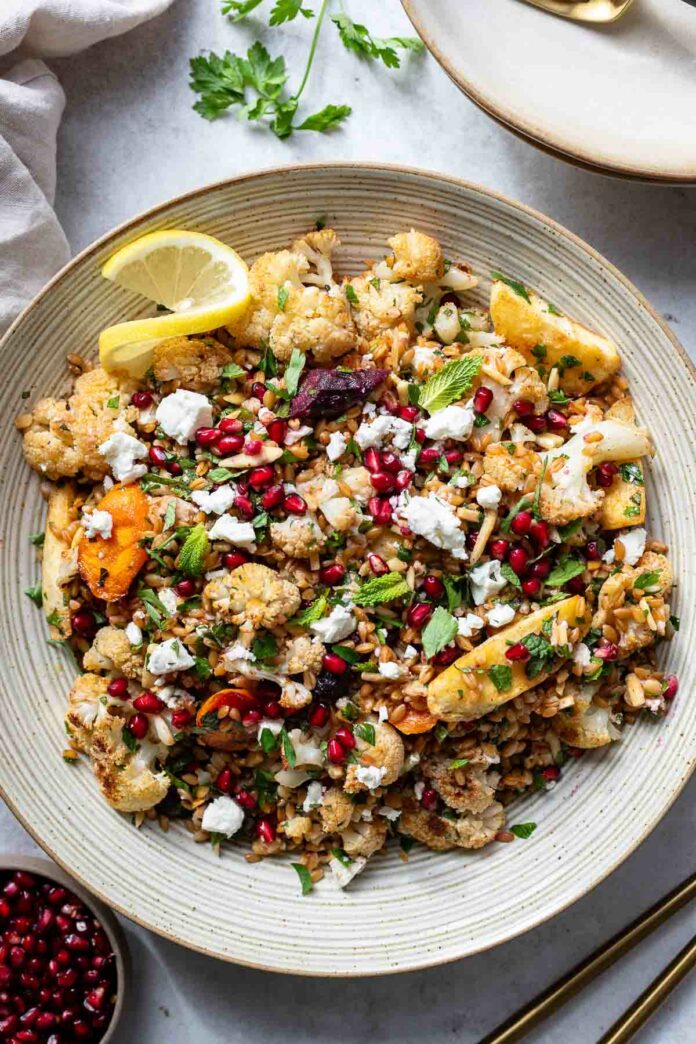 This farro salad is a delicious combination of nutty farro, cumin roasted vegetables, fresh herbs, crunchy almonds, salty feta and sweet-tart pomegranate. Tossed in a tangy sumac dressing, these simple winter salad is a great way to add more ancient grains into your regular meal rotation.
What is farro?
Farro is an ancient whole grain with a deliciously chewy texture and nutty flavour, which makes it the tasty choice for grain salads, soups or served as a side. And, since it is a nutrient-dense grain rich in fibre, protein, vitamins and minerals, it's a healthy choice of carbohydrate. Farro is also known einkorn (Farro Piccolo), emmer wheat (Farro Medio) (Emmer) or spelt (Farro Grande).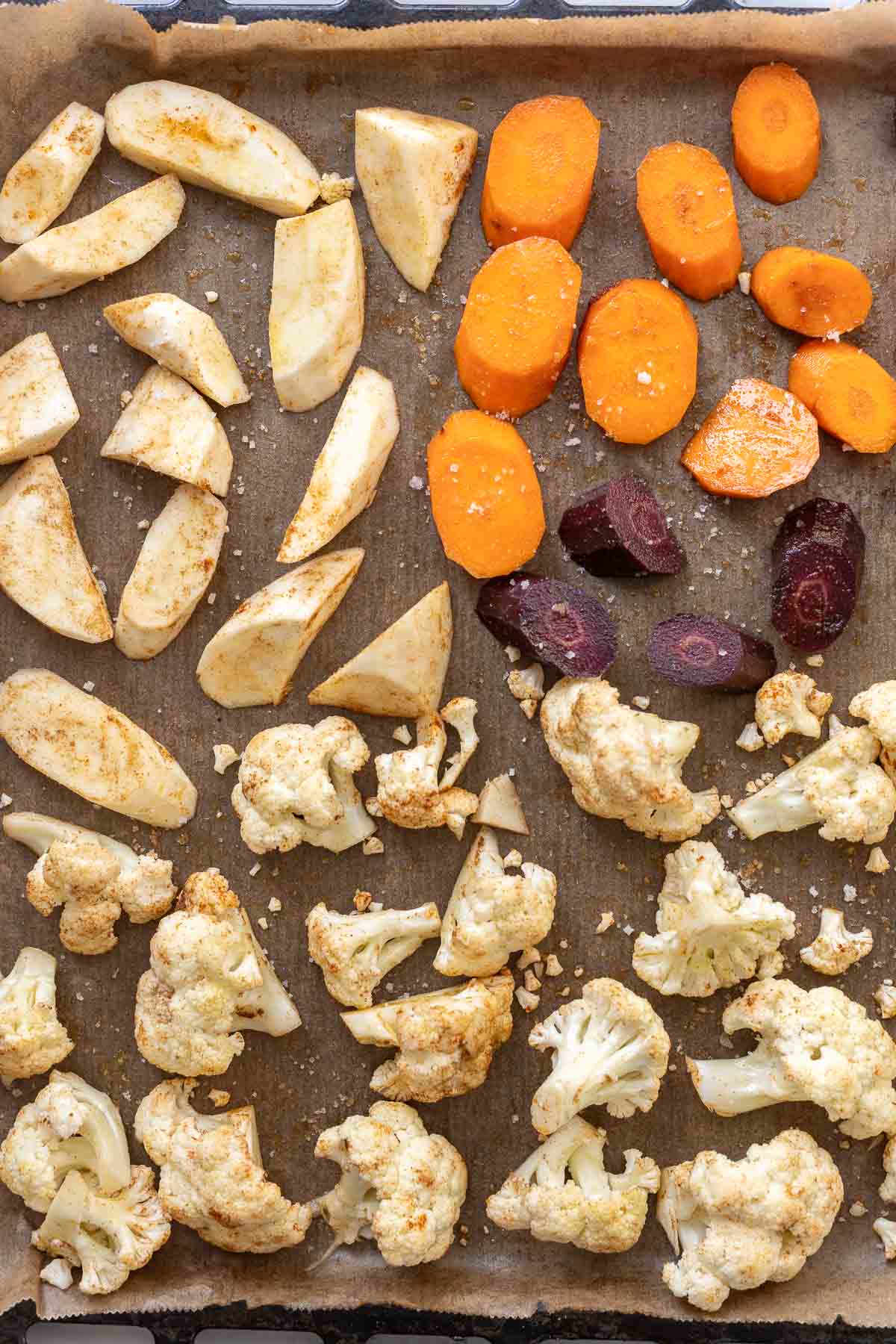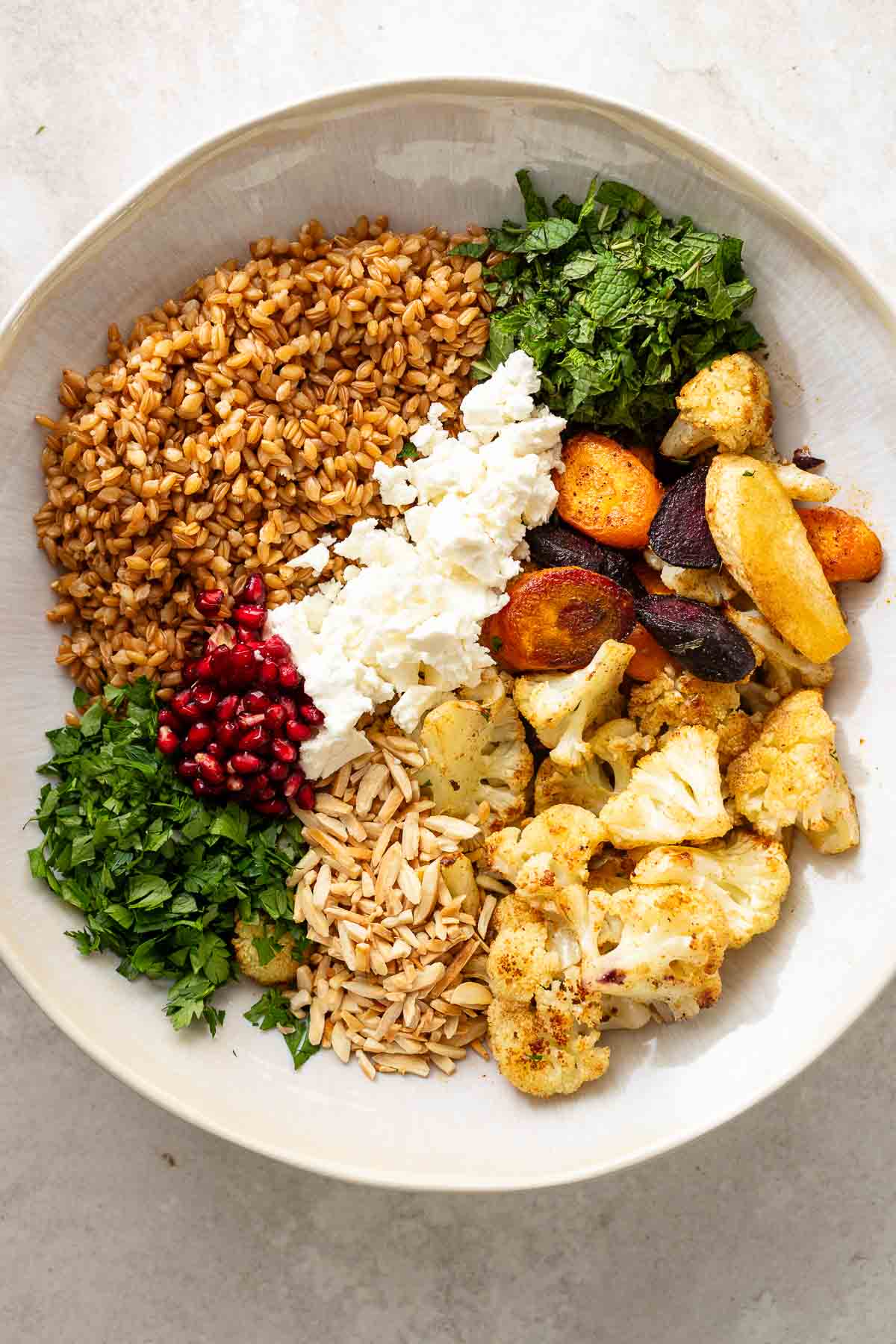 How to adapt this farro salad recipe
This simple farro salad can easily be made with different vegetables, grains or cheese, to taste. Here are a few ideas:
Try a mix of your favourite roast vegetables. Golden beets or classic beetroot would be a great choice.
Einkorn can easily be replaced with pearled spelt, emmer, or even barley. For a gluten-free version, try quinoa.
Rather than Greek feta, try using crumbled sheep's cheese.
Add some baby spinach or young arugula leaves to the salad.
Trade out pomegranate for dried cranberries or try barberries, which are sweet-sour dried berries that are popular in Middle Eastern cooking.
If you don't have sumac, try replacing it with some finely grated lemon zest since it has a similar taste to lemon juice. Or trade it out for za'atar spice mix, which also contains sumac.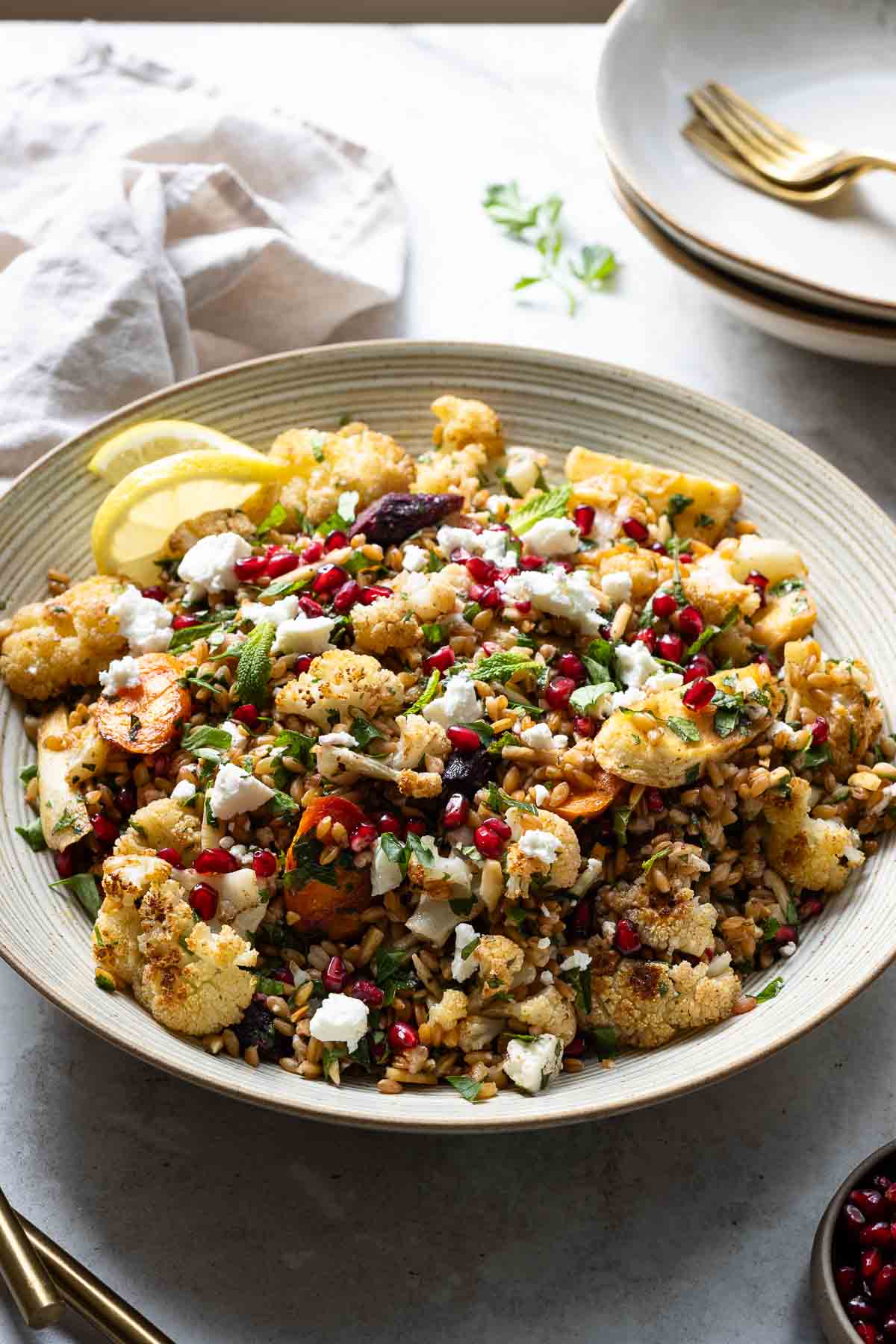 Looking for other grain salad recipes?
Then try one of these favourites: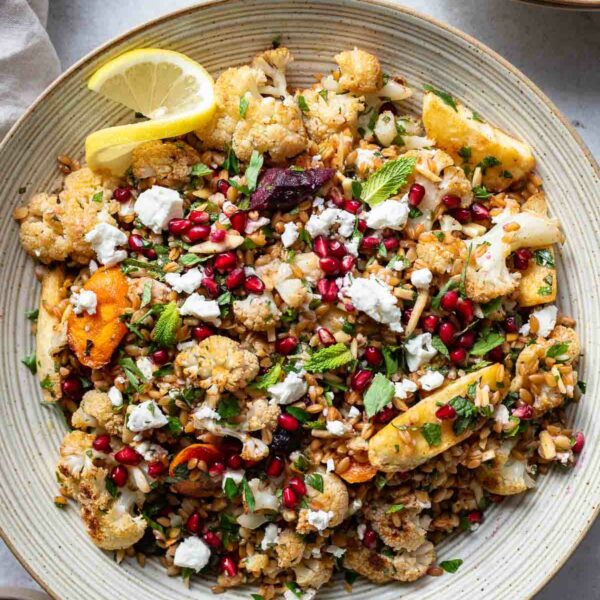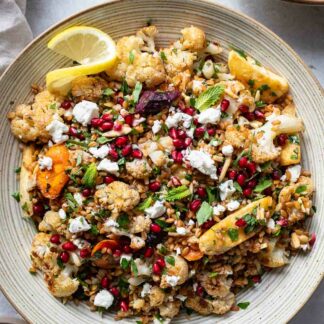 Middle Eastern Farro Salad with Roasted Vegetables
An ancient grain farro salad made with nutty einkorn, cumin-spiced roasted vegetables, fresh herbs, almonds, feta and pomegranate, tossed in a sumac dressing. It makes a satisfying lunch salad or side dish!
Ingredients
For the salad:
1

cup

dry farro piccolo (einkorn)

(200 g)

2

large carrots,

peeled and sliced on an angle (about 1cm thick)

1

large parsnips,

peeled and cut the same size as carrots

1

small head cauliflower,

or half a large, cut into florets

1

teaspoon

ground cumin

1/4

teaspoon

cayenne

2

tablespoons

olive oil

2

generous handfuls fresh mint,

chopped (4 tablespoons)

1

small bunch fresh flat-leaf parsley,

chopped

30

g

raw almonds,

toasted and coarsely chopped (large handful)

100

g

feta,

crumbled

seeds from half a pomegranate
For the dressing:
4

tablespoons

extra-virgin olive oil

4

tablespoons

freshly squeezed lemon juice

1

teaspoon

sumac

sea salt,

to taste
Method
Cook the einkorn according to the package directions. Place einkorn and 2 cups of water (500 ml) in a medium saucepan and bring to a boil over high heat. Once boiling, reduce heat and simmer for 30 minutes, or until water has been absorbed and einkorn is al dente. Drain excess liquid, cover with a lid and set aside. (Note: cooking time can be reduced if the grain is soaked in water overnight).

Meanwhile, preheat your oven to 400°F / 200°C (180°C fan-assisted) and line a baking sheet with parchment paper.

In a large bowl, add the carrots, parsnips, and cauliflower. Sprinkle with cumin and drizzle the olive oil over top. Toss well until evenly coated. Transfer to the prepared baking sheet, season with salt and spread out in a even layer, without crowding.

Transfer to the preheated oven and roast for 30-35 minutes, tossing halfway through, until edges golden brown.

Meanwhile, in a small bowl, whisk together the dressing ingredients (olive, oil, lemon juice, sumac, and salt).

In a large serving bowl, combine the cooked grain, roasted vegetables, fresh herbs and roasted almonds. Stir in half the pomegranate seeds and most of the feta, leaving a little of each for garnish. Drizzle the dressing over top and toss gently to combine. Serve, garnished with the reserved feta and pomegranate seeds. Enjoy!
Notes
This salad can be enjoyed warm or at room temperature.
Leftovers keep well, stored in an airtight container for up to three days in the fridge. If desired, add an extra squeeze of lemon to revive the dressing flavour after storage.
Almonds can be toasted in a dry skillet or you can do a larger batch in the oven and store them once fully cooled in an air tight container. As a time and effort saver, you can also buy already roasted almonds (organic food stores). Blanched, slivered almonds are also a great choice for this recipe.
This farro salad can be made with Einkorn (Farro Piccolo), Emmer (Farro Medio) (Emmer) or Spelt (Farro Grande). The latter, can also be bought as pearled spelt which is quick cooking and a great choice for salads. Be sure to check which type you have before you start cooking! The cook time will vary depending on the variety of your farro. In Germany, farro piccolo can be found under the name Einkorn and takes about 30 minutes to cook to al dente.
For a relaxing atmosphere in the kitchen I recommend my personal Elle Republic: Chilled Out Kitchen Tunes Playlist on Spotify.
Did you try this recipe?
Then tag @ellerepublic on Instagram and hashtag it #ellerepublic
How did you like it?
Please let me know how this Middle Eastern Farro Salad with Roasted Vegetables recipe turned out for you! I would love to hear how you liked it. Simply rate it with the stars above ⭐ or leave me a comment and rate it below.
Did you make any changes to this recipe?
If you have tips for other readers, let me know! It helps me and other readers so much. Sharing is Caring :-).