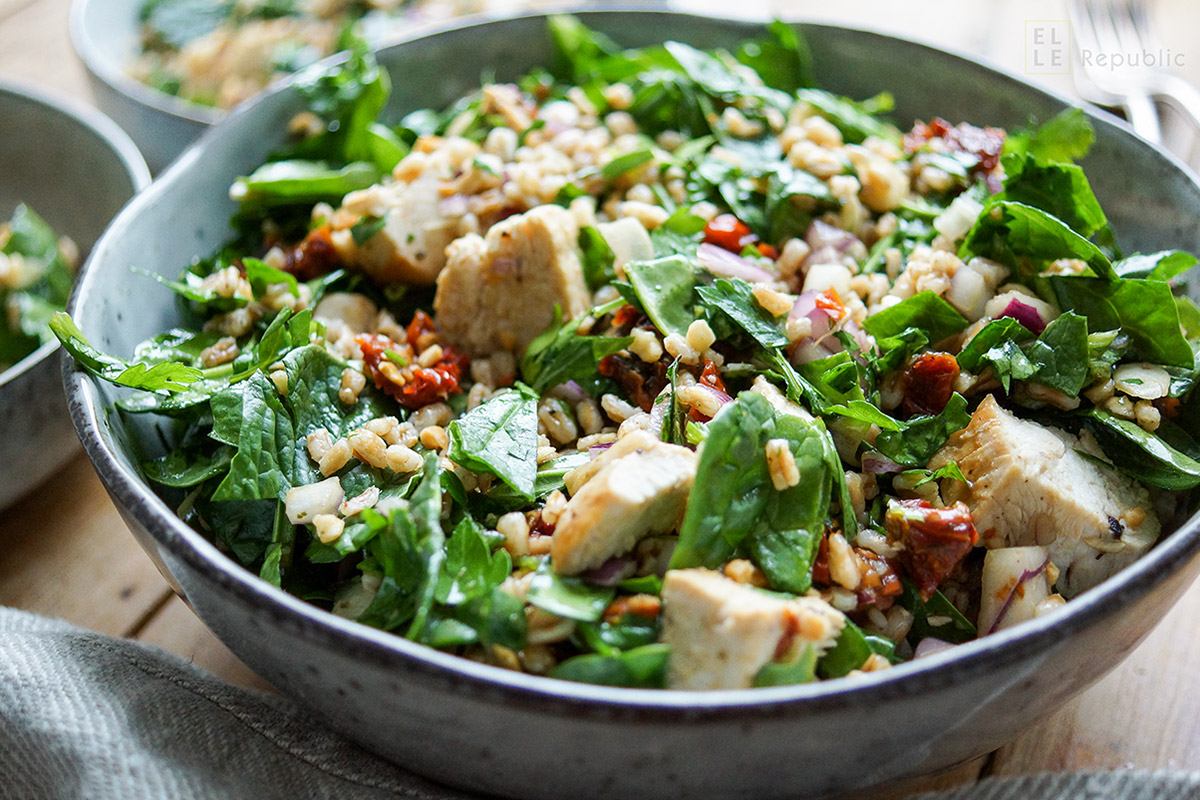 Here's a super delicious spelt salad. I mean S U P E R delicious! Many of you already know that I don't eat a lot of meat, so this is an exception. I've made this salad a number of times in a vegan version, which is just as tasty. And it's that simple, just use chickpeas instead of chicken. The only reason I choose chicken this time around is that I have suffered majorly from a vitamin B12 deficiency this winter and my supplements just aren't kicking in quick enough. And well, as much vegan and vegetarian food I cook, I am actually am a flexitarian (sometimes… like this).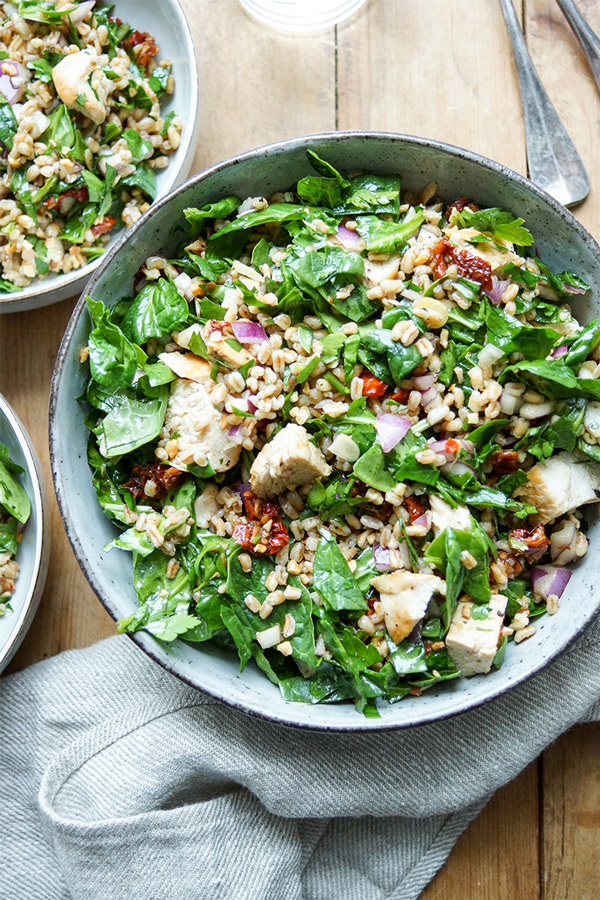 A B12 deficiency doesn't just affect those following a strict vegetarian diet
Surprisingly enough, this isn't the first time I've been hit with a deficiency. I eat plant milks (okay, not the fortified kind because of the added sugar — yuck)…
yoghurts – yes, though often coconut yogurt
cheese – not so much
eggs – rarely
liver – never! Traumatized. My mother cooked it till leathery with onions. The onions were good.
fortified cereals – is there such a thing in Germany? I eat oats and other flakes or homemade granola
salmon – twice a month
OKAY, you get the idea here. I am definitely not getting enough B12 in my diet. And to top things off, with Hashimoto it's common enough to have a number of micronutrient deficiencies. Yep, so as much as I don't like "supplementing", it's necessary. With a little help from some tasty recipes like this. 🙂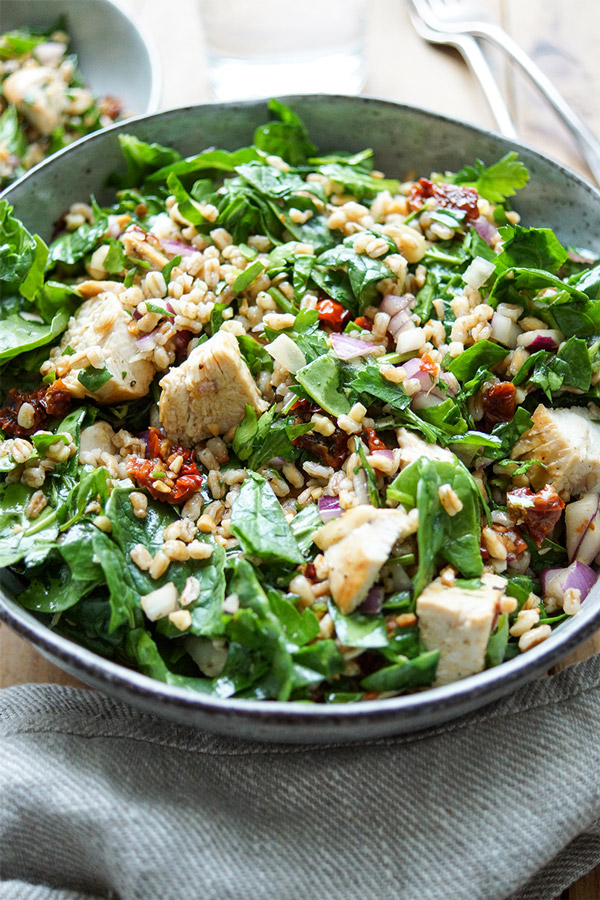 This spelt salad can easily be made vegetarian and vegan
More often than not, I enjoy this salad with chickpeas (1 x 400 g can organic chickpeas). It's delicious with or without the spinach and whether enjoyed as a main or a delicious side. Best yet… leftovers keep amazingly well, so you can enjoy the next day just as much. Which means it's the perfect bring to work sort of lunch. I particularly like it with my new favorite carrot salad.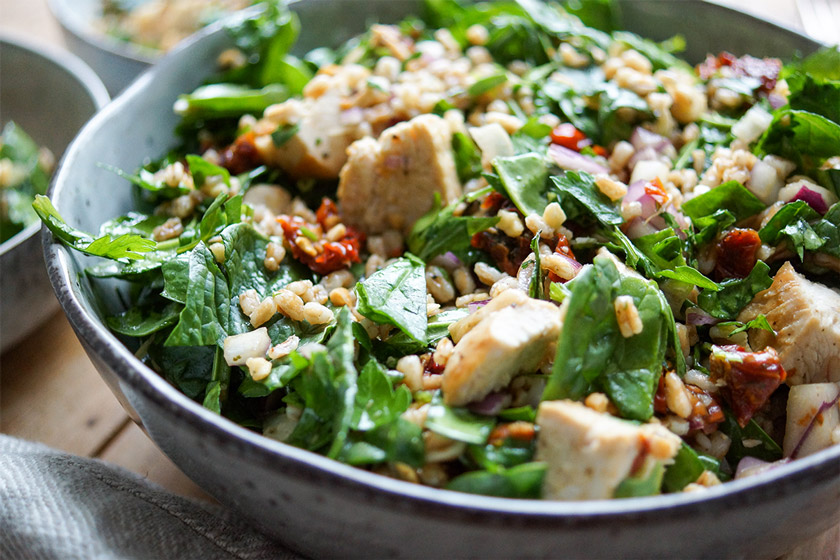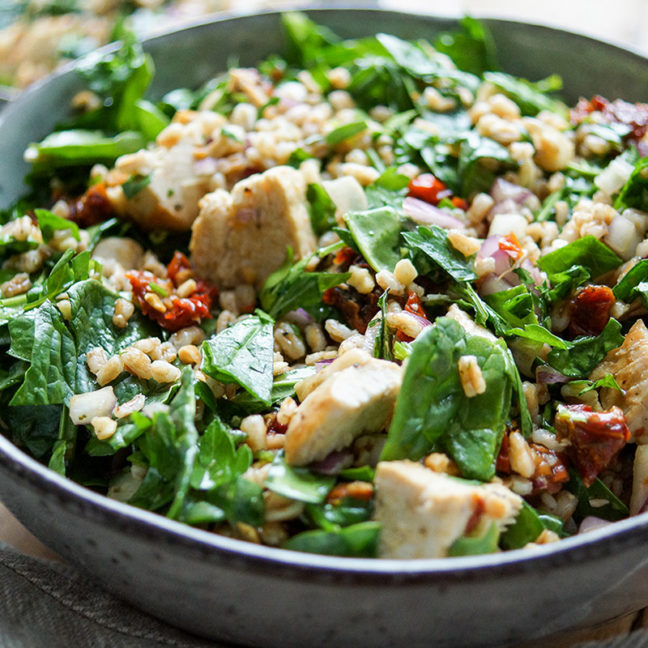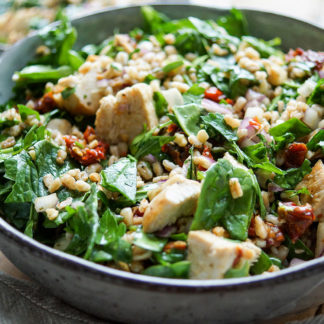 Spelt Salad with Chicken, Sun-dried Tomatoes and Almonds
This simple spelt salad with grilled chicken is full of fresh Mediterranean flavors, including sun-dried tomatoes, toasted almonds, sweet red onion and baby spinach. This recipe can easily be adapted to become vegetarian or vegan. Yields 4 serving (or two really big mains).
Ingredients
For the salad:
3/4

cup

pearled spelt

(130 g)

1

tablespoon

extra-virgin olive oil

2

large organic skinless, boneless chicken breasts

(500-600 g)

sea salt and freshly ground pepper,

to taste

3/4

cup

sun-dried tomatoes,

chopped (75 g)

1

large red onion,

finely chopped

4

handfuls baby spinach

hard stems removed and chopped (75-100 g)

2

small bunches flat-leaf parsley,

chopped

3/4

cup

slivered almonds,

lightly toasted (75 g)
For the dressing:
6

tablespoons

extra-virgin olive oil

2

tablespoons

Crema con Aceto Balsamico di Modena

(balsamic reduction)

1

tablespoon

freshly squeezed lemon juice

sea salt and freshly ground pepper,

to taste
Method
Cook the spelt according to package instructions; in double the amount water for 20 minutes. Once done, drain if needed and set aside, covered with a lid.

While the spelt cooks, prepare the chicken. Rub the chicken with a little olive oil and sprinkle with salt and pepper.

Using a large grill skillet, heat 1 tablespoon of oil over medium-high heat. Add the chicken and cook for about 1 minute until golden on one side. Flip the chicken breasts over and cook on the other side until golden and grill marks appear. Reduce the heat to medium and cover with a lid. Cook for 5 minutes, flip the chicken using a pair of tongs and cook the other side for about 5 minutes, or until done.

NOTE: cooking time can vary depending on the size of the breasts. I used two for this recipe, which were quite large, 600 g in total. Cooking time may be less if using smaller filets.

Turn off heat, and set the skillet aside to allow the chicken to rest in pan for a few minutes before cutting into bite-sized cubes.

Meanwhile, in a small bowl, mix the dressing ingredients together until emulsified.

In a large serving bowl, add the cooked spelt, sun-dried tomatoes, red onion, spinach, parsley and almonds. Pour over the dressing and toss to combine. Add the chicken pieces and toss again.

Serve and enjoy!
Did you try this recipe?
Then tag @ellerepublic on Instagram and hashtag it #ellerepublic
How did you like it?
Please let me know how this Spelt Salad with Chicken, Sun-dried Tomatoes and Almonds recipe turned out for you! I would love to hear how you liked it. Simply rate it with the stars above ⭐or leave me a comment and rate it below.
Did you make any changes to this recipe?
If you have tips for other readers, let me know! It helps me and other readers so much. Sharing is Caring :-).