I have a really simple recipe today. One for eggplant lovers, like me. A simple garlic chili eggplant dish made with simmered chunks of eggplant, cooked up with plenty of garlic, fresh red chili peppers, simple aromatic Asian flavors and fresh herbs. This is something I make on a weeknight, when I am cooking for one. Not that this is a recipe for one, but actually cause I am the only one that likes (actually, loves) aubergine. So I revel in these moments and enjoy leftovers for the lunch the next day.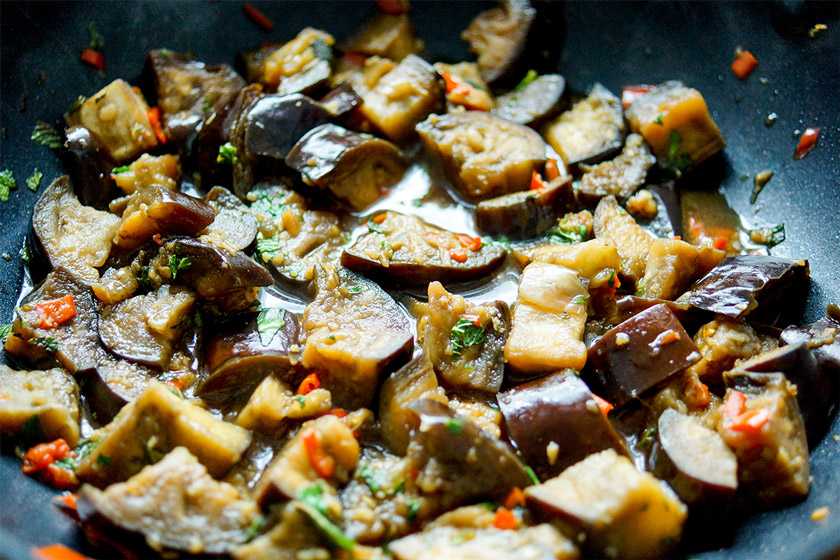 I only ever salt my eggplant if I am frying it. Reason be, is eggplants soak up oil (think sponge) and salting helps reduce that, plus it aids in faster browning. What the salting process, referred to as "degorging", does is collapses the air pockets of the eggplant's sponge-like flesh, preventing it from absorbing too much oil when cooking. Good to know. Also, nowadays commercially cultivated, modern variety eggplants aren't as bitter as they used to be, so it's no longer necessary. Plus if you are buying young, freshly harvested eggplants this is nor here nor there.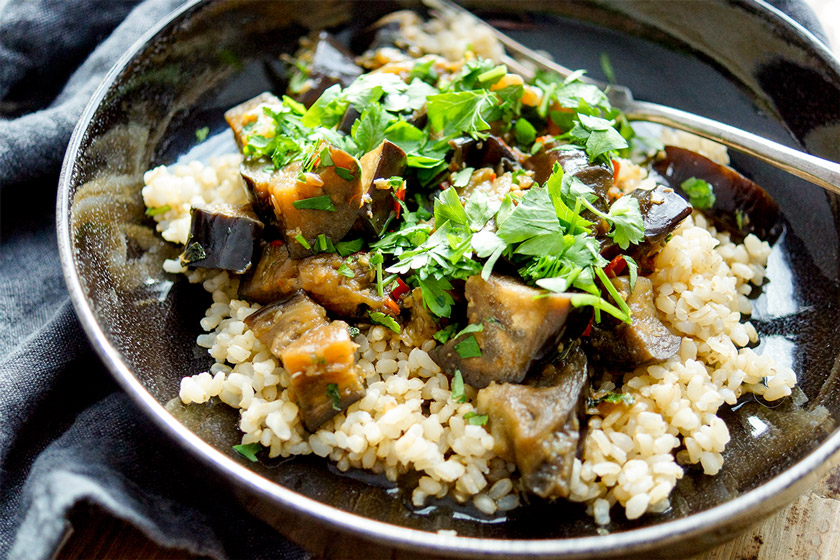 Garlic chili eggplant can be enjoyed on its own or with rice
Okay, I did say that this was a recipe for two, but I am actually guilty of eating this all on it's own. Yeah, I love eggplant that much. But if you are willing to share, it's also terrific over steamed whole grain rice of if you want to enjoy even more vegetable magic serve it alongside sautéed pak choy, spinach or your other favorite greens.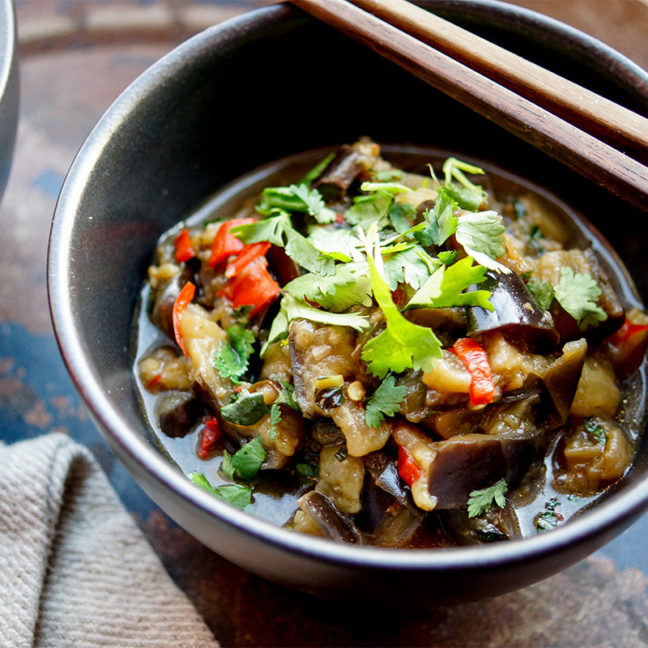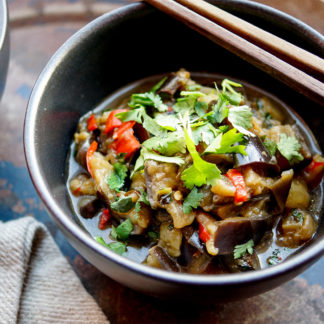 Simmered Garlic Chili Eggplant
A simple and tasty side dish made from simmered aubergine, chilies, garlic and soy sauce. The Asian inspired flavor and fresh herbs make this dish a star. Naturally suitable for vegetarian and vegan diets.
Ingredients
2

tablespoons

extra-virgin olive oil

4

cloves

garlic,

minced

2

red chilies,

finely chopped (deseed and devein if you want less spice)

2

medium eggplants,

chopped

1/2

teaspoon

sea salt

1/2

cup

water

(125 ml)

2

tablespoons

soy sauce

1

teaspoon

brown sugar mascabado

(or coconut palm sugar)

3

tablespoons

freshly chopped mint

1

tablespoon

freshly squeezed lemon juice

Handful of freshly chopped flat-leaf parsley
Method
Heat a large skillet over medium heat. Add the oil, garlic and chilies; sauté for 1-2 minutes.

Add the eggplant and salt, cook, stirring occasionally, for about 5 minutes.

Reduce the heat to low, add half the water, then cover and cook for 5 minutes. Add the soy sauce, sugar and the remaining water. Cover and continue to cook on medium-low for 20 minutes, or until the eggplant has softened.

Add the fresh mint and cook for 2 minutes, then add lemon juice and taste. Feel free to adjust with a little more salt or lemon juice, if desired. Top with parsley before serving and enjoy!
Notes
I like to serve this garlic chili eggplant with short grain brown rice (Rundkorn Naturreis). 3/4 cup (150 g) is more than enough for two people. The rice should be cooked in double the amount of water, for about 40-45 minutes, so plan ahead. The garlic chili eggplant takes about the same time, including preparation, so timing-wise brown rice is a good (and healthy) choice.
This is delicious when enjoyed immediately or I find even better the next day eaten cold.
Did you try this recipe?
Then tag @ellerepublic on Instagram and hashtag it #ellerepublic
How did you like it?
Please let me know how this buckwheat bread recipe turned out for you! I would love to hear how you liked it. Simply rate it with the stars above ⭐or leave me a comment and rate it below.
Did you make any changes to this recipe?
If you have tips for other readers, let me know! It helps me and other readers so much. Sharing is Caring :-).