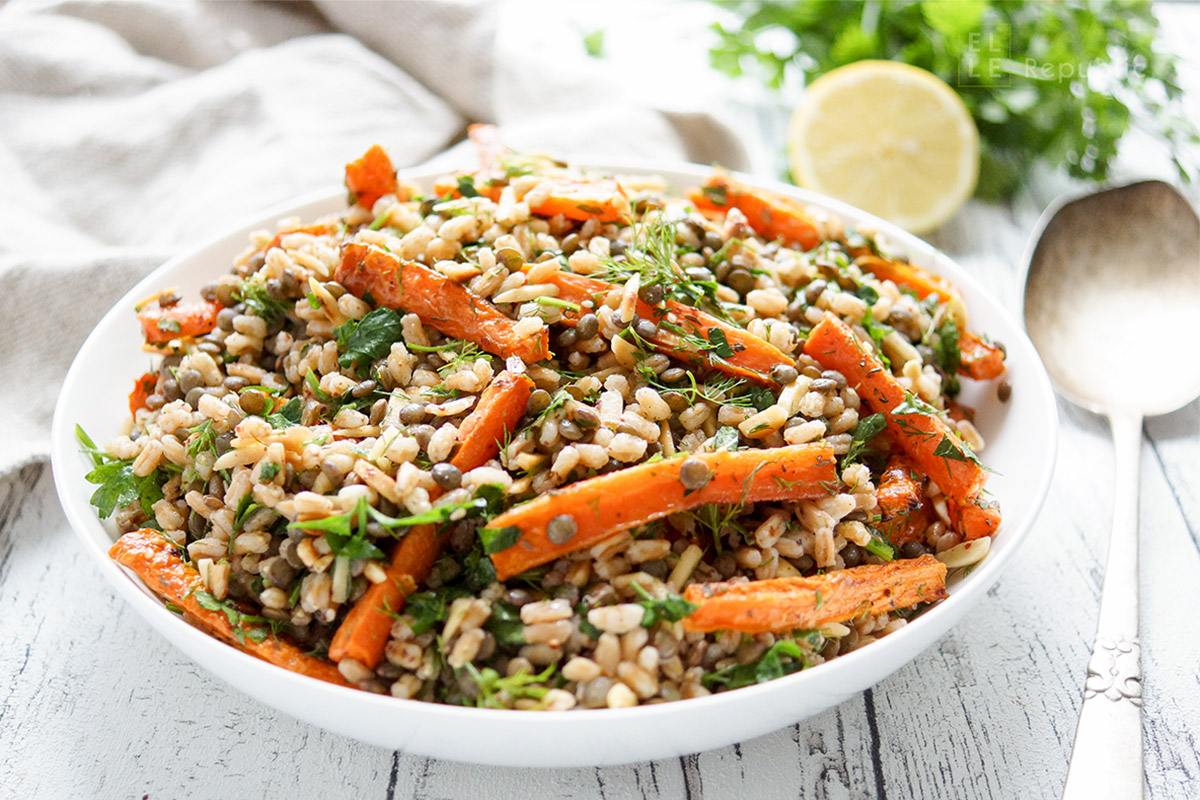 Oops I did it again. Made another salad I love. Yes, more salad love! A spelt and lentil salad with za'atar roasted carrots, some tasty herbs and toasted almonds — cause every salad needs a little crunch. The dressing is made with eastern Mediterranean spices or shall I say Middle Eastern? Nevertheless, these are three spices in my spice drawer that I really love: cumin, za'atar and sumac. If you haven't picked up the last two, I definitely recommend them. Sumac is a long time favorite and za'atar is my new favorite for roasting vegetables. I especially enjoy za'atar with carrots since it brings me one step closer to a loving acceptance of them.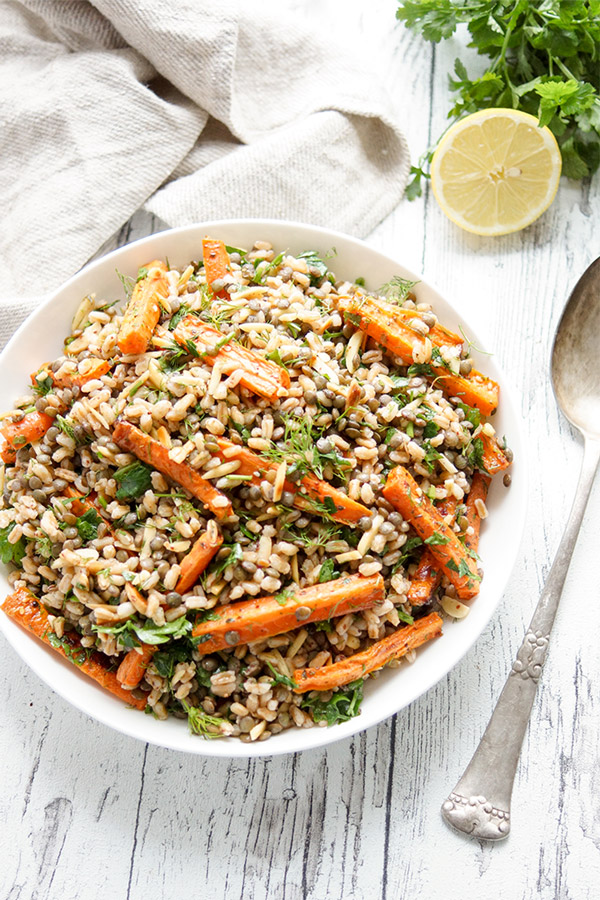 No matter hard I try, carrots are not french fries
I am keen on changing my relationship with carrots. They aren't my favorite vegetable, but I have it ingrained in my head that I need to eat them. I hear my mothers voice now "eat your carrots, they are good for your eyes". Big fail. I was one of those kids that got their first glasses at the age of 8. How embarrassing was that? Giant glasses. And that was the start of the 80s… meaning there were no such thing as cool hipster glasses. They covered half my face, were heavy and simply horrifying. So far from "cooldom" and "awesomeocity". That wasn't even thinkable for another 8 years, when I finally got my first pair of contact lenses. But of course, that was still the 80s and there was nothing cool about the 80s (loads of makeup, feathered hair, spandex, neon, tassle boots, acid wash…shall I go on?). Given all that, the music was pretty good.
Fall in love with carrots with this Middle Eastern-inspired spelt and lentil salad
So with that in mind, I have been eating my carrots, probably not as much as some, but I really do try. Which is what led me to a recent raw carrot and beet slaw which I truly love and this super delicious spelt and lentil salad with za'atar roasted carrots. I think you're going to love it too.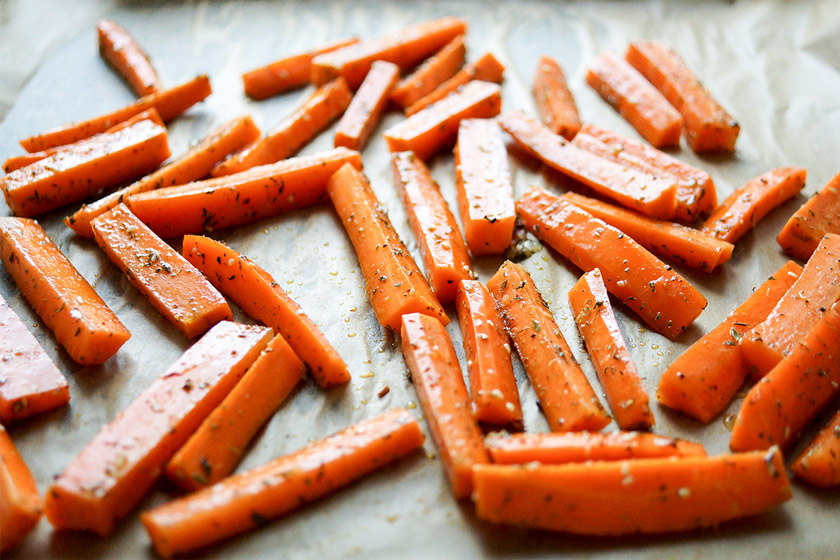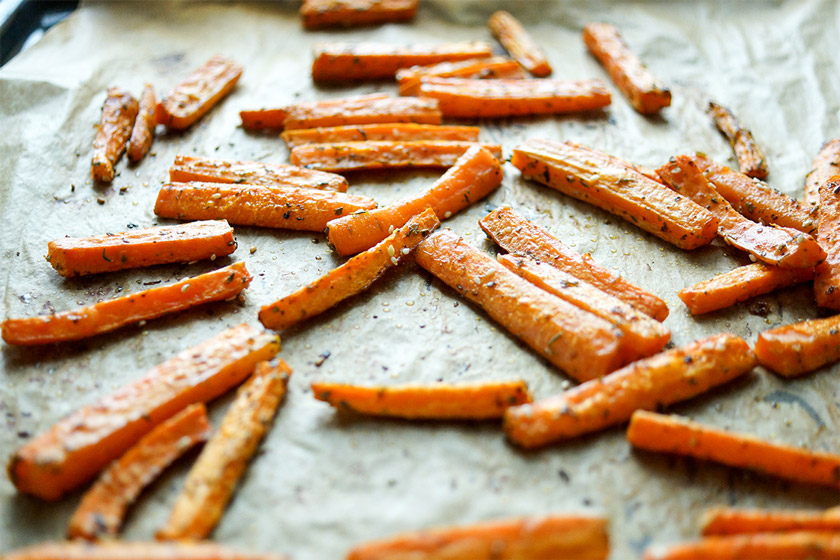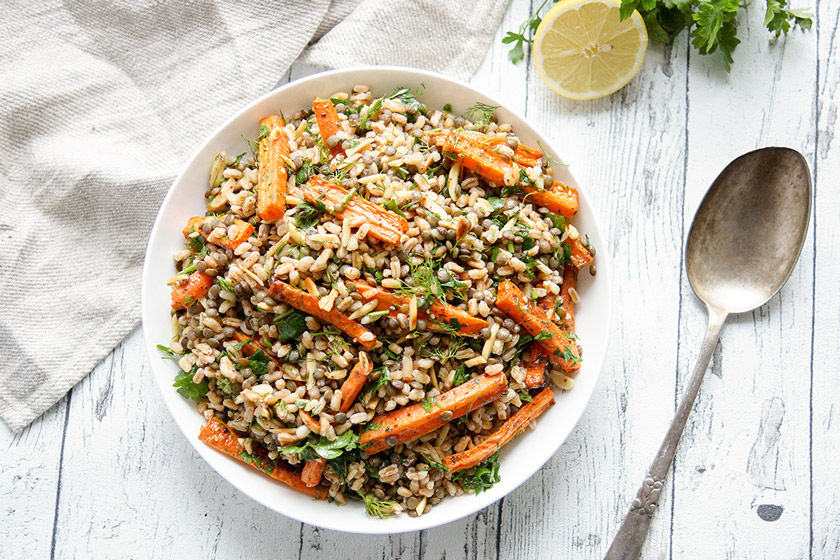 À la carte or as a tasty side
Since there isn't so much green in this salad, I would suggest serving it as a side. Or go for it and serve it as a main for two. As a side, it would be great choice alongside a green salad (maybe this one?) or sautéed greens. Perhaps serve up a little bread and tzatziki, humous or baba ganoush on the side. Or how about roasted eggplant (with Za'atar of course!) or a baked sweet potato… or whatever else you just might fancy on this particular day. I enjoyed it à la carte. 😉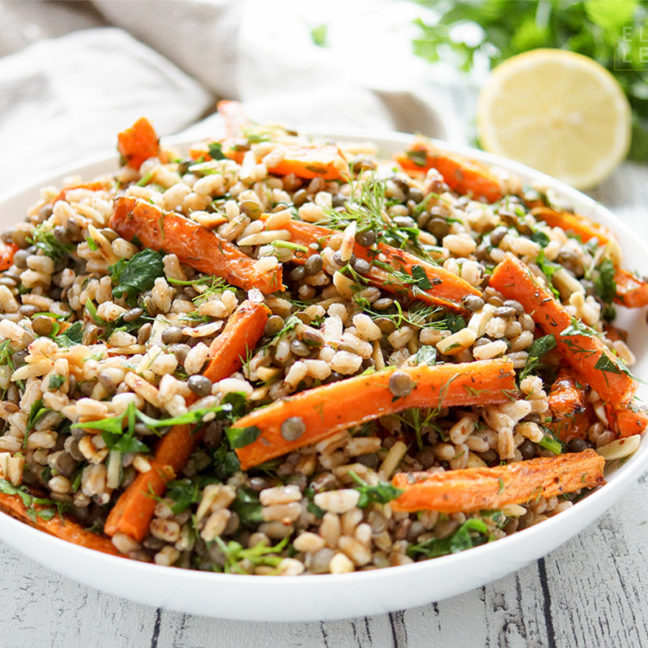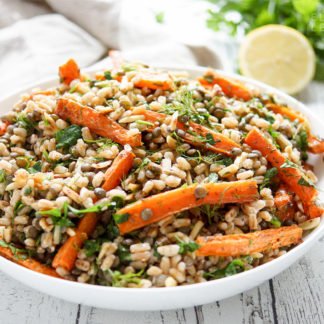 Za'atar Roasted Carrot, Spelt and Lentil Salad
A simple and healthy recipe for a roasted carrot, spelt and lentil salad paired with classic middle-eastern of flavors like cumin, sumac and za'tar. So much flavor and deliciously filling!
Ingredients
For the salad:
1/2

cup

dried French green lentils

(lentils du Puy) (100 g)

1

cup

pearled spelt

(175 g)

3

large carrots,

peeled, cut in half or thirds, and cut lengthwise into pieces

1

tablespoon

extra-virgin olive oil,

for roasting the carrots

1

teaspoon

za'atar

sea salt and freshly ground pepper,

to taste

1/2

cup

slivered almonds,

lightly toasted (50 g)

handful fresh dill leaves,

chopped (about 4 tablespoons)

1

small bunch fresh flat-leaf parsley,

chopped
For the dressing:
4

tablespoons

extra-virgin olive oil

freshly squeezed juice from 1 large lemon

(about 4 tablespoons)

1/2

teaspoon

cumin

1

teaspoon

sumac

generous pinch of cayenne powder,

or taste

1/2

teaspoon

sea salt
Method
Preheat your oven to 400°F / 200°C and line a baking sheet with parchment paper.

Cook the spelt and lentils according to the package directions. Set aside once done.

While the lentils and spelt cooks, prepare and roast the carrots. In a medium bowl, add the carrot pieces, olive oil, za'atar and a little salt and pepper. Toss until the carrots are well coated. Spread the carrots in an even layer on the prepared baking sheet. Roast for 25 minutes, then toss them in the pan, and continue roasting them for a further 10 or so minutes (until lightly browned and tender).

In a small bowl, whisk the dressing ingredients together until combined.

In a large serving bowl, combine the lentils, spelt, roasted carrots, toasted almonds and herbs. Pour over the dressing and toss to combine.

Serve warm or at room temperature. Enjoy!
Notes
Both sumach and za'atar can be found at Turkish / Middle Eastern markets or online with trusty Amazon.
For za'atar, you could try mixing your own!
4 tablespoons sumac
2 tablespoons thyme
2 tablespoons marjoram
2 tablespoons oregano
1 teaspoon coarse sea salt
1 tablespoon roasted sesame seeds
Did you try this recipe?
Then tag @ellerepublic on Instagram and hashtag it #ellerepublic
How did you like it?
Please let me know how this buckwheat bread recipe turned out for you! I would love to hear how you liked it. Simply rate it with the stars above ⭐or leave me a comment and rate it below.
Did you make any changes to this recipe?
If you have tips for other readers, let me know! It helps me and other readers so much. Sharing is Caring :-).
This post contains affiliate links. If you decide to make a purchase through my link, Amazon will pay me a commission for it. This doesn't cost you anything additional and the price remains the same. More about advertisements on Elle Republic.