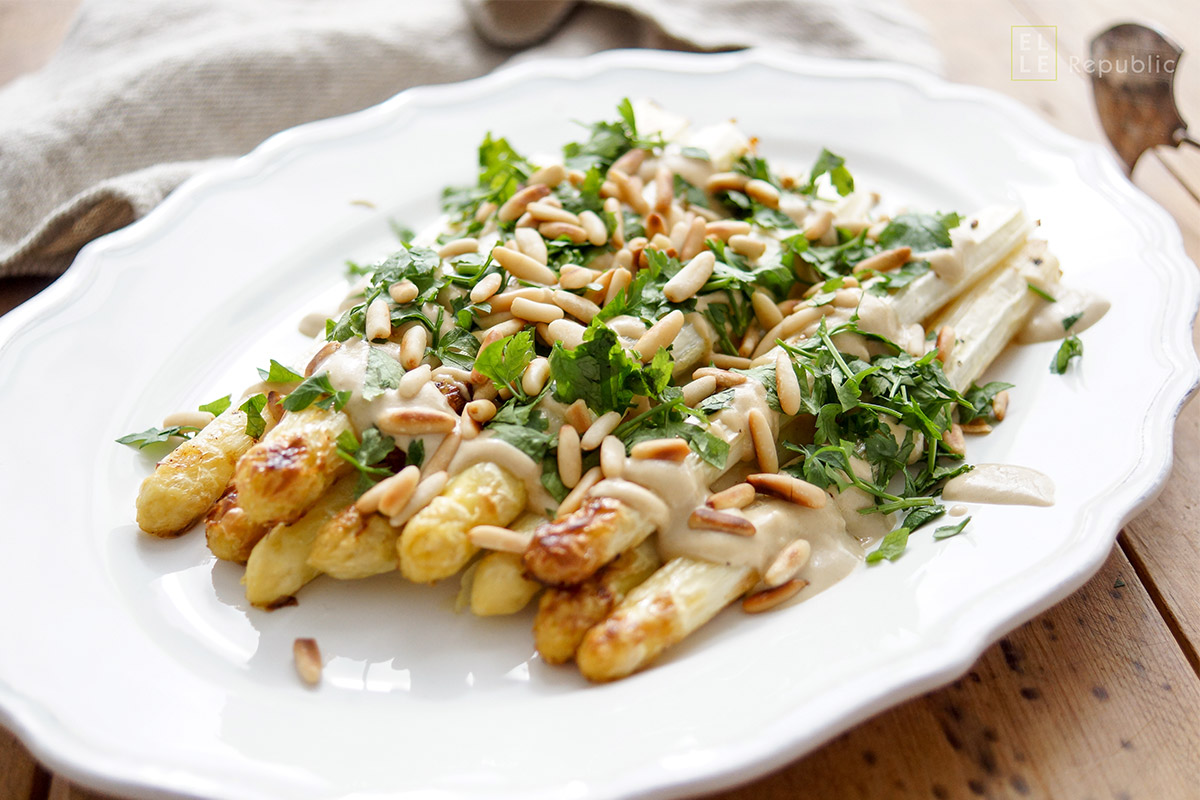 I adore simple, healthy recipes that pack a ton of flavor. Just like this roasted white asparagus with tahini-lemon sauce. Topped with fresh parsley and toasted pine nuts, these are flavors to fall in love with.
There are two ways I like cooking asparagus. Actually, I stand corrected… three: grilled, roasted or blanched in a very short-lived bath of boiling water. The latter, I mostly reserve for green asparagus when adding to risotto or a salad. Grilled is mostly done indoors, though we might actually spring for a little BBQ for our balcony this year. So that leaves me to mostly roasting my asparagus. Which my favorite Schwabe informed me is quite unusual… for white asparagus that is. I had no idea, I thought every German household enjoyed roasted white asparagus.
A classic updated — roasted white asparagus with tahini-lemon sauce
In my experience, white asparagus it is typically served with Hollandaise sauce or melted butter. But that doesn't really fly with me. Hollandaise really isn't my thing. That's why I chose to dress my white asparagus with a creamy tahini-lemon sauce. It's a wonderful compliment to roasted asparagus and tastes amazing with fresh parsley and roasted pine nuts. So delicious, I can barely believe it.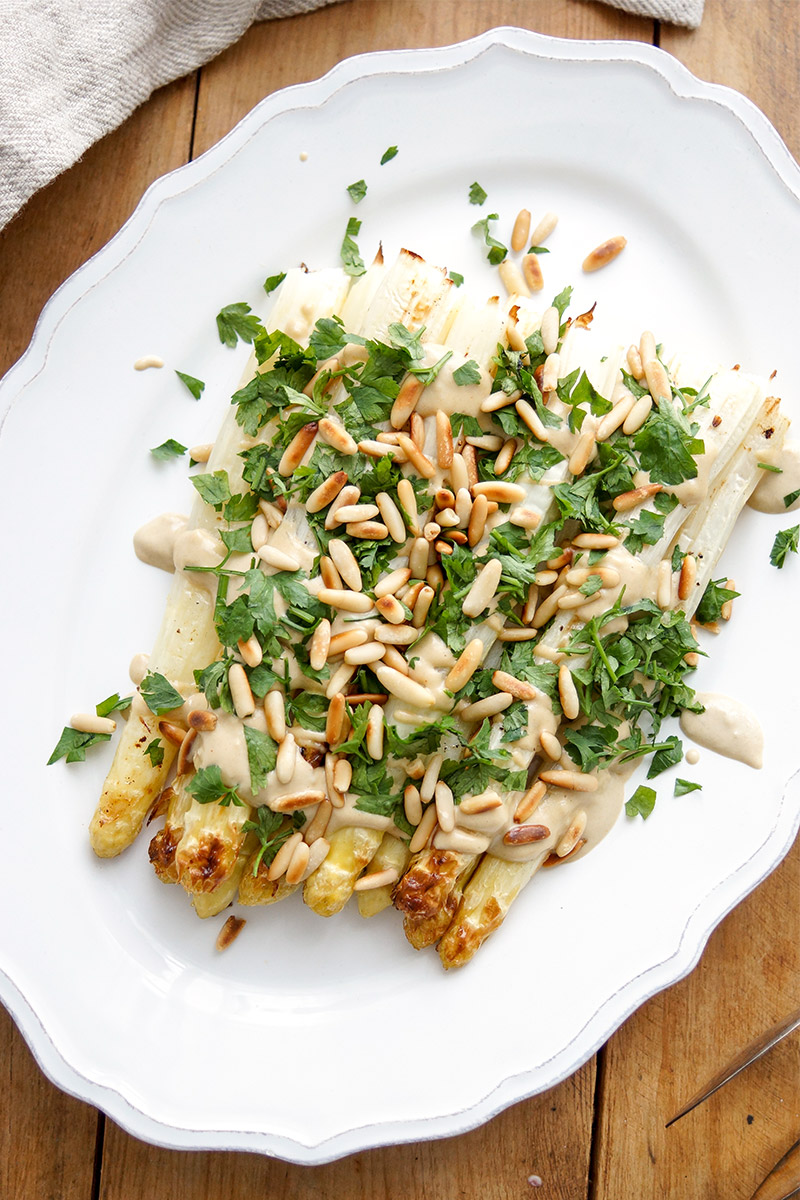 For this recipe I chose white asparagus, but green asparagus would also work well. At this time of year, when asparagus season is in full swing, I like to take full advantage of in-season white asparagus since it's still rather a novelty for me. It's something I never stumbled across it in Canada, so of course there I have a slight fascination for it. Same with black salisfy (which I like to called winter's asparagus) — so tasty!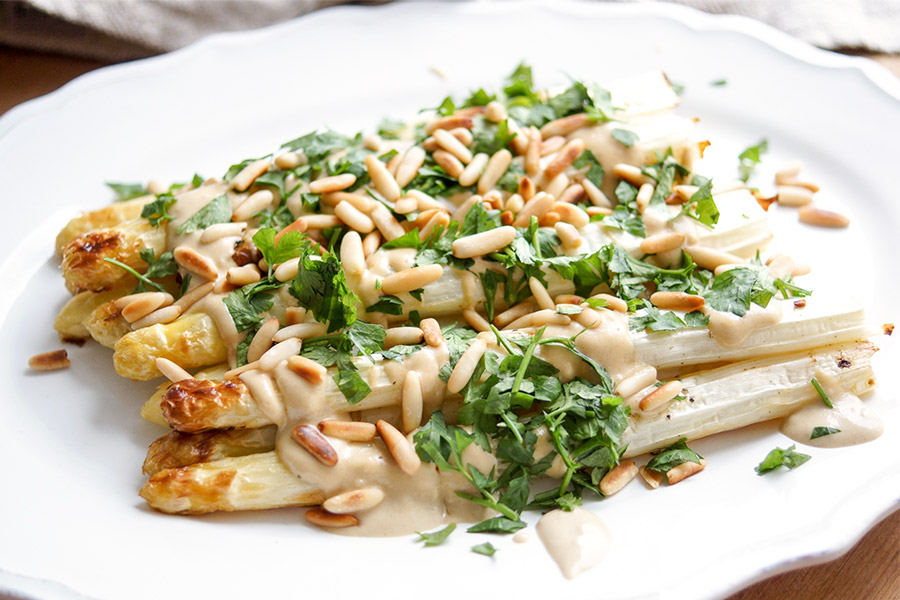 Choosing from a wide selection of white asparagus
Depending on your budget, you can spend a little or a lot on white asparagus. A lot of attention is payed to the diameter (bigger is better), tightly closed tips (indicating freshness), whether they are straight or crooked, and if there is any purple coloring, which is considered a flaw. The best of course are perfectly straight and all white. But also most expensive. Whether you choose the crème de la crème or good value for money, the most important thing is that the asparagus is fresh.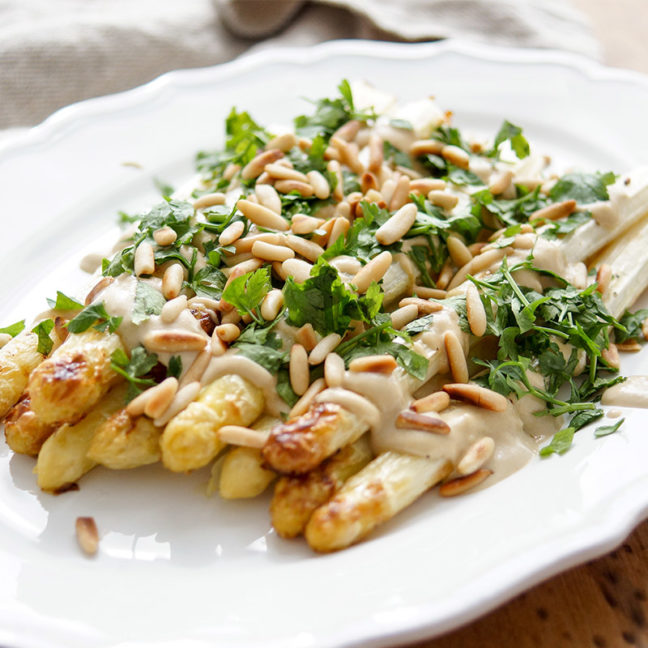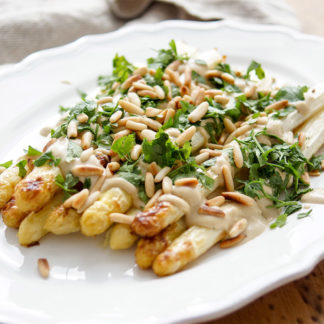 Roasted White Asparagus with Tahini-Lemon Sauce
This simple and delicious recipe for roasted white asparagus with tahini-lemon sauce is a great way to enjoy spring asparagus.
Ingredients
For the roasted asparagus:
750

g

white asparagus,

peeled and trimmed (more, if desired!)

ca. 1/2 tablespoon extra-virgin olive oil

sea salt and freshly ground pepper,

to taste

2

tablespoons

pine nuts,

lightly toasted

freshly chopped flat-leaf parsley,

to garnish
For the tahini-lemon sauce:
freshly squeezed lemon juice 1/2 lemon

(about 2 tablespoons)

1

tablespoon

extra-virgin olive oil

1

tablespoon

tahini

(well-stirred)

1

small clove of garlic

minced

pinch

of cayenne pepper

to taste

sea salt,

to taste

1/2

tablespoon

luke warm water
Method
Preheat oven to 400˚ F / 200°C and line a baking sheet with parchment paper.

Place the asparagus pieces on the prepared sheet tray. Drizzle with olive oil and season with salt and pepper. Toss until asparagus is well coasted. Place in the preheated oven and roast until asparagus is tender and lightly browning, about 25-30 minutes (cooking time depends on the thickness of the spears and how tender you like your asparagus).

While the asparagus is roasting, make the tahini-lemon sauce. In a small bowl, whisk together the lemon juice, oil, tahini, garlic, cayenne pepper and salt. Whisk in the water until sauce becomes smooth (if needed slowly add a little more water until the sauce reaches the desired consistency).

Arrange the roasted asparagus on a platter and drizzle with the tahini-lemon sauce before topping with the fresh parsley and toasted pine nuts. Serve and enjoy!
Did you try this recipe?
Then tag @ellerepublic on Instagram and hashtag it #ellerepublic
How did you like it?
Please let me know how this buckwheat bread recipe turned out for you! I would love to hear how you liked it. Simply rate it with the stars above ⭐or leave me a comment and rate it below.
Did you make any changes to this recipe?
If you have tips for other readers, let me know! It helps me and other readers so much. Sharing is Caring :-).