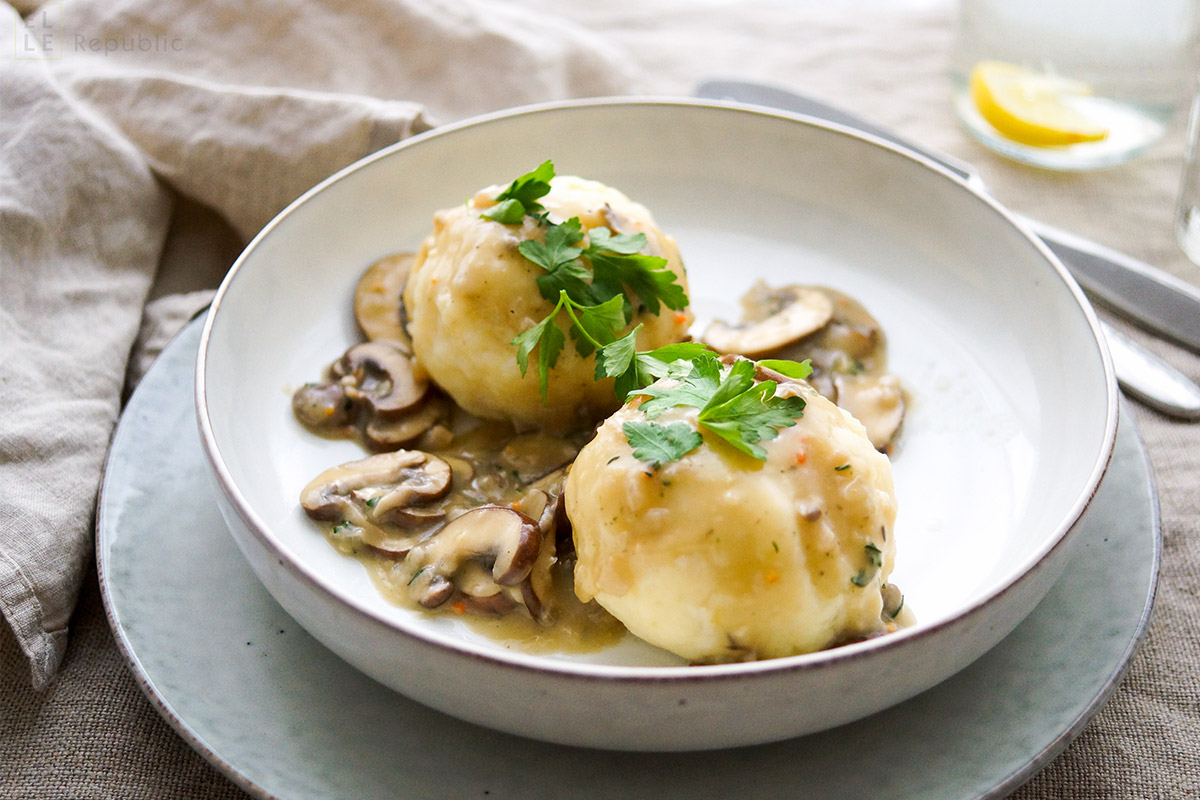 Potato Dumplings. Sometimes a simple, traditional meal can make others so incredibly happy. A.k.a zee German, my liebling Schwabe. First of all it's not another salad. But of course, as a vegetable fanatic I had to include a little extra veg, even in these dumplings. Parsnips. Sweet and versatile parsnips. All in good measure of course. These are potato dumplings after all. And the flavor is so subtle no one would even notice. But just maybe, next time, I'll roast them to bring out more of their delicious sweetness.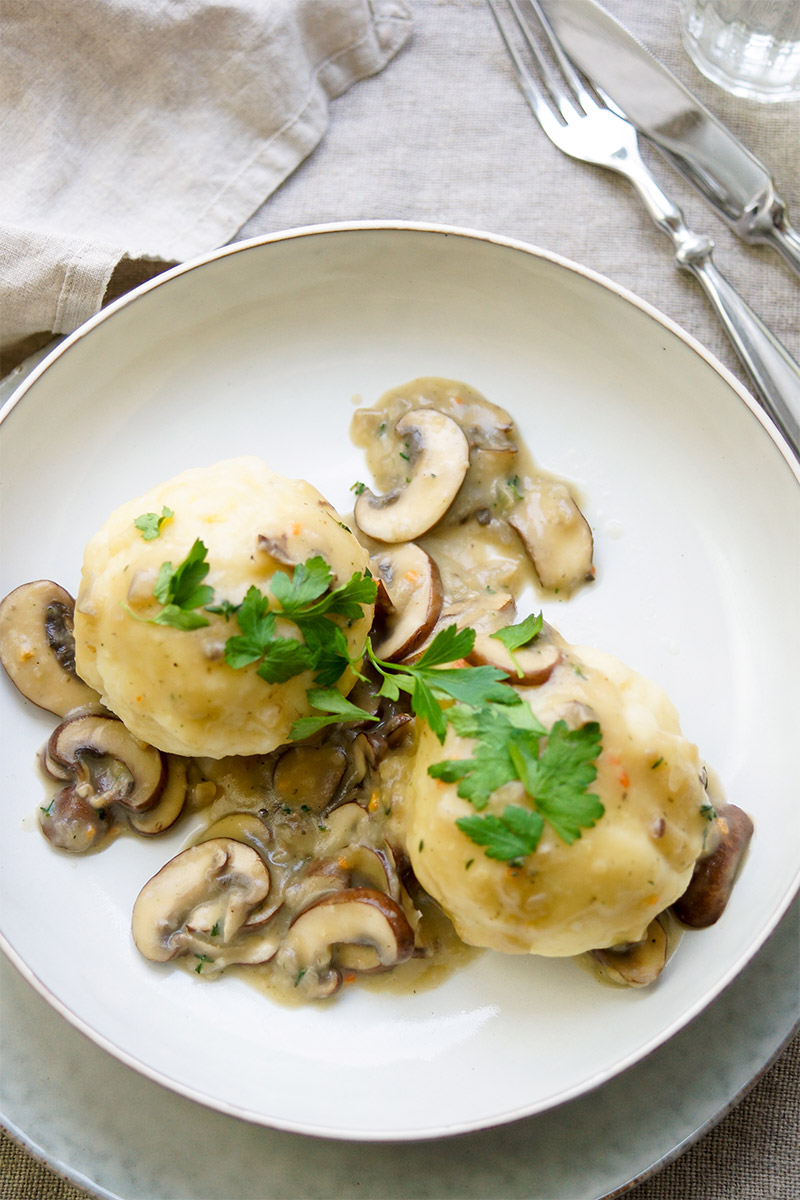 h2>Don't be fooled, potato dumplings are incredibly easy to make at home
E A S Y! Normally, there aren't more than a handful of ingredients. Simple enough to memorize! As far as I can tell, the most important step is to cook the potatoes in their skin (to avoid water-logged taters), peel them, and then press them through a potato press, while they are still hot, so they remain light and fluffy. Then, important step… let them fully cool before proceeding with making the dumplings. Just walk away, come back later. Works like a beauty. But I have also heard that yesterdays boiled potatoes also work fine. Hmmm is this true? I'll have to test this myself.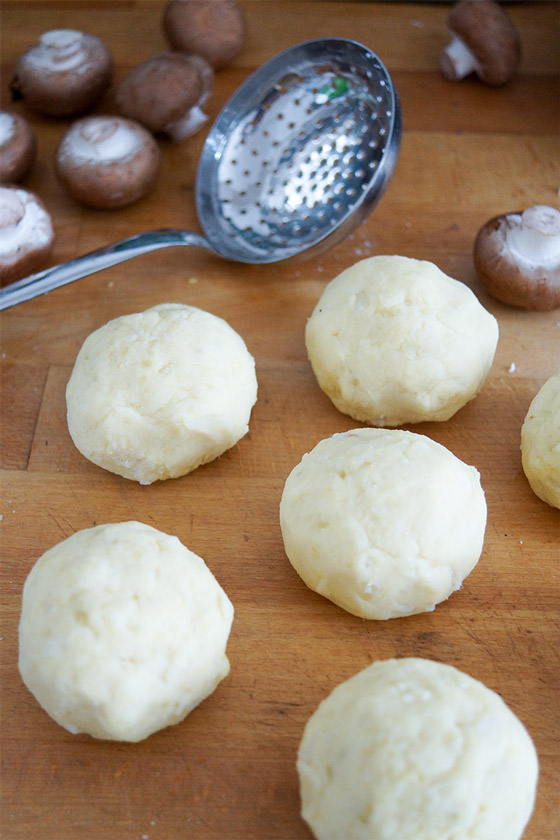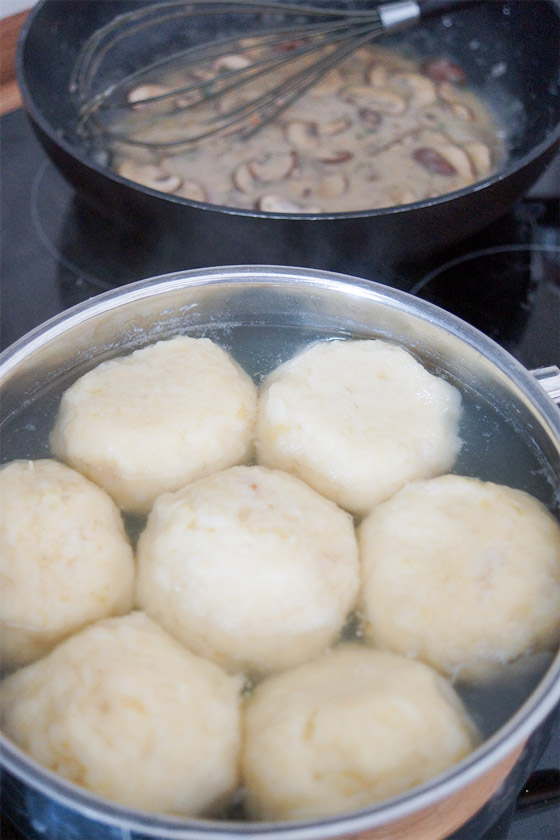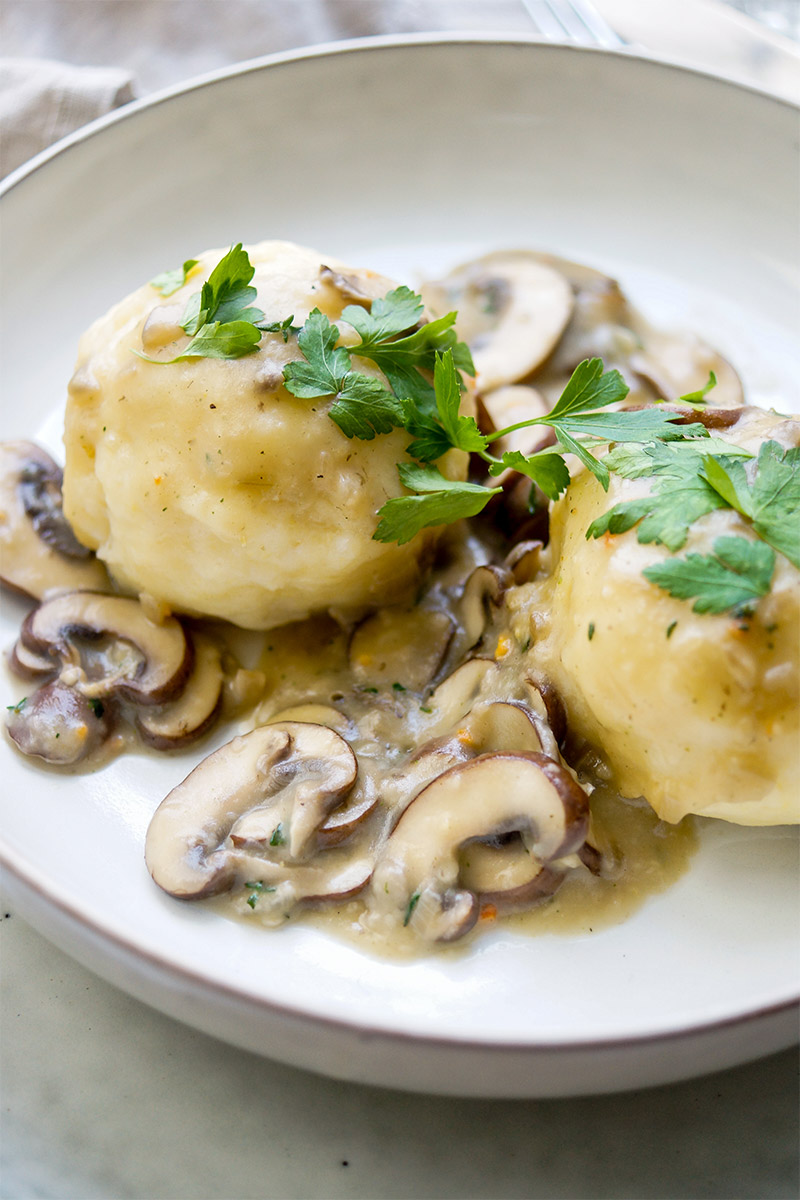 What to serve with potato dumplings
Well, I choose to make a mushroom gravy. Completely vegetarian and darn delicious. Getting kids to try a mushroom gravy… er, not going to happen. A bed of sauerkraut, yeah good luck with that. Rotkohl. Nope. my only hope… "brown sauce". Goes with everything. Or ketchup. Eeh. Yes, I am talking "kids reality" here. But of course, potato dumplings are fantastic enjoyed in a traditional German fashion with roasted duck, Sauerbraten, Jägerschnitzel or beef Rouladen, or even as leftovers, simply sliced and fried, and seasoned with a little salt and pepper. As you like!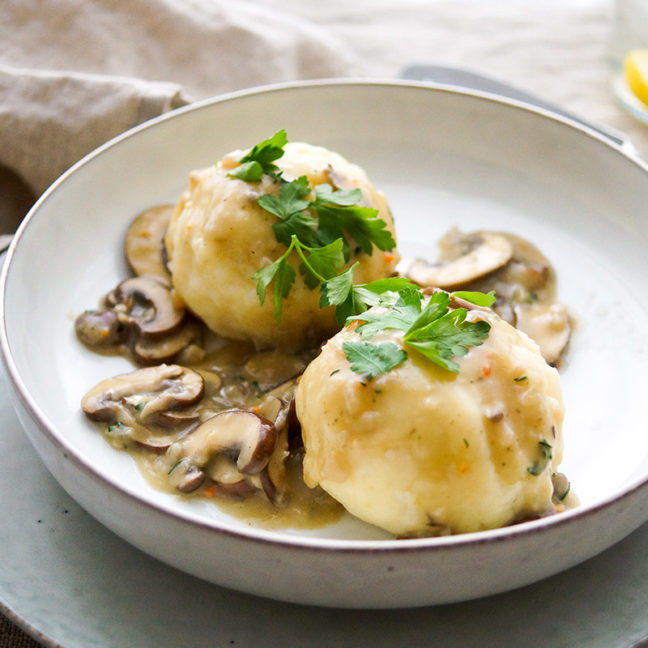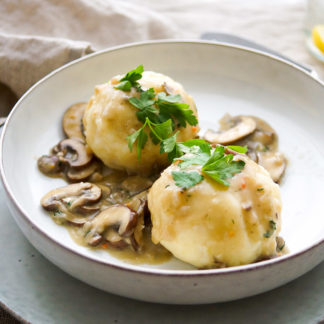 German Potato Dumplings with Mushroom Gravy
An easy and hearty vegetarian recipe for parsnip and potato dumplings as well as a simple cremini mushrooms sauce to serve them with. Planning ahead is required as the potatoes need to fully cool before they are formed into dumplings and boiled.
Total Time
1
hour
15
minutes
Ingredients
For the potato dumplings (Kartoffelknödel):
750

g

starchy potatoes

(about 4 medium potatoes)

250

g

parsnip,

peeled and and cut diagonally into 1-1,5 cm thick slices

1

garlic clove,

peeled

generous pinch of sea salt

80

g

flour

(I used spelt, Type 630)

80

g

potato starch

1

large egg

chopped flat-leaf parsley,

to garnish
For the gravy:
400

g

cremini mushrooms,

thinly sliced

4

tablespoons

butter

4

tablespoons

flour

(spelt Type 630)

2

shallots,

finely chopped

2

cups

vegetable broth

(500 ml)

sea salt and freshly ground pepper,

to taste

2

teaspoons

fresh thyme leaves,

finely chopped
Method
For the potato dumplings:
Wash the potatoes and place them in a large saucepan filled with cold water. Bring to a boil, then reduce to medium heat and cook for 20-25 min, or until tender. Drain the water and return the potatoes to the stove. With the heat turned off let the pot stand on the burner until the moisture is evaporated and skin of the potatoes is dry.

Meanwhile, as the potatoes are cooking, set a steamer basket in a saucepan with 4-5 cm of simmering water. Add the parsnip. Cover and reduce heat to medium and let cook until tender; about 10-15 minutes. As soon as the parsnip is tender, remove from the heat.

Once the potatoes are cooked, peel them and while still hot, press through a potato press (alternatively grate the potatoes). Do the same with the parsnips. Set aside to cool completely in the bowl.

Add the minced garlic to the potato mixture and season with salt. Sprinkle with the flour and potato starch, and use your hands to loosely mix. Add the lightly beaten egg and mix it in with a fork. Then, using your hands again, knead the mixture together until you get a smooth dough that can be formed into dumplings (adding a little more flour or starch if the mixture is too sticky). Form the dough into 7-8 dumplings.

Bring a large saucepan with lightly salted water to a boil, then reduce heat to light simmer. Gently place the dumplings into the pot of boiling water. Cover with a lid and allow the water to come back to a boil. Reduce the heat and partially cover with the lid. Cook for 15-20 minutes. While the potatoes are cooking, prepare the gravy (method below).

When the potato dumplings float to the top, use a flat spoon with holes to lift it out of the water, drain well and serve immediately.
For the gravy:
In a large skillet over medium to medium-high heat, melt the butter. Add the shallot and mushrooms and cook for 10 minutes, stirring frequently. Cook until the mushrooms are soft and most of the liquid is evaporated.

Stir in the flour with a large whisk and reduce heat to medium. Cook for another minute or two.

Slowly add the broth, whisking together to combine. Then add the thyme.

Reduce the heat to low simmer and continue to stir until the gravy reaches the desired thickness, about 5 minutes. If it appears too thin, whisk in a little more flour. If too thick, add a little more broth. Season with salt and fresh ground black pepper, to taste.

Serve with the potato dumplings. Garnish with parsley, if desired. Enjoy!
Did you try this recipe?
Then tag @ellerepublic on Instagram and hashtag it #ellerepublic
How did you like it?
Please let me know how this German Potato Dumplings (Knödel) with Mushroom Gravy recipe turned out for you! I would love to hear how you liked it. Simply rate it with the stars above ⭐or leave me a comment and rate it below.
Did you make any changes to this recipe?
If you have tips for other readers, let me know! It helps me and other readers so much. Sharing is Caring :-).