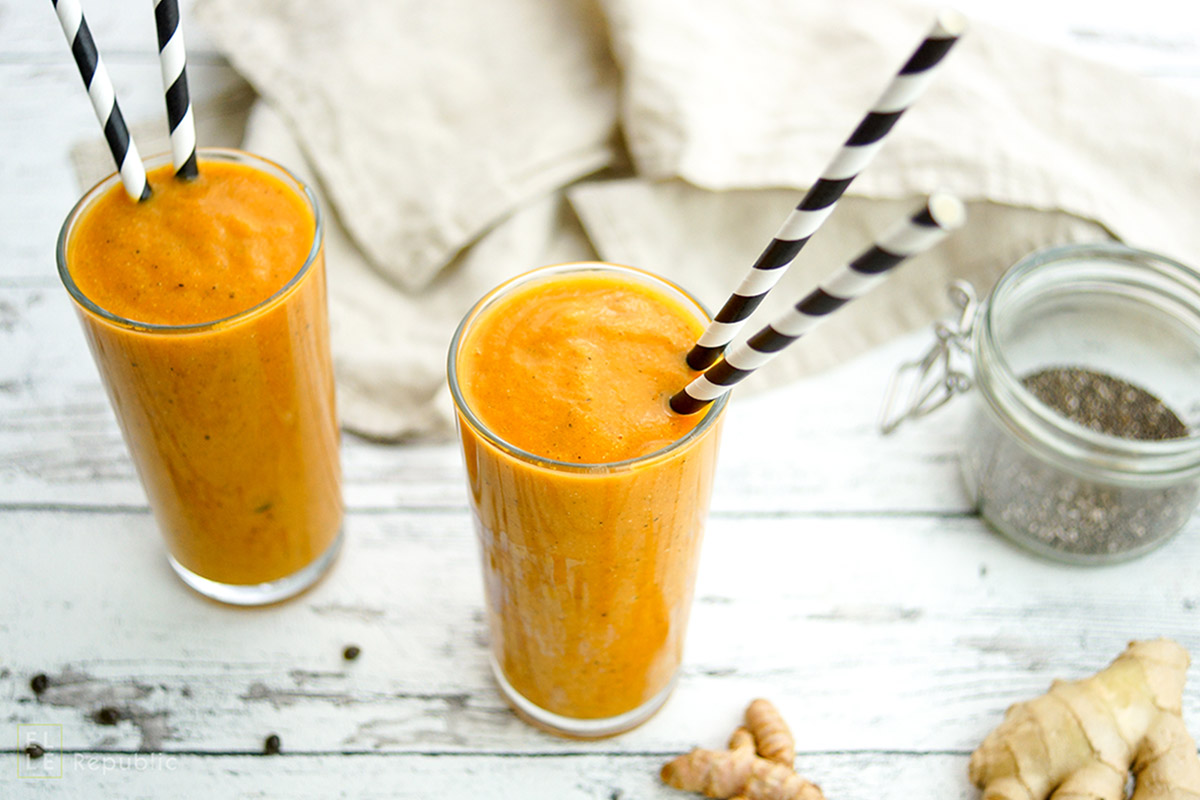 Full of tropical flavours, this coconut turmeric papaya smoothie is thick and creamy and made with some of my favorite superfoods — each of which are loaded up with healing benefits. This smoothie requires 7 ingredients, 1 blender, and 5 minutes to prepare. And it's a simple way to power up on the amazing benefits offered by coconut water, fresh papaya, coconut oil, cinnamon, turmeric, ginger, and chia seeds. Plus there's the added bonus that it tastes great!
My reasonings for making this coconut turmeric papaya smoothie were simple. I was looking for a healing, anti-imflammatory superfood drink to to help with my post surgery recovery. So I spent a number of weeks rotating between this powerful coconut turmeric papaya smoothie, a ginger turmeric pineapple smoothie and freshly made vegetable juices. Let's not forget about green smoothies!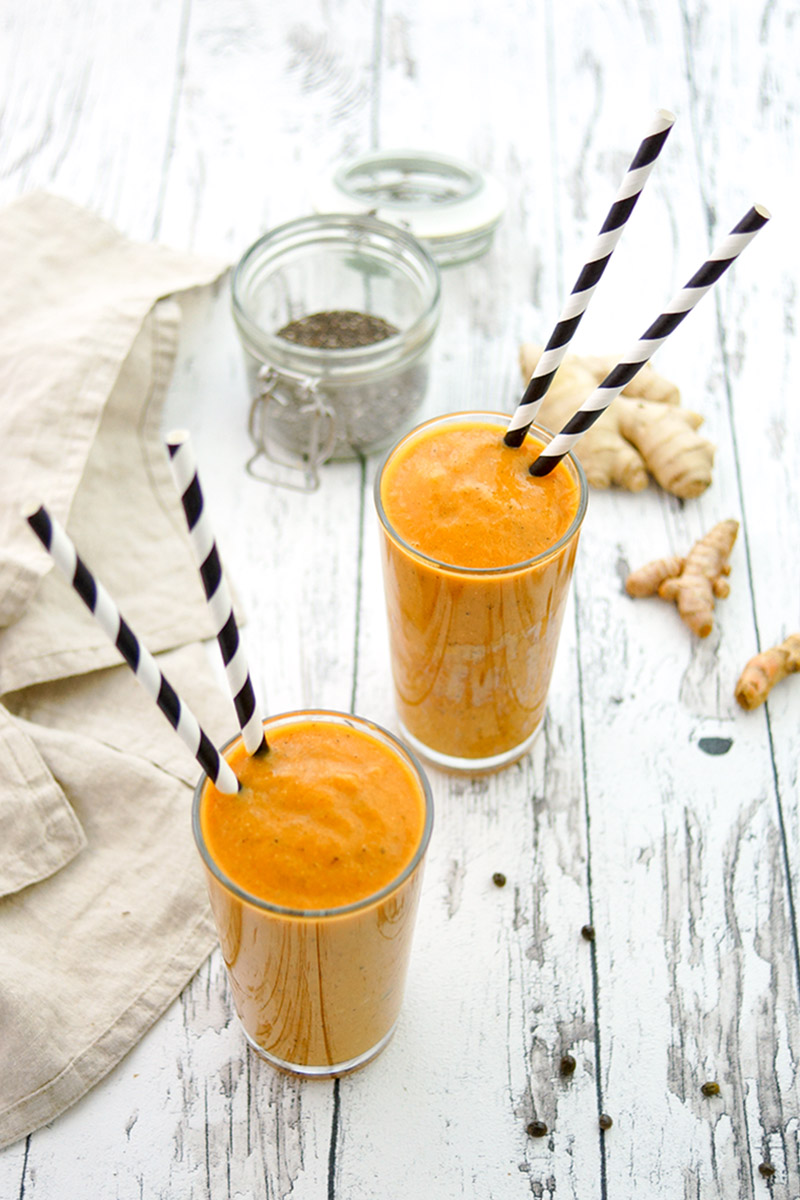 A coconut turmeric papaya smoothie with healing properties
This coconut turmeric papaya smoothie is packed with health benefits that are vast and various. The list is long, so let's just take a few.
Papaya
Papayas are well known for their high enzyme content. Enzymes which help reduce inflammation, promote healing and aid in digestion. It is also alkaline-producing which aids in a natural detox by flushing toxins out of the body.
Papaya Seeds
That's right, papaya seeds are edible. And small amounts of them in your diet are surprisingly good for you. They have a high levels of digestive enzymes, are antibacterial, anti-parasitic and have powerful liver regenerating properties.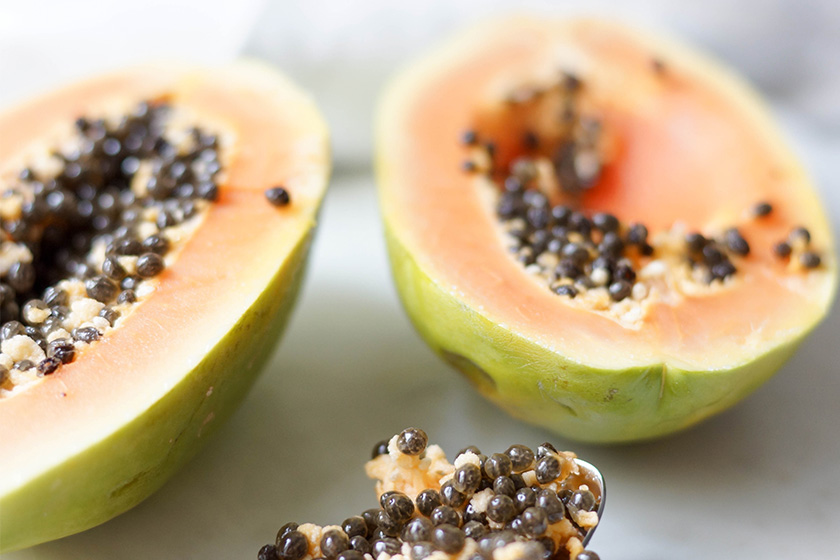 Coconut Oil
Not only does coconut oil have immune-boosting, anti-inflammatory, anti-parasitic and anti-fungal properties, but it also helps in the absorption of other nutrients such as vitamins, minerals and amino acids.
Cinnamon
Cinnamon adds flavor and sweetens food naturally without the need for sugar. Plus it increases blood flow to the heart and can help regulate blood sugar and blood pressure.
Turmeric
Even more anti-inflammatory power, thanks to turmeric. It also helps the liver detoxify, is a powerful antioxidant and has anti-bacterial, anti-viral, and anti-fungal properties – also a powerful healer when colds or the flu strike.
Ginger
Among many other health benefits, ginger increases digestive enzymes, protects the lining of the stomach and adds a nice zing to smoothies.
Chia Seeds
These tiny nutrition powerhouses pack a huge punch. They are a great source of essential plant-based fats, calcium, magnesium, fiber and antioxidants that make them well worth adding to your daily smoothie.und Bakterien. Deswegen trinke ich Kurkuma auch gerne bei einer Erkältung oder Grippe in einem Glas heißem Zitronenwasser mit frischem Ingwer.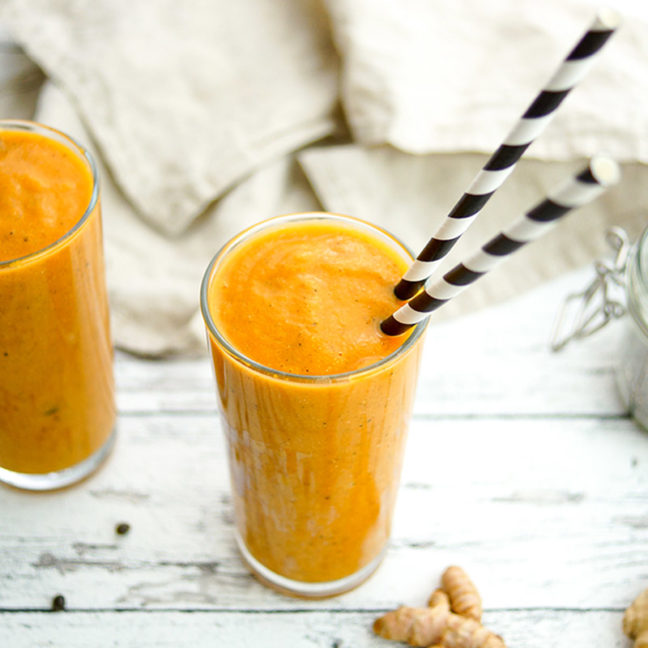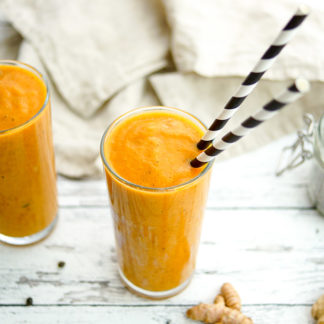 Coconut Turmeric Papaya Smoothie
An anti-inflammatory coconut turmeric papaya smoothie, that's thick and creamy and full of tropical flavors. Made from superfoods with lots of healing benefits.
Ingredients
1

cup

coconut-rice drink or coconut water

(250 ml)

flesh from 1/2 large Papaya,

plus 1 teaspoon of the seeds

1

tablespoon

organic virgin coconut oil

1/2

teaspoon

cinnamon

3

cm

fresh turmeric,

peeled (about 1 1/2 teaspoon grated or 1/2 teaspoon organic ground turmeric)

2-3

cm

piece ginger,

peeled

2

teaspoons

chia seeds
Method
Add all ingredients to a high-speed blender. Blend until smooth. Add more liquid if needed.

Enjoy!
Notes
Want it extra creamy and fruity, add a banana (plus a little liquid) or for even more activating enzymes, throw in some chopped fresh pineapple.
Did you try this recipe?
Then tag @ellerepublic on Instagram and hashtag it #ellerepublic
How did you like it?
Please let me know how this Coconut Turmeric Papaya Smoothie recipe turned out for you! I would love to hear how you liked it. Simply rate it with the stars above ⭐or leave me a comment and rate it below.
Did you make any changes to this recipe?
If you have tips for other readers, let me know! It helps me and other readers so much. Sharing is Caring :-).