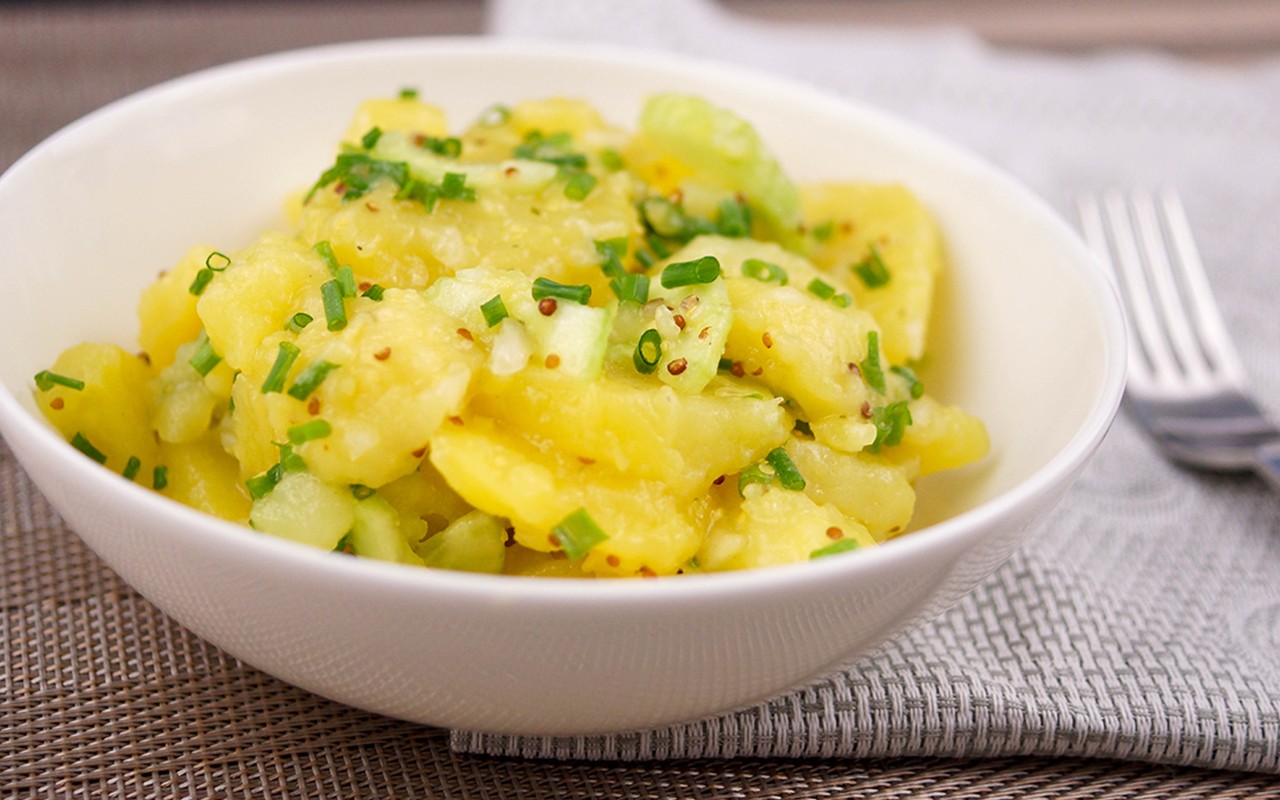 Potatoes (Kartoffel or Erdapfel) were first introduced into Europe in the 16th century via a Spaniard homeward bound from South America. From there they slowly spread throughout Europe. Although potatoes were already known in Peru and Chile as food, it was the Italians who first tried to cultivate the them in Europe. With little luck. Small and bitter, with poisonous leaves, they earned a bad reputation and these "fruits of the devil" were avoided until the 17th century, and then only for farmers and the poor. Named Tartufolo (truffles) by the Italians, it was the Spanish who first thought potatoes were truffles. Perhaps due to the way they grew in the ground…
So at first, potatoes popularity was only gained as a beautiful flowering plant until a century later, with some help of the botanical sciences, they were cultivated into the produce we know today. Today it is the world's most widely grown crop with around 4,500 varieties. Yet, only a small percentage of these are actually used for food. The others are used as animal feed or producing vodka, starch products, flour, and the like.
The average German consumes a whopping 150 pounds (70 kg) of potatoes annually. Much of that in the form of a salad. This one with cucumber. So let's take a look at how to make it.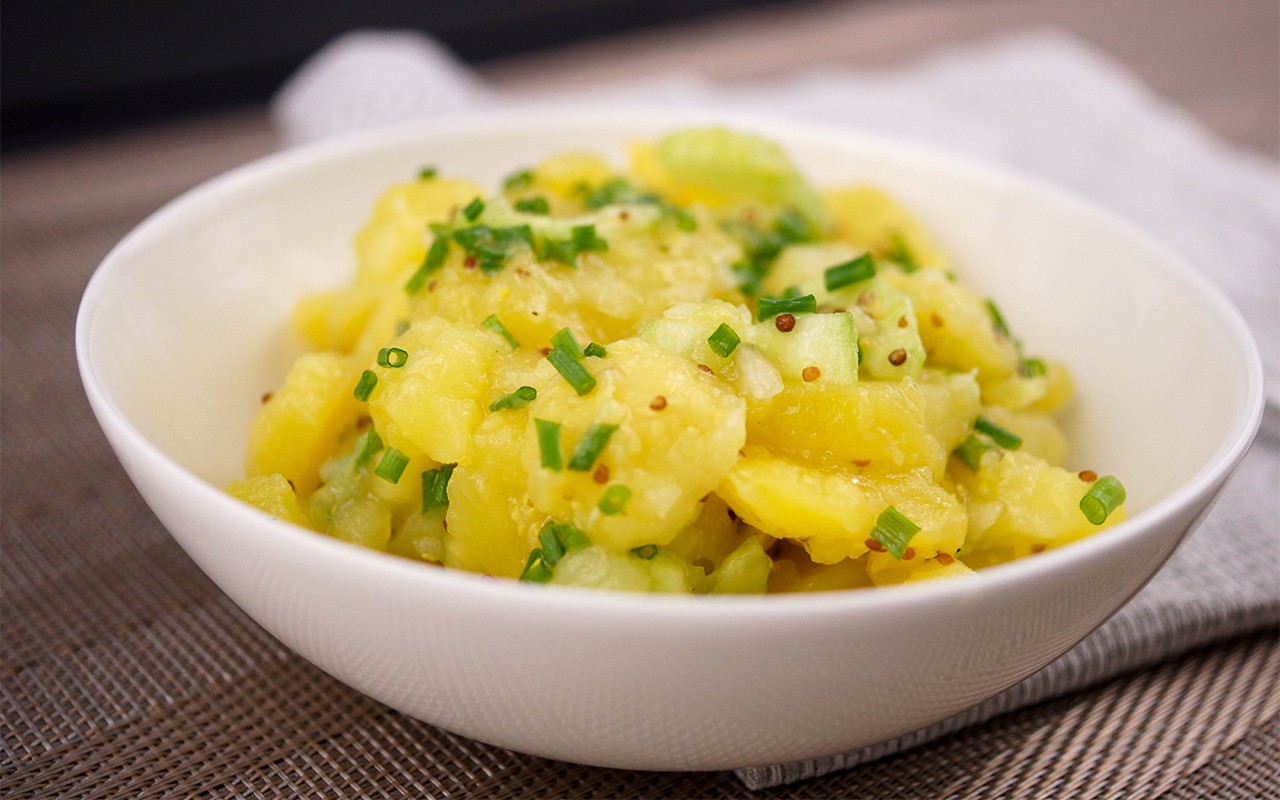 How to make the best German potato salad
Firstly, there are two main components to a good potato salad – the potatoes and the vinaigrette.
The consistency of the potatoes is critical. It is important to choose the right type of potato for hard boiling. If you opt for starchy potatoes, your salad with resemble mashed potatoes in the end. Best choose smaller, waxier type potato, such as the red-skinned potatoes, new potatoes, fingerling, or white round potatoes. They have a better texture and hold their form after some mixing.
Potatoes are also best boiled in their skins so that they absorb less water – thus allowing them to absorb more of the sauce later. (smile). Plus it avoids a washed-out waterlogged flavor. When boiling the potatoes, they should be almost cooked through, yet firm. Use a paring knife to peel the potatoes. It's much easier while they are still warm.
Potatoes soak-up a hot dressing more quickly than a cold one, so it is important heat the broth and add the vinegar before pouring it over the potatoes. Be prepared though, this salad still needs about 30 minutes to marinade.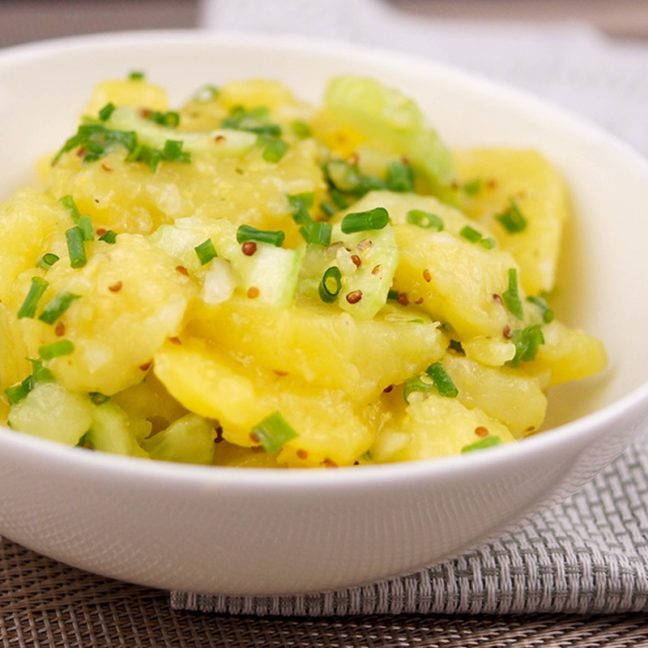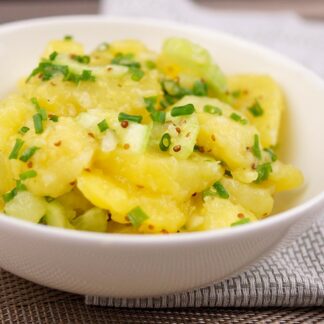 German Potato Salad with Cucumber
The average German consumes a whopping 150 pounds (70 kg) of potatoes annually. Much of that in the form of potato salad. This one with cucumber. So let's take a look at how to make it.
Total Time
1
hour
5
minutes
Ingredients
1 to 1-5

kg

potatoes

2

small yellow onions,

diced

vegetable broth

(200 ml)

6

tablespoons

good-quality white wine vinegar

1/2

cucumber,

peeled, seeded and sliced

1

bunch of chives,

finely chopped

6

tablespoons

extra-virgin olive oil

1 1/2

teaspoons

grainy Dijon mustard

sea salt & freshly ground pepper
Method
Wash the potatoes and in a large pot, bring salted water to a boil. Add the potatoes and boil covered over medium heat for about 25 minutes. Drain, let steam evaporate and peel while still hot.

Working in batches, slice the peeled potatoes into a large bowl. Add the onion and mix well.

In a small saucepan, bring the broth to a boil with 3 tablespoons of vinegar; pour over the potatoes and gently mix. Let stand for about 30 minutes.

Mix together the remaining 3 tablespoons of vinegar with the oil, mustard , salt and pepper.

Add the cucumbers and chives to the potatoes and mix with the sauce before serving. Season with salt and pepper, to taste. Enjoy!
Did you try this recipe?
Then tag @ellerepublic on Instagram and hashtag it #ellerepublic
How did you like it?
Please let me know how this German Potato Salad with Cucumber recipe turned out for you! I would love to hear how you liked it. Simply rate it with the stars above ⭐or leave me a comment and rate it below.
Did you make any changes to this recipe?
If you have tips for other readers, let me know! It helps me and other readers so much. Sharing is Caring :-).