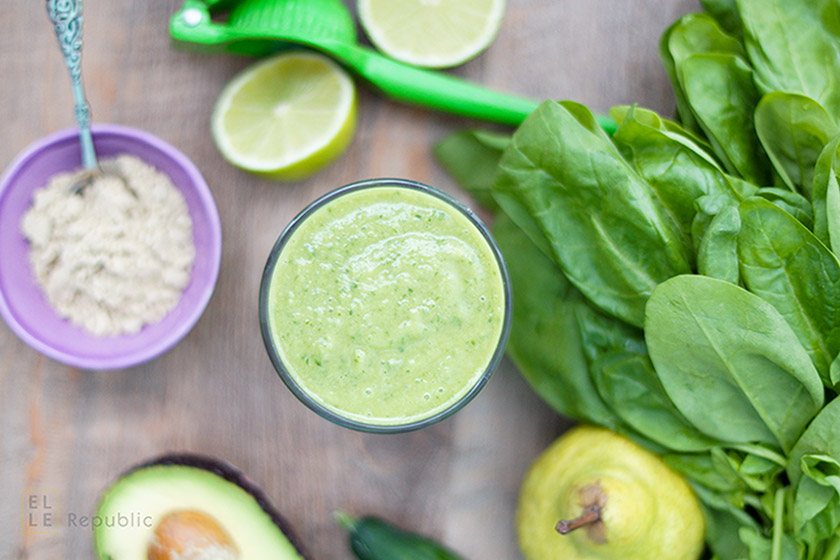 Easy to make and full of powerful nutrients, smoothies are a great way to a give your body a super-charged start to the day.
No longer for hippies and health nuts, the smoothie revolution has found its way to Hollywood stars, busy moms and everyone in between. The concept of blending leafy greens was popularized by raw food movement pioneers Dr. Ann Wigmore and Victoria Boutenko and in 2004, Boutenko's best-selling book "Green for Life" revolutionized the health movement by introducing what is known as the green smoothie. Today, even classic latte drinkers are finding joy in a glass (or mason jar) of these nutritional rock stars.
Speaking of rock stars, last winter when we saw fellow green smoothie advocate, Grammy-nominated ("I'm Yours") Jason Mraz in concert. As an energetic musician and environmental activist we were reading about how the singer embarked on a raw food diet – well, a raw diet about 75% of the time. Apparently that's also when he discovered the world's most delicious salads and a love for green super food smoothies — emphasis on GREEN here — it's nature's color for health and vitality! He also kicked the sugar habit. Jason, you rock! For those of you that have a terribly active sweet tooth and can't fathom such a thing, well, when it comes to smoothies, sugar is something you'll never miss. Smoothies can easily be sweetened by adding a natural form of sugar – from things like dates, a ripe banana, pure maple syrup, raw agave, honey…the list goes on!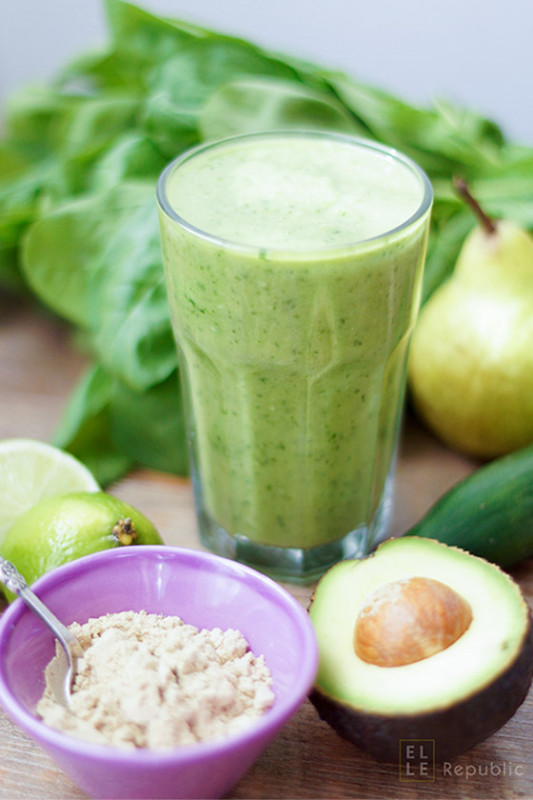 I tend to skip adding any extras for sweetness but for a creamy smoothie, I like to toss in a half an avocado. Plus avocados are one of the best fruits (yes, they are a fruit) for keeping you feeling full longer. Bananas can also be added to a smoothie to make it creamy – but also sweet. Ripe bananas contain a lot of natural sugars and personally I am one of those green banana lovers. So bananas never make it into my smoothies.
Avocadoes on the other hand — definitely! They have the fantastic ability of giving your smoothie a silky, almost fluffy texture. Plus with all their good fat, they aid in the nutrient density of all the greens and other good stuff, meaning they help improve the body's ability to absorb nutrients from other foods. Plus they help raise your "good" cholesterol levels and have a very low glycemic index (GI) (as do the cucumbers, spinach, and parsley in this recipe). Together with low GI of pears and lime/lemon, this smoothie will help keep your blood sugar and energy levels balanced.
Did you know that when blood sugar levels are stable, appetite and cravings are reduced? That's right. Foods with a high glycemic index create an elevated insulin response that not only leads to fat storage and elevated blood pressure, and with that energy spike, it's usually followed by a crash. We certainly don't want to feel like we need to take a morning nap shortly after our morning smoothie!
And if you haven't already been introduced to raw maca root powder, you may want to get acquainted. This ancient Peruvian "vitality enhancer" is a great mood balancer and is supercharged with an array of nourishing and healing properties. Plus, it offers an amazing energy boost, in a non-caffeinated way. As a nutritional powerhouse, dried maca root powder contains more than 60 different nutrients, is rich in antioxidants, has 13-16% protein and a high proportion of Omega 3 and 19 essential amino acids. Together with coconut water which is rich in potassium and electrolytes, this smoothie should definitely help simplify your morning and amplify your day!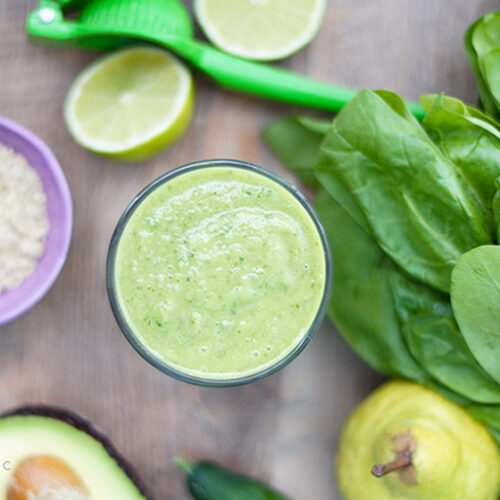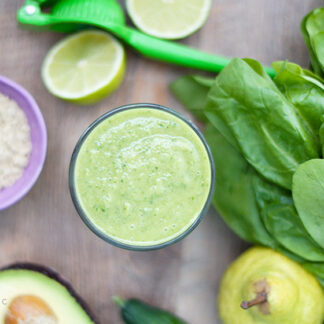 High Energy Smoothie
This low GI green energy smoothie is packed with nutrients: pear, spinach, lime, cucumber, avocado, raw maca powder and coconut water. A non-caffeinated way to get an energy boost in the morning. This tasty smoothie will help put "spring" into your step.
Ingredients
1

ripe pear,

peeled, cored and sliced

1

ripe avocado,

pitted and peeled

1

generous handful fresh baby spinach

2

baby cucumbers or 1/3 an English cucumber,

chopped

1

small handful flat-leaf parsley

1

cup

unsweetened coconut water

(250 ml)

juice of 1 lime

(or 2 tablespoons freshly squeezed lemon juice)

2

teaspoons

raw maca powder

2

teaspoons

honey,

or to taste (alternatively, a couple medjool dates or a little dark raw organic agave can be used in place of honey) (optional)
Method
Blend together and enjoy!
Did you try this recipe?
Then tag @ellerepublic on Instagram and hashtag it #ellerepublic
How did you like it?
Please let me know how this Green Energy Smoothie recipe turned out for you! I would love to hear how you liked it. Simply rate it with the stars above ⭐or leave me a comment and rate it below.
Did you make any changes to this recipe?
If you have tips for other readers, let me know! It helps me and other readers so much. Sharing is Caring :-).