Sumac has long been used as a seasoning in Middle Eastern and Mediterranean cuisine (most notably as a key ingredients in za'atar) and there's good reason that it's gaining increased popularity and is becoming a welcome addition to any spice cupboard.
Just a sprinkle of this Middle Eastern spice instantly improves any dish, making it a delicious and versatile all-you-really-need-just-one-spice that every kitchen and cook should have on hand.
With its clean tasting citrusy flavors and balanced mix of fruity and tart, it adds that essential brightness and zing to grilled chicken or fish, blanched vegetables, or rice. It's superb over salads, tomatoes, cucumbers even raw onions (let us not forget, popcorn!) It is a virtuous spice for those evenings when you are feeling especially lazy or a little uninspired — you can kick up your feet and relax knowing that you can rely on a spice like this to pep up a quick and simple meal.
Added bonus: Sumac also has a number of health benefits — it is full of vitamin C and omega 3 fatty acids, it has antimicrobial and antioxidant properties and is known to help with indigestion.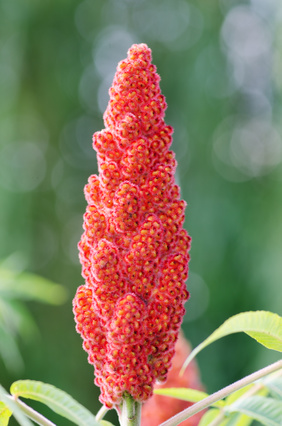 And it might be surprising to learn that this dry red powder isn't actually a true spice — it's actually harvested from the fruit of the sumac flower, which when ripe is dried and sold intact or is ground to the coarse deep red powder we know as sumac. You can even find it yourself if you are tromping along through the woods from early spring until late fall, but take heed, it's a close relative to poison ivy and poison oak. So foragers beware. But, let I say, also unnecessary since this spice isn't as hard to come by as you might think.
Where to Find Sumac:
You can find sumac in over-priced gourmet shops, but you are better off popping into your local Middle Eastern, Turkish, or Greek market, that where I get mine. But if all else fails it can comfortably be ordered online from a number of spice shops…even Amazon.
How to Use It:
The most basic use for sumac is to simply dust it on top of whatever you are making — whether it be fresh greens, a feta, tomato and cucumber salad, grilled halloumi or pita bread. Or keep dinner light and fresh by creating a sumac-infused yogurt dressing and serve it tossed with your favorite greens, a sweet apple and a little chopped fennel or kohlrabi:
Sumac-infused Yogurt Dressing
Yields enough dressing for a 4-6 person salad
INGREDIENTS:
1 cup natural yogurt
juice and zest of 1 organic lemon
1 clove garlic, minced
2 tablespoons fresh mint, finely chopped
1/2 teaspoon ground sumac, plus more for garnish
METHOD:
Whisk together the following in a small bowl. Toss with your choice of greens, sprinkle with sumac and serve.
How to Substitute it:
It just may be that there is no perfect substitute for the complex sour lemony taste of sumac, it's more about balanced tartness rather than pure lemon acidity.
It works well in lieu of lemon, but if you're following a recipe that calls for sumac and you're in a fix, I would try:
a) a little lime juice
b) ground black pepper with lemon zest
c) fresh lemon juice with a dash of paprika
Looking for other recipes with sumac?
Or take a look in my Archive!