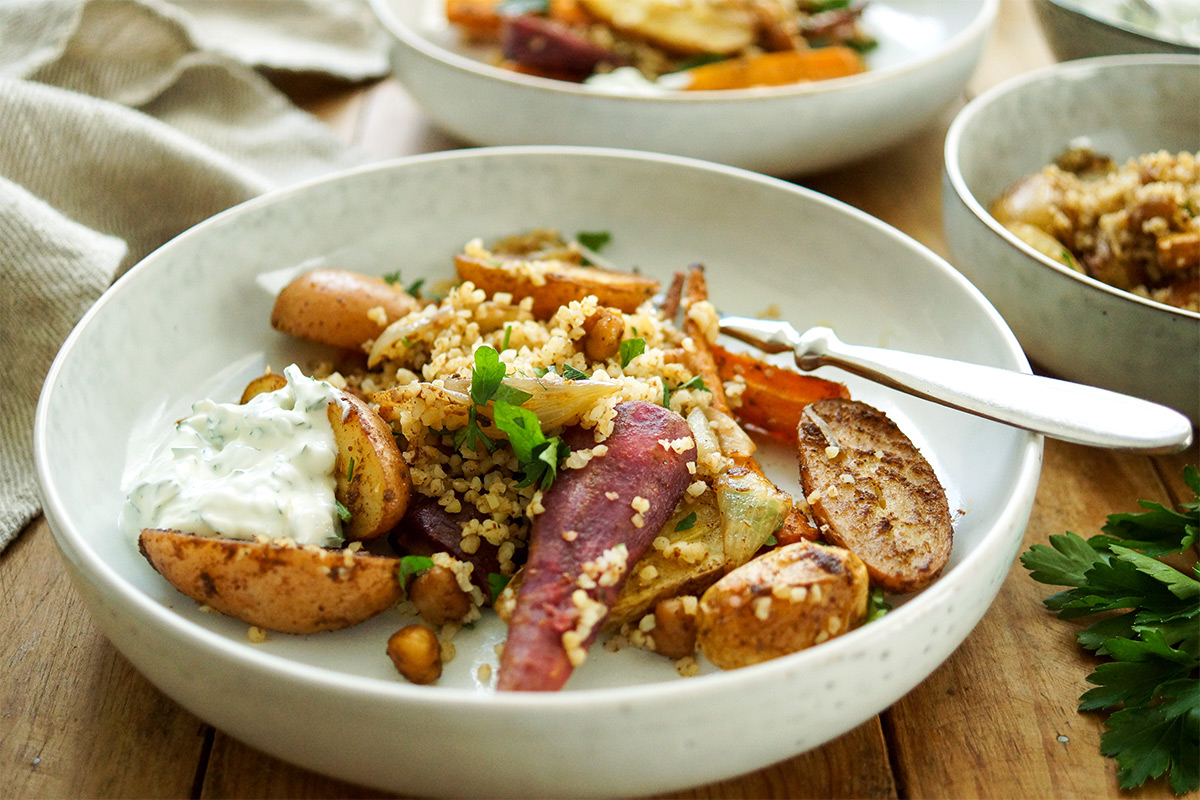 With winter around the corner I am always looking for new ways to enjoy vegetables. And being a fan of roasted anything, I wanted to add a little more pep to standard roasted veggies, which is why I came up with this recipe for Moroccan spiced roast carrots, potatoes and chickpeas. And because this is a recipe for Moroccan-spiced roast vegetables, it naturally calls for mix of spices — six to be exact.
Spice mix for this Moroccan-Spiced Roast Vegetables recipe
There's CUMIN (love it), CINNAMON (cause believe it or not, it goes great with vegetables), PAPRIKA (it's my choice over the vegetable itself), ground CORIANDER (what's not to love?), and SUMAC (one of my favorites because I love all things lemony) and ALLSPICE. So take that, some vegetables, roast it all together and serve it bulgur and a lemony herb yogurt sauce and you have a tasty vegetarian meal to satisfy you even in the coldest of winter nights.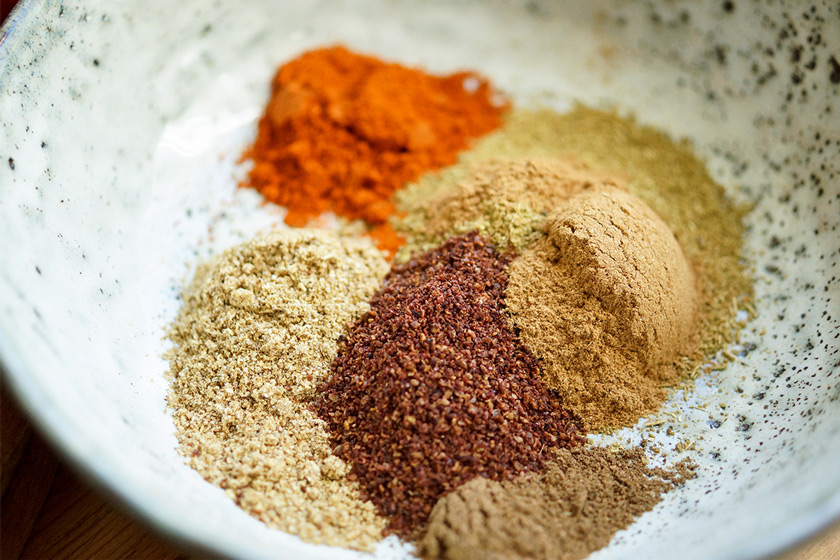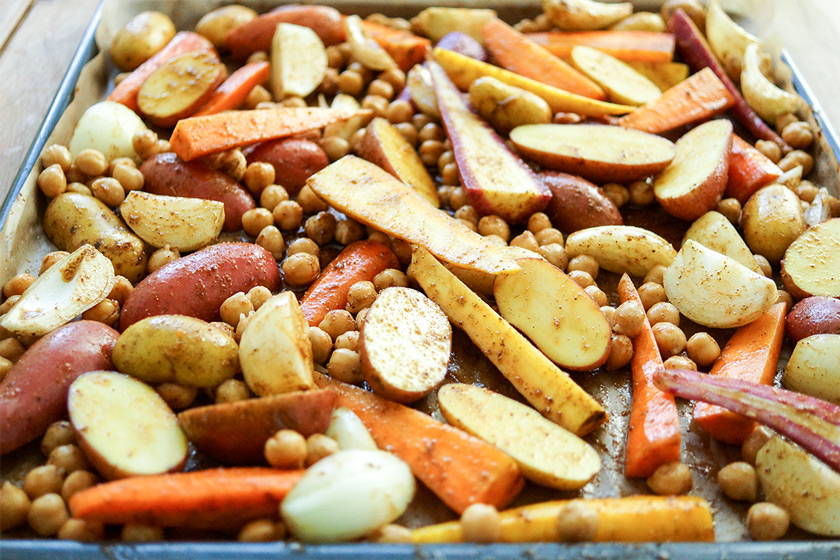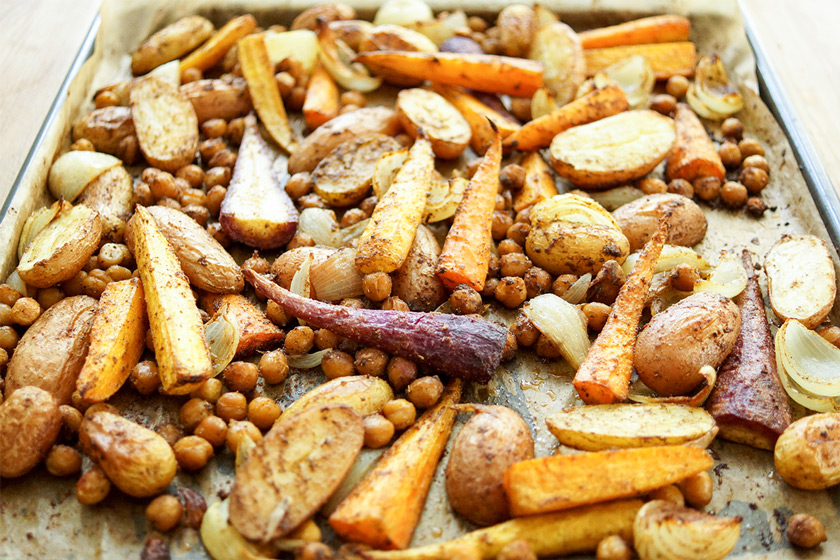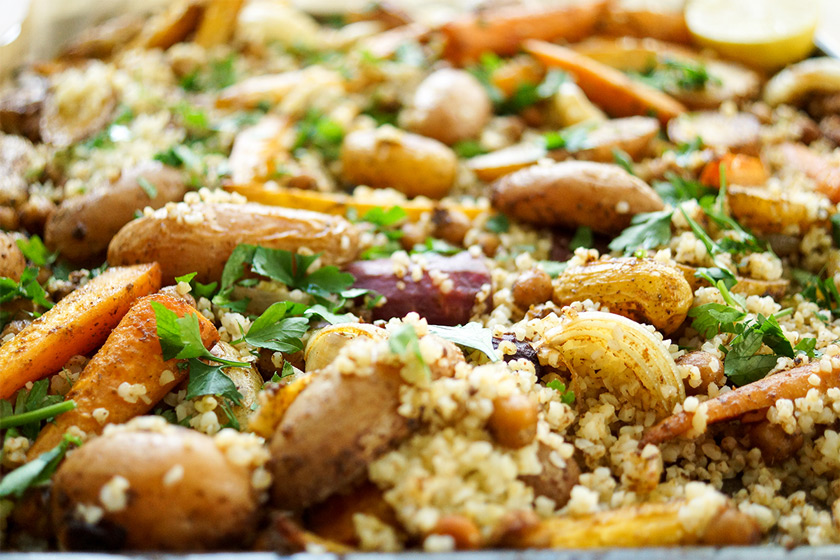 Cold potatoes have benefits
In case you are thinking about enjoying this Moroccan-spiced roast carrots, potatoes and chickpeas recipe cold (aka as leftovers), well there's a pretty cool fact about cold potatoes that might get you grooving on things like potato salads. I mean weight loss cool. Let me explain. Well, when potatoes are cooked and then left to cool down, they form a firm texture, which is due to the resistant starch forming. And what happens when you eat resistant starch, is that makes you feel fuller for longer than when you eat hot potatoes. So you're not going to get hit with that hunger attack a little later. So yay to potato salads, right? But there's more…↓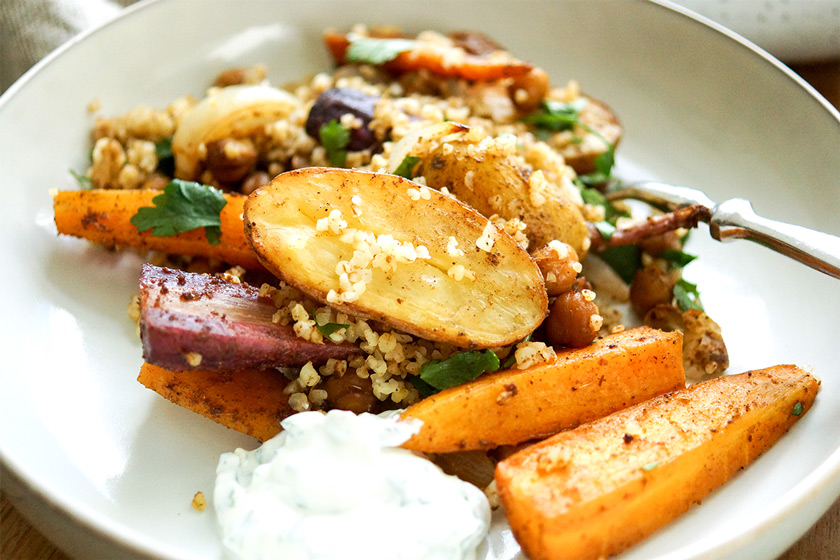 Resistant starch is also known as a prebiotic
In a nutshell, prebiotics are a type of fiber that act as a fertilizer for the good bacteria in your gut. And the more efficiently the live bacteria work, the healthier your gut will be. And that bacteria, known as the microbiome, is what regulates our weight and mood. AND it also signals to our body to eat what it needs. Which why it is so important that it is in balance. If not, it we can feel cravings and our metabolism can be affected (not to mention, those bad mood signals! — hello second brain). This is why feeding the your body — and the good bacteria — the right stuff is so important. So go ahead and enjoy this recipe when it cools down to room temperature. Not only is it delicious, but it will keep your cravings under control and make you feel happier too. 🙂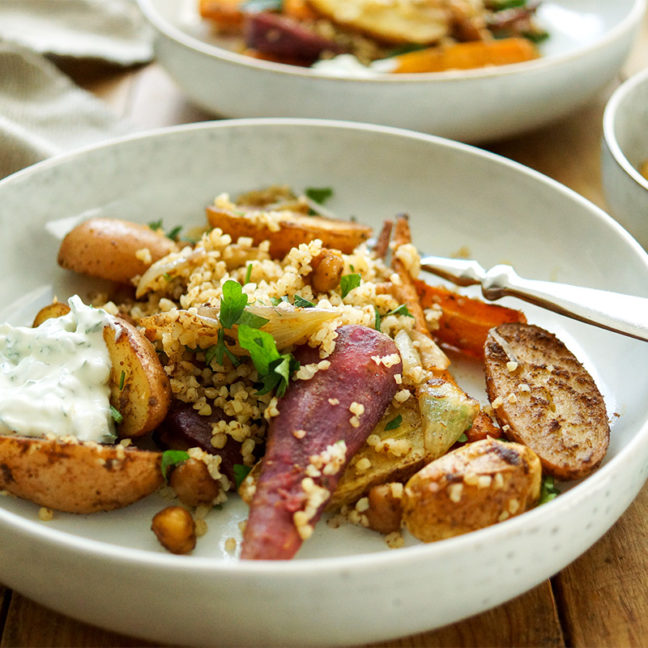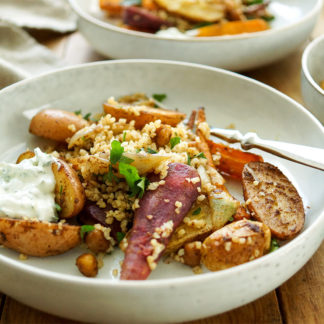 Moroccan Spiced Roast Carrots, Potatoes and Chickpeas with Bulgur
A simple recipe for Moroccan spiced roast carrots, potatoes and chickpeas with bulgur and herbed yogurt. Makes a delicious and seasonal side dish for Christmas dinner. Naturally vegetarian and gluten-free. Easily made vegan-friendly.
Ingredients
For the spice mix:
1

tablespoon

ground cumin

1

teaspoon

cinnamon

1

teaspoon

paprika

(sweet)

1

teaspoon

ground coriander

1

teaspoon

sumac,

see tips below

1/4

teaspoon

allspice

4

tablespoons

extra-virgin olive oil

2

tablespoon

red wine vinegar

sea salt and pepper,

to taste
For the vegetables:
500

g

carrots,

peeled and chopped into chunks (about 3 large)

4

small yellow onions,

peeled and quartered

500

g

new potatoes,

scrubbed and cut in half lengthwise (or quartered, depending on size)

1

x 400 g can

organic chickpeas,

rinsed and drained

fresh flat-leaf parsley or cilantro,

to garnish

1/2

cup

dry bulgur

(100 g)
For the yogurt sauce:
300

g

Greek yogurt

2

teaspoons

finely grated lemon zest,

from an organic lemon

2

tablespoons

freshly squeezed lemon juice

2

handfuls fresh mint or flat-leaf parsley

(I use a mix), finely chopped

sea salt and freshly ground black pepper,

to taste
Method
Preheat oven to 400˚F / 200˚C and line a baking sheet with parchment paper.

In a small bowl, mix together the spice mix.

Spread out the carrots, potato, onions and chickpeas on a baking tray lined with parchment paper.

Pour the oily spice mix over the tray of vegetables. Mix well with your hands to coat the vegetables evenly, then spread them out as evenly as possible.

Roast for 30 minutes, remove from the oven and flip/stir all the vegetables around and return to the oven and roast for 20-25 more minutes.

Meanwhile prepare the bulgur (according to package instructions). Cook in a 2:1 ratio water to bulgur. Bring it to a boil. Cover, reduce heat, and simmer for 10 minutes or until tender. Drain, if necessary. Cover and set aside.

While the bulgur cooks, mix together the yogurt, lemon zest, lemon juice and fresh herbs in a small bowl. Season with salt and pepper and set aside.

Remove the baking sheet with the roast carrots, potatoes and chickpeas from the oven and let cool for a couple minutes. Add the cooked bulgur and toss to combine. Sprinkle over a good squeeze of lemon juice (plus a drizzle of olive oil, if desired) and garnish with parsley.

Divide into bowls and serve with an extra wedge of lemon and the yogurt sauce. Enjoy!
Notes
If you don't have sumac on hand then it can be omitted. I use it in this recipe to add a a subtle lemony tang to the roasted vegetables. It's less tart than lemons and has a more balanced flavor, which makes it also great for adding to dressings or sprinkling on salads. It can be found in Middle Eastern shops, specialty spice shops or online. Otherwise, you can substitute sumac with a little finely grated lemon zest and a pinch of salt.
If you like a light touch of spiciness with your vegetables, then feel free to add 1/8 teaspoon cayenne pepper to the spice mix.
For a vegan-friendly version of this Moroccan Spiced Roast Carrots, Potatoes and Chickpeas recipe, omit the yogurt sauce and instead serve it with a side of hummus or baba ganoush.
Did you try this recipe?
Then tag @ellerepublic on Instagram and hashtag it #ellerepublic
How did you like it?
Please let me know how this Moroccan-Spiced Roast Vegetables and Chickpeas with Bulgur recipe turned out for you! I would love to hear how you liked it. Simply rate it with the stars above ⭐or leave me a comment and rate it below.
Did you make any changes to this recipe?
If you have tips for other readers, let me know! It helps me and other readers so much. Sharing is Caring :-).
This post contains affiliate links. If you decide to make a purchase through my link, Amazon will pay me a commission for it. This doesn't cost you anything additional and the price remains the same. More about advertisements on Elle Republic.