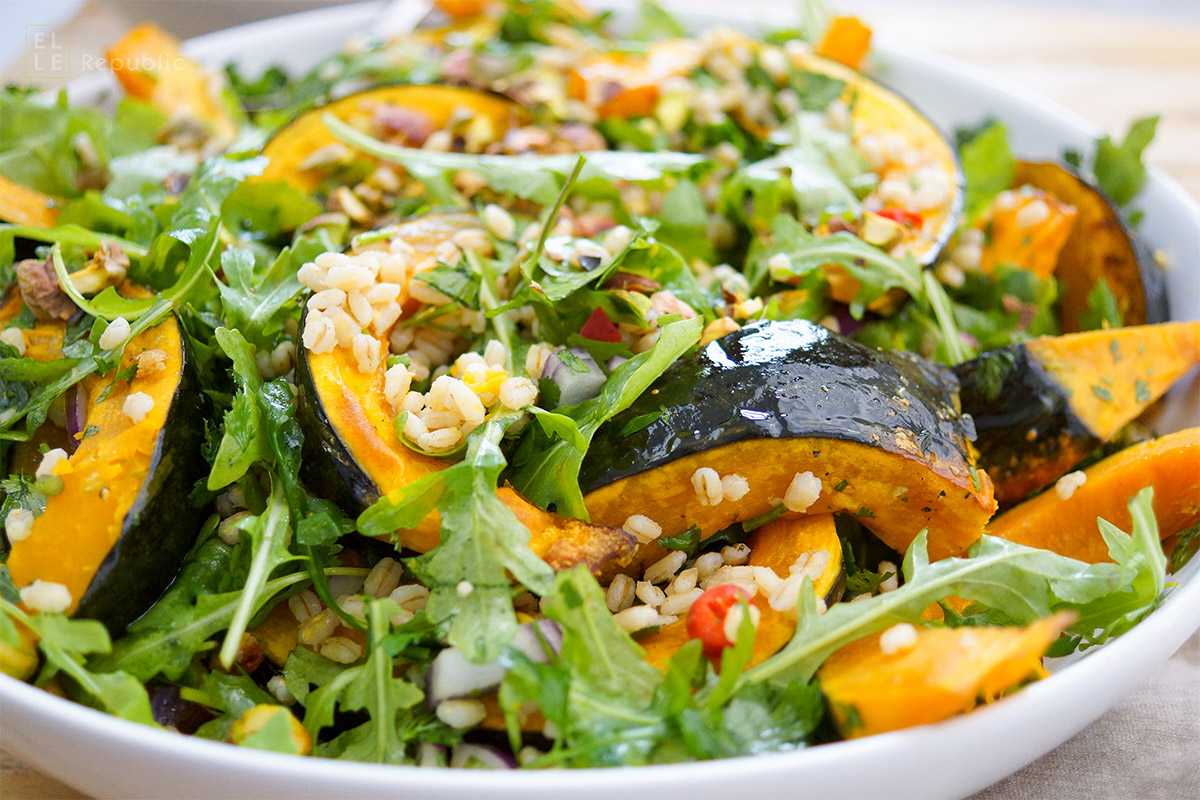 This roasted hokkaido pumpkin and barley salad is proof that fall has definitely arrived! Which means I have moved on from light summery salads to more substantial ones; salads made from seasonal vegetables like pumpkins, root vegetables, and my favorite… kale. Despite the arrival of autumn, I have yet to reach the soup state. Right now it's all about autumn salads with roasted vegetables.
Life without salad, can you imagine?
Whenever anyone asks me what my favorite food is, my answer remains to be "salad". Which leads me to back to a discussion I had years ago with my cousin…exactly about this. Okay, discussion would be putting it lightly. In her opinion, if mankind could, hypothetically, only live on one food type, it would be bread. Second runner-up, pasta. Both most definitely bread. For me, it's definitely salad, or rather vegetables. So in the end I was wrong, that's not possible, no one on earth would deliberately choose salad (or god forbid vegetables for that matter), I must be saying that for the sake of diagreeing. Nope. I disagreed wholeheartily. I love salads. So that's why I am sharing with you yet another one of my favorite salads for autumn: a delicious roasted hokkaido pumpkin and barley salad!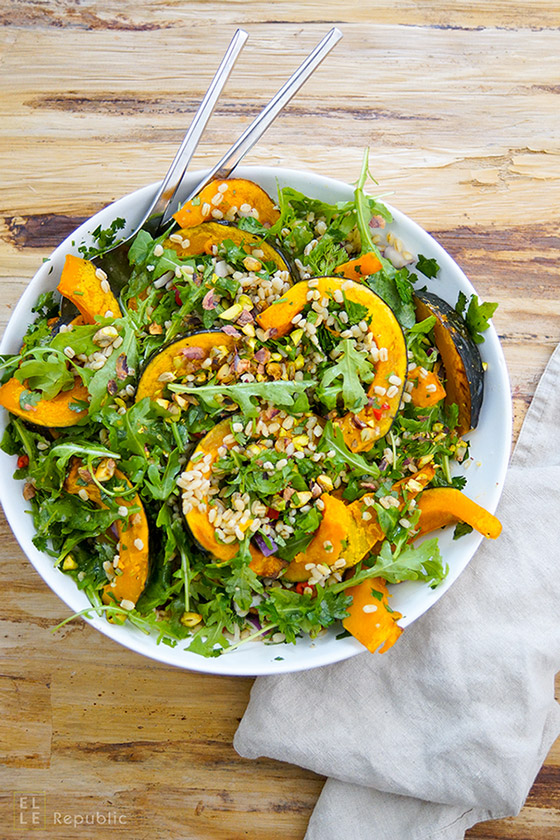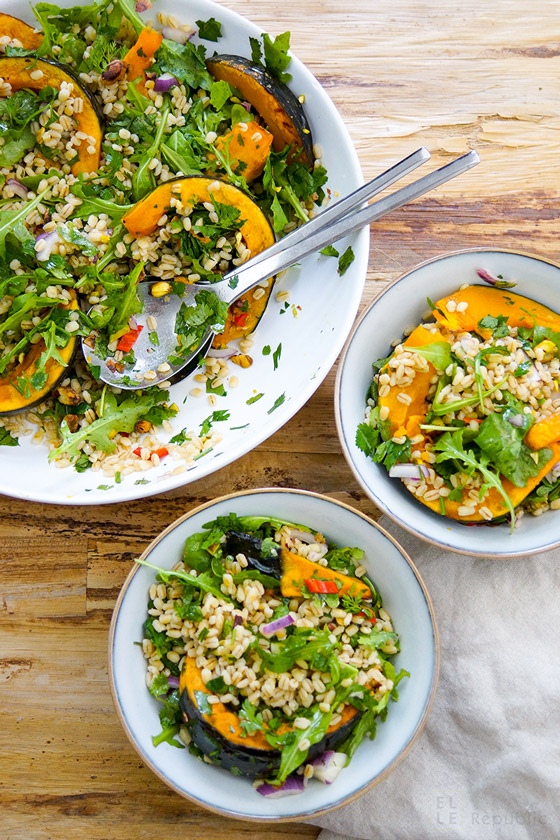 Roasted hokkaido pumpkin and barley salad – a hearty salad full of nutrients
This autumn salad is loaded up with lots of good-for-you ingredients. Consider this salad a powerhouse multi-vitamin. Besides delivering a fair share of fiber, it's loaded with lots of essential vitamins (in particular vitamin A and vitamin C) plus so many other nutrients that are simply good for our body — especially as we move into cold and flu season. Besides hokkaido pumkin and barley, this salad is loaded up with a fair share of greens (baby arugula, cilantro and parsley), plus a little fresh chili and sweet red onion, all tossed in a lemony-cumin-coriander dressing which is then topped off with pistachio nuts for a little extra crunch, heart-healthy fats, and protein. Yes, it is possible to eat delicious, comforting food and be healthy at the same time!
Hokkaido pumpkin are easy and quick to prepare
One of the benefits of cooking with hokkaido pumpkin (also called ambercup squash or kuri squash) is that you can eat the skin (often orange, but sometimes green), so you don't need to peel it. Which is why it is a good reason to make sure you buy it organic. Besides being orange or green, you'll find it in a variety of sizes; I recommend nothing bigger than 1 kg for this recipe, unless of course you want to enjoy even more of this pumpkin's sweet, rich, nutty flavor — which, by the way, I think somewhat resembles chestnuts. Delicious.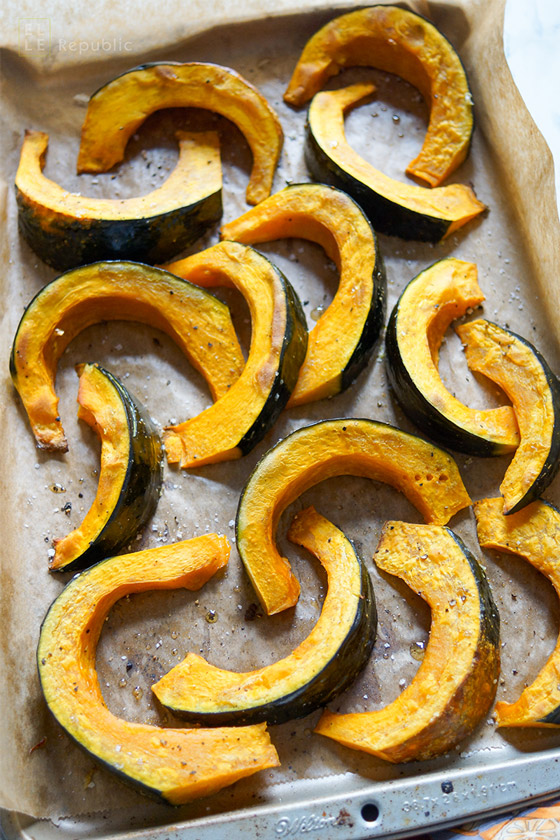 Barley makes this fall salad hearty and substantial enough to serve as a main
I used pearl barley for this recipe since it is quicker to prepare, but feel free to use hulled barley if you want to take advantage of the extra nutritious whole grain form. It takes about an hour longer to cook, so pre-soaking is a good idea to reduce the overall preparation time. And you can expect it to be a little firmer in texture and nuttier in taste, and of course it is much richer in nutrients. If you choose to use it, just keep in mind that you will need to adjust this recipe's cooking overall time.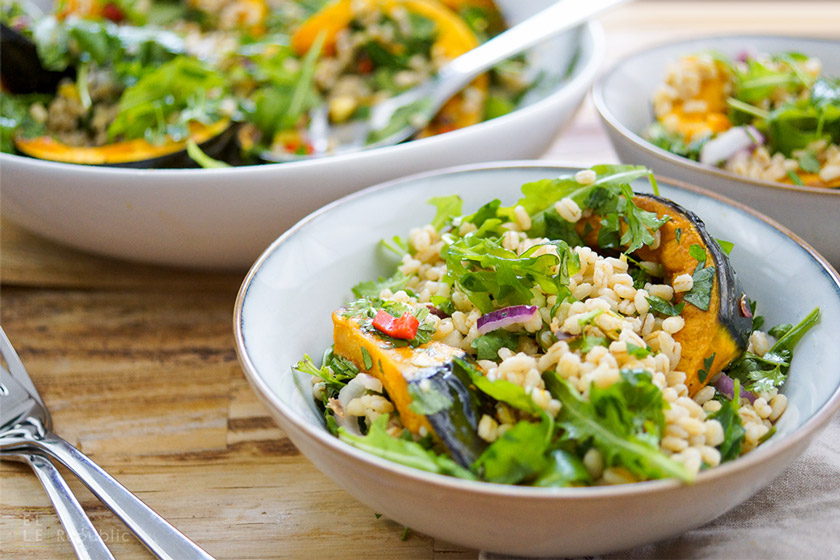 Oven-roasted hokkaido pumpkin makes a knockout veggie dish
The fantastic thing about roasted pumpkin is that it is a comfort food in itself, which makes it the perfect accompaniment to Christmas or any other festive dinner as a meatless dish for vegans or vegetarians. Also, if you want make it even more festive, feel free to throw in a handful of chopped dried cranberries. Yum!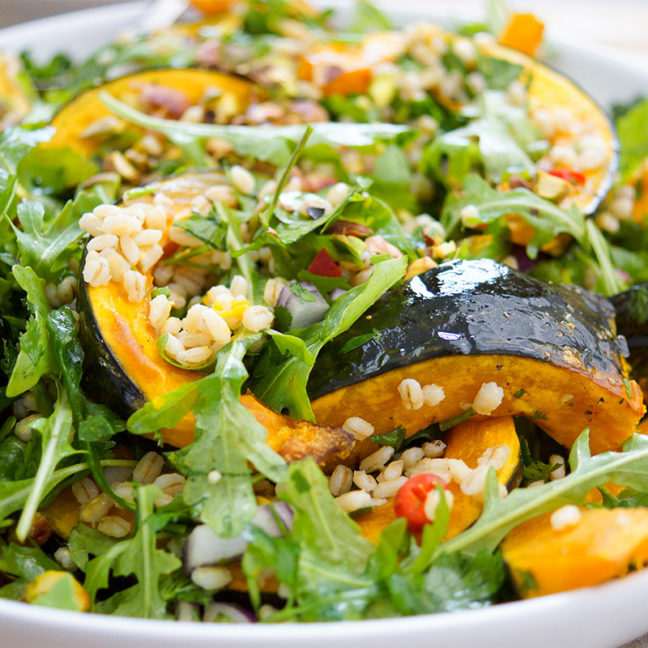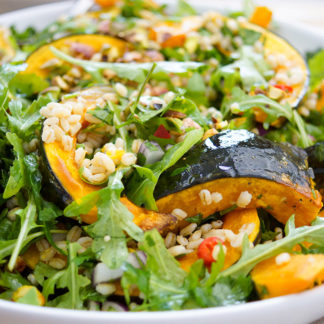 Roasted Hokkaido Pumpkin and Barley Salad
A warm and comforting autumn salad with roasted hokkaido pumpkin and barley. A tasty recipe that is substantial enough to serve as a vegetarian lunch or dinner, or as a side for your next festive holiday dinner.
Ingredients
1 1/2

cup

dried pearl barley

(300 g)

1

small organic hokkaido pumpkin,

max. 1 kg, unpeeled cut into wedges

sea salt and freshly ground pepper

4

tablespoons

extra-virgin olive oil,

plus more

4

tablespoons

freshly squeezed lemon juice

1

teaspoon

ground cumin

1/2

teaspoon

ground coriander

1-2

cloves

garlic,

minced

2

generous handfuls baby arugula

1

small bunch fresh cilantro,

chopped

1

small bunch fresh parsley,

chopped

1

medium red onion,

chopped

1

fresh red chili,

seeded and finely chopped

1/4

cup

shelled pistachios,

chopped (25 g)

crumbled feta,

as garnish (optional)
Method
Cook the barley according to package instructions; for about 30 minutes, until the barley is al dente. If liquid remains, drain the barley in a colander (or use the lid of the pot to strain off any excess moisture). Let stand for 15 minutes, then set aside to further cool.

Meanwhile, preheat oven to 425°F / 220°C. Line a baking sheet with parchment paper.

Lightly coat the pumpkin with olive oil; season with salt and pepper. Roast in the oven for 30 minutes or until the pumpkin is tender.

In small bowl, whisk together the olive oil, lemon juice, cumin, coriander and garlic.

Add the barley to a large serving bowl, along with the arugula, herbs, red onion, and fresh chili. Pour over the dressing and toss until well combined.

Add the roasted pumpkin wedges and gently toss again. Garnish with the pistachios (and feta if using). Serve and enjoy!
Notes
You can prepare the salad while barley is still slightly warm or wait until it has fully cooked to room temperature. 
Did you try this recipe?
Then tag @ellerepublic on Instagram and hashtag it #ellerepublic
How did you like it?
Please let me know how this Roasted Hokkaido Pumpkin and Barley Salad recipe turned out for you! I would love to hear how you liked it. Simply rate it with the stars above ⭐or leave me a comment and rate it below.
Did you make any changes to this recipe?
If you have tips for other readers, let me know! It helps me and other readers so much. Sharing is Caring :-).