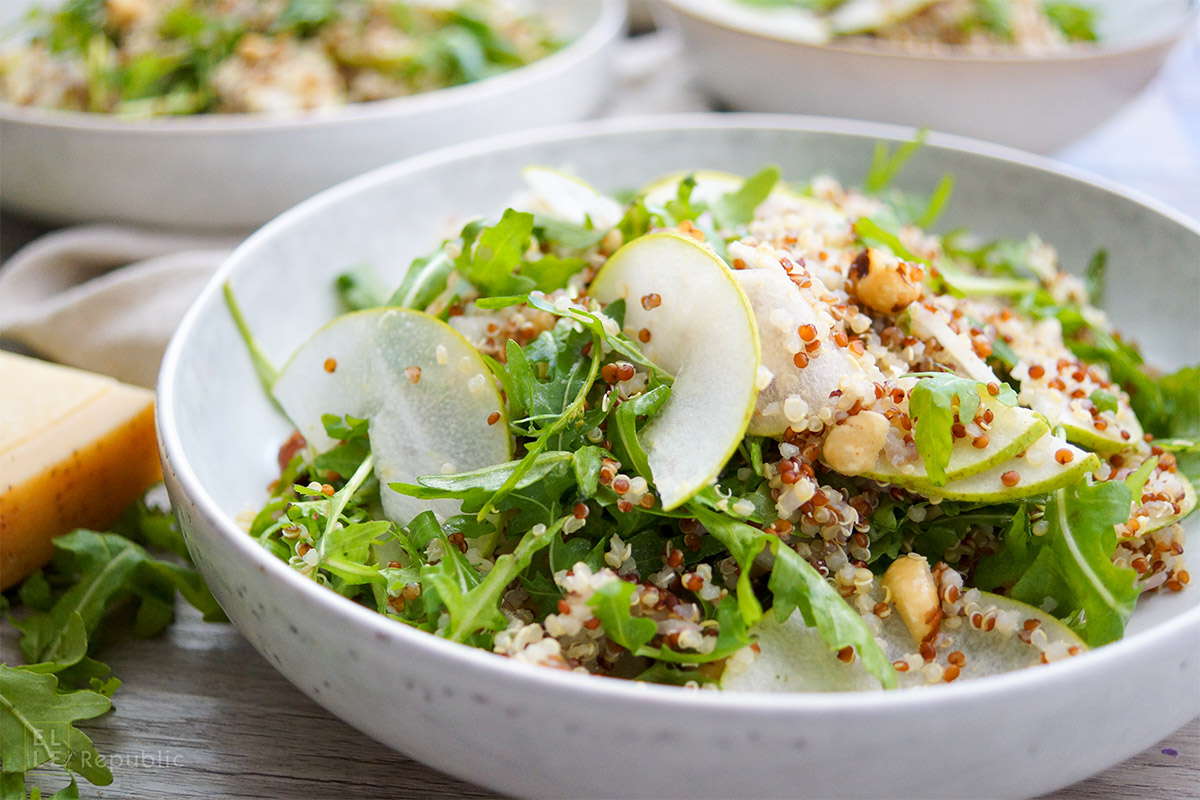 Light and healthy this pear quinoa salad with arugula and roasted hazelnuts is not like your ordinary bunny food. Yes, of course it's a salad, but it's a salad that's packed with nutrient-dense, plant-based protein. Yes, we can thank quinoa's super abilities as a complete protein for that. Plus there's some hazelnuts in the mix for an extra boost. Together with fresh fall produce — pears to be exact — and let's no forget about arugula. What's a salad without just a little bit of green? Okay, that would be the bunny part.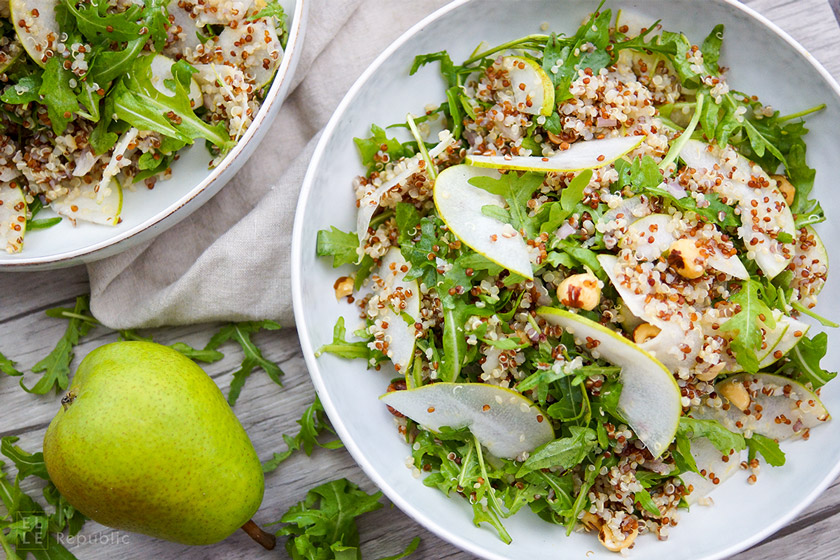 Yes, there is nothing better than being able to incorporate fresh seasonal produce into a wonderfully tasty and healthy vegetarian dinner or lunch. Late summer and early fall are the time for us to take advantage of home-grown pears. Pears are fantastic baked, but they also taste great raw and are so much more than just a grab and go snack.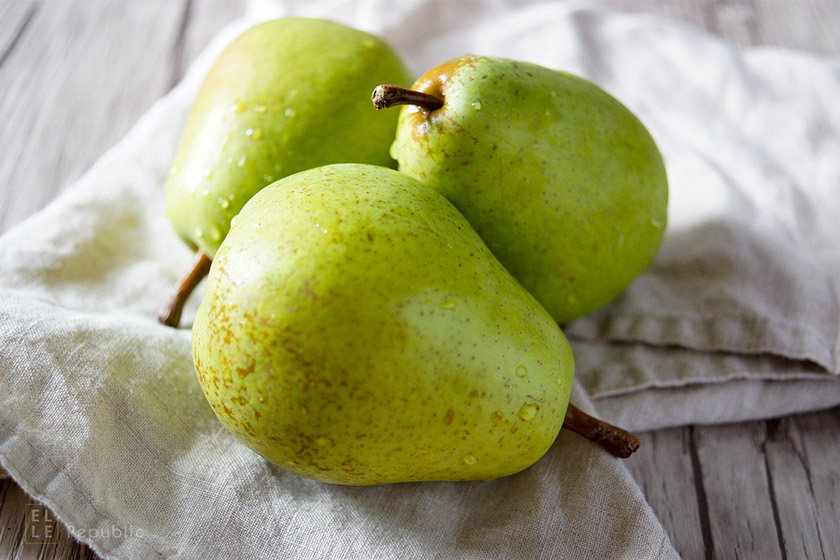 Choosing the right pear
For this pear quinoa salad recipe I used Williams pears (also called Bartlett). They are often sold when they are still green and just like bananas, become more yellow as they ripen. They are my choice over other pear varieties as they have a nice smooth texture, which I think is perfect for salad or snacking. And funnily enough, I prefer my Williams still a little on the green side (as I do bananas!).
But if you are like most people and are all for enjoying the juiciest sweetest pears let them ripen until they become more yellow in color. A good check, since it sometimes isn't always so obvious is to gently squeeze the pear in the area around the stem. It shouldn't be rock hard, but rather give a little. And if you want to speed up the ripening process just put them in a bowl with other ripening fruits or store them in a paper bag. Just don't wait too long, mushy pears bruise easy and can't be sliced with a mandolin!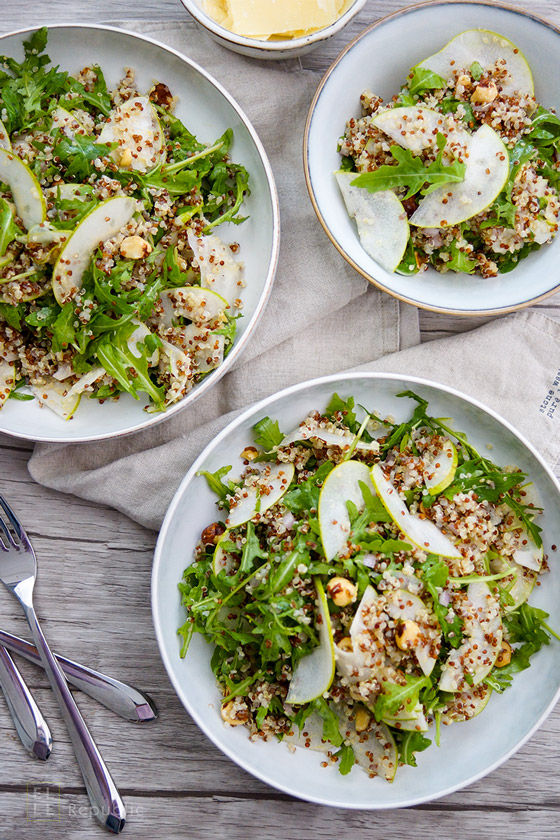 Pear quinoa salad for cheese lovers
For anyone who loves cheese, especially aged cheese, I recommend garnishing this salad with parmesan (Parmigiano-Reggiano). It adds an umami effect and delicious depth of flavor to this pear quinoa salad without adding a lot of extra salt. Alternatively you can sub it out for your favorite cheese. Stilton blue cheese, goat cheese or Greek feta are great choices that of pair well with pears.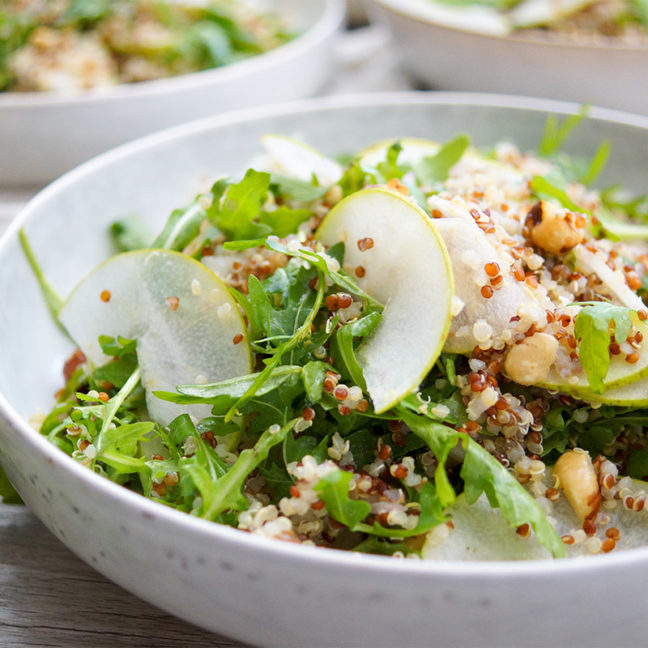 Pear Quinoa Salad with Arugula & Roasted Hazelnuts
A simple tasty recipe for Pear Quinoa Salad with Arugula and Roasted Hazelnuts. Naturally gluten-free, this also makes a great vegetarian main or side salad. Pears and cheese love each other, so go ahead and garnish with your favorite cheese for even more delicious depth of flavor.
Ingredients
For the salad:
1 1/4

cup

dried quinoa,

rinsed (250 g) (red, white or mixed quinoa)

2

small ripe but firm pears,

halved, cored and thinly sliced using a mandolin

2-3

generous handfuls baby arugula

1/2

cup

hazelnuts,

roasted and coarsely chopped (65 g)

shaved parmesan cheese,

to garnish (as more or as little as you like)
For the dressing:
4

tablespoons

extra-virgin olive oil

1/4

teaspoon

finely grated orange zest

(from an organic orange)

4

tablespoons

freshly squeezed orange juice

4

teaspoons

apple cider vinegar

1

teaspoon

honey

(or maple syrup)

1

medium shallot,

finely chopped

sea salt and freshly ground black pepper,

to taste
Method
Rinse the uncooked quinoa in a fine mesh strainer. Place in a medium saucepan and cook according to package instructions (this can vary depending on what type of quinoa you use). Once most of the liquid is absorbed and the quinoa is light and fluffy, remove from heat, fluff with a fork, and let stand for another 5 minutes. Transfer the quinoa to a large serving bowl to cool.

TIP: To roast the hazelnuts. I do this in a preheated oven at 350°F / 175°C. Roasting takes about 10 to 15 minutes. To remove the skins, wrap them in a clean dish towel and let sit for 5 minutes, then rub vigorously to remove any loose skins. Voila!

Meanwhile, in a small bowl, whisk together the dressing ingredients until well combined.

Add the sliced pears, arugula and hazelnuts to the bowl with the quinoa. Pour over the dressing and gently toss to combine. Season with additional salt and pepper if desired. Garnish with parmesan and serve. Enjoy!
Did you try this recipe?
Then tag @ellerepublic on Instagram and hashtag it #ellerepublic
How did you like it?
Please let me know how this Pear Quinoa Salad with Arugula and Roasted Hazelnuts recipe turned out for you! I would love to hear how you liked it. Simply rate it with the stars above ⭐or leave me a comment and rate it below.
Did you make any changes to this recipe?
If you have tips for other readers, let me know! It helps me and other readers so much. Sharing is Caring :-).
This post contains affiliate links. If you decide to make a purchase through my link, Amazon will pay me a commission for it. This doesn't cost you anything additional and the price remains the same. More about advertisements on Elle Republic.