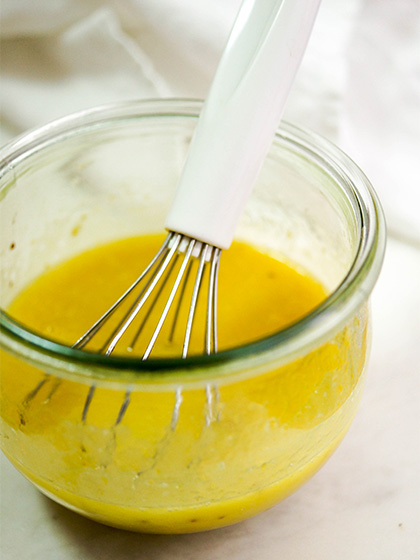 Was 'Caesar salad' invented by or named after Julius Caesar? Or did it originate from the Italian owner's of Caesar's restaurant in Tijuana?
Whatever the true origin, the original recipe included romaine, garlic, croutons, and parmesan cheese, boiled eggs, olive oil and Worcestershire sauce. This caesar salad dressing recipe is a little different, and frankly my favorite, concocted by my great Aunt Ilse and passed along through the family over the years.
The caesar salad you love so much at restaurants is surprisingly easy and quick to make at home. Just toss the dressing with a head of romaine lettuce and top with fresh grated or shaved parmesan. I often make this salad served with homemade croutons as well, actually almost always. But I also love it served with romaine lettuce and radicchio topped with blackened cajun chicken. Yum!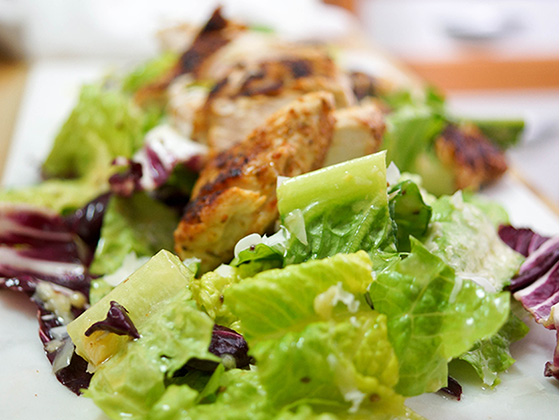 Opting for fresh croutons? No slighty stale bread on hand? No problem. It's not 100% necessary. I more often than not use my favorite rustic loaf of German bread fresh from the baker for my croutons.
All you need to do is prep the bread by cutting it into bite size cubes, place the cubes on a baking tray, season them, bake and then let them cool. Baking croutons, rather than sautéing them in a skillet, which I mostly do, gives you the option to make lots. Just store the extra portions in an air tight container and use over the coming days.
I take an extra step creating my croutons from fresh bread. I partially dry them out in the oven and then season and sauté them in a skillet. This way I get a crispy outer crouton that is still a little chewy and springy on the inside. Just preheat the oven to 375°F / 190°C. Depending on the size of the croutons, bake in a single layer for 3-5 minutes, toss and bake for another few minutes. If I am using slightly stale bread, I skip the oven step and go straight to the skillet. Using a large skillet, sauté the cubes with some olive oil, minced garlic, dried herbs, such as thyme, oregano or an Italian mix and a sprinkle of salt. Sauté, stirring often, until golden brown. So easy and they add so much to a salad, or soup for that matter.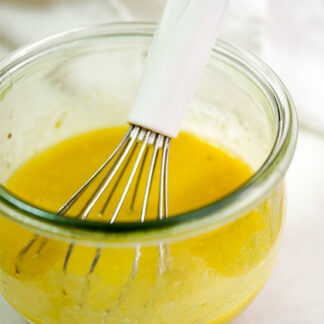 Aunt Ilse's Homemade Caesar Salad Dressing
The original recipe included romaine, garlic, croutons, and parmesan, boiled eggs, and a homemade caesar salad dressing with olive oil and Worcestershire sauce.
Ingredients
2

cloves

garlic,

chopped

6

tablespoons

extra-virgin olive oil

2

tablespoons

good-quality red wine vinegar

1

tablespoon

lemon juice

1

teaspoon

dried mustard

(alternatively grainy dijon mustard can be used)

1/2

teaspoon

sea salt

1/2

teaspoon

Worchestershire sauce

1

raw egg
Method
Add ingredients into a jar, close, and shake to mix.
Did you try this recipe?
Then tag @ellerepublic on Instagram and hashtag it #ellerepublic
How did you like it?
Please let me know how this Aunt Ilse's Homemade Caesar Salad Dressing recipe turned out for you! I would love to hear how you liked it. Simply rate it with the stars above ⭐or leave me a comment and rate it below.
Did you make any changes to this recipe?
If you have tips for other readers, let me know! It helps me and other readers so much. Sharing is Caring :-).