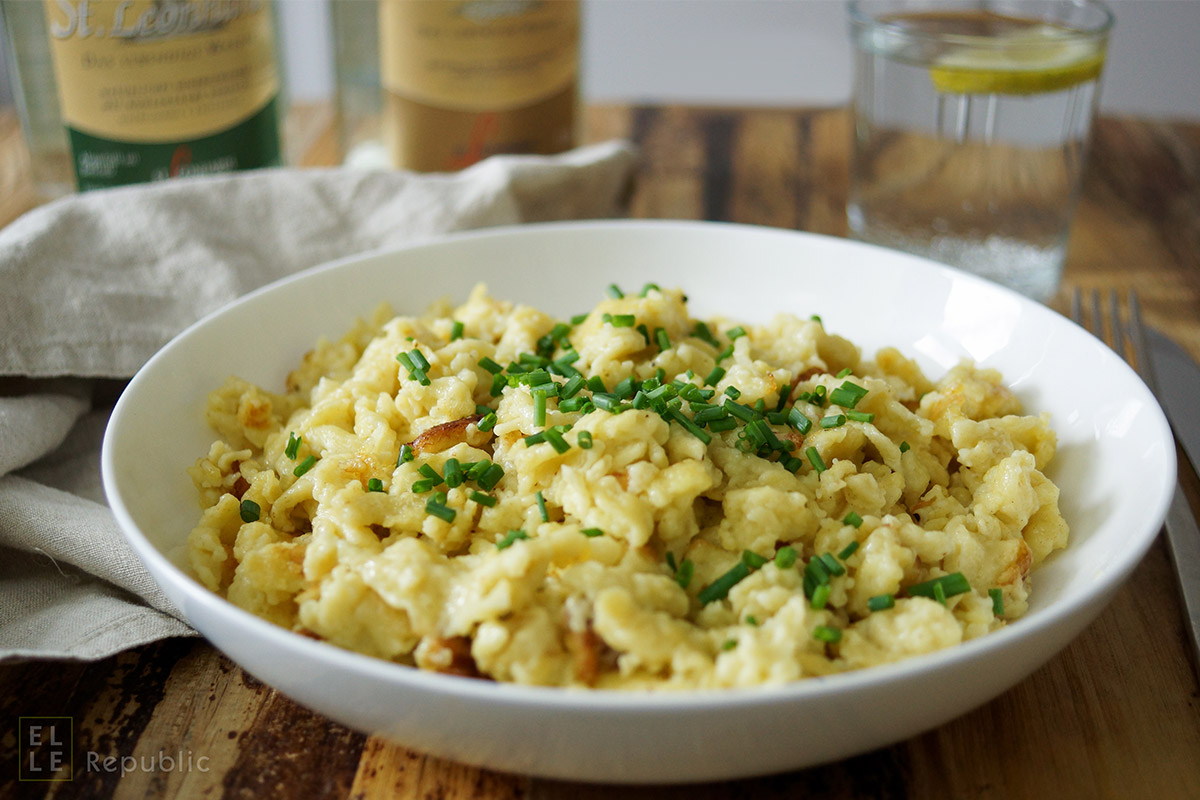 German spaetzle and Christmas markets of two the things my family continues to talk about when they reminisce about all their sightseeing adventures while visiting me in Germany. This special type of egg noodle is a traditional Swabian specialty, that is also makes its way to a whole lot of kitchens in Bavaria and Austria.
Every kitchen has their own special method for this making this hearty, comfort food dish. It's often enjoyed as a simple side with sauces and gravies, but you can also find it in many other variations; from cheese baked spaetzle (käsespätzle) topped with crispy onions, to pure and unadulterated along side a Sunday roast with gravy, to fried till crispy version with onions and fresh herbs, or even in a stew (Gaisburger Marsch). My personal favorite, which is probably not so traditional, is a farmers skillet with eggs and vegetables (and a little sausage which I happened to overlook).
Homemade spaetzle is something I've wanted to make from scratch for AGES! Years, really. Ever since my time in Munich where it was a pretty regular occurrence to buy fresh spaetzle and cook it up with some tasty sauerkraut. Simple fast food. Loved it.
Every household has their own special method
I have to say, a true German spaetzle recipe can be tricky thing to make. Every household has their own special recipe and traditionally, the dough for the noodles is kneaded by hand. For the true Schwaben that is… I used an extra large whisk. And admittedly, I did have a few fails before success. Though, luckily it's not really possible to mess up the taste. It's more about the texture and how to make long versus short noodles. So with an extra bit of practice, I came up with a version that works for me. I choose to use white spelt flour, but I am sure whole wheat would also work well.
Spaetzle made with sparkling water
Of course, I had to get some tips from my favorite Schwabe's mother on how to make my own. I'm not sure if it's traditional, but it's as close to it for a Canadian girl transplanted to Germany. I also chose to make this recipe using sparkling water, which is supposed to create a softer texture by "lightening" up the dough. In fact, I used a very special sparkling water… an absolute favorite… St. Leonard.
What is "living water"?
St. Leonard water is sourced from the deep ground waters of an artesian spring which makes it very special. Why is that? Well, this means that there is no drilling to obtain the water, but rather it comes to the surface all on its own. Meaning it hasn't been manipulated by mechanical or industrial intervention in any way before it's bottled. Which also means, it keeps all its original structure, natural energy, minerals and all the other trace elements that it has collected along the way.
I believe my naturopath, when he says this activated "living water" is better absorbed by the body and better for it. Plus, I can also stand behind the eco-friendly fact that it is only bottled into glass bottles — so there is no risk of contamination from other substances or chemicals into the water. It's absolutely pure — the purest of all sources!
Yes, it may be a shame to boil away all its goodness while making my spaetzle, but I can feel good about enjoying all the health-promoting effects of it while drinking it alongside a tasty plate of homemade spaetzle. So good luck with your first batch of spaeztle and enjoy!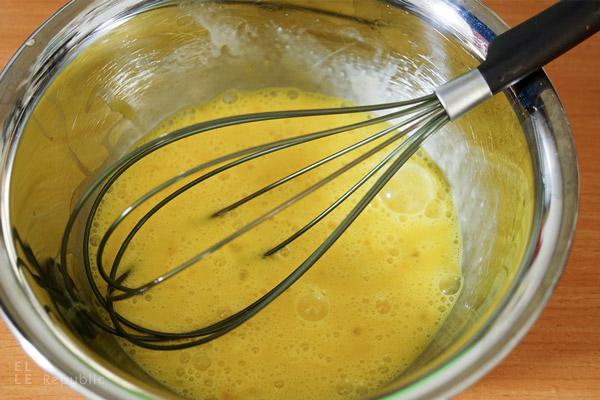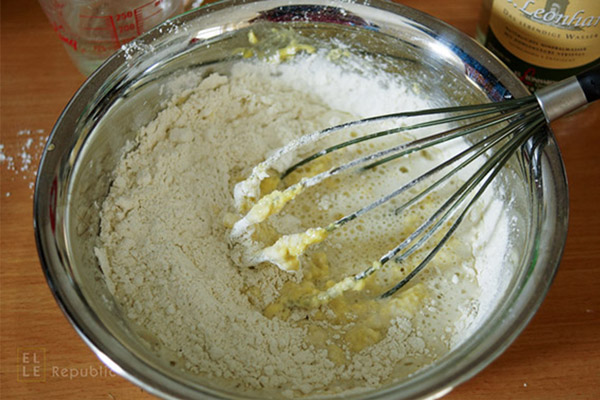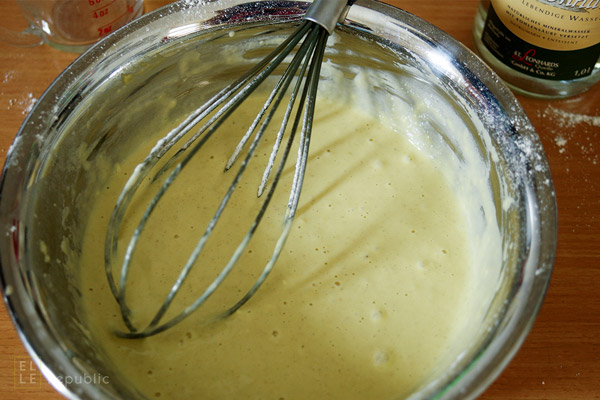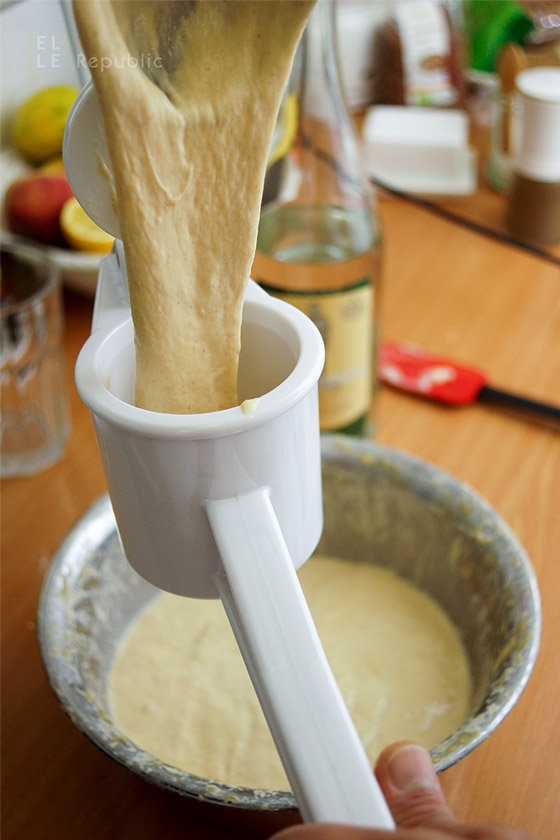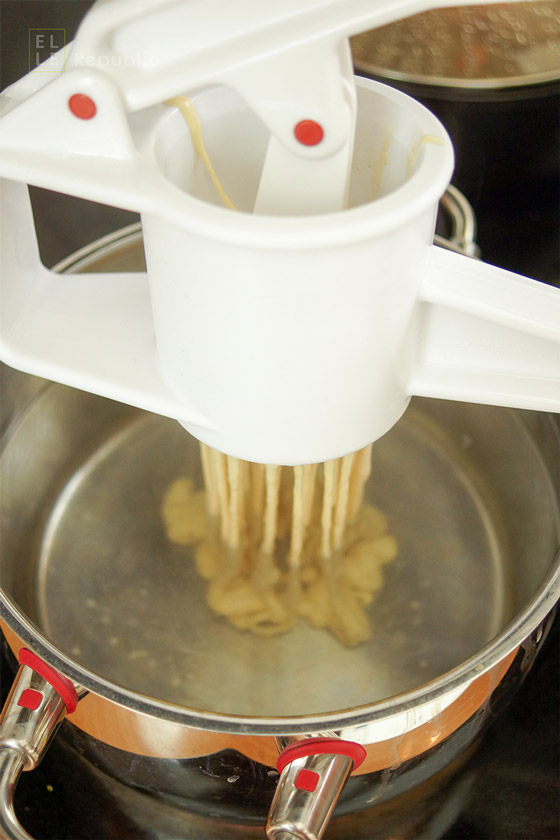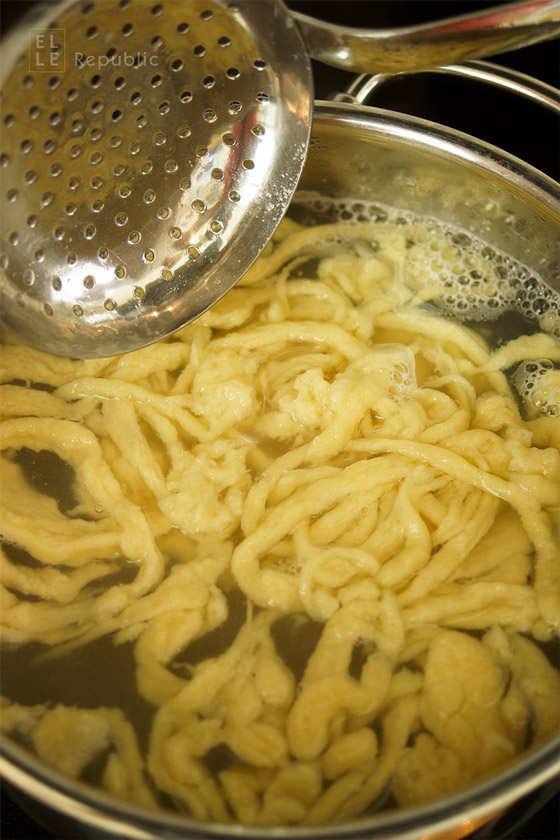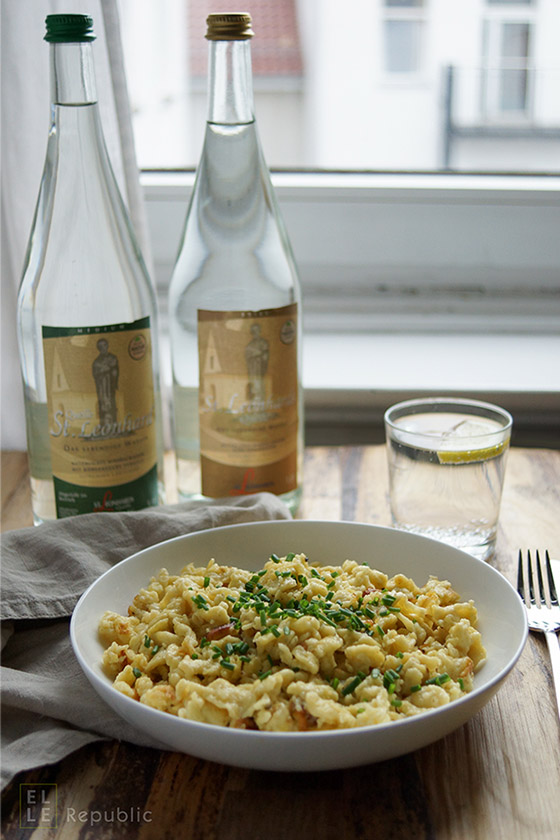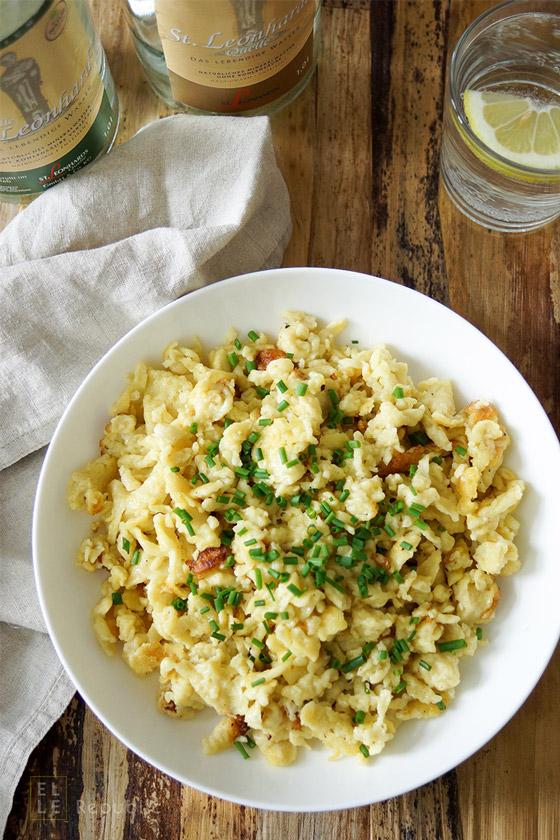 NOTE: To make this recipe, plan enough time to let the dough rest (1 hour, or overnight) as well as to drain once you have made the basic recipe (1 hour). For a little less time pressure, you can also freeze the noodles if you want to do them ahead of time.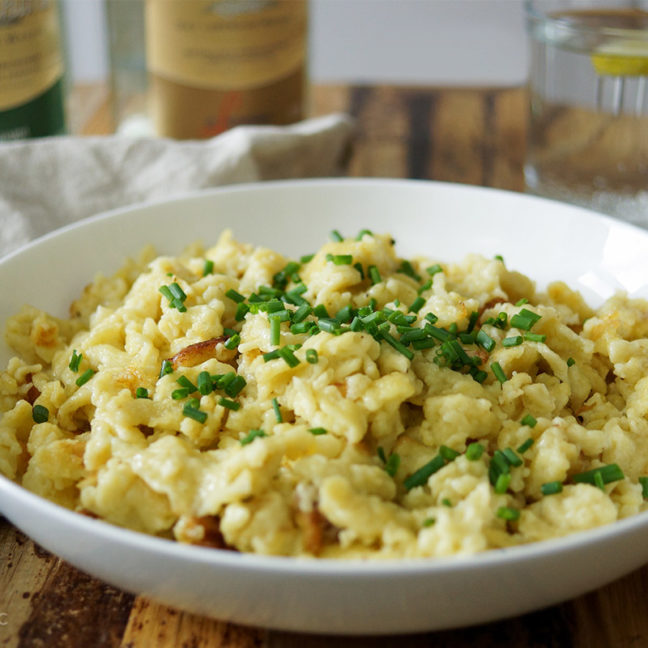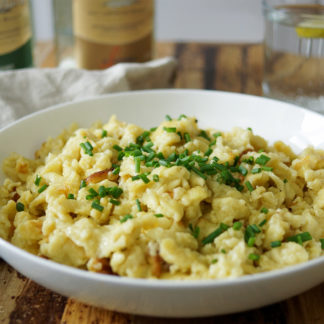 Homemade German Spaetzle
Homemade German Spaetzle - one of Germany's most popular and beloved foods, here is a simple spaetzle recipe for making your own at home.
Total Time
2
hours
10
minutes
Ingredients
To make the spaetzle (egg noodles):
4

large eggs

350

g

white spelt flour

(alternatively use all-purpose flour)

1

cup

sparkling mineral water

(250 ml)

1/2

teaspoon

sea salt

pinch

nutmeg,

optional
To serve:
2

tablespoons

butter

2

tablespoons

extra-virgin olive oil

sea salt and freshly ground pepper,

to taste

freshly chopped chives or parsley,

to garnish
Method
Using a large whisk, lightly beat together the eggs in a mixing bowl. Add the flour, sparkling water, salt and nutmeg. Whisk together until well combined; the batter should be a smooth paste with some air bubbles. Cover and refrigerate the batter for 1 hour (or overnight).

Bring a large pot of lightly salted water to a boil, then reduce to a simmer.

NOTE: It is important that the water be simmering rather than a rolling boil when cooking the spaetzle.

Place the batter in a spaetzle press (maximum 2/3 full); hold and press over the pot so the batter drops into the simmering water.

TIP: The length of the noodles can be controlled by up and down movements of the press. If you want long noodles slowly move in a circular motion while pressing, or put on the press right on the edge of the pot and press completely with uniform speed. If you want shorter spaetzle, move repeatedly upwards, while pressing the spaetzle, so that the dough strands break.

Cook the spaetzle in small batches until they float to the surface; about 2 minutes (when they float to the top they are cooked). Use a slotted spoon (schaumlöffel) to remove the cooked spaetzle, then shock it briefly in a large bowl of ice cold water (this helps them firm up). Transfer to a colander to drain. Repeat with the remaining dough, letting the water return to a simmer between batches and adding more boiling water if needed.

Once the entire batch is finished, let stand in the colander for 10 minutes, and then spread the spaetzle onto a baking sheet to dry further. Let the spaetzle sit for at least 1 hour.

NOTE: Some cooks prefer to leave the noodles in the colander to fully drain.

In a large heavy-bottomed skillet, heat 1 tablespoon butter and 1 tablespoon olive oil over medium-high heat. Add half of the spaetzle in an even layer. Cook, undisturbed, until golden brown on the bottom, about 5 minutes. Shake the pan and loosen the spaetzle with a spatula; continue cooking until heated through, about 2-3 more minutes. Season with salt and pepper. Repeat with the remaining butter, oil and spaetzle. Garnish with chives and serve.
Notes
When placing the spaetzle in the ice water, don't wait until all the noodles are done before transferring to the colander to drain. You don't want them waterlogged!
Of course, everyone has their own method — some cooks skip the ice bath as they want the noodles to be more sticky to soak up the sauce. Others just toss them in a little oil. Up to you!
Did you try this recipe?
Then tag @ellerepublic on Instagram and hashtag it #ellerepublic
How did you like it?
Please let me know how this Homemade German Spaetzle recipe turned out for you! I would love to hear how you liked it. Simply rate it with the stars above ⭐or leave me a comment and rate it below.
Did you make any changes to this recipe?
If you have tips for other readers, let me know! It helps me and other readers so much. Sharing is Caring :-).