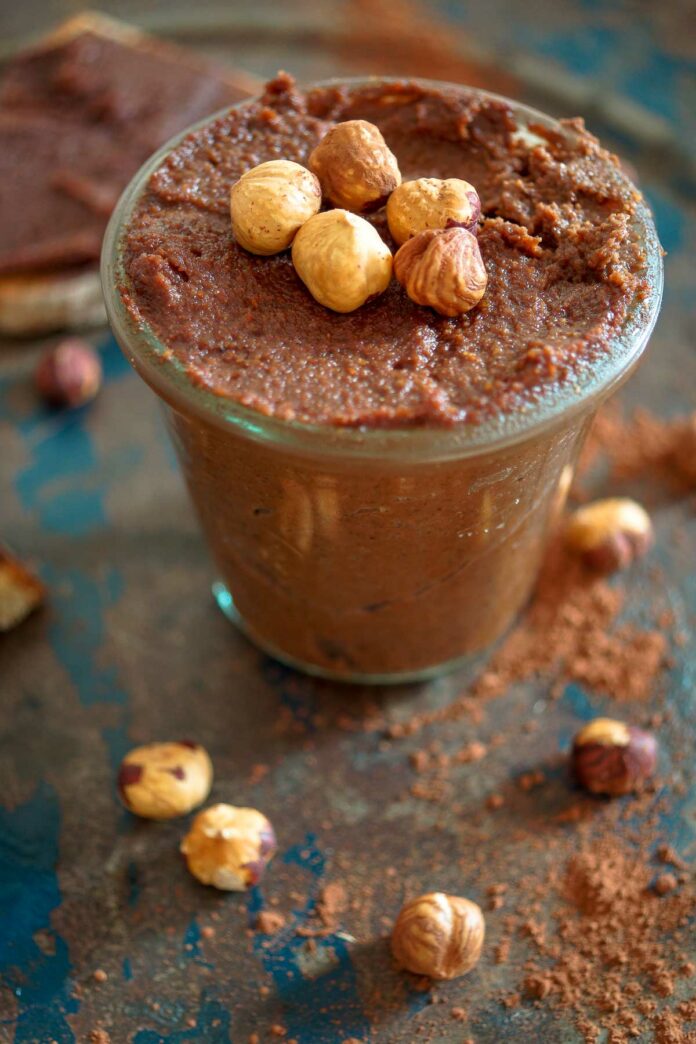 This is soon to be your new obsession. Homemade Nutella. What's so great about it? Well for one, not only is it made with lots of roasted hazelnuts, but it also packed with other good things. There's superfood organic raw cacao powder, pure bourbon vanilla, Canadian maple syrup, unsweetened almond milk and another superfood — coconut oil.
All of which make it a great alternative to the loaded with sugar and palm oil store-bought version. Vegan friendly and refined sugar-free, this homemade hazelnut spread uses real ingredients which is also why it is high in Vitamin E, B vitamins, healthy fats and a whole lot of other nutrients. Best of all it's delicious. How do I know that? I tested it on very own Nutella addict and he loved it.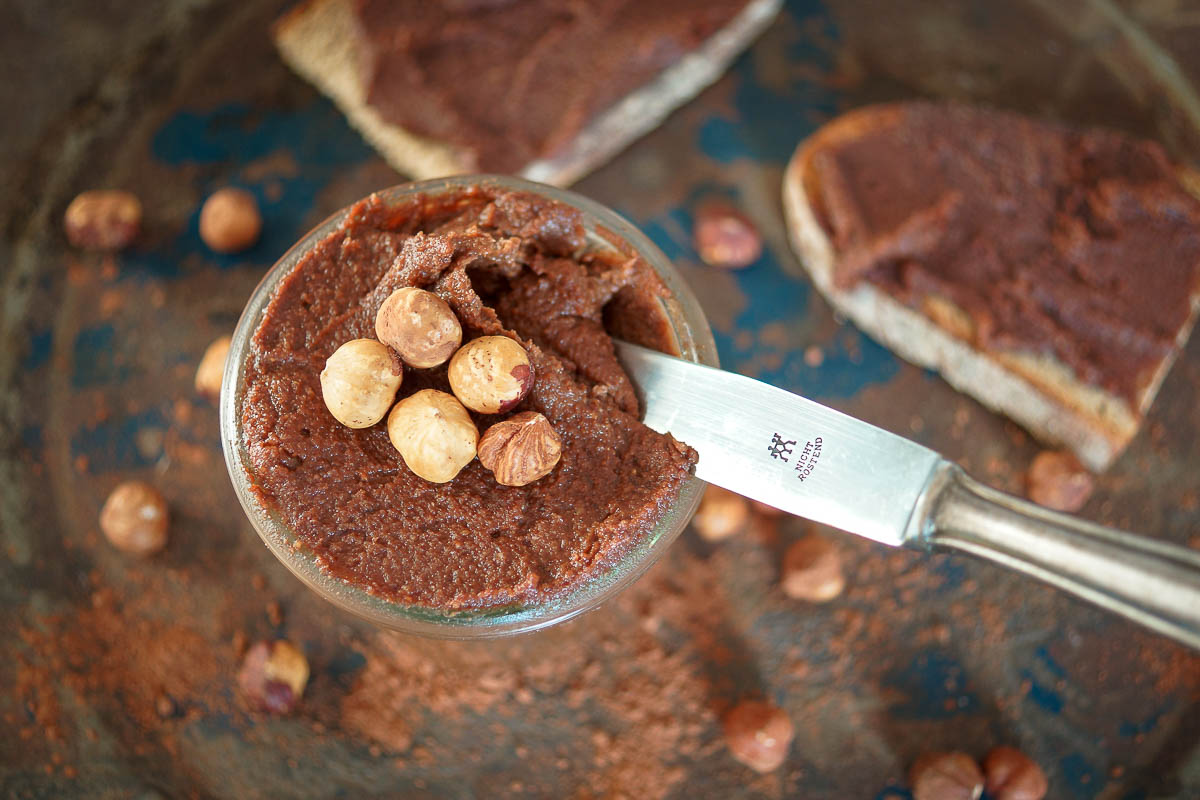 I have to admit I have never tried Nutella. Not one tiny spoonful. Strange I know. I never grew up on it and being someone who doesn't do sweets, I never had the desire to try it. I can barely understand the hype. Looking at the "original's" ingredient list, I have to ask myself, "do I really want to eat this?". Top of the list: Sugar. 75% beet sugar and 25% refined cane sugar, up which makes up 55 percent of a jar of Nutella. Then there is palm oil (albeit sustainable palm oil, it's still high in saturated fat); 30% fat per serving. Do we really need more sugar and fat in our diets?
So because I know a number of people who could literally sit and eat an entire jar with a spoon — I promised to come up with a healthier chocolate hazelnut spread.
There are a number or different homemade Nutella recipes out there, and a lot that still include not-so-healthy ingredients, which brings me to wonder what's the point of making it homemade if you're adding refined sugar, cream, powdered sugar, or canola oil. There are healthier choices.
So let's make our own. The process is simple.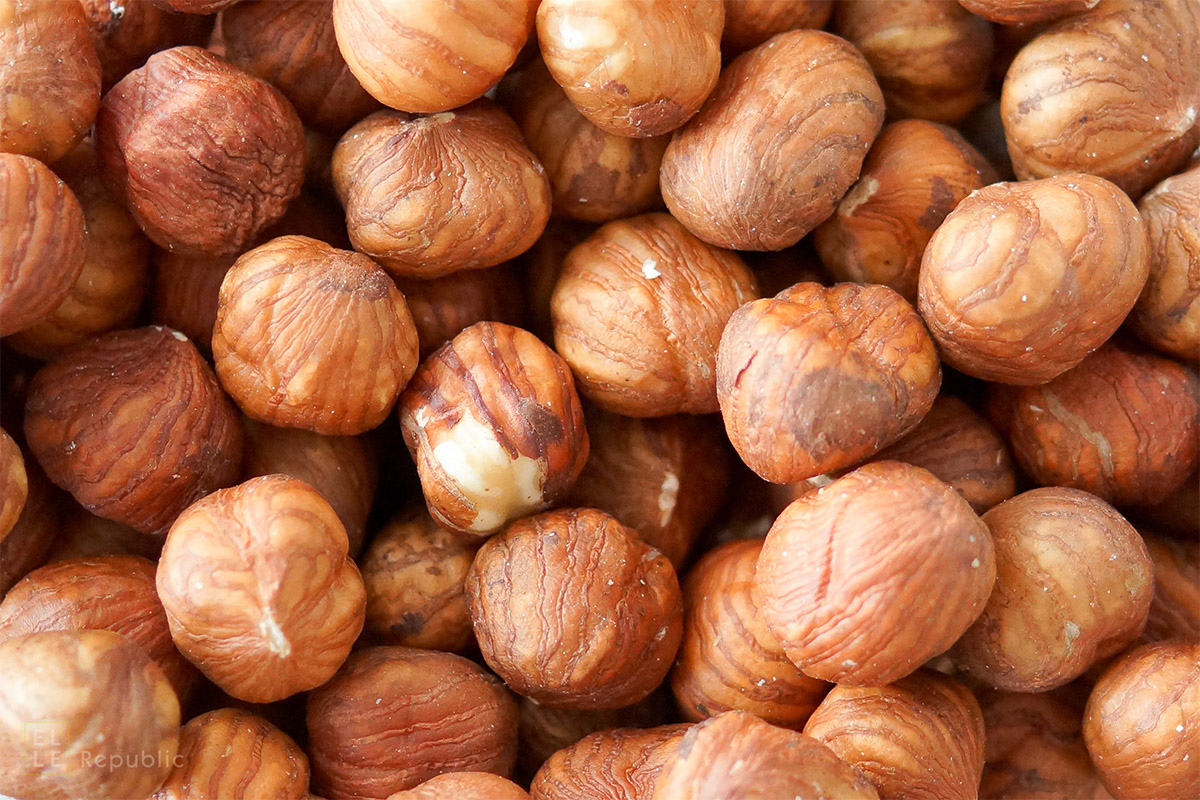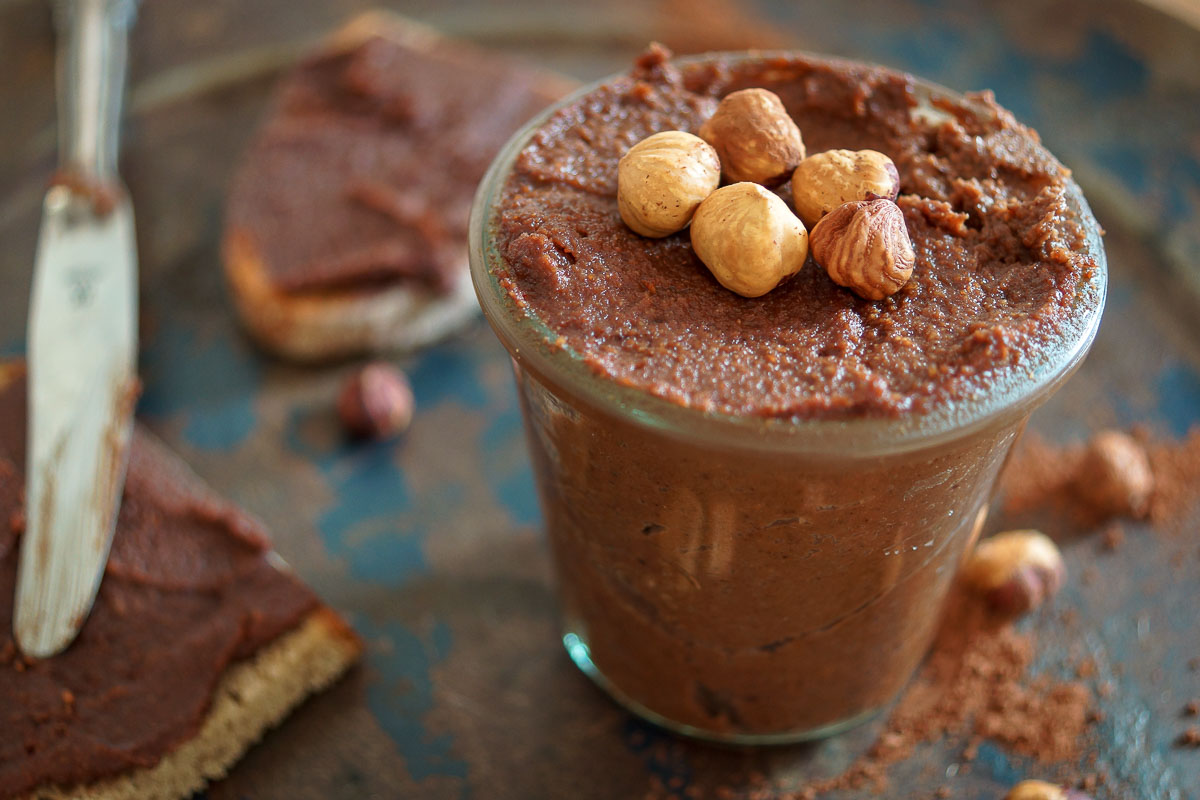 If you want to take the extra time, you can blend the hazelnuts first until they turn into a butter all on their own. I do this when I make almond butter — the method is here. I don't have a standard food processor so I use my super-powered high-speed Kitchenaid blender. If you are using a food processor, I think the process takes longer to get a creamy butter, so be patient.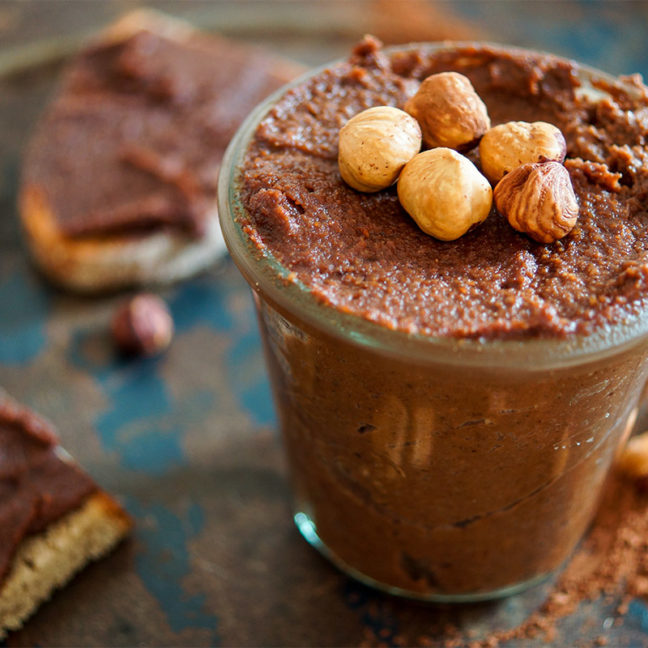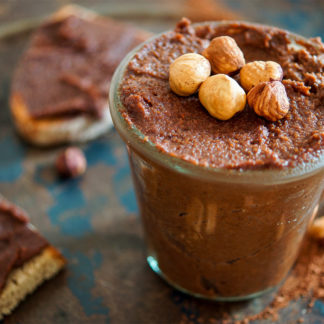 Homemade Nutella - Better than the Original
A simple homemade Nutella (chocolate hazelnut spread) that's refined sugar-free, vegan and gluten-free! A healthy alternative to the store-bought version.
Ingredients
200

g

hazelnuts

2

tablespoons

raw cacao powder

1

teaspoon

vanilla powder

1/4

teaspoon

sea salt

4

tablespoons

pure maple syrup

1

tablespoon

coconut oil

150

ml

unsweetened almond milk

(or other plant-based milk)
Method
Preheat oven to 300°F / 150°C and roast the hazelnuts on a baking sheet for 10-15 minutes, until fragrant and skin deepens in color and cracks.

Place nuts into the centre of a clean tea towel, wrap into a bundle and let "steam" for 1 minute. Rub the nuts in the towel to remove loose skins (it's ok if all of the skins don't come off).

Place the hazelnuts in the blender, along with the rest of the ingredients. Blend for about 5 minutes, until smooth.

Scrape into a glass jar and let it cool to room temperature. Store in the refrigerator for up to 1 month.

Enjoy!
Did you try this recipe?
Then tag @ellerepublic on Instagram and hashtag it #ellerepublic
How did you like it?
Please let me know how this Homemade Nutella – Better than the Original recipe turned out for you! I would love to hear how you liked it. Simply rate it with the stars above ⭐or leave me a comment and rate it below.
Did you make any changes to this recipe?
If you have tips for other readers, let me know! It helps me and other readers so much. Sharing is Caring :-).
This post contains affiliate links. If you decide to make a purchase through my link, Amazon will pay me a commission for it. This doesn't cost you anything additional and the price remains the same. More about advertisements on Elle Republic.