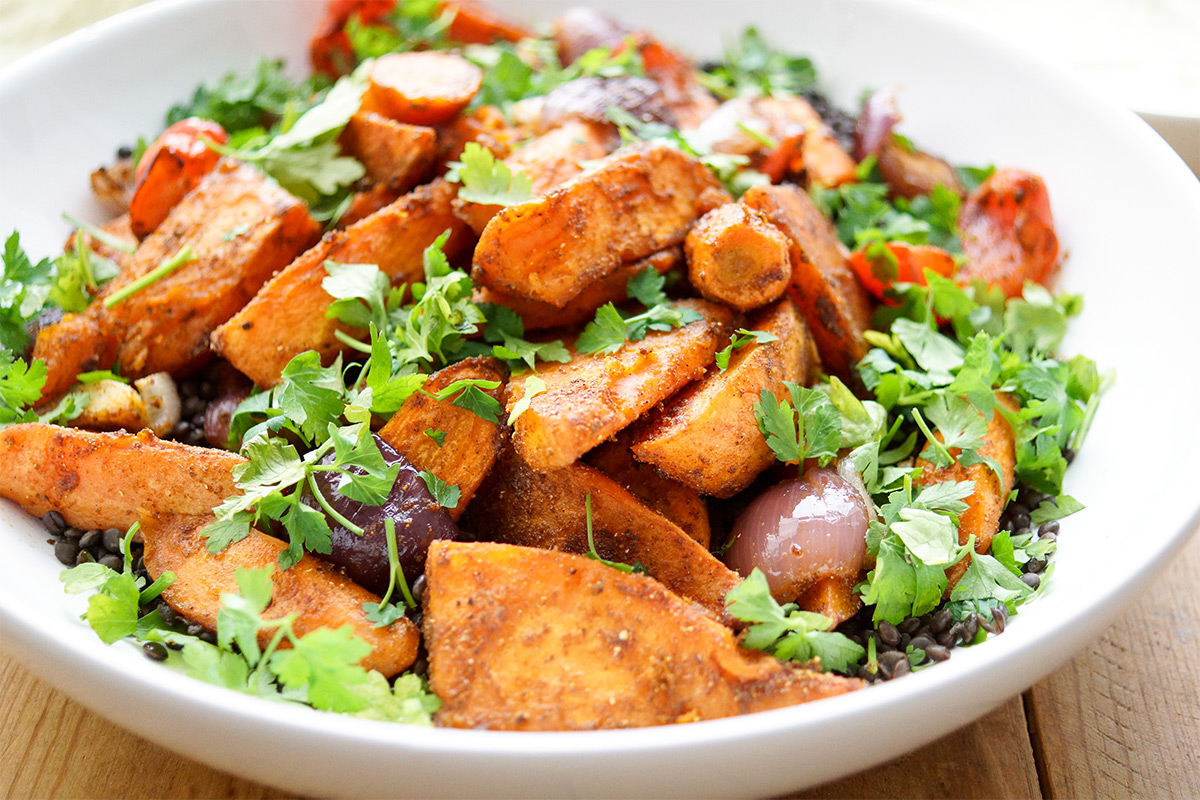 Don't you just love the warm flavors of Middle Eastern cuisine? In this recipe for Lebanese roasted vegetables you can expect subtle, warm spices that transform roast vegetables into something incredibly tasty. It does require a few spices (six in total), but these are everyday spices that I (and hopefully you) already have them on hand. Sweet paprika, cumin, ground coriander, cardamom, Ceylon cinnamon, and nutmeg. Nothing to complicated, nothing to obscure or hard to find. Serve all those tasty veggies with beluga lentils, fresh herbs and a lemony yoghurt sauce and you have a fantastic tasting meal!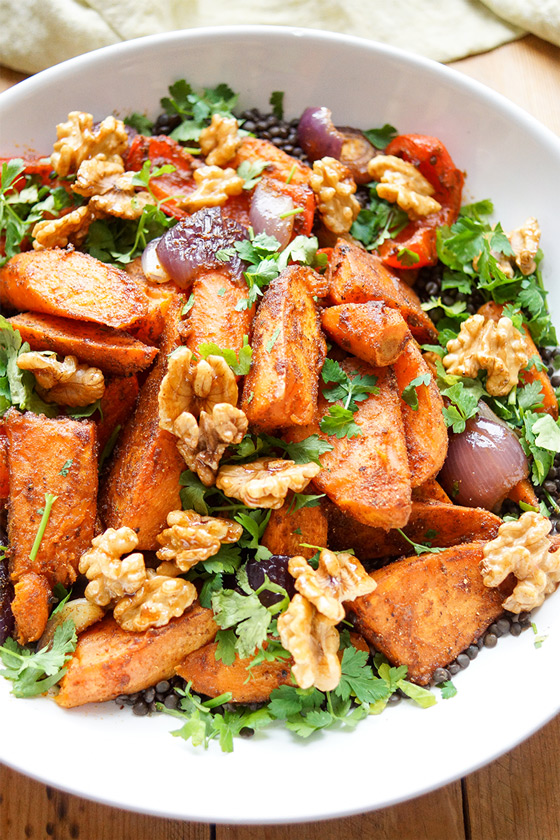 And speaking of spices, it's especially worth noting that for this spice mix I use Ceylon cinnamon. It's the only cinnamon known as "true cinnamon" and there are a couple of reasons why I only use this type in my recipes.
The difference between Ceylon cinnamon versus cassia cinnamon
Ceylon cinnamon has a much milder aroma and sweeter flavor than the kind of cinnamon that is normally sold in the spice section at your local supermarket. The kind of cinnamon your find there, unless otherwise stated, is Cassia cinnamon. Cassia cinnamon is typically darker and has a much stronger and has a more pungent flavor than Ceylon cinnamon. Which may explain why some people really don't like the taste of cinnamon. Instead of taking center stage, Ceylon cinnamon's mildly sweet flavor adds a complex flavor to recipes.
Make the healthier choice – choose Ceylon cinnamon
Also worth noting, the essential oil cinnamaldehyde in Ceylon cinnamon is quite low compared to cassia. Which also explains its milder aroma and flavor. Plus, Ceylon cinnamon has ultra-low coumarin levels. Coumarin in high doses causes liver failure, meaning if you use cinnamon on a daily basis, you will want to choose Ceylon cinnamon as the preferred choice. Ceylon cinnamon is found at your local health food or organic food store.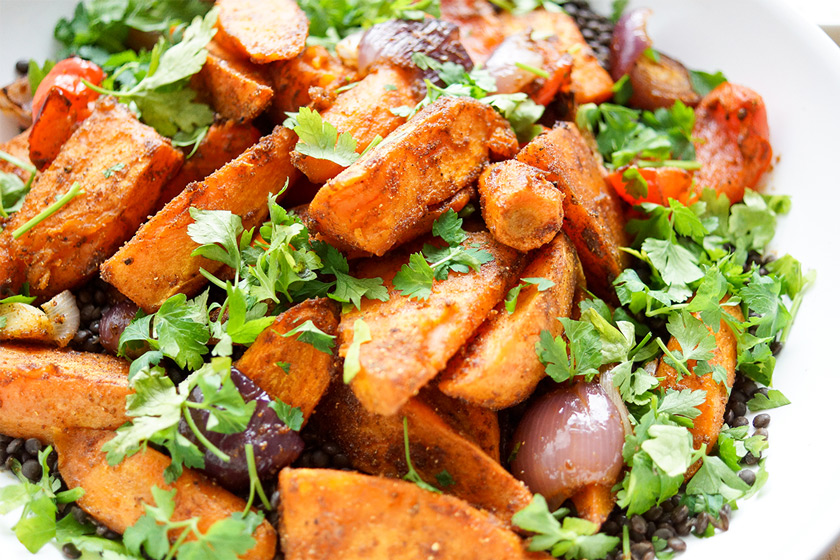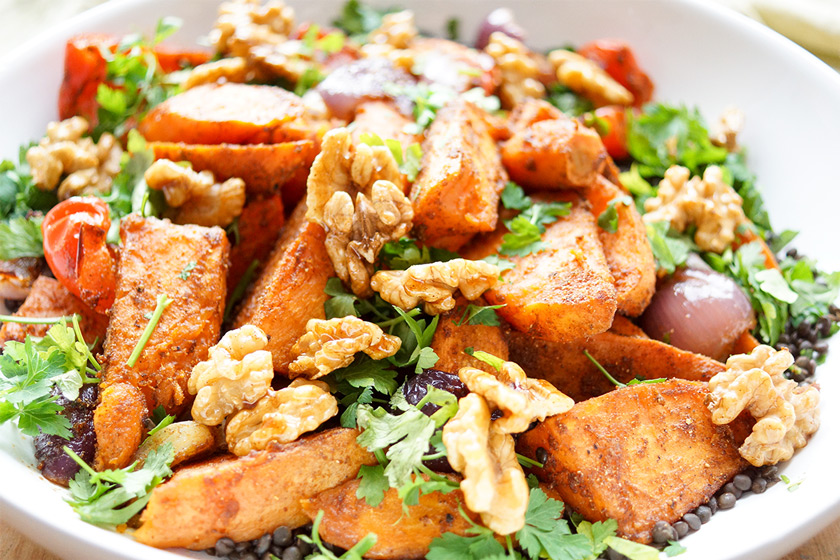 Simply good: Lebanese roasted vegetables with lentils and a lemony yoghurt sauce
Although the list of ingredients looks long, this is such a simple recipe to make. And it's one that makes an ideal Middle Eastern vegetarian weekday dinner. It has everything possibly wanted in a well-rounded vegetarian meal. The spice mix for the Lebanese roasted vegetables adds a delicate depth of flavor, plus it can be used for a number of other dishes — like potatoes, or as a spice rub for meat lovers. I love it with roasted vegetables. Especially when they are served on a bed of beluga lentils (French green puy lentils are also a nice choice) then topped with a sprinkling of fresh parley and a handful of toasted walnuts. Though, the thing that really makes this recipe (besides all the warm spices) is the lemony yoghurt sauce. An absolute MUST for this recipe — it really adds a huge amount of flavour to each bite!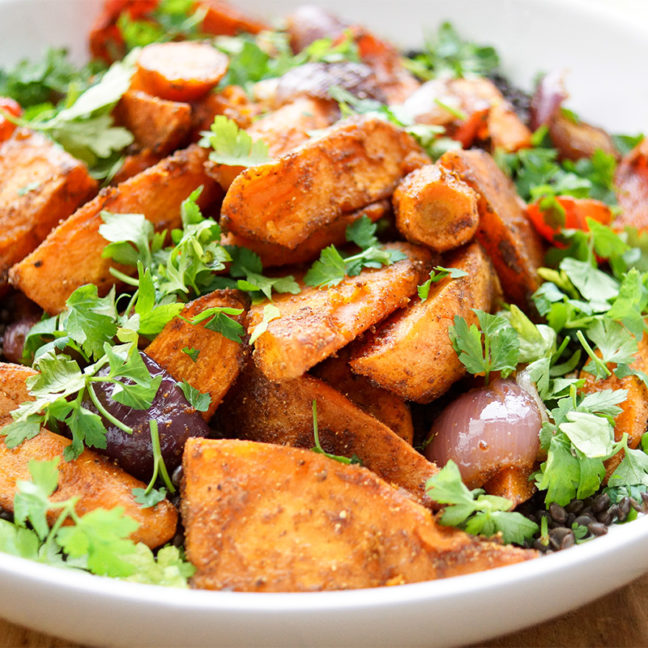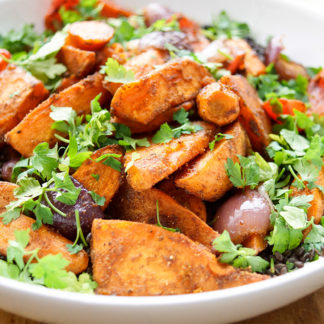 Lebanese Roasted Vegetables with Lentils
An easy recipe for Lebanese roasted vegetable served with lentils and a lemony yoghurt sauce. A healthy vegetarian dish with lots of textures and flavors in a beautiful bowl of food!
Ingredients
For the spice mix:
1

teaspoon

sweet paprika

1

teaspoon

cumin

1

teaspoon

ground coriander

1

teaspoon

cardamom

1/2

teaspoon

cinnamon

(Ceylon)

1/2

teaspoon

nutmeg
For the salad:
3/4

cup

uncooked beluga lentils

(165 g)

2-3

tablespoons

extra-virgin olive oil

1

medium to large sweet potato,

peel and cut in half lengthwise, then into wedges, and then in half again so you have short wedges (400-500 g)

1

sweet red pepper,

sliced thickly

2

carrots,

peeled and sliced at a diagonal

3

small red onion,

cut into wedges (or 1 large onion)

sea salt and freshly ground pepper,

to taste

freshly chopped flat-leaf parsley,

to garnish

1/2

cup

walnuts,

broken into pieces and lightly toasted (50 g) (optional)
For the yoghurt sauce:
1/2

cup

Greek yoghurt

(140 g)

4

tablespoons

extra-virgin olive oil

finely grated zest of 1/2 an organic lemon

4

tablespoons

freshly squeezed lemon juice

1

tablespoon

freshly chopped flat-leaf parsley
Method
Preheat oven to 400°F / 200°C. Line a baking sheet with parchment paper.

In a small bowl, combine the spice mix ingredients and set aside.

Cook the lentils according to package instructions, in 3 times the amount of water for 30 minutes. When done, remove from heat and drain if needed. Cover and set aside.

TIP: I recommend tasting the lentils after about 25 minutes to see if they are the consistency you prefer — I like them firm (al dente).

Place the vegetable on the prepared baking sheet, drizzle with 2 tablespoons olive oil, sprinkle with the spice mix and toss to evenly coat. Spread in a single layer and bake for 30 minutes, tossing half way through, until sweet potato is tender.

Meanwhile, make the yoghurt sauce. In a small bowl, mix together the yoghurt, olive oil, lemon zest, lemon juice and parsley. Whisk together until well combined.

Transfer the lentils to a large serving dish and top with the roasted vegetables. Garnish with the parsley and walnuts (if using).

Serve with the yoghurt sauce on the side and enjoy!
Notes
This recipe is also nice if you add a little sweetness and spice to the walnuts. To do so, in a small non-stick skillet, heat 1 tablespoon of honey or maple syrup and 1/2 teaspoon spice mix, add walnuts and mix to coat. Remove from heat and set aside. Then proceed with making the rest of recipe.
French green puy lentils can also be used in place of beluga lentils.
This is a vegetarian recipe, that can easily be made vegan by omitting the yoghurt sauce. For a vegan version, I would suggest serving the Lebanese roasted vegetables and lentils with an extra drizzle of olive oil and a generous squeeze of lemon.
Did you try this recipe?
Then tag @ellerepublic on Instagram and hashtag it #ellerepublic
How did you like it?
Please let me know how this Roasted Vegetables with Lentils recipe turned out for you! I would love to hear how you liked it. Simply rate it with the stars above ⭐or leave me a comment and rate it below.
Did you make any changes to this recipe?
If you have tips for other readers, let me know! It helps me and other readers so much. Sharing is Caring :-).
This post contains affiliate links. If you decide to make a purchase through my link, Amazon will pay me a commission for it. This doesn't cost you anything additional and the price remains the same. More about advertisements on Elle Republic.