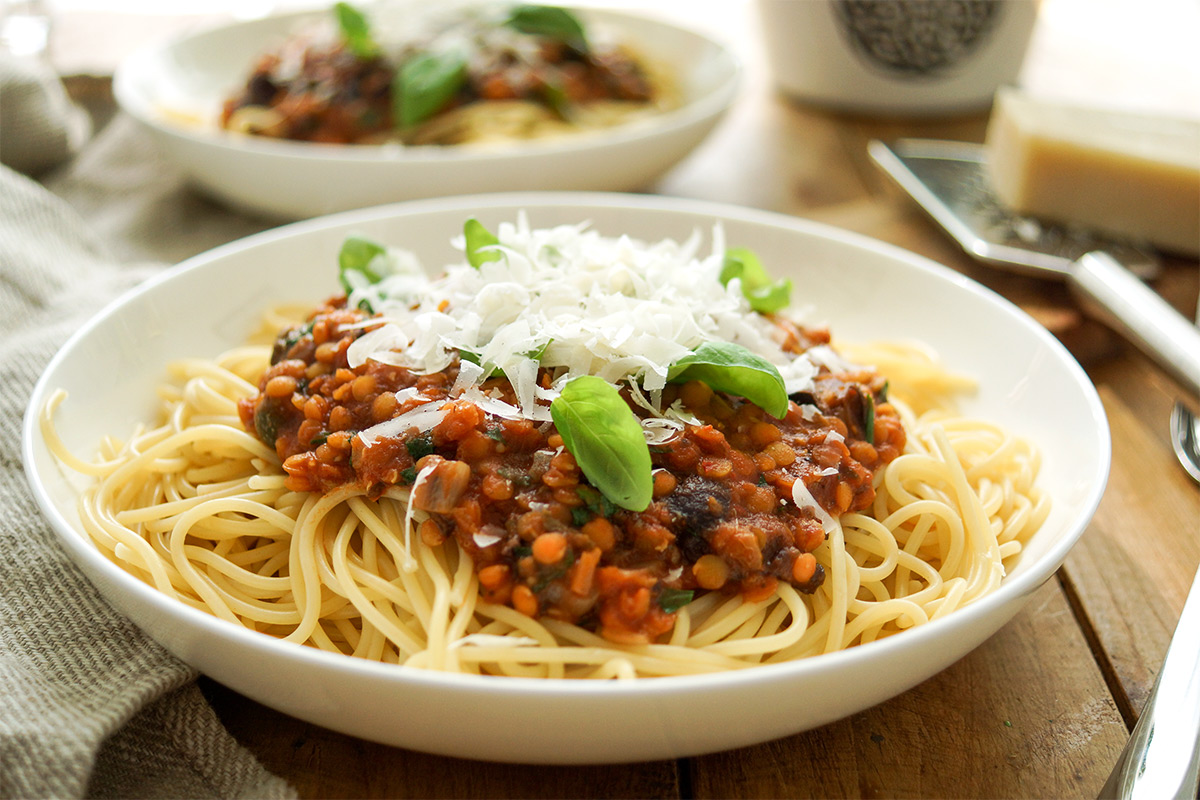 Lentil Puttanesca! Say what? Here's the deal. It's a quick and tasty pasta sauce made with red lentils, puréed tomatoes, garlic, shallots, herbs, chili a few more ingredients that bring it to a high level of flavor: anchovies, capers and olives. I can hear the disappointment. Anchovies! They are not vegan and certainly not vegetarian… and for many they conjure up thoughts of "yuck". Believe me, you can't see them, you can't taste them, but they deliver an important amount of balanced savory flavor and something that can only be described as "umami". And you may ask, so where's the tuna that can typically be found in a puttanesca sauce? Errr…I skipped it. Red lentils are the showcase here.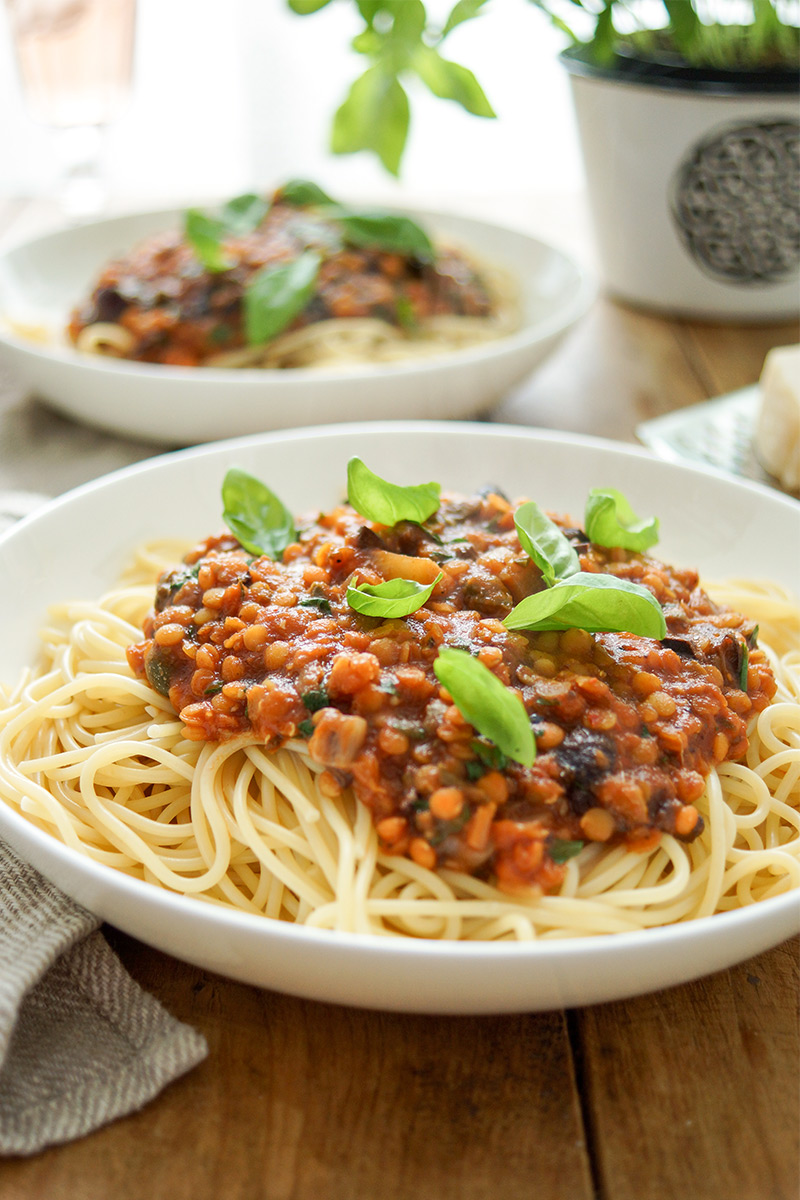 What is a puttanesca sauce?
Originating in Naples, a traditional puttanesca sauce is served with spaghetti in a dish known for being "in the style of prostitutes". Oooh so devilish, I know. That's pretty much an exact translation. It's said that the origins stem from the word "puttana" which in Italian means…. do I need to say it? Don't think so. Some say it got its name since cause that's how Neapolitan prostitutes would lead customers to their doors. Other's say it's because it's so quick and easy to prepare… as the latter. The true origins may be debatable, but one thing's for certain – it makes an easy, quick, and delicious pasta sauce.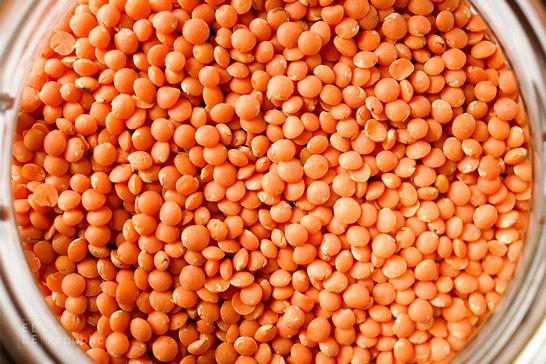 Lentil Puttanesca Pasta: a nice change from the original
I've made my version of a traditional puttanesca and million times. It was my go-to choice of easy, comfort food pasta for years. But I had the feeling I needed to add a new spin to it. Or maybe it's because I've been so into lentils lately. Either way, because red lentils cook up so quickly, it inspired me to create a puttanesca dish using them. They are fantastic in vegetarian bolognese, why not a puttanesca as well? And they are a fantastic choice just as I imagined.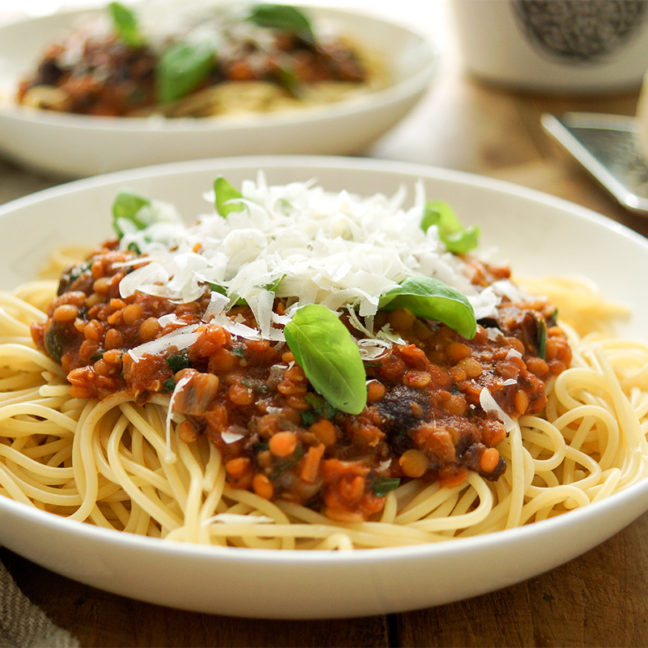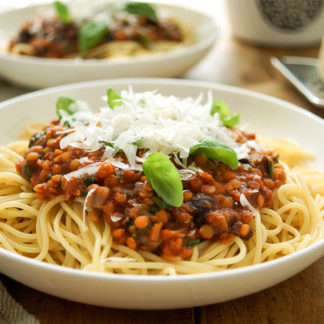 Lentil Puttanesca Pasta
The ingredients are typical of Italian cuisine: tomatoes, olives, capers and garlic, with the additional of red lentils. This simple Lentil Puttanesca recipe has a slightly spicy, salty, and savory taste which makes it a delicious and comforting meal. Just add a green salad and a loaf of ciabatta and enjoy!
Ingredients
400-500

g

dried pasta of choice

2

tablespoons

extra-virgin olive oil

4-6

garlic cloves,

minced

2

shallots,

finely chopped

4

anchovy fillets,

finely chopped

1 1/2

teaspoons

dried oregano

1/4 to 1/2

teaspoon

crushed red chili flakes,

or to taste *see note

1 1/2

cups

chicken or vegetable broth

(375 ml)

1

cup

red lentils

(200 g)

1

x 690 g glass jar

organic passata Italian tomatoes

(puréed tomato) (660 ml)

24

kalamata olives,

minced

3

tablespoons

capers (in brine),

drained and chopped

handful fresh flat-leaf parsley,

chopped

freshly ground black pepper,

to taste

parmesan cheese,

to garnish (optional)

fresh basil,

to garnish (optional)
Method
Fill a large pot with cold water and a pinch of salt. Bring to a boil over high heat. Cook the pasta according to packet instructions, until al dente.

Meanwhile, heat the olive oil in a large deep skillet or sauté pan. Add the garlic, shallots and anchovies and cook for one minute. Add the dried oregano and the chili flakes and cook a further 1-2 minutes, until the garlic is fragrant but not browned.

Add the broth and bring to a boil. Add the lentils and reduce the heat to medium and cook at a light simmer for 5 minutes.

Add the puréed tomatoes, olives and capers and stir well. Cook, covered, stirring occasionally, for 10 minutes, or until the lentils are cooked. Stir in the parsley. Serve immediately with or without fresh parmesan, a sprinkling of fresh basil, and freshly ground black pepper. Enjoy!
Notes
I like to use freshly ground whole bird's-eye chilies which are spicier than chili flakes. So if using freshly ground chili then less is needed. For pre-flaked chilies you can use up to 1 teaspoon, depending on desired taste.
Did you try this recipe?
Then tag @ellerepublic on Instagram and hashtag it #ellerepublic
How did you like it?
Please let me know how this Lentil Puttanesca Pasta recipe turned out for you! I would love to hear how you liked it. Simply rate it with the stars above ⭐or leave me a comment and rate it below.
Did you make any changes to this recipe?
If you have tips for other readers, let me know! It helps me and other readers so much. Sharing is Caring :-).