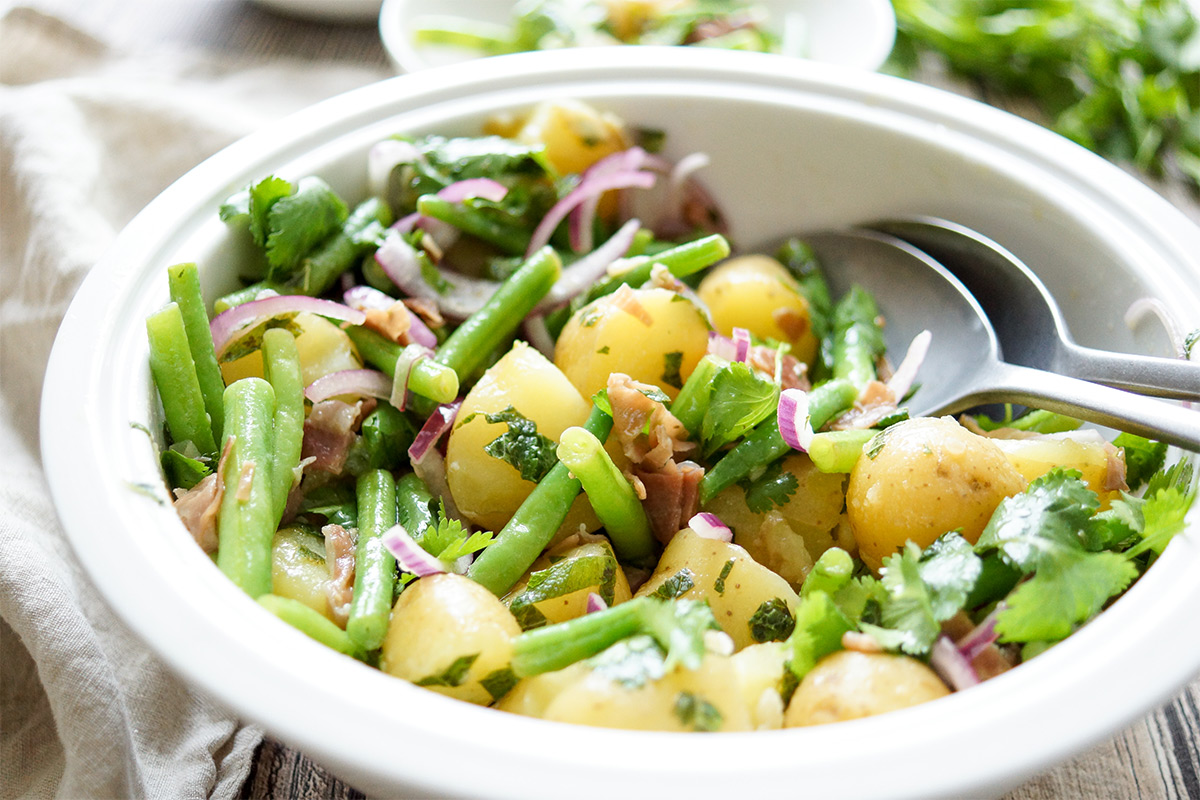 If there is one thing I love about spring and summer, it's all the fresh produce. Which means there are endless options for salads and I am not just talking green salads. I'm thinking BBQ and picnic salads, which for me mostly brings up thoughts of potato salad, coleslaw and pasta salad. The classic pack and go type. Though, for me there is only one type of potato salad — one without mayonnaise, just like this potato and green bean salad.
Who says potato salad needs mayo?
Of course, there are a million other people who will agree that there is nothing better than a creamy potato salad with mayonnaise, but I'm not one of them. Instead of mayo, this potato and green bean salad is dressed with a simple mix of freshly squeezed lemon juice, a little zest, my favorite olive oil and fresh mint. Fresh summery flavors.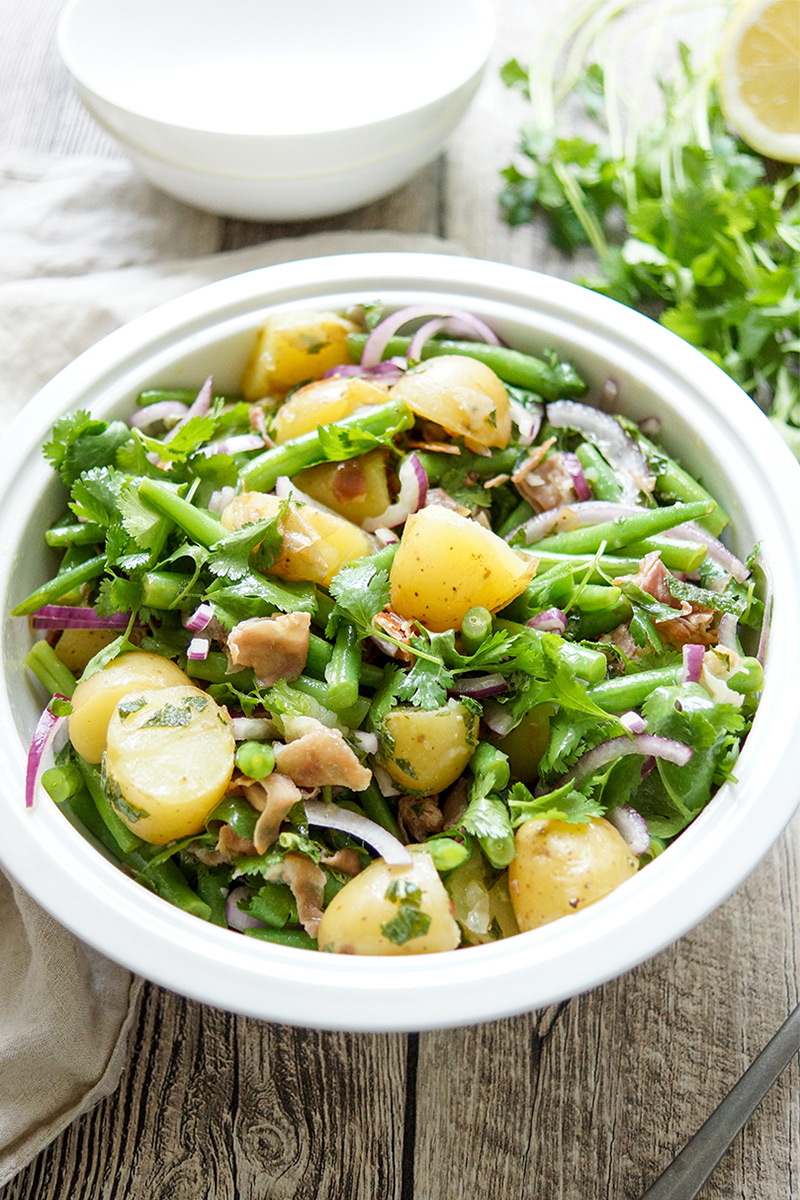 Grüne Bohnen und Kartoffeln sind eine traumhafte Kombination
Seit der liebste Schwabe im letzten Sommer zu Bohnen und Kartoffeln ein Tahin-Dressing mit viel glatter Petersilie versucht hat, ist er ein großer Fan dieser Kombi. Wahrscheinlich hat ihm deswegen dieser Salat hier auch so gut geschmeckt, obwohl ich ein anderes Dressing gemacht habe. Doch die Kombination aus Bohnen und Kartoffeln ist halt super vielseitig und schmeckt immer. Ihr könnt auch noch süße Cherry-Tomaten und ein Dijon-Dressing dazu machen (wie zum Beispiel hier). Oder wenn es ganz bequem sein soll geht auch ein frisches Sommer-Pesto. Auch bei den Kartoffeln könnt Ihr variieren. Wenn es welche gegeben hätte, hätte ich mich für junge Kartoffeln mit roter Schale entschieden. Leider gab es die nicht auf dem Markt. Also habe ich welche mit weißer Schale genommen. Das Gute an jungen Kartoffeln ist die dünne Schale, die Ihr ganz locker mit essen könnt. Dann fällt das lästige Schälen weg. Doch die Entscheidung überlasse ich ganz Euch.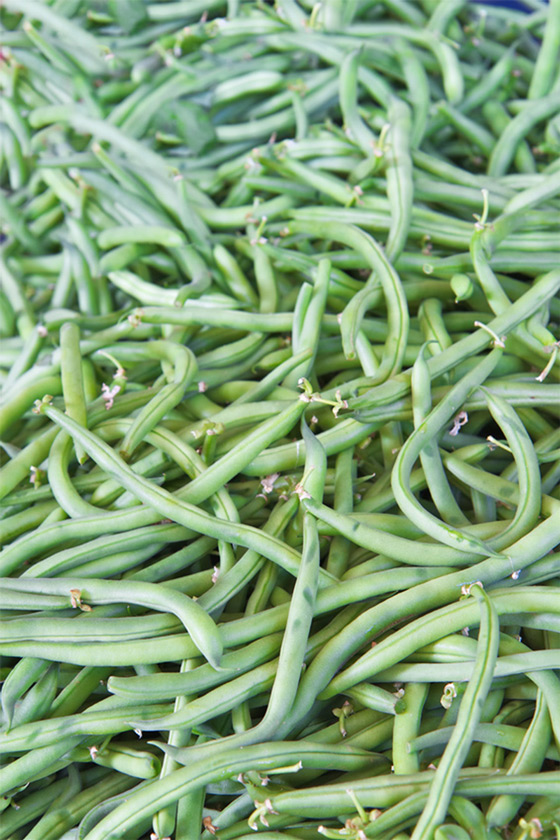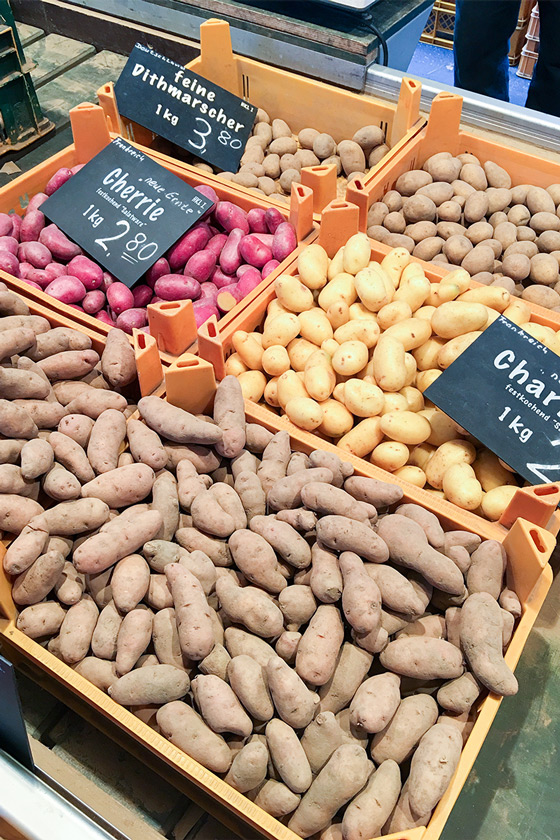 Die Inspiration für Bohnensalat mit Kartoffeln kam von einem Linsen-Rezept
Auch das kann passieren. Ich habe ein ähnliches Rezept auf Elle Republic mit Linsen, das ich sehr liebe. Ich habe es schon sehr häufig gemacht und kann immer noch nicht genug davon bekommen. Beluga Linsen mit Parmaschinken, grünen Bohnen, Koriander und Minze hört sich doch phantastisch an. Also habe ich gedacht, dass das auch mit Kartoffeln gut funktionieren kann. Der Gedanke kam mir, als ich auf dem Markt die knackigen, jungen Kartoffeln gesehen habe. Und das Ergebnis ist mindestens genauso lecker wie der Linsensalat.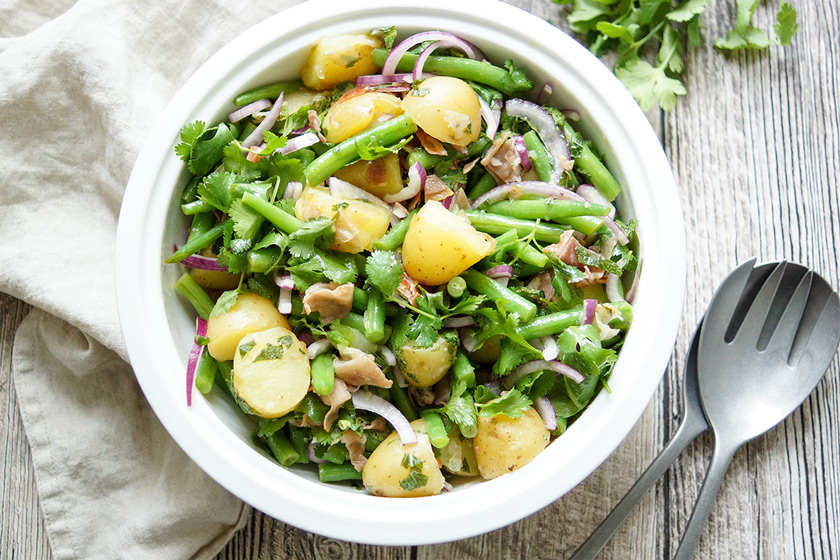 Grüne und gelbe Bohnen bringen Farbe in den Salat
Ich mag ja knackige grüne Bohnen. Doch ich könnte mir gut vorstellen, dass gelbe Wachsbohnen mit grünen Bohnen gemischt auch sehr gut funktionieren. Der knusprige Parmaschinken bringt zusätzlich noch jede Menge Aroma mit. Ich mag den leicht salzigen Geschmack und finde, dass gebratener Parmaschinken so ziemlich jeden Salat extrem aufwertet. Salz und Kartoffeln sind ja sowieso ein Liebespaar. Doch wenn Ihr Vegetarier oder Veganer seid, könnt Ihr den Salat auch ohne den Parmaschinken genießen.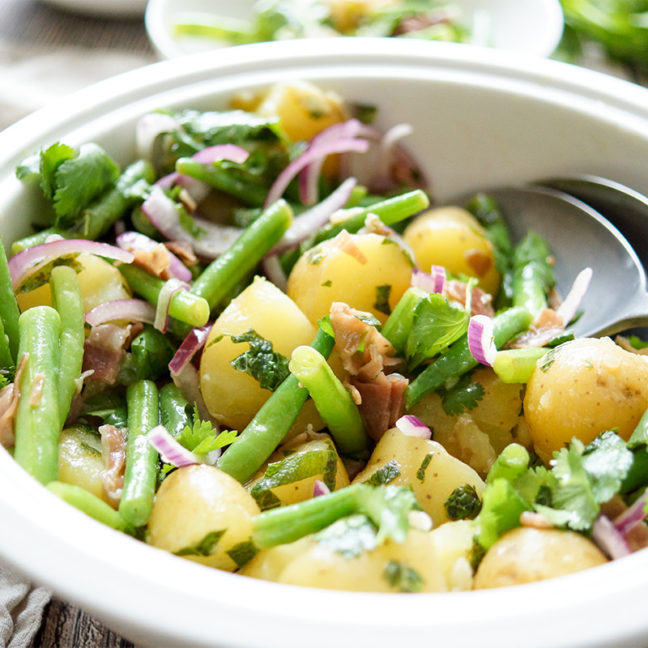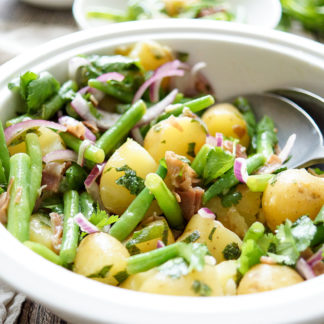 Potato and Green Bean Salad with Crispy Prosciutto
This potato and green bean salad with prosciutto and fresh herbs makes a great side dish with fresh summer flavors. Serves four as a side or can be enjoyed on it own for two. Easily adaptable to suit a vegetarian or vegan diet. Naturally gluten-free.
Ingredients
For the salad:
500

g

small new potatoes,

scrubbed clean

250

g

green beans,

trimmed and cut in half

100

g

paper-thin slices prosciutto di Parma,

trimmed of excess fat and coarsely chopped

1

medium red onion,

cut in half and very thinly sliced

1

small bunch cilantro,

leaves removed (alternatively, use fresh flat-leaf parsley)
For the dressing:
juice from 1 1/2 large organic lemons

zest from 1/2 lemon

4

tablespoons

fresh mint,

finely chopped

6

tablespoons

extra-virgin olive oil

sea salt and freshly ground pepper,

to taste
Method
Place the whole potatoes in a large pot, cover with cold, salted water. Bring to a simmer on high heat, then reduce heat to maintain a simmer. Cook for 10 to 15 minutes (or more, depending on the size of the potatoes — it's a good idea to check frequently for doneness), until pierced easily with a fork or a sharp knife. Drain and set aside to cool to room temperature (or slightly warm).

While the potatoes are cooking, bring another pot of salted water to a boil. Add the green beans. Blanch until crisp-tender, about 4-5 minutes. Drain and run under cold water to cool. Set aside.

In a small non-stick skillet, add the prosciutto and cook over moderate heat, stirring occasionally, until slightly crisp and browned, about 5 minutes; set aside to cool.

To prepare the dressing, in a small bowl, whisk together the lemon juice, zest, mint, and olive oil. Season with salt and pepper, to taste.

Once the potatoes have cooled, cut them in half or quarters and transfer to a serving bowl. Add the green beans, crisp prosciutto, red onion and fresh cilantro (or parsley). Toss with the dressing. Season with additional salt and pepper, if desired. Serve and enjoy!
Notes
If making ahead, feel free to let marinate until ready to serve. Once ready to serve, toss with the cilantro. Cilantro wilts easily, so best to add right before serving. Parsley on the other hand stands up well.
I went heavy on the green beans for this salad, so if you prefer potatoes to be more the focus then feel free to increase the amount of potatoes in this recipe.
Did you try this recipe?
Then tag @ellerepublic on Instagram and hashtag it #ellerepublic
How did you like it?
Please let me know how this Potato and Green Bean Salad with Crispy Prosciutto recipe turned out for you! I would love to hear how you liked it. Simply rate it with the stars above ⭐or leave me a comment and rate it below.
Did you make any changes to this recipe?
If you have tips for other readers, let me know! It helps me and other readers so much. Sharing is Caring :-).