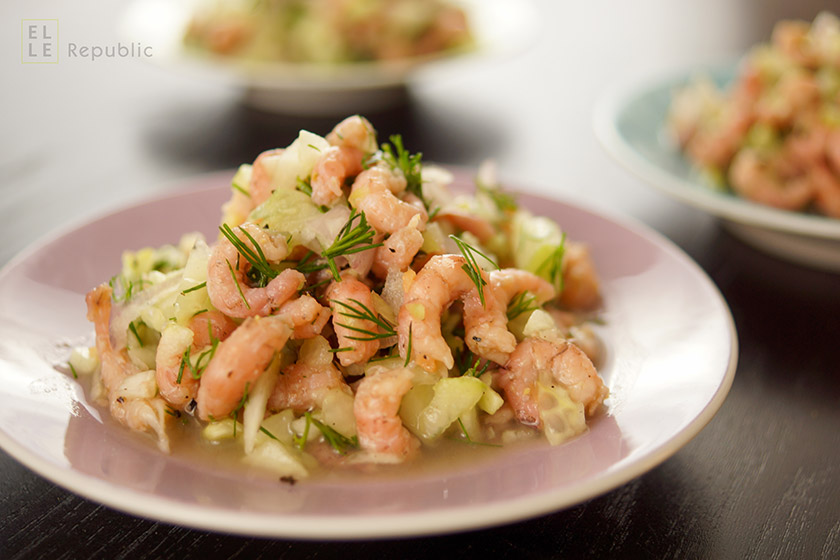 Here's a little shrimp and cucumber salad starring my most recent obsession – Büsumer Krabben. Tiny little succulent North Sea brown shrimps. Delicious, juicy…they are the perfect accompaniment to any simple salad. Yes, I did do a version of this salad before, but because it's so tasty I thought it's time for another version of Büsumer Krabben deliciousness. This time, another simple version with grated cucumber and fresh dill, and of course tangy lemon. The fabulous thing salad is that you can add a number things to it — whether it be finely chopped kohlrabi, carrot or avocado — they are work!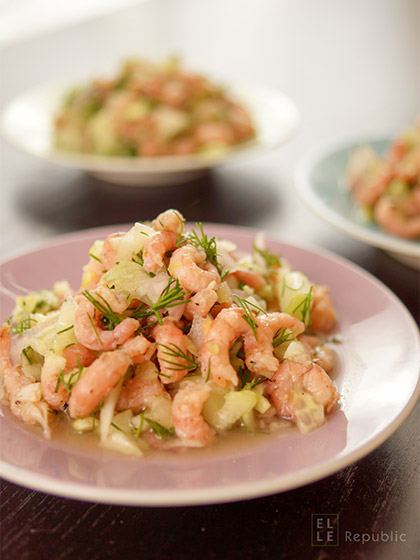 At this time of year a tasty salad is something I consider a sustainer of happiness, something that adds a little sunshine to the oncoming winter hibernation. Okay, truth be, I don't hibernate. But my favorite Schwabe does. I go stir crazy if I am stuck inside for more than a day. He on the other hand, if the weather is wet, blustery or snowy, he isn't moving a budge. That means I am scurrying around on my way home from work to bring him his life-sustaining goods…milk for his coffee…much needed nutella to keep him alive when I am not there to cook. You get the drift. Okay, of course I do exaggerate. He can cook, and he did make this salad. He can and will survive the winter.
So with that said here is a delicious recipe created by my favorite Schwabe. One he recreated from a "Krabbensalat" sold at one of the fish stands at our local market. It's super easy to prepare, taking all of 10 minutes–MAX!
One of the great things about living in Hamburg is the ability to pick these gems up at the farmers' market – and here's a little tip, they are fresher and a lot cheaper if you take the time to do so. Plus the atmosphere is fantastic! So here's the low down… Supermarket: 5€ for 100 g vs Market: 8€ for 300 g. Not that I'm cheap or anything but with this recent obsession, I want to enjoy my journey of gluttony without checking the state of my wallet. 😉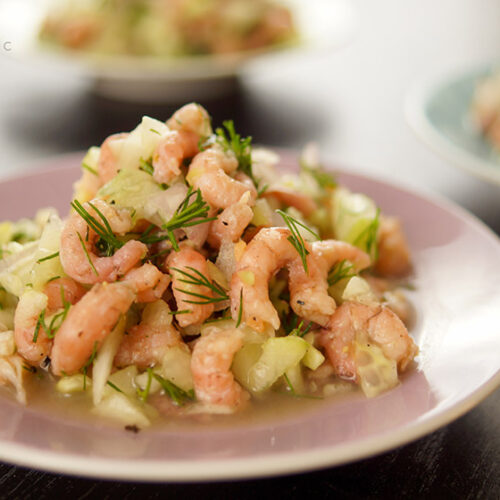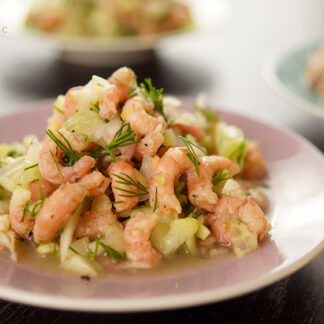 North Sea Shrimp and Cucumber Salad
A simple, easy North Sea shrimp and cucumber salad with lemon and dill. Büsumer Krabben are brown shrimps (Crangon crangon L.) with a very unique flavor .
Ingredients
300

g

cooked and peeled North Sea shrimps

(Büsumer Krabben, also known as brown shrimps)

2

shallots,

finely chopped

1/2

English cucumber,

peeled and grated

Juice of 1 lemon

(about 4 tablespoons)

3

tablespoons

freshly chopped dill

1

tablespoon

extra-virgin olive oil

sea salt and freshly ground pepper,

to taste
Method
In a medium bowl, toss together the shrimp, shallot, cucumber and dill. Add the olive oil and lemon juice, season with salt and pepper, and toss again.

Serve and enjoy!
Did you try this recipe?
Then tag @ellerepublic on Instagram and hashtag it #ellerepublic
How did you like it?
Please let me know how this North Sea Shrimp Salad (Büsumer Krabbensalat) recipe turned out for you! I would love to hear how you liked it. Simply rate it with the stars above ⭐or leave me a comment and rate it below.
Did you make any changes to this recipe?
If you have tips for other readers, let me know! It helps me and other readers so much. Sharing is Caring :-).