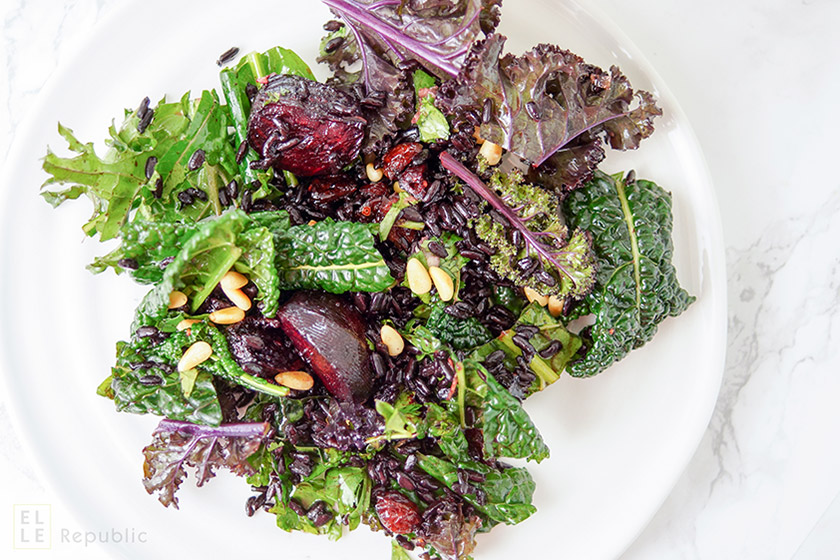 With this wintery kale salad, I discovered a new type of rice – black rice. A whole grain Chinese hybrid grown in neighboring Italy called Riso Venere. Its color is remarkable – it's an intense deep purple, so deep it's almost black. Together in this winter salad with roasted beets and purple kale, it actually gets lost among all the deep, dark, dramatic colors. Everything but its taste, that is. It has an absolutely beautiful mild, nutty and fragrant flavor.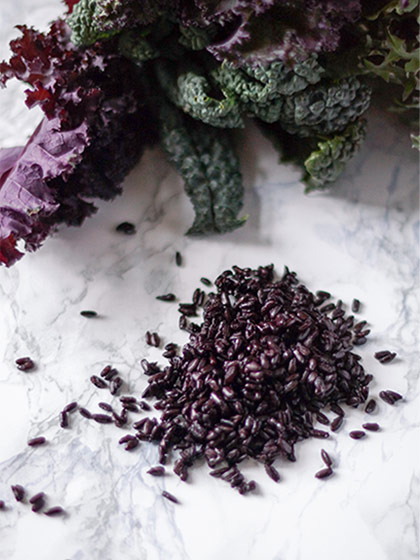 Referred to as Forbidden Rice in China, legend has it that due to its rarity, black Venere rice was cultivated in the 18th century solely for purposes of serving the Emporer and his court. But there is more to the legend than that. It's also said that the Venere rice was named after the Goddess of Love and that it was considered a powerful aphrodisiac, which was precisely why only the Emperor and his entourage were allowed to indulge in it. Whether rare or powerful, it was the "Forbidden Rice of the Emperor".
For this salad, I used an assortment of kale types sold as a bunch at my local farmers market. As with any type of kale, when eaten raw, you'll need to give it a good massage beforehand. I know, it sounds like some sort of high-maintenance nonsense type of treatment, but giving it a rubdown helps transform tough, bitter leaves into tender, slightly sweet greens–which allows you to create a tasty raw salad with "the queen of greens". As a nutritional powerhouse, kale is packed with vitamin K, A and C, not to mention loads of iron and calcium. Seriously good stuff.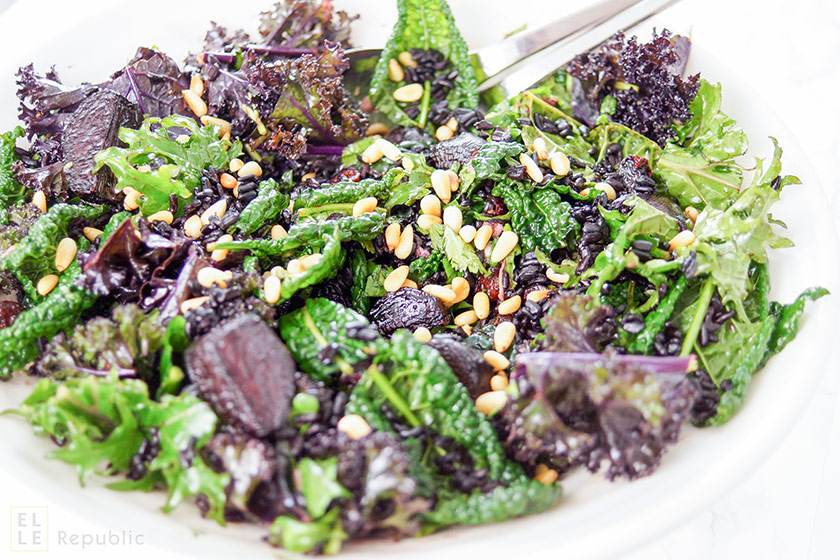 How to massage kale:
You'll want to "massage" the kale for five minutes, or until leaves are tender. Yes, it may seem a little odd to give vegetables a rubdown, but you'd be amazed at what it can do to transform this green from being bitter and tough to silky and sweet. Massaging kale is super easy. All you need to do is take a bunch of kale in both hands (with the thicker, tougher stems removed) rub them together and repeat. You'll see the leaves transform before your eyes; the leaves will darken, shrink in size and become silkier in texture. Voila!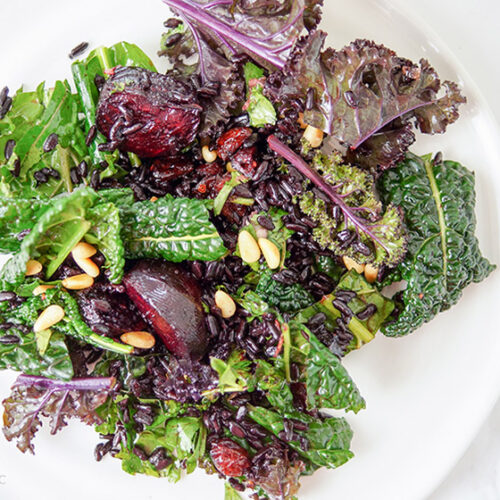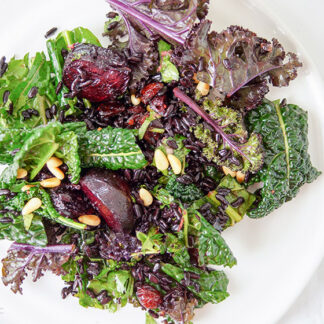 Wintery Kale Salad with Black Rice and Roasted Beets
A healthy winter kale salad with black rice, roasted beets, cranberries and pine nuts. Massaging kale transforms tough leaves into tender sweet greens.
Ingredients
For the salad:
2

medium-sized beets,

peeled and quartered

1

cup

uncooked black rice

(250 g) (also known as Venere Nero or the forbidden rice)

1

bunch kale

(alternatively use about 4 handfuls spinach or other greens of choice), stalks removed and discarded, leaves chopped

1

tablespoon

extra-virgin olive oil

1

tablespoon

fresh lemon juice

1/4

teaspoon

fine sea salt

2

tablespoons

organic dried cranberries,

coarsely chopped

1-2

tablespoons

pine nuts,

toasted
For the dressing:
juice of one lime

juice of one orange

6

tablespoons

extra-virgin olive oil

1/2

teaspoon

maple syrup

pinch

of cinnamon

2

garlic cloves,

minced

1

small bunch fresh cilantro,

chopped

sea salt and freshly ground pepper,

to taste
Method
Preheat oven to 400°F / 200°C and lightly grease a baking sheet with oil.

Add the beets to the baking sheet, drizzle with olive oil and season with salt and pepper. Toss to coat, and bake for 30 minutes, or until fragrant and lightly browned. Remove from oven and set aside.

While the beets are roasting, prepare the rice according to the package directions, then drain any excess liquid and set aside. The cooking time, depending on how firm you like it, is 30-35 minutes.

If using kale, take the time now to "massage" the raw kale. Add it to large bowl with a bit of olive oil, a squeeze of lemon juice, and a sprinkle of salt and massage with hands to soften. Massage until the kale starts to soften and wilt, 3-5 minutes. Set aside while you make the dressing. Let this mixture "marinate" for 15-30 minutes, so the kale leaves have extra time to soften.

In a small bowl, whisk together the lime juice, orange juice, oil, maple syrup, garlic and cinnamon until well combined. Add the cilantro and mix again. Season with salt and pepper, taste and adjust seasoning if desired.

Add the black rice, along with the roasted beets and cranberries to the kale. Pour the dressing over and toss to combine. Garnish with pine nuts and serve. Enjoy!
Notes
I used a mix of redbor kale, red Russian kale and dinosaur kale (which is also known as Tuscan kale, lacinato kale or black kale). This can be substituted with spinach, collard greens or regular kale, roughly chopped.
Did you try this recipe?
Then tag @ellerepublic on Instagram and hashtag it #ellerepublic
How did you like it?
Please let me know how this Wintery Kale Salad with Black Rice and Roasted Beets recipe turned out for you! I would love to hear how you liked it. Simply rate it with the stars above ⭐or leave me a comment and rate it below.
Did you make any changes to this recipe?
If you have tips for other readers, let me know! It helps me and other readers so much. Sharing is Caring :-).