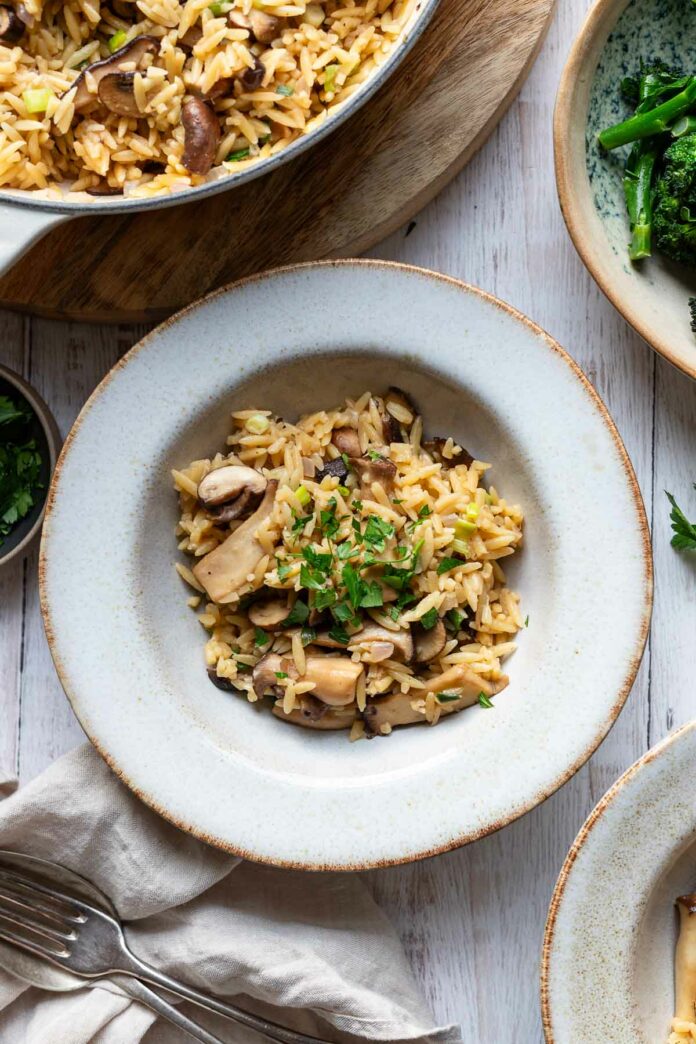 This orzo with mushrooms and miso is my new favourite one-pot recipe. It's packed with umami-rich, savoury flavour, and it's ready in about 30 minutes, making it the perfect mid-week side dish or main meal. The best part about making this miso pasta recipe is the flexibility to adapt it to make it everything everything you crave!
This one-pot orzo with mushrooms recipe is a delicious combination of tasty rice-shaped pasta, a mix of perfectly seared mushrooms, and a simple miso sauce made with shallots, garlic, white wine (for flavour!), lemon juice, broth and a splash of soy sauce. Simple favours that this dish comes together quickly making it perfect choice for a weeknight dinner.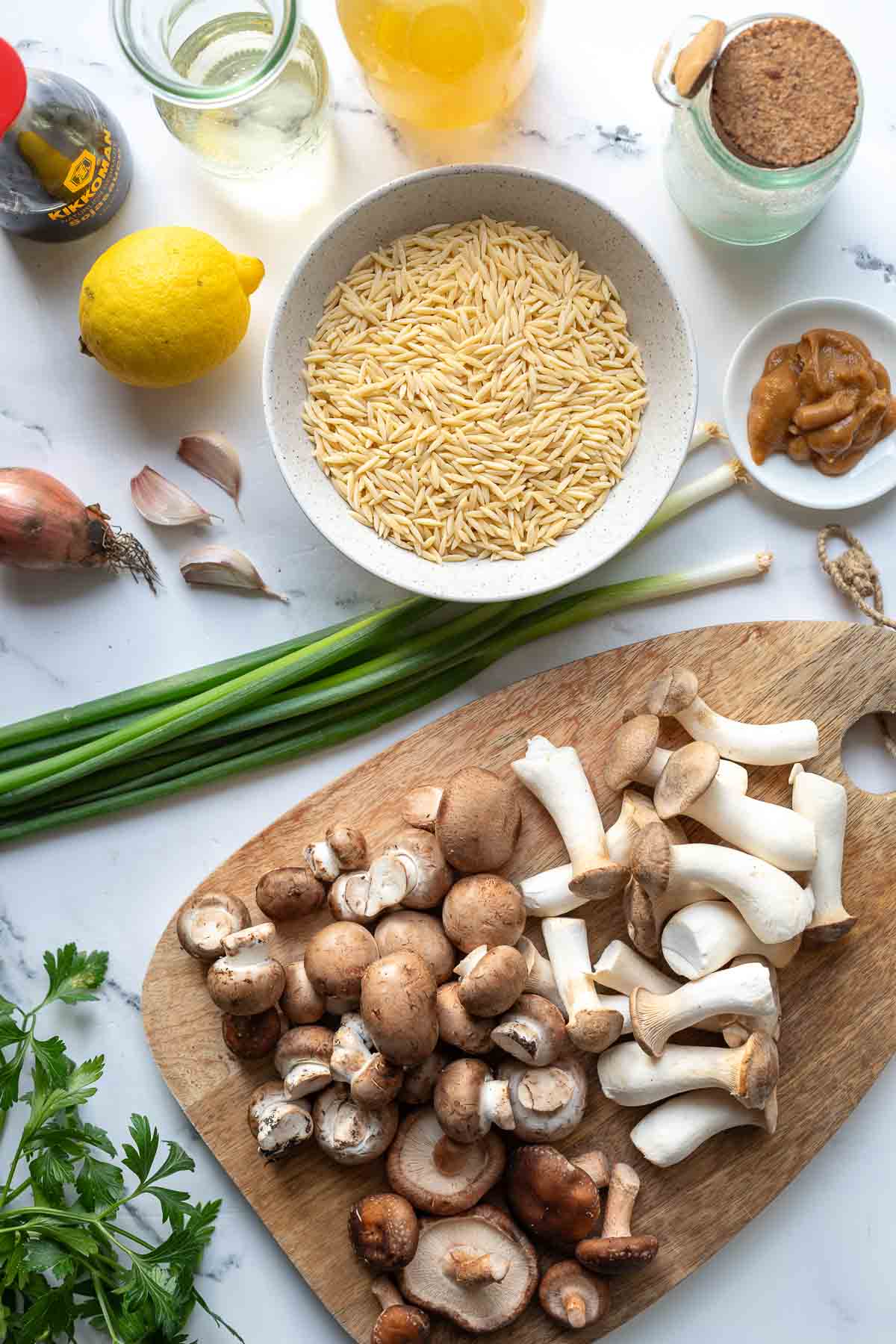 Key ingredients for this orzo recipe
To make this miso mushroom pasta, you'll need the following ingredients:
Orzo pasta: Also called risoni (in Italy) or kritharaki (in Greece) is the perfect choice for this recipe as it's rice-like shape almost makes you think you are enjoying a plate of rice or even risotto, but has that delicious pasta flavour.
Mushrooms: A mix of mushrooms adds flavour and texture. I like to use cremini, king trumpet, and shiitake. Use your favourite mix or simply stick with regular brown cremini mushrooms.
Aromatics: Garlic and shallots add a delicious aromatic flavour that compliments the mushrooms. Choose shallots over yellow onions, since they have a milder flavour. Fresh green onions are also added at the end for a burst of fresh flavour.
Miso paste: For this recipe, I recommend using white miso paste, called shiro miso. It has a subtle sweet flavour that adds umami richness to the flavour of this dish. Other types of miso could taste too overpowering.
White wine and lemon juice: White wine boosts the flavour of this dish. Together with a little lemon juice, we have a perfectly balanced mix of acidity. If needed, the wine can be skipped and a little extra broth added.
Broth: A good quality organic or homemade broth is the way to go here. I prefer to use chicken broth as it adds a richer flavour. I like to use my homemade chicken broth recipe, bone broth from BROX (unpaid mention), or an organic bouillon cube.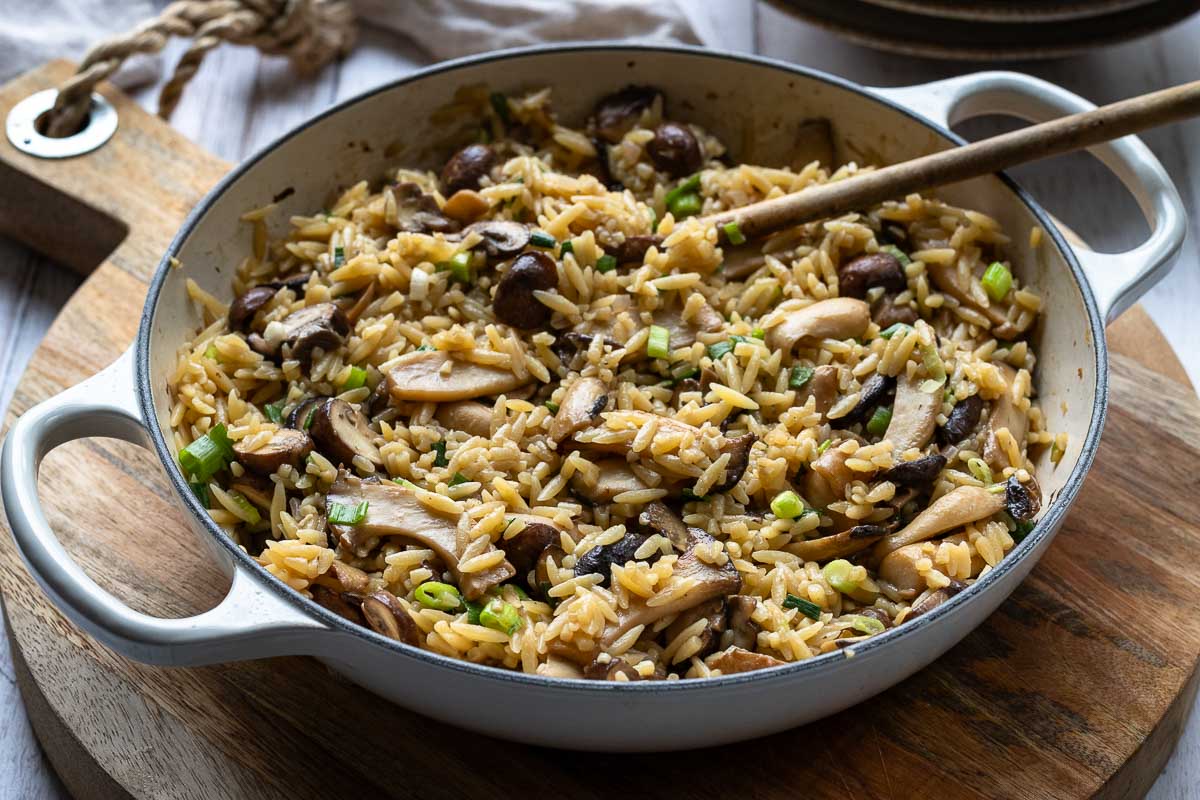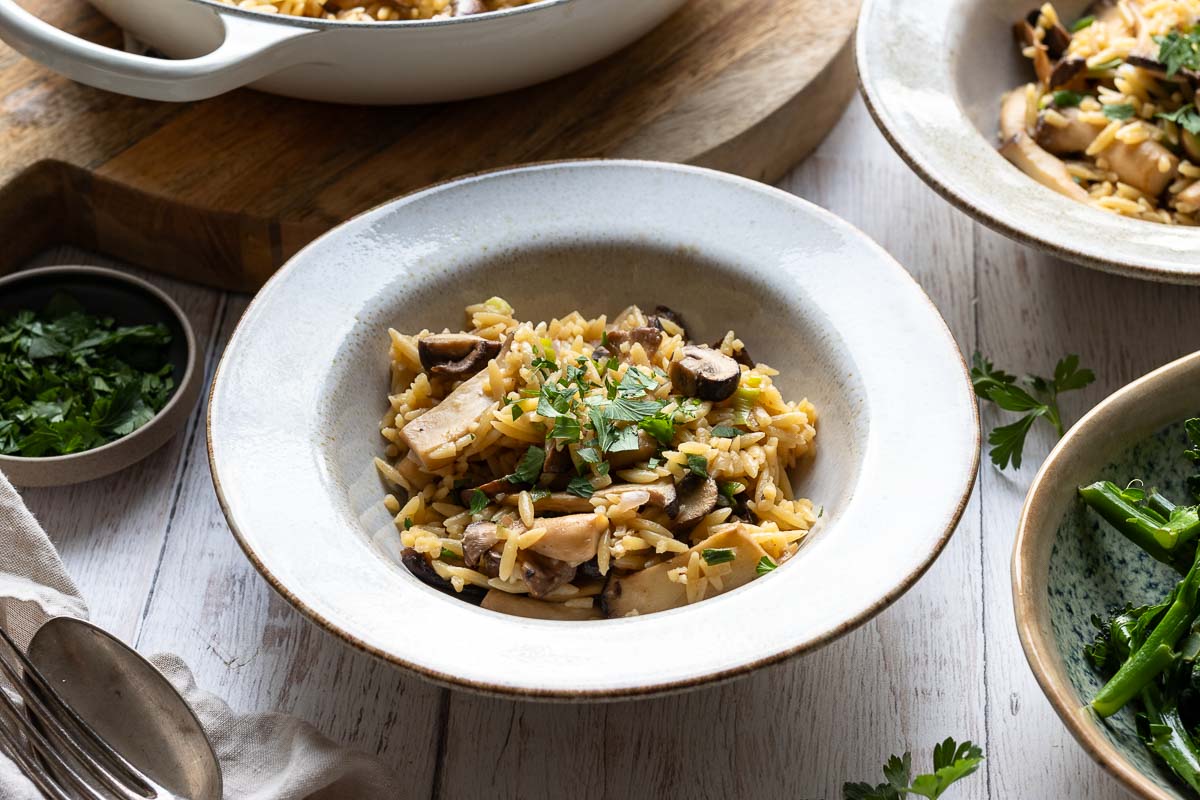 How to adapt this one-pot orzo with mushrooms recipe
The one-pot miso pasta tastes delicious as is, but here are a few things you can change to switch up the flavour of this dish. Here are a few ideas:
Vegetables: If you aren't a fan of mushrooms, then trade them out for roasted cubes of butternut squash. Or try reducing the mushrooms and adding a handful of spinach near the end of the cooking time.
Sauce: If you're a fan of creamy sauces, you could also easily transform this sauce into something delicately creamy but adding some heavy cream or even a vegan cream equivalent.
Make it vegan: Simply skip the wine or choose a vegan friendly one and be sure to use vegetable broth. It's that easy!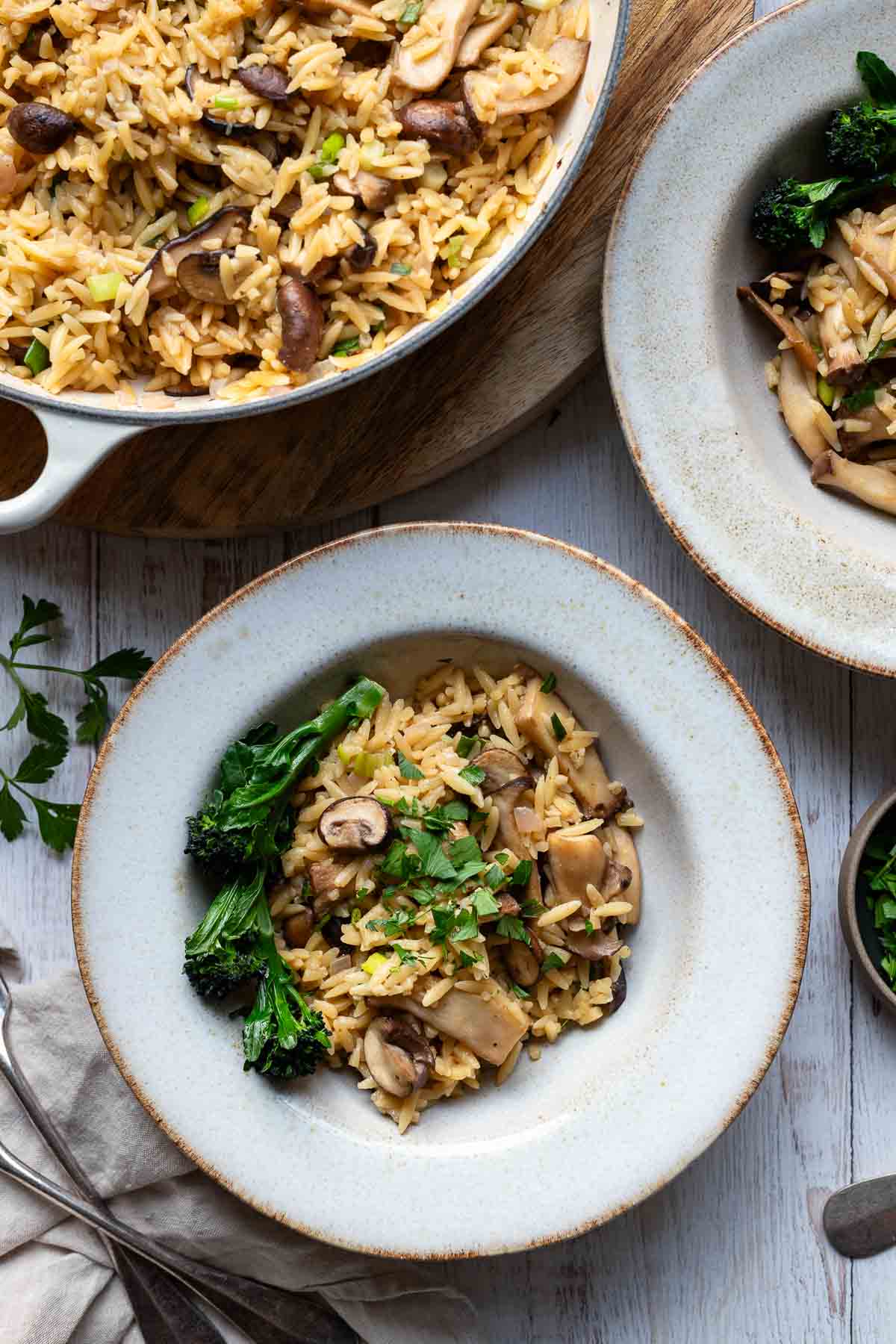 Looking for more orzo recipes?
Try one of these delicious favourites: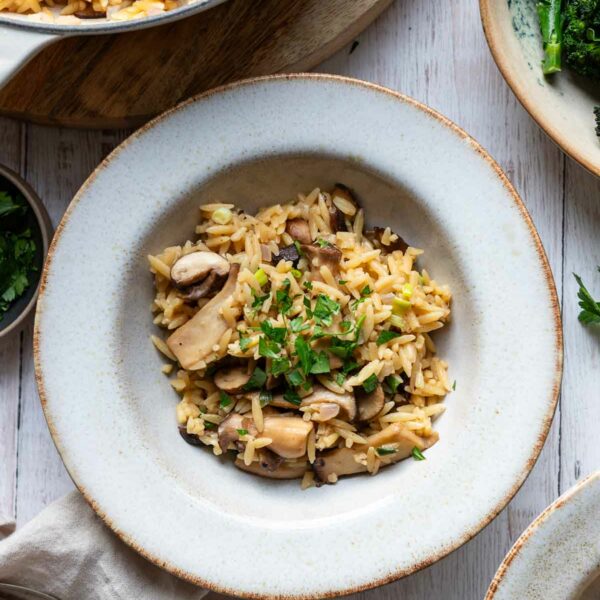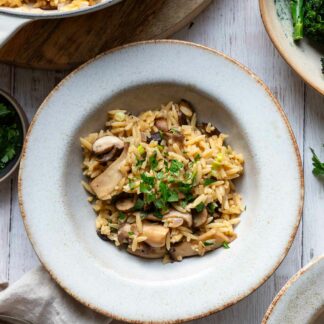 One-Pot Orzo with Mushrooms
This orzo with mushrooms and miso is packed with umami-rich, savoury flavour, and it's ready in about 30 minutes, making it the perfect mid-week side dish or main meal. Serves 4 as a side dish or hearty main for two.
Ingredients
3

tablespoons

olive oil,

divided

400

g

mixed mushrooms (e.g. cremini, shiitake, king trumpet),

trimmed and sliced

1

medium shallot,

finely chopped

3

garlic cloves,

minced

Sea salt,

to taste

1 1/2

cups

orzo pasta

(300 g)

1/3

cup

dry white wine

Freshly squeezed juice from half a small lemon

2

cups

of chicken broth (or vegetable),

plus more if needed

2

tablespoons

white miso paste

(shiro)

1

teaspoon

soy sauce

3

green onions,

thinly sliced

Fresh flat-leaf parsley,

chopped for serving
Method
Heat 2 tablespoons olive oil in a large skillet over medium heat. Sear the mushrooms until cooked (about 7-8 minutes) then transfer to a bowl and set aside.

Add the remaining 1 tablespoon oil as well as the garlic and shallot to pan. Season with salt and cook, stirring often, until shallots are softened (3-4 minutes). Stir in orzo and toast, stirring often, for 1 minute.

Add the white wine and the lemon juice to the pan and simmer until liquids have reduced slightly (1-2 minutes).

Stir in the chicken broth. Bring to a simmer, then cover, and reduce heat. Cook at a light simmer until the pasta is just about cooked through (about 10 minutes). Be sure to occasionally stir the orzo so that it doesn't stick to the bottom of the pan while cooking.

Remove lid and lower heat, then stir in the miso and soy sauce, followed by the seared mushrooms and green onion (if the mixture seems a little too sticky, then add a bit more broth). Stir to combine and cook until warmed through. Taste and adjust seasoning, as desired. Serve immediately with a sprinkle of parsley.

Enjoy!