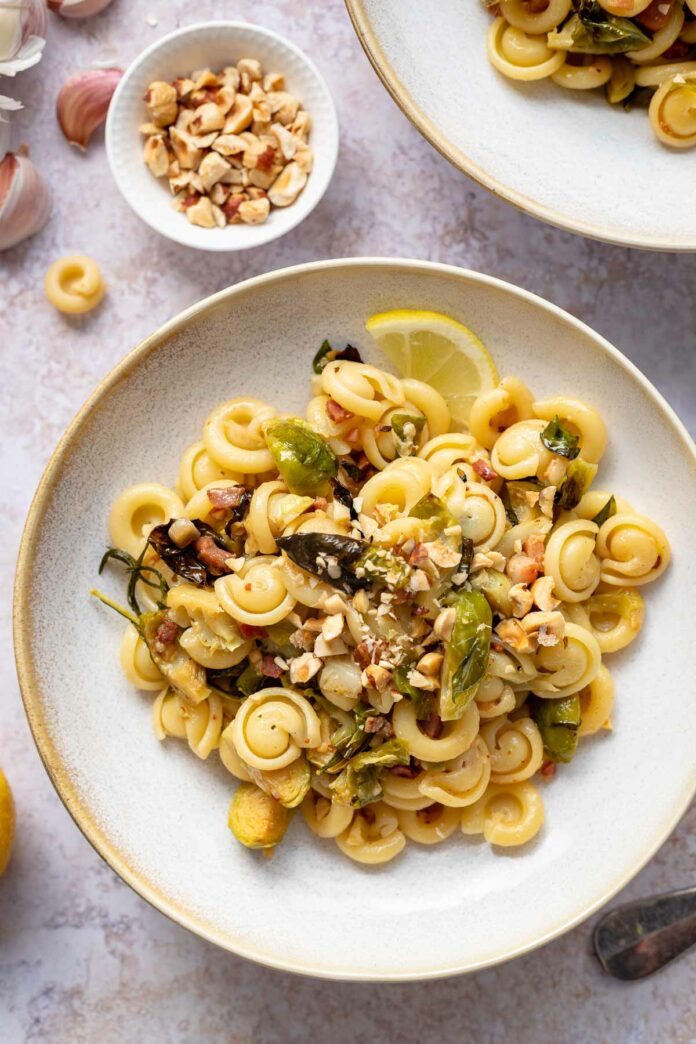 Pasta with Brussels sprouts — YES!! Even naysayers might like this flavourful combo! Roasted Brussels sprouts, smoked bacon, fresh rosemary, chili flakes, lemon and parmesan bring a simple pasta dish to an entirely new level. One the whole family with enjoy!
Maybe this is why you don't like the taste of Brussels sprouts
If you are looking for a way to sneak in some extra vegetables into a comfort food dish, this is the way to go. This Brussels sprouts pasta recipe is a great way to get picky teenagers on the Brussels sprouts bandwagon, as roasting takes away some of their bitterness and well, there is also bacon in the equation. Fantastic, unless of course you are one of the 50% of "super tasters" with the TAS2R38 gene who have a heightened perception of bitter tastes. So if you in this camp, there's probably no chance of winning you over to team broccoli or Brussels sprouts.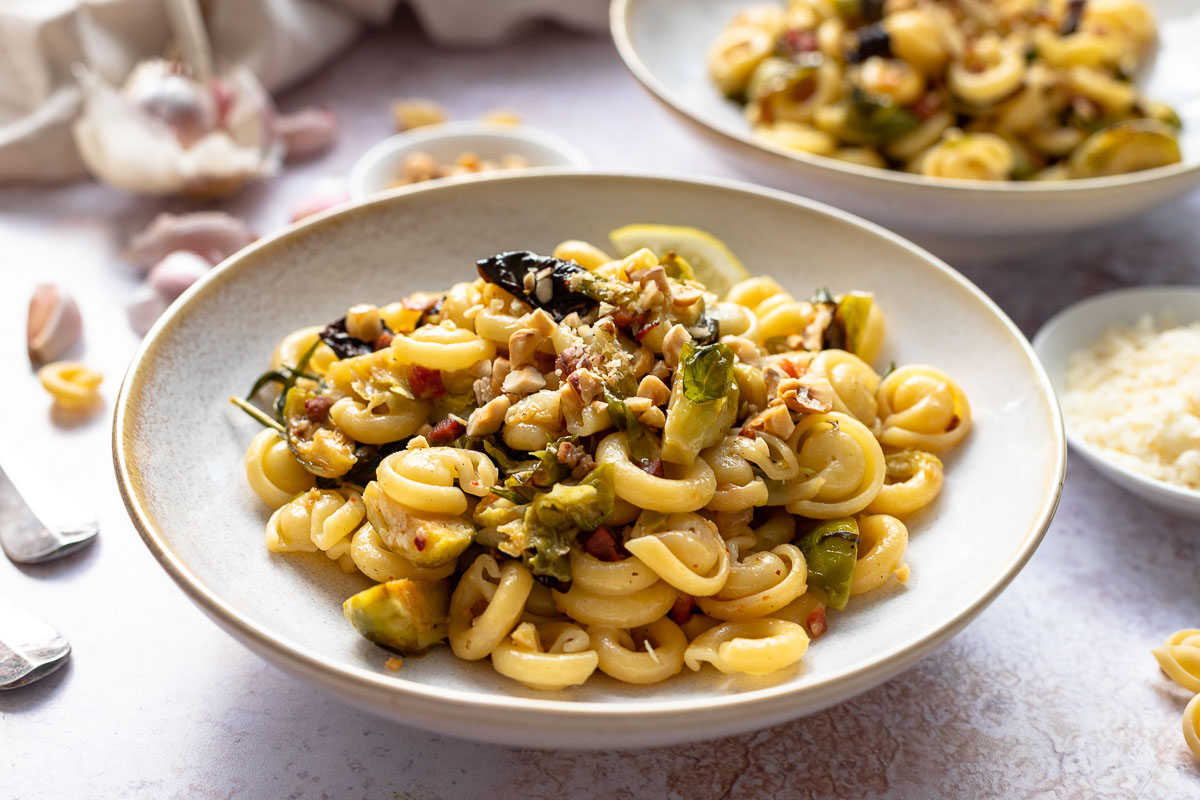 Versatile little green cabbages
Now that Brussels sprouts are starting to reemerge on the scene, I've been buying them non-stop. Yes, I belong to that small group of people who love them in all forms. Whether raw and shredded in salads, roasted, added to soups and even sautéed in a pan. I simply love these little green superfood cabbages. And it was high-time I found a way to get teenagers to try them, in a way, that they might just want to eat more than just a polite bite. Comfort is the answer here. And in our house that equates to either potatoes or pasta. And more so, the latter.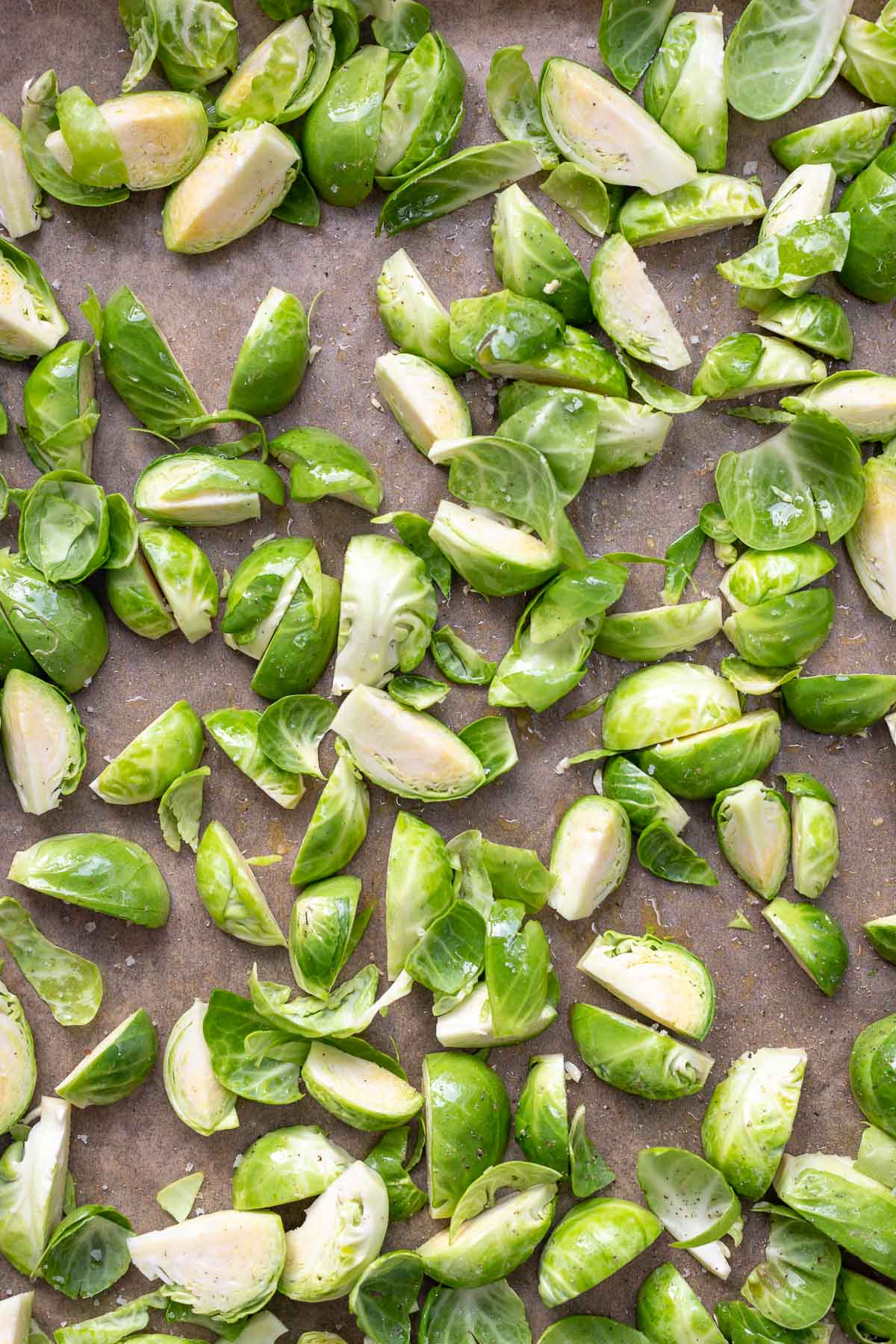 What you need to make this Pasta with Brussels Sprouts, Bacon and Parmesan recipe
This recipe is quite basic, with only a handful of main ingredients, plus some seasonings and oil/butter.
Brussels sprouts: freshness is key. Look for bright green heads that are compact and and firm. Similar sized are best so that they all cook at the same rate. For this recipe I quarter them, so that they are smaller sized, but if you prefer you could also half them.
Olive oil and butter: Olive oil is used to roast the sprouts and to sauté the bacon, garlic and rosemary. This is the base for the sauce, and butter is added at the end for some extra richness. This is comfort food after all.
Bacon: smoky, salty bacon adds amazing flavor to this pasta. I use organic, sustainably raised smoked pork belly, which I think gives dishes the best flavor.
Garlic: Aroma is the key here. The garlic is browned with the bacon and rosemary giving it a more mellow deep flavor.
Rosemary: Fresh rosemary is key here.
Chili flakes: add a little kick which compliments the overall flavor. Use anywhere from a pinch to 1/4 teaspoon, depending on how much heat you like.
Lemon juice: Adding acidity to the overall dish balances out the flavours from the bacon and sprouts.
Pasta: I find that smaller noodles work best, but feel free to use your favourite type of pasta here.
Parmesan: umami pure. Grated parmesan adds an extra deliciousness factor. Again, comfort food.
Hazelnuts (optional): I like adding a little extra crunch, so sometimes like to garnish pasta with a handful of nuts. In this case, I find toasted hazelnuts are a great match with Brussels sprouts.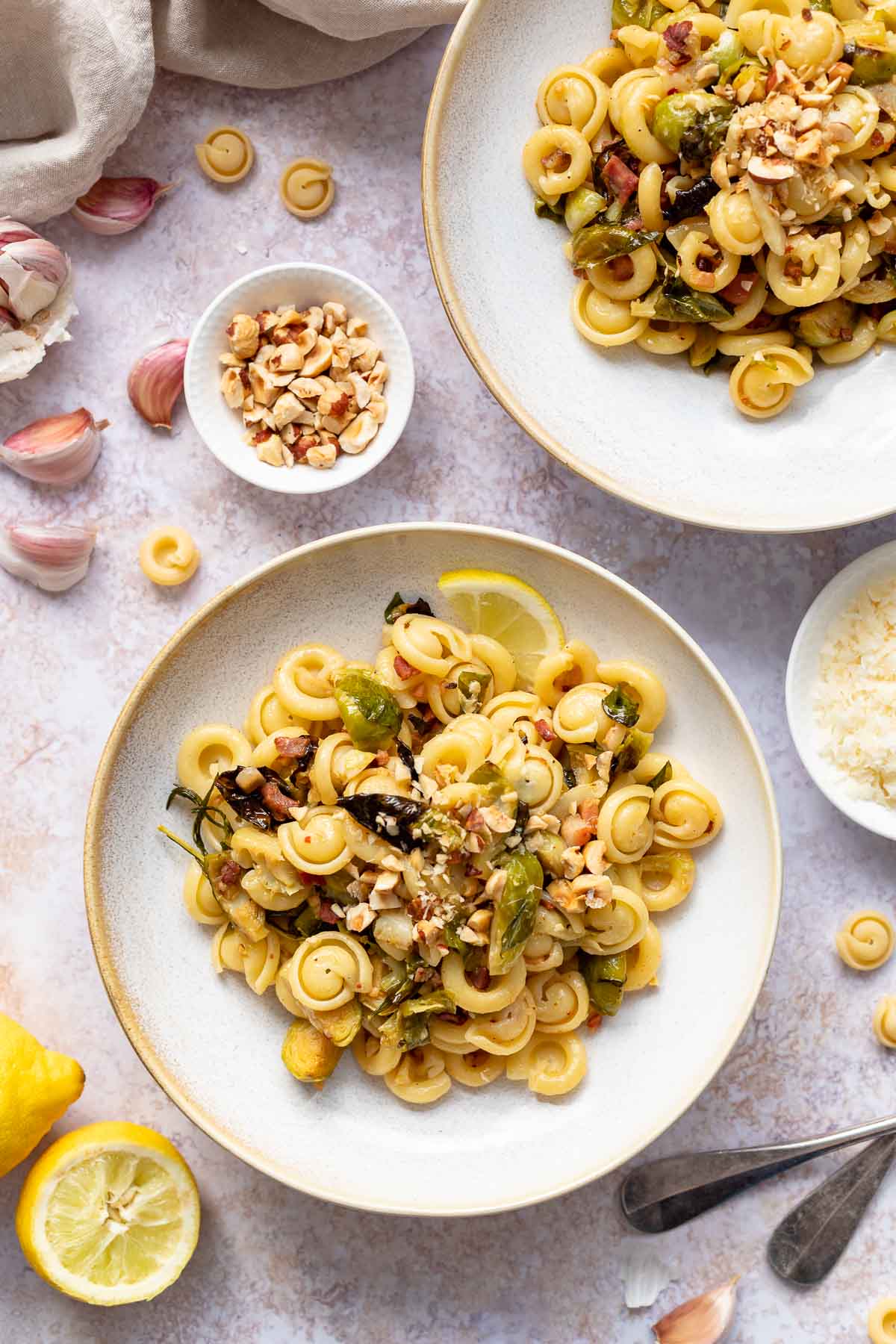 Tips for making this pasta recipe:
Before we get to the full recipe below, here are a few quick tips for making this pasta:
Timing:
This recipe requires a little bit of coordination when it comes to timing. But it's not crucial. If the Brussels sprouts are finished roasting before you are ready with the pasta or sauce, that's fine. They will be added to the pan, and can be heated an extra minute if needed. It's best to start the pasta and the bacon/garlic sauce about halfway through the roasting time of the sprouts. If you are needing to toast the hazelnuts, then I recommend doing this before you start the recipe, as you will need to skin them (read my tips on roasting nuts). I buy already toasted hazelnuts so that I always have them on hand when using them as a garnish.
Cooking the pasta:
This pasta should be just shy of al dente (it will still have a slightly firm bite) for this recipe. Then it is added to the pan with the roasted sprouts and sauce to continue cooking. This allows it to soak up some of the aroma. If you want a little more sauce, just add a little pasta water (1-2 tablespoons) along with pasta.
Storing & reheating:
Store any leftover Pasta with Brussels Sprouts in airtight containers in the refrigerator for up to 3 days. Reheat in a skillet, and if desired add an extra squeeze of lemon juice and sprinkle of Parmesan.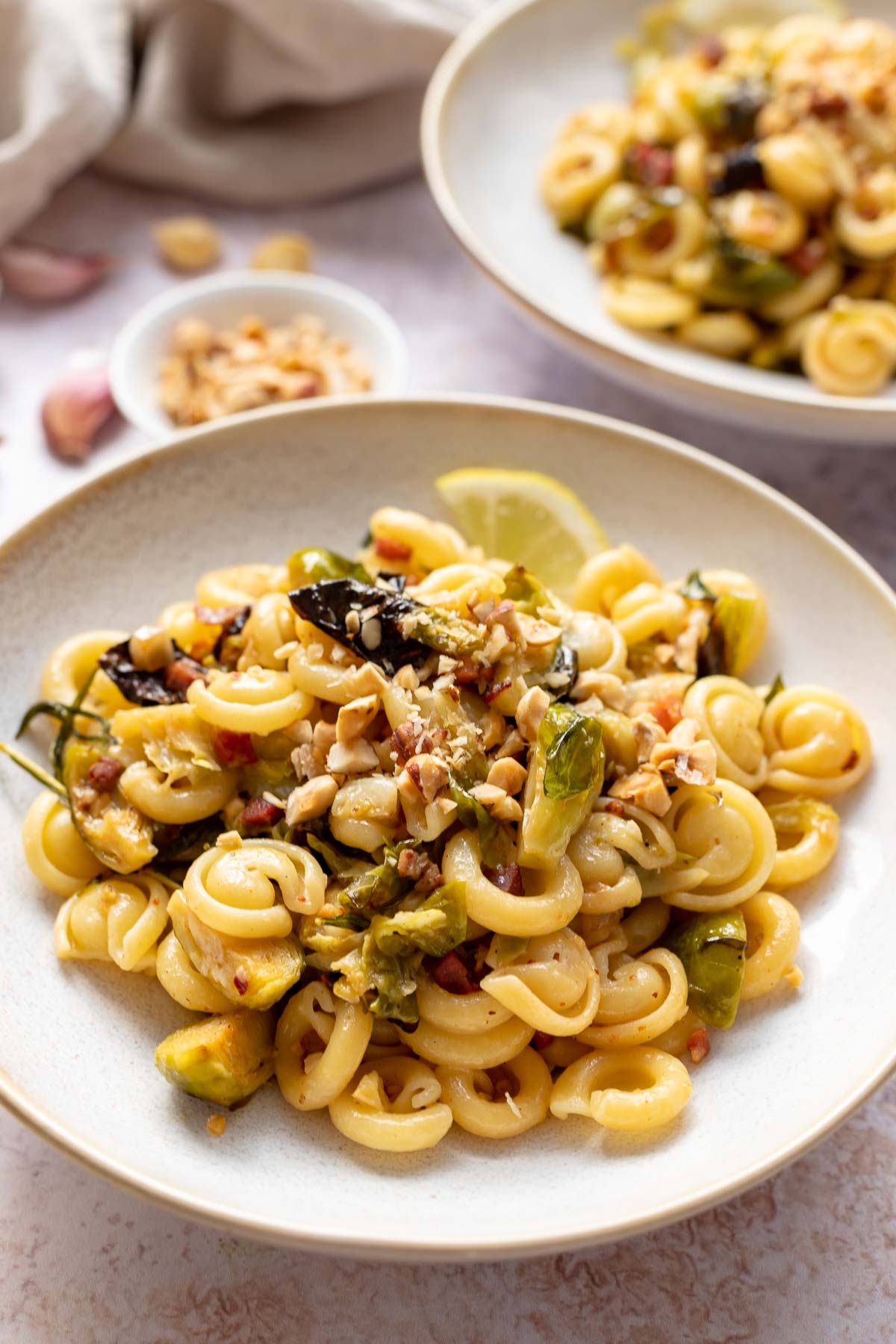 More delicious pasta recipes to try: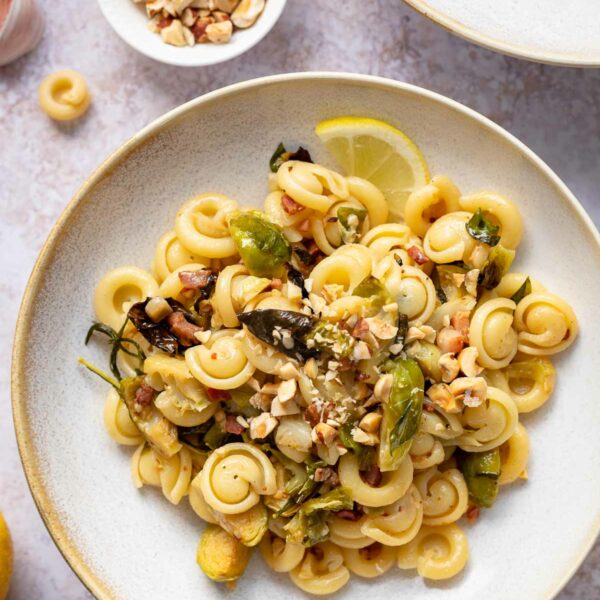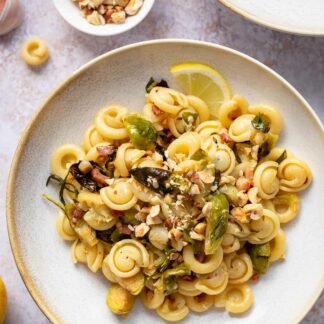 Pasta with Brussels Sprouts, Bacon and Parmesan
Pasta with oven roasted Brussels sprouts tossed in a flavourful sauce with smoked bacon, rosemary, chili and lemon. Simple ingredients and packed with flavor!
Ingredients
For the roasted Brussels sprouts:
500

g

Brussels sprouts,

trimmed and quartered

1

tablespoon

extra-virgin olive oil

Sea salt and freshly ground pepper
For the pasta:
500

g

dried pasta

(e.g orecchiette, penne, rigatoni)

3

tablespoons

extra-virgin olive oil

150

g

smoked bacon,

diced

2

large sprigs fresh rosemary

6

large garlic cloves,

minced

A couple generous pinches of red chili flakes

(1/8-1/4 teaspoon)

Generous grind of freshly ground black pepper

2

tablespoons

unsalted butter

Juice from 1/2 lemon,

plus more for serving

handful roasted hazelnuts,

coarsely chopped (25 g)

freshly grated parmesan cheese,

for serving
Method
Preheat oven to 400°F / 200° C and line a baking tray with parchment paper.

Place the quartered Brussel sprouts (including loose leaves) on the prepared baking tray, drizzle with olive oil and toss to coat. Spread in an even layer and season with salt and pepper.

Transfer to the oven and roast for 20 minutes (until lightly charred in places), giving them a good stir after 10 minutes.

Meanwhile, bring a large pot of salted water to a boil. Add the pasta and cook until it is just al dente, about 1 minute less than the package directions. Drain.

While the pasta is cooking, heat a large skillet (or wok) over medium- high heat and add 3 tablespoons olive oil.

Add the bacon and rosemary and sauté until the fat starts to render, about 1 minute. Add the garlic, chili flakes, and black pepper, to taste, and sauté, stirring often, until the garlic and bacon turn a rich golden brown, about 3 minutes. Watching carefully, to ensure it doesn't burn.

Reduce the heat, add the roasted Brussels sprouts, plus a splash of pasta water to the skillet. Stir in the butter and cook for 1-2 minutes.

Add the pasta, lemon juice and a sprinkle parmesan and cook, tossing, until everything is well combined.

Serve into bowls and top with additional parmesan cheese and toasted hazelnuts (optional).

Enjoy!
Notes
Pre-roasted hazelnuts can be found in many organic food stores or well-stocked supermarkets. Otherwise, dry toast the hazelnuts in a skillet over medium high heat. Toast until the skins start to crack and the nuts are fragrant, 4-5 minutes. Remove from heat and transfer to a clean kitchen towel. Wrap and rub together to remove some of the skins. Voila!
For a relaxing atmosphere in the kitchen I recommend my personal Elle Republic: Chilled Out Kitchen Tunes or Lounge Kitchen Tunes Playlist on Spotify.
Did you try this recipe?
Then tag @ellerepublic on Instagram and hashtag it #ellerepublic
How did you like it?
Please let me know how this Pasta with Brussels Sprouts and Bacon recipe turned out for you! I would love to hear how you liked it. Simply rate it with the stars above ⭐ or leave me a comment and rate it below.
Did you make any changes to this recipe?
If you have tips for other readers, let me know! It helps me and other readers so much. Sharing is Caring :-).
This post contains affiliate links. If you decide to make a purchase through my link, Amazon will pay me a commission for it. This doesn't cost you anything additional and the price remains the same. More about advertisements on Elle Republic.