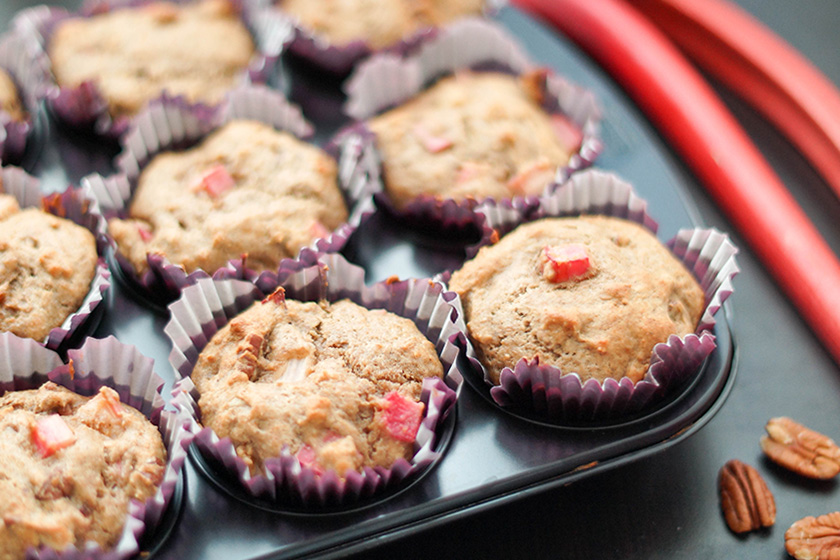 Did you know that rhubarb is good for you? Some even consider it a contender for joining the long list of "superfoods". It's no secret that rhubarb is packed with minerals and vitamins, but it also has something called polyphenols — an anti-cancerous compound that scientists are claiming may help prevent the growth of cancer cells. So eating a nice spring crumble or these tasty muffins could actually be more than just a little good for you! At least that's what I tell myself when I'm on my third one of these muffins.
Wholegrain Rhubarb Muffins with Pecans
I consider these healthy — they are low in sugar and are made with nutty wholegrain spelt flour, natural Greek yogurt, extra-virgin olive oil, tangy rhubarb, and crunchy pecans. That's right, don't be afraid of a little fat. Not only does it help you absorb valuable nutrients found in vegetables (Remember? That's right, rhubarb is in fact a vegetable — it was the United States Customs Court that ruled it a fruit!), but olive oil also has valuable heart-healthy effects. So go ahead and enjoy this perfect breakfast or as on-the-go snack!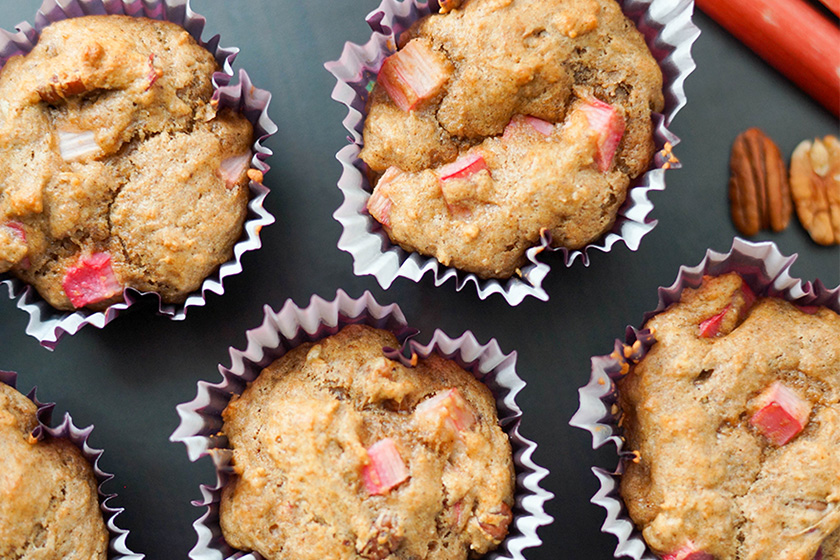 For these muffins, I used unrefined whole grain spelt flour. Spelt is an ancient grain related to wheat that has a fabulous nutty and complex flavor. Compared to traditional wheat flours, it offers a wider range of nutrients, has one of the highest dietary fiber contents of wheat varieties, and is easier on the digestive system due relatively low gluten content when compared to whole wheat flour and even all-purpose flour.
Spelt flour is a nutritious alternative to regular wheat flours, but as expected, it's high in carbohydrates. On the upside, it contains surprisingly high levels of protein (21% of your daily recommended intake), plus it loaded up on dietary fiber (30% per serving!) and has 65% more amino acids than traditional wheat flours. Very impressive. And adding to an already remarkable list, spelt is water soluble, making it easier for your body to absorb the nutrients – why by the way, is why some people with wheat sensitivities are able to tolerate it, even though it's not gluten free.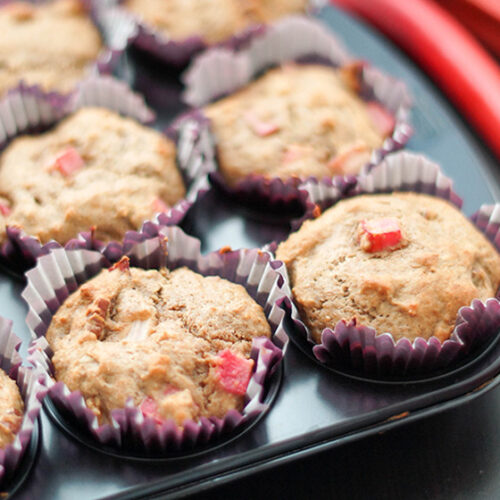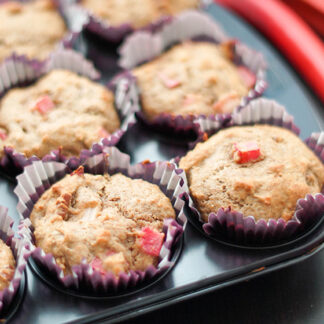 Pecan Rhubarb Muffins
Delicious and healthy rhubarb muffins are made with nutty wholegrain spelt flour, Greek yogurt, tangy rhubarb and crunchy pecans. Great on the go snack.
Ingredients
2 1/2

cups

whole spelt flour

(you can also use whole wheat or a mix of whole wheat and all-purpose flour, if desired )(310 g)

1

teaspoon

baking soda

1

teaspoon

baking powder

1/2

teaspoon

sea salt

1/4

teaspoon

vanilla powder

2

large eggs

1/2

cup

brown sugar

(I recommend GEPA organic raw cane sugar Mascobado) (65 g)

1

cup

Greek yogurt

(full fat) (280 g - about one and a third (200 g) containers of yogurt)

1/2

cup

extra-virgin olive oil

(125 ml)

1 1/2

cups

fresh rhubarb,

chopped (225 g)

1/2

cup

pecans,

toasted and coarsely chopped (50 g)
Method
Preheat the oven to 375°F / 190°C. Grease or line a 12-hole muffin tin.

In a large bowl, whisk together the flour, baking soda, baking powder, salt, and vanilla.

In a smaller bowl, beat together the eggs. Then add the brown sugar, yogurt and oil; mix until combined.

Gently stir the egg mixture into the flour mixture, until just combined. Do not over-mix!

Gently fold in the rhubarb and nuts.

Spoon the batter evenly into the prepared muffin pan, filling the cups nearly full. Bake for about 18 - 20 minutes, or until a toothpick inserted in the center comes out clean.

Cool in the tray for a minute or two before transferring to a wire rack to cool completely. After completely cooled, store them in an air-tight container at room temperature--they are still good the next day!
Did you try this recipe?
Then tag @ellerepublic on Instagram and hashtag it #ellerepublic
How did you like it?
Please let me know how this Pecan Rhubarb Muffins recipe turned out for you! I would love to hear how you liked it. Simply rate it with the stars above ⭐or leave me a comment and rate it below.
Did you make any changes to this recipe?
If you have tips for other readers, let me know! It helps me and other readers so much. Sharing is Caring :-).