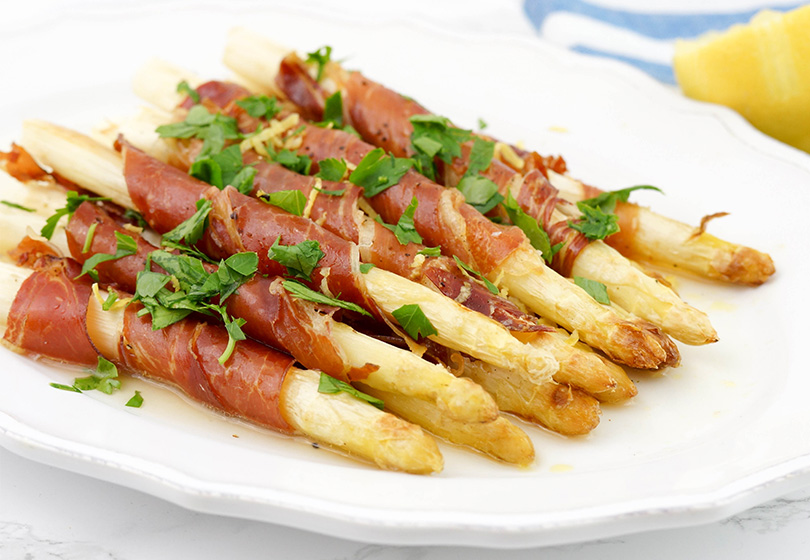 I adore simple, healthy recipes that pack a ton of flavor. And this one, prosciutto wrapped white asparagus with the alluring scent and flavors of bright and zingy lemon has got to be the easiest thing ever to make. You could even skim this one down to the very basics – prosciutto and asparagus – plus a dash of olive oil, salt and pepper and simply bake it or toss it on the grill. It's that simple. Though, since I love salty prosciutto with a little tang of lemon, I like to drizzle my asparagus with fresh lemon juice and a little zest — the lemon juice soaks of the salty flavor of the prosciutto, making a delicious sauce. You decide. Both ways are super tasty.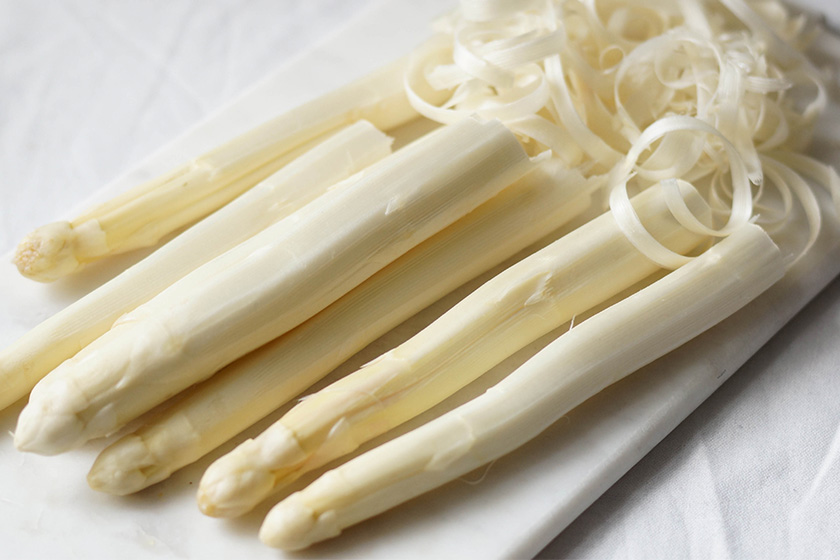 Spargelzeit – spring time with asparagus in Germany
For this recipe you can use either green or white asparagus. I choose white since it's still rather a novelty for me, even after all my years in Germany. I am simply fascinated by Spargelzeit (literally translating to "asparagus time") and Germany's spring Spargel fever. First the sheer volume — some 81,000-tons annually, of which, more than half is consumed domestically, then there's the business sorting it all by the different types. And yes, there is a very precise system — close attention is payed to the diameter (bigger is better), tightly closed tips (indicating freshness), whether they are straight or crooked, and if there is any purple coloring, which is considered a flaw. Impressive.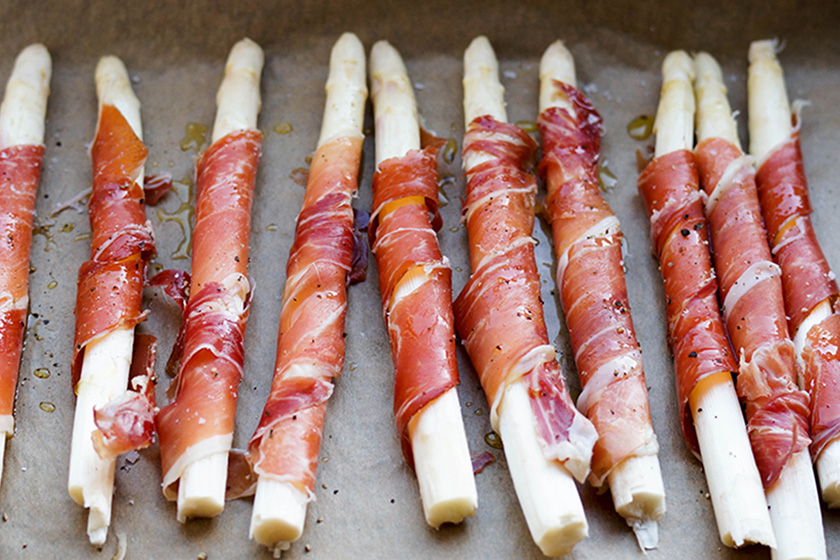 You can either use a full slice of prosciutto to wrap the asparagus or slice it lengthwise in half and wrap the spears with a thinner layer. Which by the way, also has its advantages – the thinner the prosciutto is, the crispier it will get! So slice it into two strips, wrap it so it just barely overlaps around the spear. Otherwise, go to town and enjoy ever little bit by wrapping the stalks in a full blanket of deliciously salty prosciutto.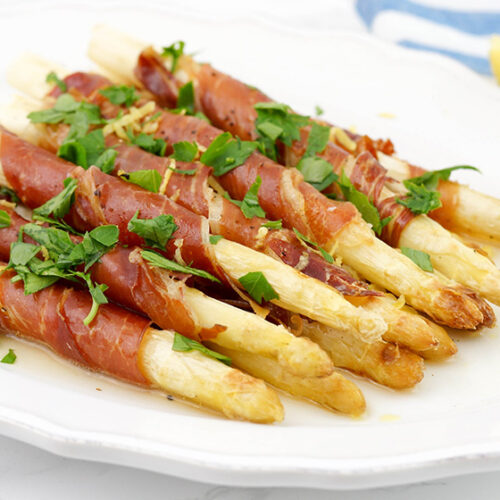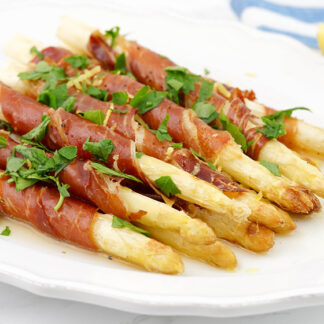 Prosciutto Wrapped White Asparagus with Zesty Lemon
This recipe for prosciutto wrapped white asparagus with the juice and zest of lemon has got to be the easiest thing ever to make. Whether grilled or baked it the perfect side dish to celebrate spring.
Ingredients
500

g

white asparagus

sliced prosciutto di Parma,

enough for 1/2 a paper-thin slice per asparagus spear, each slice cut in half lengthwise

extra-virgin olive oil,

for drizzling

sea salt and freshly ground black pepper,

to taste

finely grated zest and juice of 1 large organic lemon

fresh chopped flat-leaf parsley,

garnish (optional)
Method
Preheat oven to 350°F / 180°C.

Line a baking sheet with parchment paper.

Trim off the woody ends of each asparagus and gently peel the outermost layer of the asparagus stalk with a vegetable peeler.

Wrap the asparagus stalks in 1/2 a slice of prosciutto, leaving the tips exposed.

Place the asparagus onto the prepared baking sheet, drizzle with a little olive oil and and season with salt and pepper.

Bake for about 15-20 minutes (cooking time depends on the thickness of the spears, and if you like your white asparagus quite tender then bake for an additional 5 minutes) until the prosciutto is a crispy golden brown and the asparagus tender. Be sure to give the baking sheet a good shake halfway through cooking, so the prosciutto has a chance to get crispy all around.

Transfer the asparagus to a serving plate, garnish with the lemon juice, zest and parsley. Serve warm or at room temperature. Enjoy!
Notes
If you have sumac in your pantry, then you can replace the lemon juice and lemon zest with about a teaspoon of ground sumac. This gives the asparagus a deep and rich lemony flavour.
If substituting green asparagus for white, then the stalks do not need to peeled and the cooking time will be less, depending on how tender or crisp you prefer the stalks.
Did you try this recipe?
Then tag @ellerepublic on Instagram and hashtag it #ellerepublic
How did you like it?
Please let me know how this Prosciutto Wrapped White Asparagus recipe turned out for you! I would love to hear how you liked it. Simply rate it with the stars above ⭐or leave me a comment and rate it below.
Did you make any changes to this recipe?
If you have tips for other readers, let me know! It helps me and other readers so much. Sharing is Caring :-).